An official decision on whether to bring Donald Penn back off injured reserve won't come for a couple days, head coach Jon Gruden says. However, Gruden does not anticipate the veteran offensive tackle playing again this season (Twitter link via Scott Bair of NBC Sports Bay Area).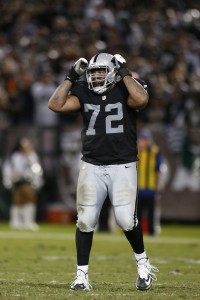 [RELATED: Raiders Designate Donald Penn For Return]
Penn was designated for return earlier this month, but that was a perplexing move by the Raiders on a few different fronts. First, the move blocked Marshawn Lynch from potentially playing in the club's Christmas Eve home finale, which might have bought them some good will in Oakland. Secondly, the Raiders would risk being stuck with the entirety of Penn's 2019 salary if he were to suffer a serious injury down the stretch.
As it stands, the Raiders have an escape hatch on the 35-year-old's deal. If they want to release Penn in the offseason, they can 86 his contract with just $1.75MM left in dead money.
At 3-11, there's little reason for the Raiders to roll the dice on Penn's health, so he's unlikely to see the field for the club's final two games against the Broncos and Chiefs.
Photo courtesy of USA Today Sports Images.