Eli Manning will get the start this week against the 49ers, but the Giants aren't making any guarantees beyond Monday night. When asked during a Tuesday morning press conference, head coach Pat Shurmur declined to commit to Manning as the starter for the rest of the year.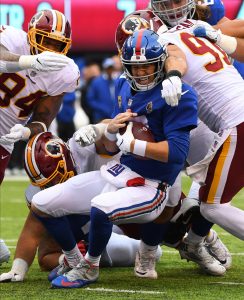 [RELATED: Giants To Activate R.J. McIntosh]
Giants fans revolted last season when the club briefly gave Manning the hook in favor of backup Geno Smith. Their reserve options aren't much better this time around, but it seems that public sentiment has shifted in the midst of another lost season. If Manning is yanked, fourth-round rookie Kyle Lauletta or journeyman Alex Tanney could get an opportunity to audition.
Of course, Lauletta threw a wrench into any potential succession plans late last month when he was arrested for disobeying the directions of police officers and nearly struck cops with his car. The Giants say they will not suspend Lauletta for the incident, though the rookie will face "internal consequences."
Manning, a two-time Super Bowl champion, has done little to inspire confidence this season. His 68.3% completion rate is impressive upon first glance, but he has struggled with the deep ball and has thrown six interceptions against just eight touchdowns.
Photo courtesy of USA Today Sports Images.