Vikings first-round pick Justin Jefferson has landed on the team's reserve/COVID-19 list. Rookies Brian Cole, Blake Brandel and Tyler Higby are also now on this newly created list.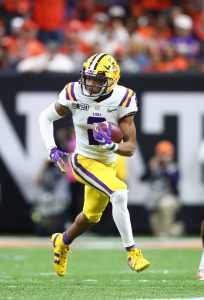 Minnesota's rookie contingent reported to camp recently. Players must test negative for the coronavirus three times before entering teams' facilities. During an offseason that has already featured major developmental hurdles placed in rookies' paths, Jefferson and Co. will now see their timetables pushed back.
The reserve/COVID-19 designation is for players who have tested positive for the coronavirus or are in quarantine for potential exposure. In turn, these players are removed from the roster and allowed to return after three weeks.
It is not certain if Jefferson and the three other rookies have contracted the virus. Players must be placed on the COVID-19/reserve list if they test positive or have come in contact with an infected person. The Vikings announced earlier Monday their infection control officer, Eric Sugarman, tested positive for the coronavirus. Members of Sugarman's family did as well.
The Vikings used one of their two first-round picks on Jefferson, who will be expected to fill the role Stefon Diggs occupied for years opposite Adam Thielen. Jefferson is coming off a dominant senior season at LSU, when he caught 111 passes for 1,540 yards and 18 touchdowns. Minnesota used a sixth-round pick on Brandel, a tackle out of Oregon State, and a seventh-round choice on Cole — a safety out of Mississippi State. Higby, a guard from Michigan State, arrived as part of the Vikes' most recent UDFA class.
Photo courtesy of USA Today Sports Images.