The Dolphins re-assigned executive vice president of football operations Mike Tannenbaum earlier this week, and in turn promoted general manager Chris Grier to oversee the club's personnel department. Tannenbaum won't have any role in decision-making going forward, according to Armando Salguero of the Miami Herald, who adds Tannenbaum likely won't be around when the draft occurs in April.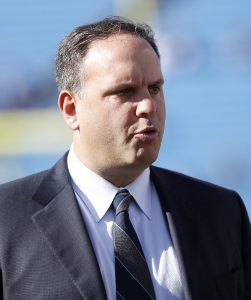 Although he's still technically a member of the organization, Tannenbaum won't be doing any more work for the Dolphins. Indeed, Salguero deems Tannenbaum's re-assignment as a something of a "quiet sendoff" for the longtime front office executive. Grier will take over as Miami's football czar, taking on authority he didn't previously have as the club's general manager. Tannenbaum, meanwhile, will continue to be paid for the remaining two years on his contract.
Grier, for his part, will not only oversee a roster in need of rebuilding, but is in the process of hiring a new head coach. Whomever the Dolphins select as their next head coach will report to Grier and not to owner Stephen Ross, reversing a setup Miami used when it employed Adam Gase. The Dolphins are interested in a number of candidates, including Chiefs offensive coordinator Eric Bieniemy, Bears defensive coordinator Vic Fangio, and — possibly — Ravens head coach John Harbaugh.