It sounds like Mike Tannenbaum has officially left the Dolphins. The former executive is set to join ESPN as an analyst, as Josh Alper of ProFootballTalk.com relays. Besides appearing on NFL programming, Tannenbaum will also be participating in the network's 2019 draft coverage on ESPN Radio.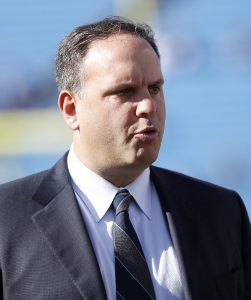 "I'm very excited about the opportunity," Tannenbaum told Barry Jackson of the Miami Herald. "I've always admired the people and professionals at ESPN, and I'm excited to be a part of the team."
The Dolphins re-assigned the executive vice president of football operations back in January, and while he was still technically an employee for the past few months, he wasn't expected to contribute to the team's offseason plans. The move was considered to be "quiet sendoff" for the longtime front office executive, with Tannenbaum still receiving money for the final two years of his contract. General manager Chris Grier earned a promotion and will now oversee all football operations.
Tannenbaum spent more than a decade with the Jets organization, compiling a 57-55 regular season record and three playoff births during his seven years as general manager. Tannenbaum joined the Dolphins as a consultant in 2014, and he was soon hired in a front office role. Since he stepped into the football operations role in 2015, the Dolphins had a 29-35 record with only one playoff appearance.
Photo courtesy of USA Today Sports Images.