USC junior quarterback Caleb Williams has been projected as the 2024 NFL Draft's No. 1 overall pick for over a year now. In August, he attempted to temper expectations a bit about his likely declaration following the college season, but that hasn't stopped pundits from continuing to speculate. At this point, he is still expected to declare and end his collegiate career, but Williams told Ryan Kartje of the Los Angeles Times that he is still contemplating the decision.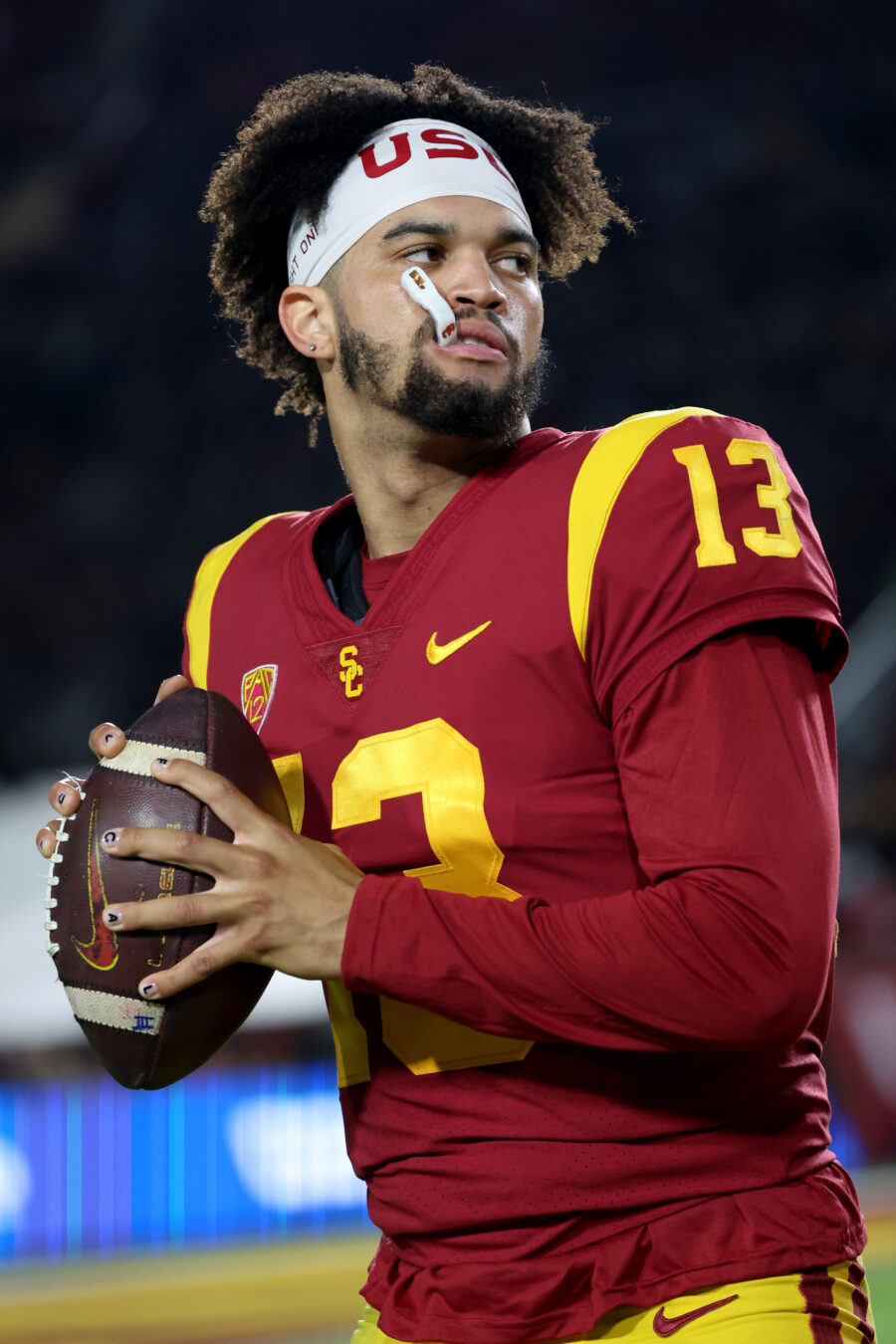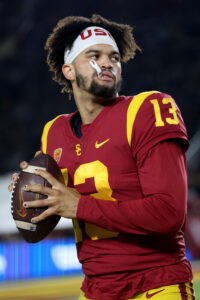 There was some thought that Williams' initial lack of commitment back in August was a concerted effort to avoid being drafted by a team he isn't interested in joining. When a player like Williams is a near guarantee to be the first player selected, they naturally have the luxury of knowing who will have the No. 1 overall pick by the time the deadline to declare arrives on January 15. If the season ended today, that honor would belong to the Bears, who own the 1-10 Panthers' first-round pick thanks to the trade that allowed Carolina to draft Bryce Young No. 1 overall in 2023.
This time around, if Williams is considering staying in college for 2024, it might be because he's unhappy with how he's leaving USC. Over his first two seasons at Oklahoma and USC, Williams only lost five total games combined. This past year in Los Angeles saw Williams and the Trojans match that total in the last six weeks, alone. After starting 6-0 and rising as high as 10th in the AP rankings, USC would go on to lose five of their next six games with their lone win being a last-second, one-point win over the then 3-5 Golden Bears. They only escaped Berkeley with a win when Cal failed to convert a two-point conversion on a touchdown allowed in the final minute of regulation.
The 7-5 season is disappointing in its own right following the lofty expectations of the prior year's 11-3 team, but Williams himself also failed to reach the heights of last year's Heisman-winning campaign. Williams won the prestigious award and a unanimous All-American selection after throwing for 4,537 yards and 42 touchdowns while limiting his interceptions to only five.
This year, Williams kept his interception total at five but failed to match his other Heisman numbers with 3,633 passing yards and 30 touchdowns, albeit in two fewer games. Even if he wouldn't have matched those prior year numbers with two more chances, he seemed to be a bit more efficient this season, increasing his completion percentage, yards per attempt, and passing efficiency rating.
Because of that, Williams' status as the projected first pick overall hasn't changed. Neither has the expectation that he will decide to forgo his remaining eligibility and declare for the draft. Still, Williams seems to be taking his time, calling this a "game-time decision." I'm not sure this means we'll see Williams perform in USC's bowl game this postseason, but expect the 22-year-old to take things down to the wire in January before making an official decision.