On Saturday, the 49ers put a pair of former first-round notables on the curb. Defensive end Dion Jordan and Kevin White were dropped from the roster as a part of the club's 20+ cuts on Saturday.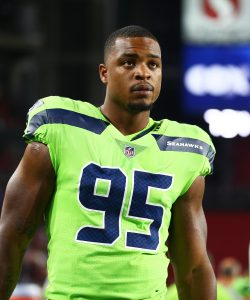 Jordan's NFL career has taken some odd turns, to say the least. After being selected No. 3 overall by the Dolphins, Jordan did little to justify his pre-draft hype. After some underwhelming seasons, missed seasons, and a number of suspensions, Jordan found his way to the Seahawks in 2017. In 2018, he showed some promise as a rotational piece, and he parlayed that into a one-year deal with the Raiders. He hooked on with the Niners in early August, but he didn't get to stay for long.
White, a former No. 7 overall pick of the Bears, came out of West Virginia with tons of hype. Over the last five years, injuries have limited him to just 14 games. The Niners have been decimated by injuries at wide receiver, but they still didn't see enough out of White's ~1 week audition to keep him. For his career, White has 25 catches for 285 yards and zero touchdowns.
Here's the full rundown of the 49ers' cuts: