The Bills have hired ex-Rams offensive coordinator Rob Boras to serve as their tight ends coach, Mike Rodak of ESPN.com was among those to report.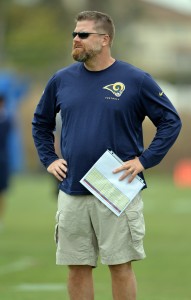 Boras, 46, was atop the Rams' offense the past two seasons. The unit was woeful in each of those years, ranking 29th in DVOA in 2015 and dead last in 2016. The Rams also finished this season 32nd in both yardage (262.7 per game – nearly 50 fewer than the 31st-place offense) and scoring (14.0 PPG). As a result, Boras' career as a coordinator is over for at least the time being. He previously worked as a tight ends coach with the Bears, Jaguars and Rams, and will now return to that role.
It's not yet known whose offensive staff Boras will be a member of in Buffalo. New head coach Sean McDermott hasn't named a coordinator, but signs are pointing to Greg Olson landing the job. He's also a previous Rams and Jags assistant, though his stints with those teams did not coincide with Boras'.
Photo courtesy of USA Today Sports Images.