The Bills are making a major change under center. Nathan Peterman will start on Sunday against the Chargers instead of Tyrod Taylor, coach Sean McDermott announced on Wednesday morning.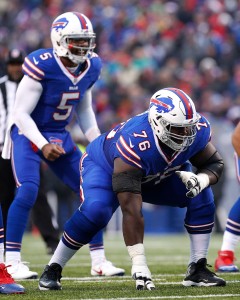 "This is about becoming a better team. Tyrod has made improvements," McDermott told reporters. "This is not an indictment on Tyrod. He is an important part of our team and will continue to be an important part of our team…I've been impressed with Nate and his maturity at a very early point in his career. He has certainly worked hard. … The other day, we [saw] some good things, albeit it was a small sample size in a regular season. That said, he has a lot of work to do, just like we all do."
The announcement comes as a shock, particularly since the Bills are in the playoff mix. Granted, the Bills have lost their last two games, including a lopsided defeat at the hands of the Saints last week. In the midst of the blowout, Peterman was given the opportunity to take over. When he did, he marched the Bills down the field for their only touchdown of the game.
The QB change signals that the Bills will be moving on from Taylor this offseason. Buffalo's deal with Taylor will allow the team to release him after this season without major penalty. Only $1MM of his $10MM salary is guaranteed for next year and he'll be due a $6MM roster bonus early on in the 2018 league year. By cutting him before that roster date, the Bills can free themselves of most of the obligation.
When he came on board in the offseason, McDermott did his best to give the impression that Taylor would hold on to the job. After some shaky performances, however, the new regime is turning to some new blood.
"He is, in Tyrod Taylor," McDermott said in May when asked if the team's QB of the future was already on the roster. "We've drafted Nathan Peterman, …I'm not sure there is a team out there that has the depth that we do at the quarterback position. So we feel good about that. We're anxious to see how Tyrod develops in his third year as a starter in a new system, a system that he has some familiarity with in terms of [new Buffalo offensive coordinator] Rick Dennison's system in Baltimore a few years back with Gary Kubiak."
For his part, Taylor is handling the news like a professional.
"I'm obviously disappointed and it's a decision that I don't agree with," Taylor said (via the team's Twitter). "Ultimately, it's Coach McDermott's decision and I need to continue to be the leader and teammate that I know I can be."
Photo courtesy of USA Today Sports Images.