Impending free agent wide receiver Robert Woods is open to re-signing with the Bills this offseason. However, the four-year veteran acknowledged that he wants some clarity on the team's quarterback position before he makes a final decision.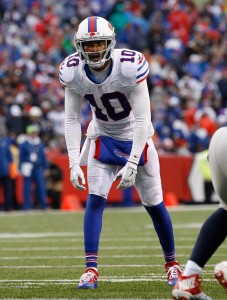 "I think there's always hope," Woods told Bruce Murray and A.J. Hawk on SiriusXM. "I finished out well with them. I had a good talk with (general manager) Doug Whaley upstairs. It's a whole new coaching staff coming in, so could be different plans. I've got to speak with them and see their plans, as well as see what happens with the quarterback decision there."
After receiving medical clearance following last month's groin surgery, the Bills could now easily move on from quarterback Tyrod Taylor and his $27.5MM option. Backup EJ Manuel is set to hit free agency, meaning the team could be left with former Ohio State standout Cardale Jones or 24-year-old rookie Josh Woodrum. Considering all of the question marks at the position, it's logical why Woods would prefer to see how it all plays out.
"Everything factors in," Woods said on SiriusXM. "It has to be the right amount as well as quarterback decision. Yes, they don't have a quarterback right now. Tyrod is a pending free agent. EJ Manuel is coming up as a free agent and there also are many quarterbacks on the market as well. Who knows what the decision is going on upstairs, but in a few weeks, we'll all find out."
For what it's worth, the 24-year-old acknowledged that he thinks Taylor is staying put.
A knee injury forced Woods to miss three games this season, but the wideout still finished with a team-leading 613 receiving yards, 51 receptions, and one touchdown. Since entering the league as a second-round pick in 2013, Woods hasn't surpassed 700 receiving yards in a single season. If he does re-sign with the Bills, Woods figures to be the second wideout behind Sammy Watkins.
Photo courtesy of USA Today Sports Images.