When one thinks of elite pass rushers, Ryan Kerrigan's name may not jump immediately to mind. Kerrigan's compatriots, superstars like Justin Houston, Von Miller, and Jason Pierre-Paul, tend to garner more attention, and rightfully so. But Kerrigan has quietly put together an excellent early career in Washington, notching 38 sacks over his first four years in the league while starting each of his team's 64 games during that time. Twice he has been ranked among the top 10 3-4 outside linebackers in the league, per Pro Football Focus' advanced metrics (subscription required), and he has never been ranked outside the top 30.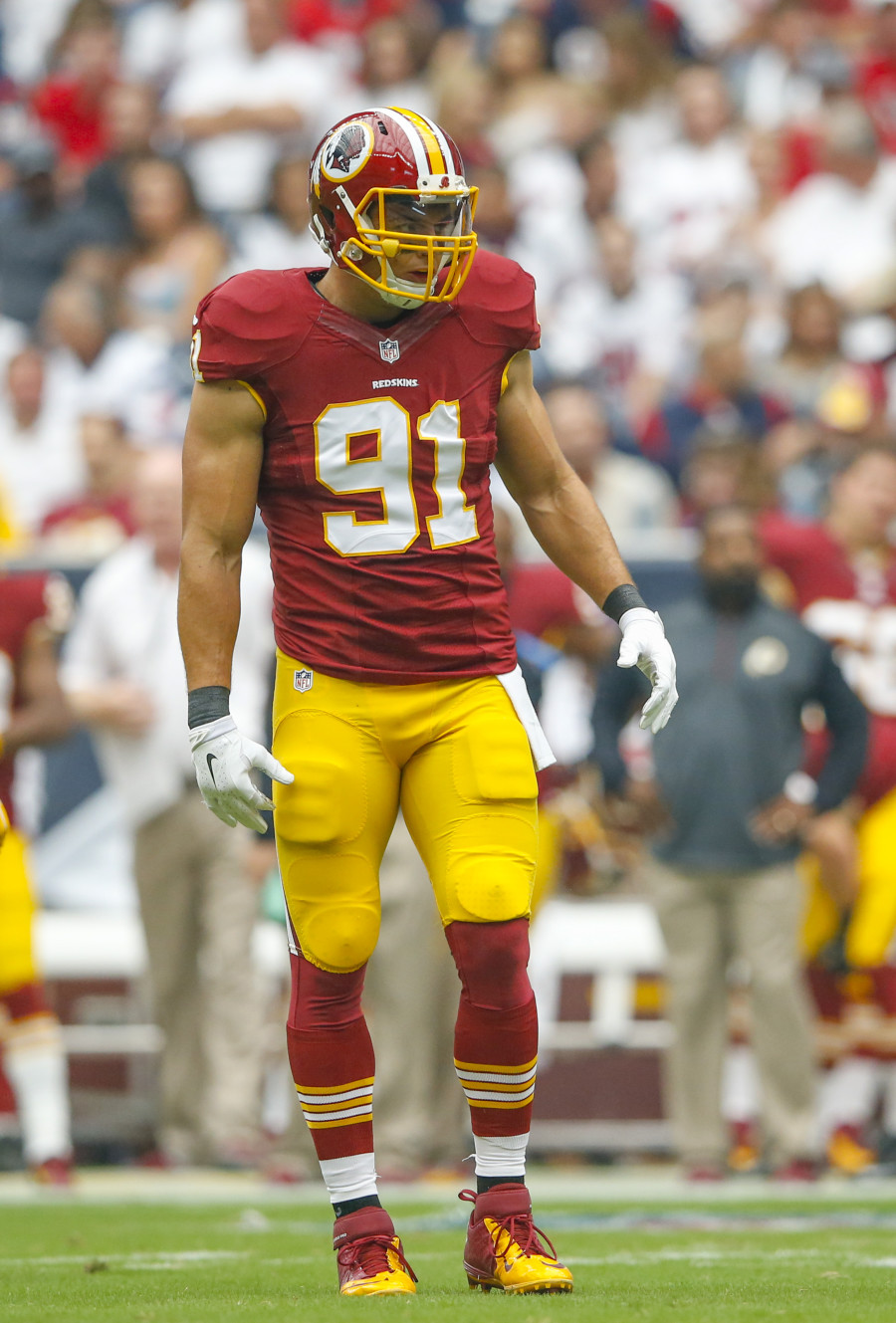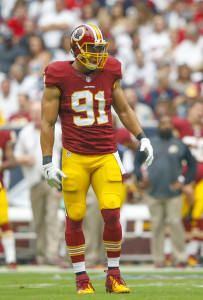 2014 was his finest season to date, as he posted his first double-digit sack total (13.5) and finished as PFF's fifth-best 3-4 OLB. He also has a penchant for the big play, with two interceptions, two touchdowns, 16 passes defensed, and a whopping 15 forced fumbles to his credit. He has never been particularly strong against the run, earning negative grades in that area in all four seasons of his professional career, but his pass-rushing abilities make him an integral part of Washington's front seven.
To that end, Washington has made it known that it wants to lock up the former Purdue product, who is entering the final year of his rookie contract, to a long-term deal. We learned back in March that Washington was discussing an extension with Kerrigan, and on May 11 of this year, Kerrigan himself noted that talks were "progressing well." New GM Scot McCloughan also expressed optimism that a deal would get done, but on May 29, Kerrigan reported that, as far as he was aware, there were no updates to pass along on negotiations. That was the last we have heard on the matter.
Although Kerrigan has dealt with some injuries over the course of his career, those ailments have not, as his track record indicates, forced him to miss any playing time. He tore the lateral meniscus in his left knee in Week 3 of the 2013 campaign, but he was able to play through the injury and turn in a productive season (though he later admitted to John Keim of ESPN.com that the tear may have had an impact on his performance, as evidenced by the fact that he amassed just two sacks in the final nine weeks of the season after putting up 6.5 in the first seven). He had arthroscopic knee surgery to repair the tear immediately after the 2013 season ended, and he underwent another round of arthroscopic surgery on the same knee just last month. He said that the second surgery was merely cautionary, and at this point there is no reason to think otherwise. Of course, two surgeries in two years on the same knee could certainly impact his price tag, though if his 2015 performance is anything like his 2014 effort, that impact will likely be minimal.
Right now, all signs point to Kerrigan continuing his career in burgundy-and-gold for the foreseeable future, though Washington has other similarly pressing matters to resolve. For instance, the team hopes to strike an extension with left tackle Trent Williams, who is also entering the final year of his deal and who will likely command a contract with an $11-12MM average annual value. There are also a number of high-priced veterans eating significant cap space on 2016's ledger, though many of those veterans can be released without creating too much dead money should the team need to find some cap room.
Kerrigan's 2014 season put him in some pretty elite company, as PFF ranked him alongside the likes of Terrell Suggs, Julius Peppers, and Elvis Dumervil. But unlike those All-Pros, Kerrigan, at 26, is in the prime of his career, and while he is not an elite player who will rake in over $16MM annually like J.J. Watt and Mario Williams, he can expect a nice boost from the roughly $7MM he is earning this season. Pernell McPhee recently signed a five-year, $40MM deal with Chicago, and that was after serving his first four years in the league as a part-time player in Baltimore. I would think Kerrigan, who played exactly 1,000 snaps last season, has a reasonable chance at something along the lines of a five-year, $55-60MM deal with Washington. It may not make him the highest-paid linebacker in the game, but it should make both sides happy, and it would allow Washington to hold onto its best defensive player at a relatively reasonable price.
Photo courtesy of USA Today Sports Images.