Nine NFL players were assigned the franchise tag during the 2016 offseason. Here's a brief rundown, along with each player's franchise salary:
Franchise players (exclusive):
Franchise players (non-exclusive):
Some of the players listed above have already had their respective situations resolved. Cordy Glenn agreed to long-term extension with the Bills, while Carolina ultimately rescinded Josh Norman's franchise tag, allowing him to sign a deal with the Redskins. And while Eric Berry hasn't yet inked an extension with Kansas City, the most recent reports indicate that the star safety is expected to sign a new contract at some point before the July 15 deadline. The same goes for kicker Justin Tucker, who has signed his signed his franchise tag — he's confident that he and the Ravens will hammer out a deal in the near future.
A third of the list falls into a separate category — franchise-tagged players who haven't yet agreed to an extension, and don't seem likely to any time soon. Kirk Cousins signed his franchise tender almost immediately, locking him into a guaranteed salary of nearly $20MM, but Albert Breer of TheMMQB.com reported yesterday that talks are "going nowhere," and both Cousins and Washington expect the signal-caller to play out the season on the tag. Like Cousins, Trumaine Johnson also signed his tender rather quickly, and isn't expected to reach a new deal with Los Angeles in the next twenty days. On the flip side, Muhammad Wilkerson has not signed his tender, but there's been no indication that he and the Jets are anywhere close to a new contract.
That leaves us with two remaining franchise players, and the pair — Von Miller and Alshon Jeffery — might be the dominant NFL storylines over the next few weeks. Any recent reader of PFR knows that Miller has garnered a copious amount of headlines as his negotiations with Denver drag on. Miller reportedly rejected a six-year deal worth about $114.5MM (specific guarantees and structure unknown), and then threatened a season-long holdout. Just yesterday, Josina Anderson of ESPN.com reported that the two sides had not talked contract terms since the early part of June.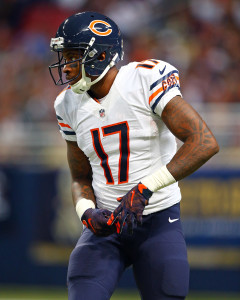 Reports surrounding Jeffery have been much fewer and far between, and that could be because the Bears wide receiver has already signed his tender, meaning he'll be with the Bears — and earning a hefty salary — no matter what happens over the next few weeks. But what little news has come about Jeffery's negotiations has been murky. An early June report indicated that Jeffery was unlikely to reach an extension with Chicago, but just days ago Jeremy Fowler of ESPN.com said the two sides were still discussing terms, noting that a new deal is "certainly possible."
The question at hand, then, is this: who is more likely to sign a long-term deal, Miller or Jeffery? Certainly talks between Jeffery and the Bears have been more amicable, but more is arguably at stake for Miller and the Broncos. Trying to defend a Super Bowl title, Denver can't afford to have its most talented player not present, while Chicago doesn't have to worry about Jeffery not showing up. Still, with negotiations between Miller and the Broncos seemingly turning acrimonious, is there any hope of an extension?
What do you think? Which superstar is more likely to be with their respective team for the long haul? Is it possible that both Miller and Jeffery ink new contracts? Leave your thoughts in the comment section!
Photos courtesy of USA Today Sports Images.
Follow @PFRumors