2015 was a good year for the Jaguars on the offensive side of the ball, as quarterback Blake Bortles, running back T.J. Yeldon, and wide receivers Allen Robinson and Allen Hurns showed they can be part of a core that could lift the club out of the AFC South basement. Unfortunately, Jacksonville's defense didn't make a similar leap, and the end result was a 5-11 record and another top-five draft pick. But with that draft choice and a bundle of cap space, the Jaguars had an opportunity to make headway this offseason.
Notable signings:
For the third consecutive year, the Jaguars and general manager Dave Caldwell were among the league leaders in available cap space, and for the third consecutive year, the club entered the free agent market with an aggressive plan. And for the third consecutive year, Jacksonville used its ample funds to target help along the defensive line.
After acquiring Red Bryant and Chris Clemons in 2014 and Jared Odrick in 2015, the Jaguars lured in former Broncos defensive lineman Malik Jackson, handing him the largest deal — in terms of total value — of the 2016 offseason. On its face, the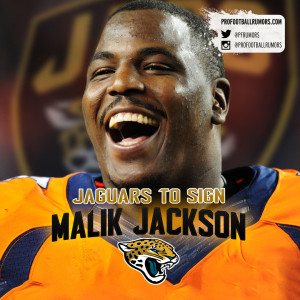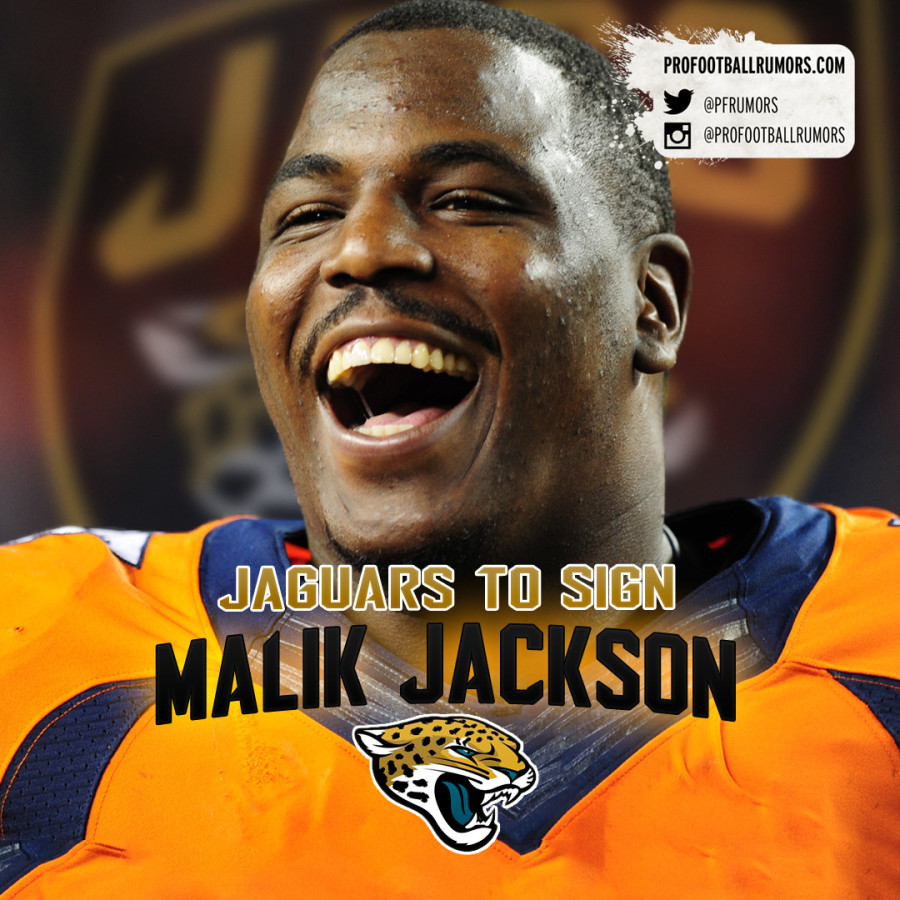 contract looks like it certainly has a higher chance of success than either the Bryant or Clemons pacts. Bryant was nearing 30, and Clemons had already turned 32, when each signed with Jacksonville. Jackson, meanwhile, just turned 26 years old in January, so his deal should take him through the prime of his career.
Detractors would likely note that Jackson has only one season as a full-time starter under his belt, perhaps comparing him to offensive tackle Jermey Parnell, whom the Jags inked to a relatively large contract last offseason despite him only having seven career starts. But Jackson had been a heavily-used rotational lineman for Denver even before last season, playing on half the Broncos' snaps in both 2013 and 2014 before seeing that percentage jump to about 75% in 2015.
And Jackson has also been quite good. He posted 5.5 sacks last year, a solid figure for a 3-4 defensive end, and earned the seventh-highest pass rush grade among interior rushers, according to Pro Football Focus, which also assigned him positive marks against the run. Jackson will move inside to defensive tackle in Jacksonville's 4-3 scheme, lining up at the three-technique next to Roy Miller, Odrick, and 2015 first-round pick Dante Fowler Jr., who has yet to play an NFL down after tearing his ACL last summer. Head coach Gus Bradley, a former Seahawks defensive coordinator, is likely hoping Jackson can become the Jaguars' version of Michael Bennett.
Jacksonville didn't stop trying to improve its defense after inking Jackson, and it shouldn't have, as the unit hasn't ranked better than 20th in defensive DVOA during Bradley's three-year tenure (and actually regressed to 26th last season). The club was especially poor against the pass — 28th in yards allowed through the air, 31st in passing defense DVOA — so after signing cornerback Davon House last offseason, Jacksonville brought in former Browns safety Tashaun Gipson, giving him a five-year deal to roam center field.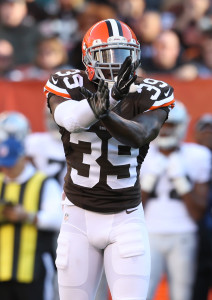 The Jaguars' 2015 safety crop was possibly the worst in the entire NFL last season, as Jonathan Cyprien, Josh Evans, and Sergio Brown were all incredibly unproductive. Brown has since been released, and while Cyprien will compete with James Sample for a starting job, Gipson will bring an air of respectability to the Jacksonville secondary. One of the more effective defensive playmakers in the league, the 25-year-old Gipson ranks third in interceptions among safeties since 2013, the year he became a full-time starter.
Elsewhere in the defensive backfield, the Jaguars added former Giants corner Prince Amukamara, inking him to a one-year deal that contains less than $2MM guaranteed. Although it may seem as though as he's been in the league forever, Amukamara is still only 27 years old, and he's expected to man the slot while Aaron Colvin serves a four-game suspension. It wouldn't be a surprise if Amukamara ends up holding down the job for the entire season, or eventually takes over for House on the outside.
Ryan Davis and Abry Jones will return to northern Florida after being assigned second-round restricted free agent tenders, and the pair will add to what is quickly becoming an above-average defensive line rotation. Davis, 27, is the better player, having posted 10 sacks during the past two seasons despite limited playing time. Jones, meanwhile, isn't a lock to make the Jags' 53-man roster given all the team's options on the interior, and his $2.553MM salary is not guaranteed. Jacksonville also added former first-round defensive end Bjoern Werner on a risk-free deal, hoping to capitalize on the upside that led the Colts to take the Florida State alum with the 24th overall pick in 2013.
On offense, the Jaguars signed former Steelers left tackle Kelvin Beachum to one of the more creative free agent deals signed this offseason. The club will pay Beachum only $1.5MM in guarantees in 2016, before being forced to decide on a $5MM option bonus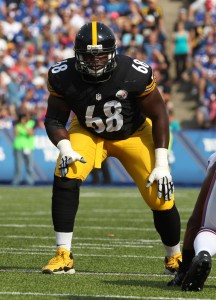 that would lock in the rest of the contract (and $13MM in guaranteed money). If Beachum stays healthy and plays well during the upcoming season, Jacksonville would presumably be more than willing to pick up the rest of the deal, which would only average $9MM annually.
Of course, Beachum's health is no sure thing, as the reason he was forced to agree to such a unique deal was an ACL injury wiped out most of his 2016 season. Recent reports have been positive, as Caldwell recently told reporters there's a "very high percentage" chance that Beachum will be ready for the start of training camp. If and when he does get back on the field, Beachum isn't expected to be placed in a competition for the left tackle job with former No. 2 overall pick Luke Joeckel — Beachum, rather, will simply be handed the job, with Joeckel possibly moving to guard.
If Joeckel does lock down the left guard position, then free agent addition Mackenzy Bernadeau will act as the Jacksonville's top reserve along the interior offensive line. With 49 career starts under his belt, Bernadeau, 30, is more experienced than any member of the Jaguars' projected starting front five. He's also extremely versatile, as he boasts starts at three positions — 40 at left guard, seven at right guard, and two at center.
Among the skill positions, the only major new face who will be present at Jaguars' training camp in a few weeks is running back Chris Ivory, lured away from the Jets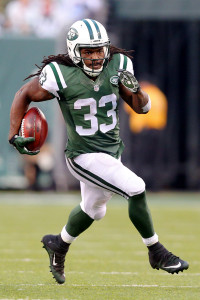 with a five-year, $32MM deal. A bruising runner, Ivory finally managed to stay healthy for most of last season and posted the best campaign of his career, rushing for than 1,000 yards and seven touchdowns while also managing a career-high 30 receptions. He'll team with last year's second-round pick T.J. Yeldon, but after inking a contract that contains $10MM in guarantees, it's hard to imagine that Ivory won't see the majority of carries. At the very least, he should get into the end zone often as the team's go-to back near the goal line.
Veteran tight end Marcedes Lewis and quarterback Chad Henne both re-signed with Jacksonville, but neither should have a large role next year if all goes to according to plan. Lewis actually outpaced Julius Thomas snap-wise in 2015 as the latter dealt with injury concerns, but Henne didn't see a single snap in relief of Blake Bortles. Lewis could act as the in-line, blocking tight end while Thomas acts as the move option next season, but obviously something will have gone terribly wrong if either he or Henne are forced to step in for serious amounts of time.
Continue reading about the Jaguars' offseason…
Notable losses:
The Jaguars didn't lose a ton of free agents that played key roles in 2015, but they will see a bit of turnover along their offensive line. Stefen Wisniewski proved valuable on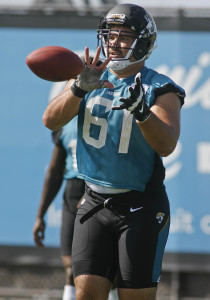 a one-year investment, grading as the No. 19 center in the NFL according to PFF, but he won't be back in Jacksonville next season, having agreed to a new contact with the Eagles. As such, the Jags will move former guard Brandon Linder to center, and the switch has apparently being going well, at least in the early stages.
Like Wisniewski, guard Zane Beadles played every offensive snap for the Jaguars last year, but unlike Wisniewski, Beadles' production simply wasn't there. After signing a five-year, $30MM deal prior to the 2014 season, Beadles started every game during the next two seasons. But Jacksonville cut bait this offseason, clearing out his entire $5.5MM cap charge, and will instead roll with former No. 2 overall pick Luke Joeckel at left guard.
Running back Toby Gerhart was another free agent bust to come out of that 2014 free agent class as the former Viking delivered less than 400 yards on the ground after inking a three-year, $10.5MM contract. Injuries sapped his ability, but Gerhart simply never looked as talented in a full-time role as he did as Adrian Peterson's backup. After losing time to Denard Robinson and T.J. Yeldon over the past two seasons, Gerhart was released earlier this year, and has yet to find a landing spot.
Unfortunately for general manager Dave Caldwell, defensive end Chris Clemons was yet another player signed during that 2014 offseason who ultimately didn't work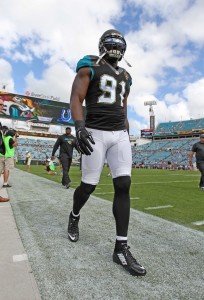 out. Clemons followed former Seattle defensive coordinator Gus Bradley to Jacksonville, and the club hoped that he'd have success in the same LEO role that he played with the Seahawks. Last season, Clemons lost his starting job halfway through the season, and ended up grading as the single-worst edge defender in the league, according to PFF. After being cut, Clemons decided to head back to the Pacific Northwest, signing a one-year deal with the Seahawks.
Sergio Brown joined the Jaguars in 2015 after spending several seasons with the Patriots and Colts, and ended up splitting time at safety, starting four games and playing about half the club's defensive snaps. The 28-year-old posted 29 tackles and 1.5 sacks, and was also a contributor on special teams. There's a spot in the NFL for Brown, who can get by playing near the line of scrimmage, but there wasn't a place for him in Jacksonville after the Jags added Tashaun Gipson.
After being selected with the 38th overall pick in 2012, defensive end Andre Branch never lived up to his draft status. He didn't become a full-time starter until this past season, and only registered 14 sacks in his four seasons with the Jaguars. Like Brown, Branch is a player who can play a specific role, and he'll add value as a rotational rusher with his new club, the Dolphins. But Jacksonville continued its augmentation of its defensive line over the past few months, rendering Branch obsolete.
The Jaguars didn't make an effort to re-sign tight end Clay Harbor, allowing him to join the Patriots while re-upping Marcedes Lewis instead. Perhaps the club wanted to reward Lewis for being something of a franchise icon over the past decade, but Harbor probably offers a lot of what Lewis can bring to the table, and for a much cheaper price. While Lewis will earn $4MM a year (and was handed $5MM guaranteed), Harbor signed for only $3MM over two years with New England.
Trades:
The Jaguars traded up on Day 2 of the draft in order to nab UCLA linebacker Myles Jack, whom many (including myself) thought was a candidate to head to Jacksonville in the first round. Although trading up is typically a poor strategy, the Jaguars didn't give up all that much, sacrificing just 102 cents on the dollar per Jimmy Johnson's draft value chart and 121 cents on the dollar according to Chase Stuart of Football Perspective. In this specific case, the upside and potential offered by Jack — provided he can stay healthy — was probably worth the risk of moving up.
Draft picks:
The football gods were smiling upon the Jaguars during this year's draft, as the event simply couldn't have gone much better for Jacksonville. The Cowboys opted to select Ohio State running back Ezekiel Elliott, and reportedly turned down a trade offer
from the Ravens, who were looking to move up to No. 4 to choose Jalen Ramsey. Instead, the Jags stayed put at No. 5, and picked up a player whom many considered to be the top talent available in the entire draft.
Ramsey has the ability to play inside corner or safety, but it sounds like he'll begin his career on the outside in Gus Bradley's defense. The model, of course, is Richard Sherman, a player whom Bradley coached in Seattle, and the Jaguars hope that Ramsey will evolve into a lockdown corner who shuts down one half of the field. It'll be interesting to see if Jacksonville uses Ramsey in the slot at at all during his rookie campaign, or perhaps lines up him against particularly imposing tight ends.
Jacksonville's run of good luck continued in the second round, as UCLA linebacker Myles Jack was still sitting on the board after pre-draft injury concerns popped up. The Jags traded up with the Ravens to select Jack, whose coverage skills are a perfect fit for today's NFL. Jack, who also played safety and some running back for the Bruins, saw time at middle linebacker during minicamp, but is expected to play outside during the regular season, likely usurping Dan Skuta.
After adding Malik Jackson in free agency, the Jaguars continued to add to its pass rush via the draft, selecting Yannick Ngakoue, Sheldon Day, Tyrone Holmes, and Jonathan Woodard on Day 3. Day, especially, can be considered something of a steal, as many observers projected him to be picked in the second round. Pro Football Focus, notably, was high on the Notre Dame alum, and graded him as the most productive defensive tackle in the FBS last season.
Extensions and Restructures:
There are a number of ways to analyze any contract, and no deal exemplifies that notion better than the extension signed by wide receiver Allen Hurns. On its face, the agreement is for four years and $40.05MM, and ranks 12th among receiver contracts in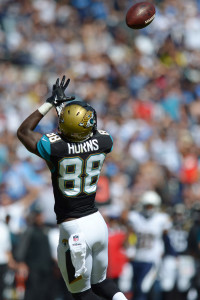 terms of annual average value. However, another way to look at the pact is to consider that the Jaguars would have likely placed a first-round restricted free agent tender on Hurns in 2017. As a former undrafted free agent, Hurns would have had no other choice but to accept the tender, provided no other club signed him to an offer sheet.
Let's assume, for simplicity, that the first-round tender next season is worth $4MM (it was $3.635MM this year). So in alternate scenario where Hurns doesn't sign this extension, he's controlled through 2017 at a cost of $4.6MM — his scheduled 2016 base salary plus the 2017 first-round tender. It's possible to argue, then, that this new deal is "effectively" worth $35.45MM over three years, which works out to an average of roughly $11.82MM per year. That AAV would place Hurns seventh among wide receivers instead of 12th. If I were Hurns' agent, that's how I'd frame the agreement.
The extension will have wide-reaching implications, not just for receivers around the league, but for the pass-catcher who lines up opposite Hurns. Allen Robinson posted better numbers than Hurns last season, has a higher draft pedigree (Robinson was a second-round pick), and can't be controlled through the RFA system. Of course, Robinson can't even negotiate an extension until after the 2016 season, so this discussion is a bit premature, but with the cap continuing to rise, Robinson should easily usurp Hurns' deal, and could push for more than $15MM annually.
Other:
The Jaguars haven't seen a huge turnaround under head coach Gus Bradley, as the club has posted four, three, and five wins in each of three seasons during his tenure.
Surprisingly (given Bradley's background), the club's defense also hasn't seen much improvement, but Jacksonville's offense, buoyed by additions like Blake Bortles, Allen Robinson, and Allen Hurns, has made the jump to No. 21 in offensive DVOA, its best ranking under Bradley and his staff.
Despite not advancing much in the standings, the Jags extended Bradley through the 2017 season, a move that is likely procedural due to the fact that teams don't like the head coaches to enter lame-duck seasons. Some observers have deemed 2016 a "make-or-break" season for Bradley, opining that his seat is especially hot given that front office's level of free agent spending over the past few offseasons. But general manager Dave Caldwell downplayed that sentiment earlier this year, saying that that club had embarked on a four-to-five-year plan when the new staff took over prior to 2013.
Caldwell's first draft pick, offensive lineman Luke Joeckel, has been an unmitigated disaster in his first three years in the league, struggling so much that the club signed Kelvin Beachum this offseason with the intention of moving Joeckel to guard. As such, there was no chance Jacksonville would exercise its 2017 fifth-year option for Joeckel, which would have paid him nearly $12MM. He'll play out the last year of his rookie deal, hoping the move inside can salvage his career.
Another of Caldwell's first-round picks, edge rusher Dante Fowler Jr., missed his entire rookie season after tearing his ACL, and Jags fans held their breath after reports that this year's first-rounder, defensive back Jalen Ramsey, had suffered an injury during rookie minicamp. Luckily, will be ready to return by training camp after undergoing an operation on his meniscus, and he's reportedly experiencing no physical limitations. Jacksonville's run of bad rookie luck did continue with seventh-rounder Jonathan Woodard, who will miss the entire season after tearing his Achilles.
Top 10 cap hits for 2016:
The AFC South is one of the more interesting divisions in the NFL, and it seems like any of the four teams could make a run at the crown. The Colts will hope for a healthy season from quarterback Andrew Luck, the Texans will lean on their vaunted defense and a few new offensive additions, and the Titans will rely on growth from signal-caller Marcus Mariota and an improved running game. The Jaguars showed last season their offense can be explosive, and any jump in the win department will likely require development on the defensive side of the ball. Whether the club makes that leap could determine whether head coach Gus Bradley, and possibly general manager Dave Caldwell, returns in 2017.
Information from Over the Cap, Spotrac , and Roster Resource was used in the creation of this post. Photos courtesy of USA Today Sports Images.
Follow @PFRumors