Coming off one of the worst head-coaching tenures in NFL history, the Jaguars hired former Super Bowl winner Doug Pederson to be their third sideline leader in three years. This franchise has one winning season in the past 14 years, and the past two have represented the deepest valley during the near-10-year Shad Khan ownership era.
Moving on from Urban Meyer will help, but the Jaguars were 1-15 in 2020 as well. The roster has turned over significantly since then, and the Jags spent aggressively in March to upgrade their talent level. As Trevor Lawrence attempts to shake off a rough rookie year — one in which he certainly drew some bad cards to start his career — how much will the moves the Jags made in March and April elevate them from their miserable start to the 2020s?
Free agency additions:
Kirk's contract did not take the wide receiver market to new heights, but it certainly catalyzed this offseason's historic run of receiver raises. The No. 2 wideout behind Larry Fitzgerald and then DeAndre Hopkins, Kirk is coming off a career-high 982-yard season and has experience outside and in the slot. At 25, the former second-round pick is the kind of ascending player to target in free agency. That said, this was a big number that produced a substantial ripple effect.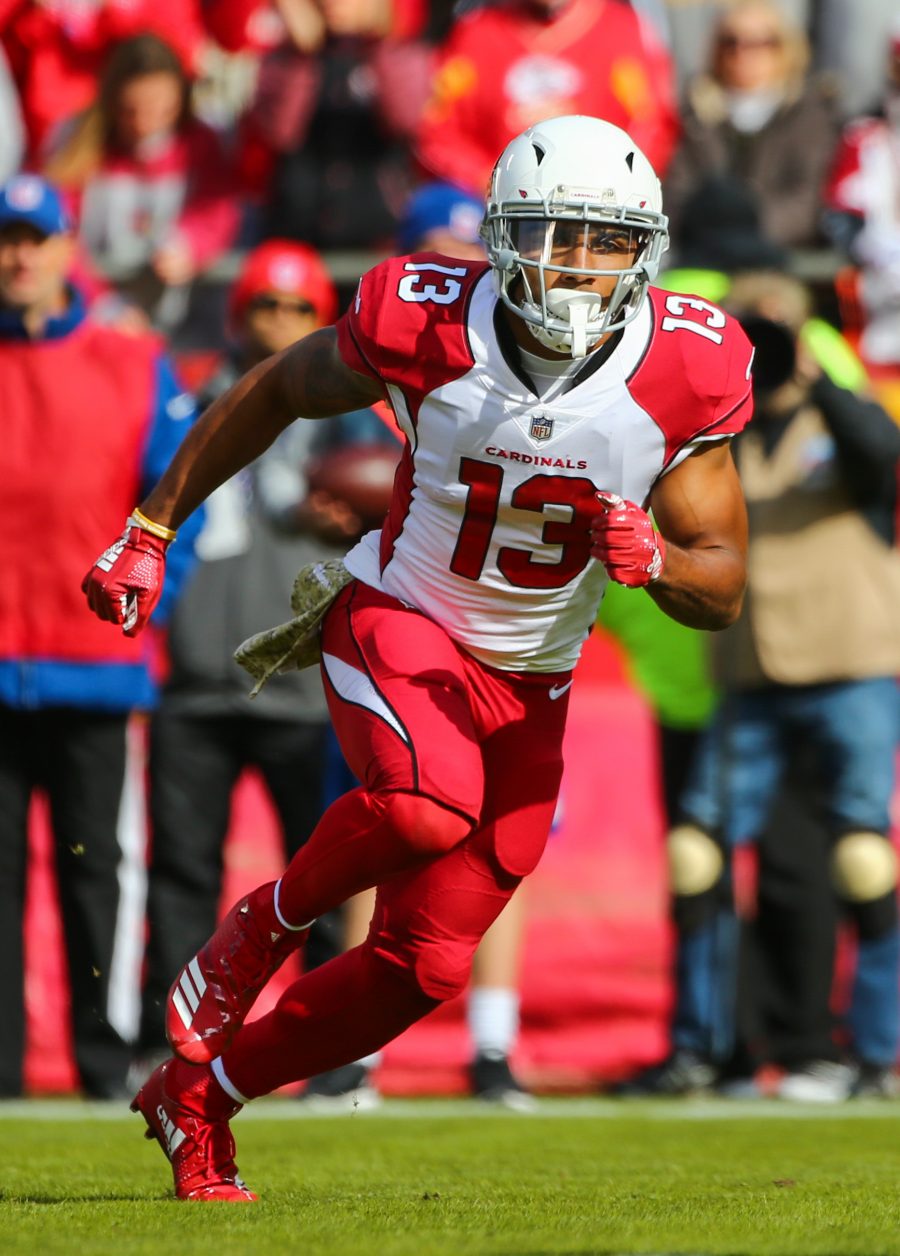 At the time of signing, Kirk's $18MM-per-year deal ranked seventh among receivers in AAV. That added to the deal's shock value. But with so many receivers becoming $20MM-AAV players in the months that followed, Jacksonville's oft-criticized receiver contract checks in at a more reasonable 18th entering the season.
Chark's injury stripped Meyer's team of its top target, and Marvin Jones is a lower-end WR2 at best at this point. The team has a rookie-quarterback contract, and its offseason reflected it. Kirk, 25, might not deliver on this pact, and he undoubtedly benefited because of the Jags' situation. But this is essentially a two-year, $37MM deal that pairs well with Lawrence, who does not become extension-eligible until Kirk's guarantees stop in 2024. The Jags pursued Amari Cooper in a trade. That would have been the safer bet, and it turned out to be a bargain for the Browns. But Kirk is three years younger, working in the Texas A&M product's favor as his market rose to an unexpected place. The Eagles were indeed shocked at where Kirk's market climbed.
Now, does the Jones contract — arguably free agency's most bizarre accord — undercut potential optimism about the Jags' receiver plan? Probably. But Kirk drew interest. And the Jags' circumstances necessitate overpays. A few more of those transpired.
One of the oldest first-time free agents in modern NFL history, Scherff nevertheless maximized his value via the Kirk Cousins path. Following in the footsteps of Washington's former quarterback, the team's top guard was twice franchise-tagged and committed to Jacksonville on a guard-record contract. Quenton Nelson will surpass it soon, but for now, Scherff's $16.5MM AAV leads the way. The Jags are taking risks on the age (30) and injury fronts here; Scherff has missed 22 games over the past five seasons. But talents like this are rarely available in their primes. The Jags did well to capitalize on the unique circumstances that led Scherff — the first franchise-tagged guard since Logan Mankins in 2011 — to free agency. It made sense for the Jaguars to go big for O-line talent. Pro Football Focus rated their line — one largely unchanged from the 1-15 2020 showing — 24th last season.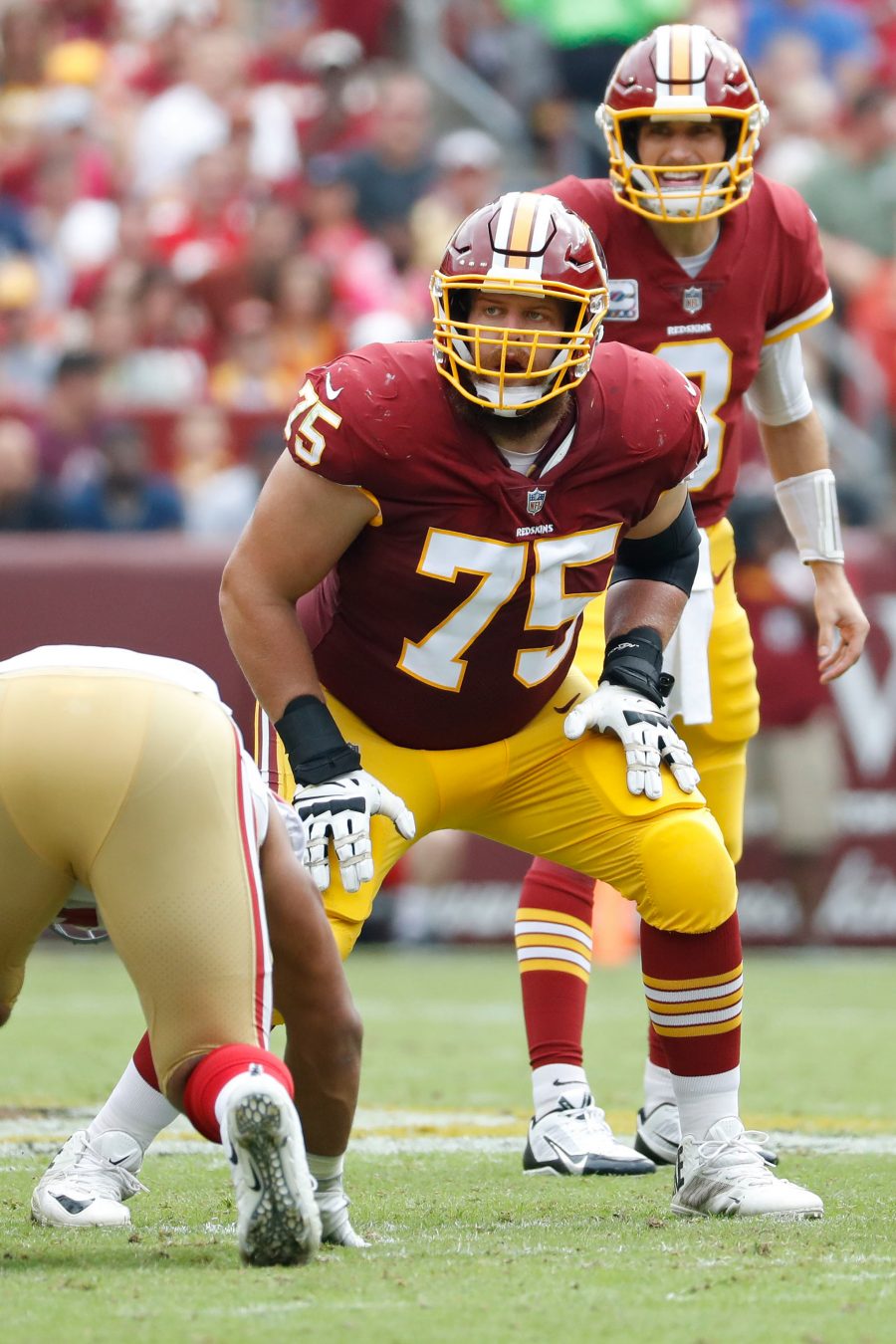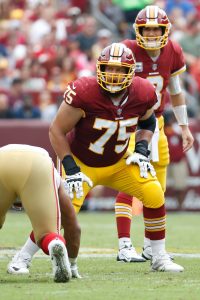 The former top-five pick is a five-time Pro Bowler and is riding a three-year streak of such honors. Like Kirk's deal, the guarantees align with a low-cost QB contract. An argument could be made the Jags did not devote enough resources to address their front this offseason, but Scherff — whom various NFL personnel (via ESPN.com's Jeremy Fowler) rated as the league's third-best interior O-lineman this offseason — is a nice building block.
Oluokun's $15MM AAV still ranks fourth at his position — a spot in which teams are stingier in doling out payments, as the Roquan Smith saga shows. PFF did not view Oluokun's two starter seasons particularly well, but the former fifth-rounder's market showed teams were higher on him. Oluokun's 192 tackles were the most by an NFLer in a season this century. He added two sacks, six passes defensed and three interceptions — including one to seal a late-season win over the Lions. This is probably an overpayment, considering the names that accompany Oluokun atop the off-ball linebacker market, but the talent-starved Jags could afford it — especially after Myles Jack's contract came off the books.
Jacksonville's defense outpaced its offense last season, but the team still ranked 23rd against the run. Enter Fatukasi, who excelled in this area as a Jet. Fatukasi's deal represents a major profile rise for a former sixth-round pick, but the 27-year-old defensive tackle rated as a top-15 PFF interior D-lineman in 2019 and '20. While the advanced metrics site was less bullish on his work as a full-time starter last season, the UConn alum still stands to upgrade the Jags' run defense.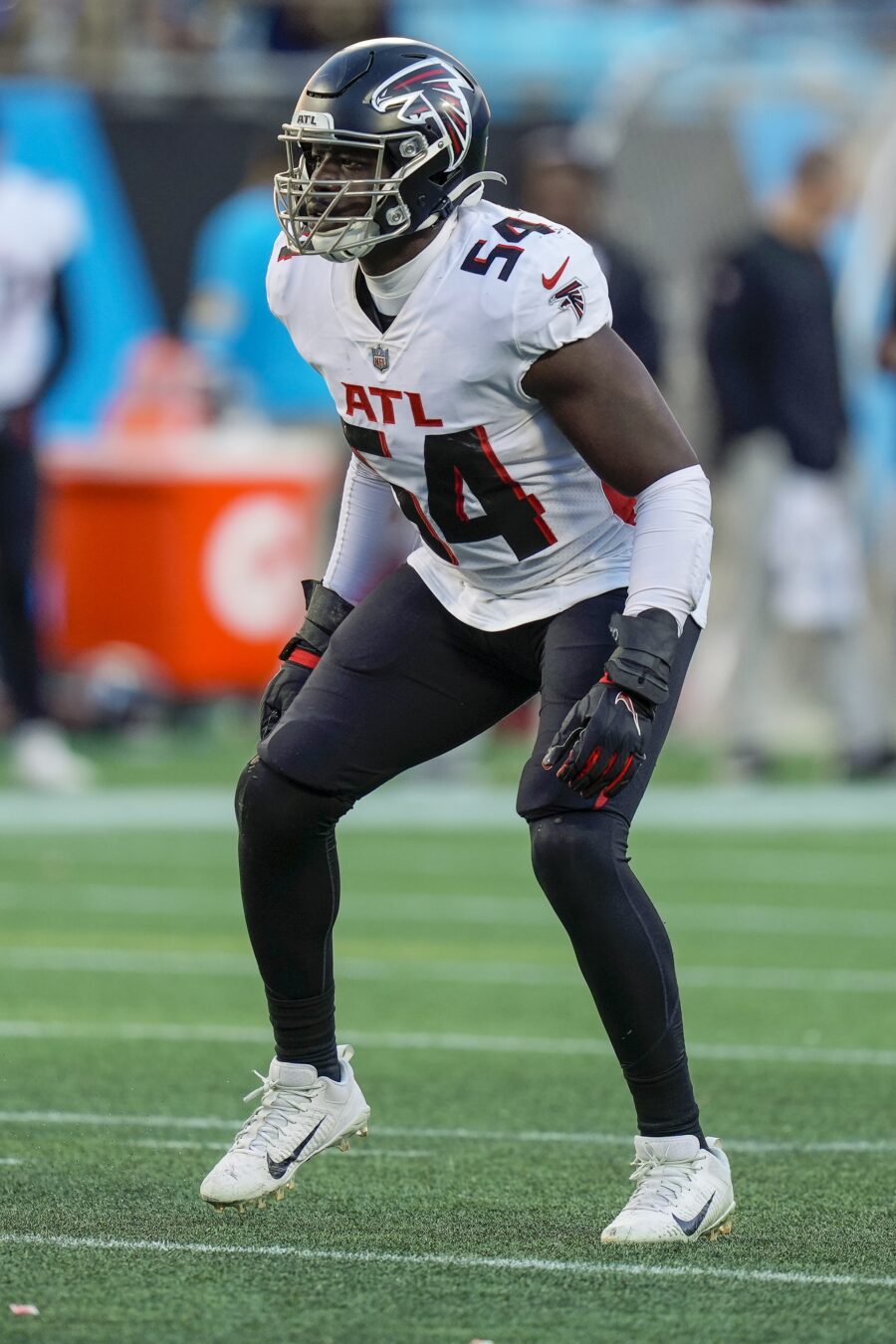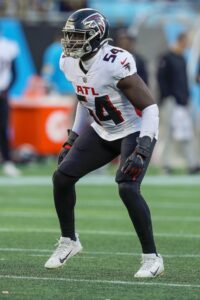 After signing Williams ($10MM per year) and Shaquill Griffin ($13.3MM AAV) in consecutive offseasons, the Jaguars field a sneakily expensive cornerback contingent. Only the Dolphins (Xavien Howard, Byron Jones), Ravens (Marlon Humphrey, Marcus Peters) and Commanders (William Jackson, Kendall Fuller) have two eight-figure-per-year corners. That will be a less notable distinction as the cap growth continues, but the former Jalen Ramsey sidekick will need to step up on his own.
Williams, 29, zoomed onto the radar with a four-INT 2020, when PFF rated him as a top-five corner. Some of Williams' metrics worsened in 2021, when he allowed four TD strikes, but his yards-per-target figure dropped to 6.6. The Jags will be expected to deploy the Jacksonville native as a nickel alongside Griffin and Tyson Campbell.
Although it was surprising the Jags did not further augment their pass-catching corps in the draft, taking a flier on Engram makes sense. The former Pro Bowler has shown talent in spurts, but injuries and inconsistency doomed his Giants run. Playing with Lawrence in a Pederson-run offense is a better situation than what Engram was dealing with in New York, however.
The athletic receiving tight end who delivered one of the most productive rookie-year tight end seasons in recent NFL annals (722 yards, six TDs) also has shaken the injury bug, missing only three games since 2020. The former first-round pick turns 29 in September; he is running out of time to secure a nice free agency payday. If Engram stays healthy, this could be a nice value signing. The Jags have not generated much from the tight end position since Marcedes Lewis' prime, missing on Julius Thomas and Josh Oliver. Engram contributions would be a bonus through that lens.
Re-signings:
Notable losses: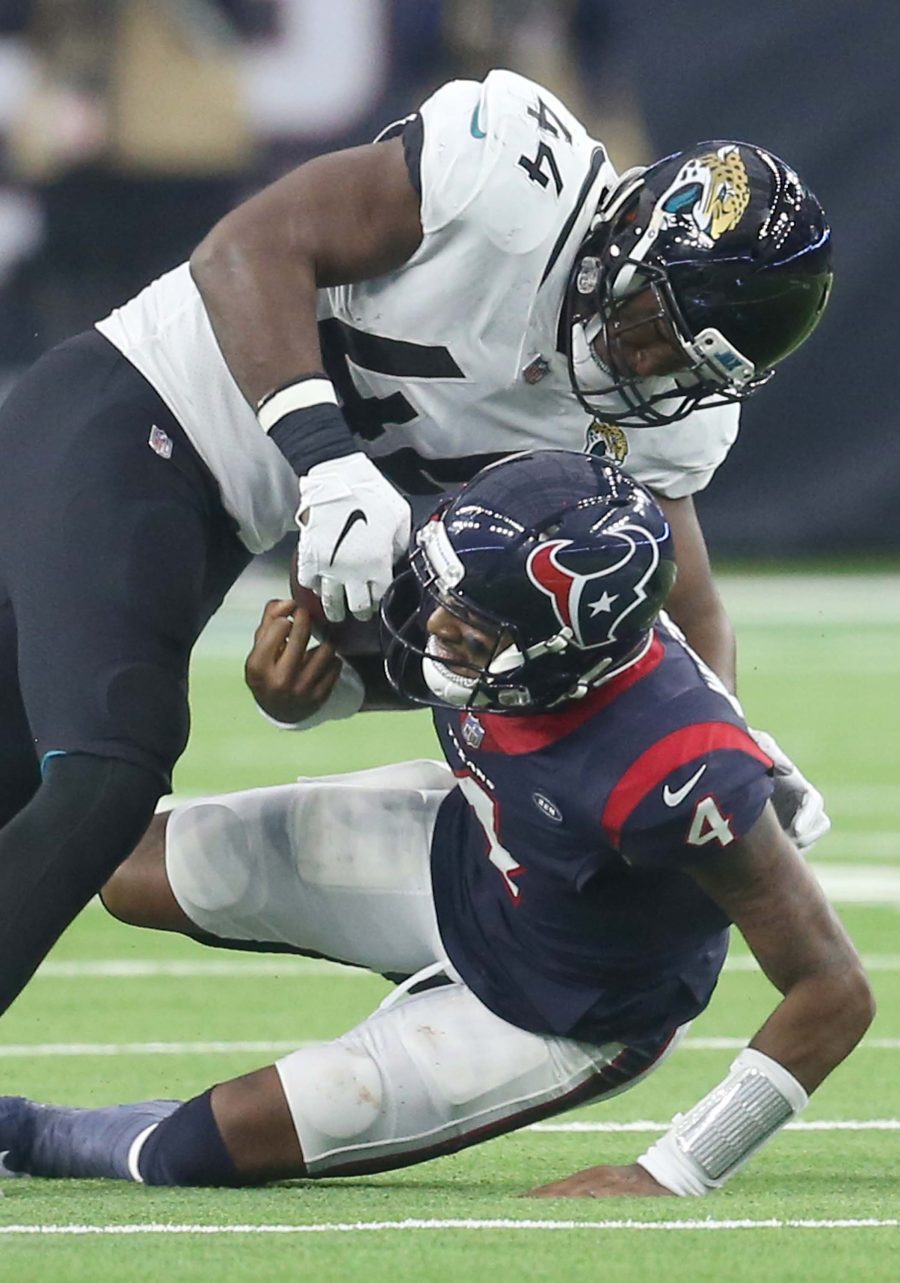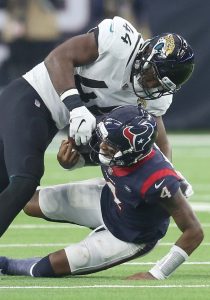 Nearly half of Jacksonville's lineup will consist of new starters, and while new regimes often overhaul the roster, Pederson taking a job for a team that has gone 4-29 since 2020 almost mandated it. The Jags' Week 1 interior O-line from last season is gone, as is their longest-tenured defender.
Seeing Jack reward Pittsburgh's two-year, $16MM deal would not surprise. The former second-round pick was part of a Jags defensive core that had a moment in the late 2010s, leading the NFL in DVOA in 2017. Jack would have been a first-round pick if he entered the draft healthy, but the UCLA product rewarded the Jags by shaking off his knee injury to begin a starter run as a rookie. Jack played a major part in the Jags' 2017 ascent, and had officials not incorrectly whistled him down after his second-half fumble recovery in the AFC championship game, the NFL might have had one of its all-time unlikely Super Bowl entrants.
PFF rated Jack as one of the NFL's worst linebackers last season, however, and the Jags bailing on his four-year, $57MM extension in March saved them $8MM. However, Jack was asked to keep switching positions in recent years and the seventh-year vet is only going into his age-27 season. The Jags clearly had big plans at linebacker this year, as their 2022 investments show.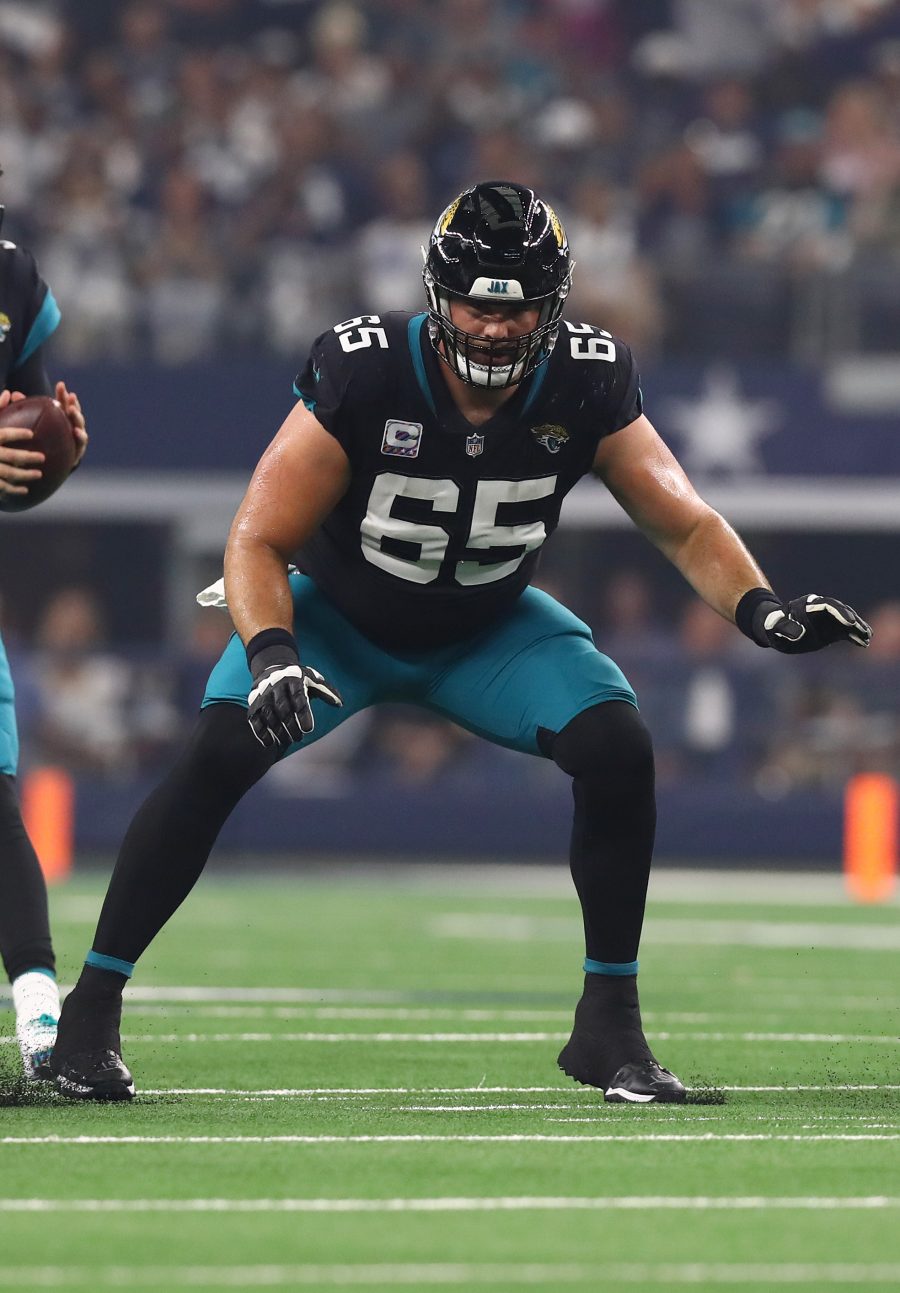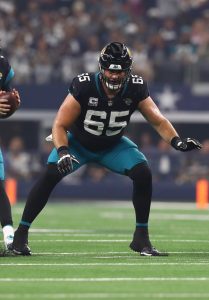 Linder and Cann had been starters for eight and seven seasons, respectively, arriving in the 2014 and '15 third rounds. These two combined for zero Pro Bowls but each gave the franchise long stretches of starter work after signing extensions. Injuries kept Linder off the field too often, but he was one of the NFL's better centers when available. PFF graded the ex-Miami Hurricane as a top-five center each year from 2016-20, though he did miss 19 games in that span. Cann's 94 Jaguars starts are the fourth-most by an O-lineman in Jaguars history — behind only Brad Meester, Vince Manuwai and Maurice Williams. Cann, 30, did not play fewer than 15 games in a season from 2016-20, but a knee injury limited him to four in his Jags finale. The Jags will see him soon, as he signed with the Texans.
Pederson expressed interest in re-signing Chark, despite the broken ankle that ended his 2021 season early. Re-signing Chark would seemingly have been a better decision than guaranteeing Zay Jones $14MM, but by the time Chark agreed to his one-year, $10MM Lions deal, the Jags had already added Kirk and Jones. Chark is responsible for the only Jags 1,000-yard season since 2015 — his 1,008-yard year with Gardner Minshew in 2019. That provides a rather sobering glimpse at this team's receiver situation since Allen Robinson's ACL tear and also may help explain the Kirk payment.
Draft: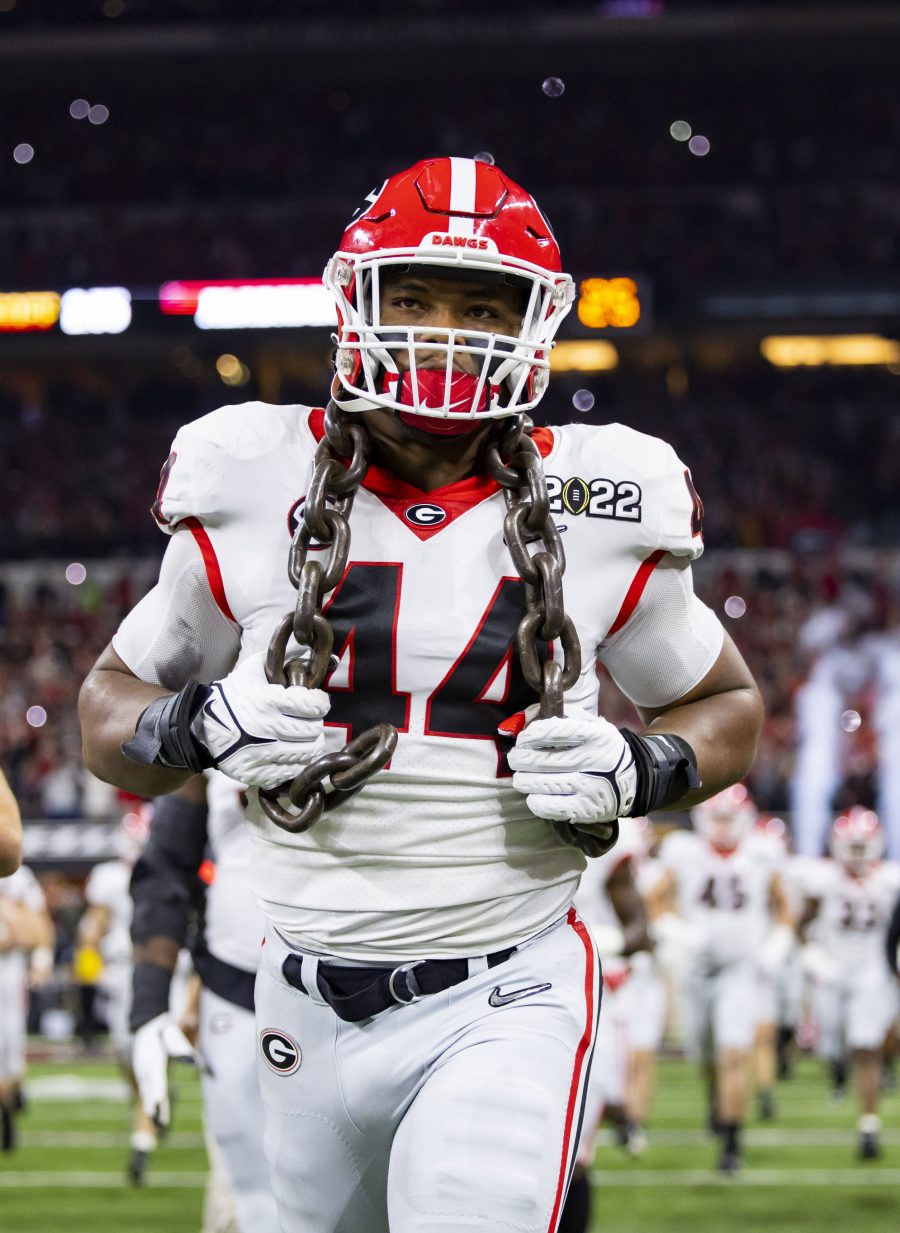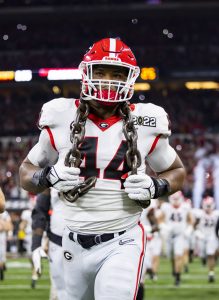 After Kayvon Thibodeaux saw his stock dinged during the pre-draft runup, Aidan Hutchinson had moved into pole position to be the Jaguars' top pick. Not until late March did the prospect of the team going with Walker surface. As the size-speed freak gained steam into April, a report days before the draft indicated Baalke and Khan disagreed on how to proceed. The owner was believed to want the safer pick in Hutchinson, while Baalke was behind Walker's toolbox. Khan has held roster control at points in the past, so deferring to his football ops department is probably for the best here. But Walker (ESPN.com's No. 8-ranked prospect) does come with more risk than Hutchinson, whom the Lions chose quickly while on the clock.
Although Walker went No. 1, some of his Georgia teammates who went in Round 1 bring higher floors. The Bulldog defense's five-first-rounder haul did not lead off with a statistical monster, as Walker's college stats do not compare to some recent drafts' first defenders selected. Hutchinson's numbers, as a senior at least, were more in line with Chase Young — with each being second-place Heisman finishers, though Hutchinson was not an open-and-shut lock like Young entering his draft — and the Bosa brothers than Walker's, but the Jags will bet on the latter's athletic ceiling. At 272 pounds, Walker blazed to a 4.51-second 40-yard dash at the Combine. Walker was also a five-star recruit coming out of high school in Georgia.
While not a proven pass rusher (9.5 sacks and 13 tackles for loss in three Georgia seasons), Walker is impressing so far. NFL.com's Lance Zierlein was higher on his all-around game than his potential as a pure pass rusher, but the Jags will use him as a 3-4 edge opposite Josh Allen. The Walker pick, which preceded a rare rookie contract without offset language, was the team's third first-round edge selection in the past four years. Allen has panned out; 2020 first-rounder K'Lavon Chaisson has not. Needless to say, Walker and Hutchinson will be linked for a while.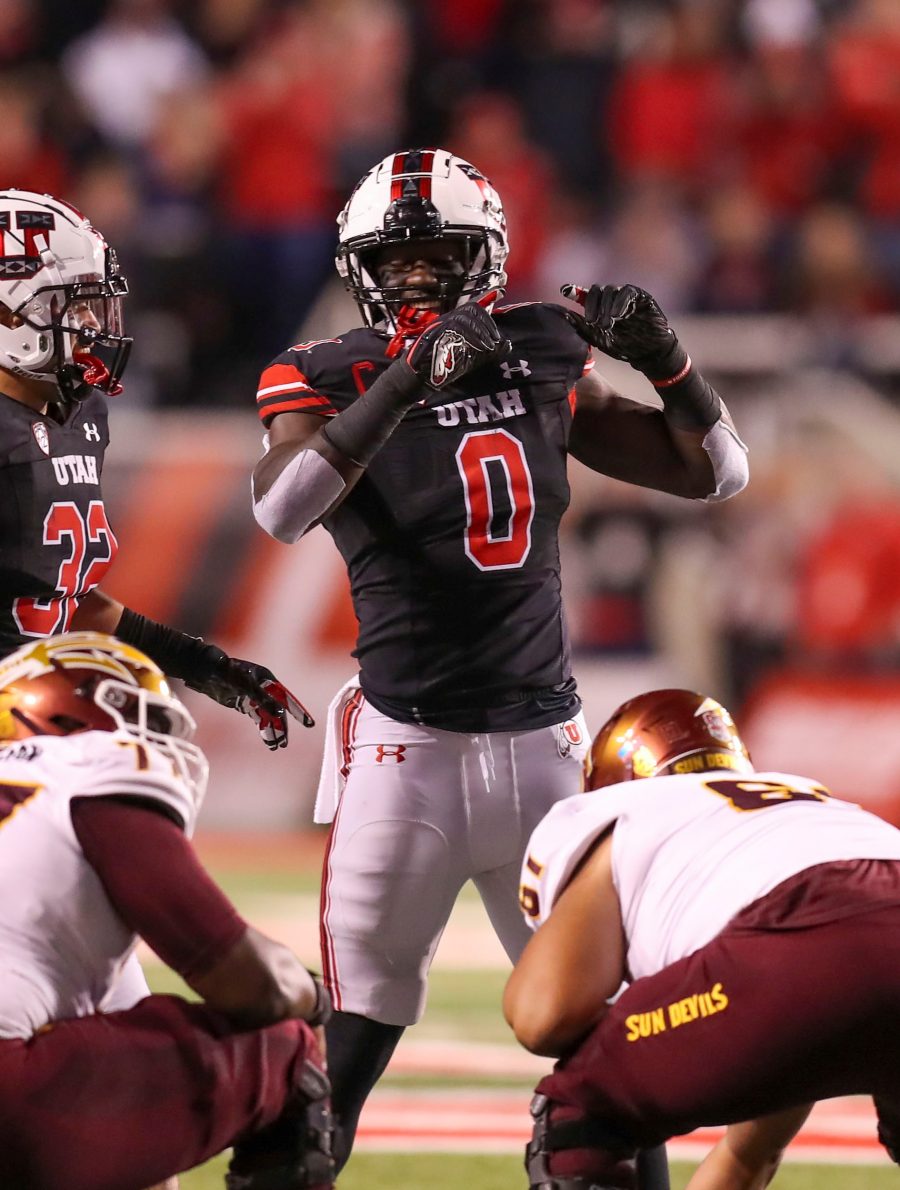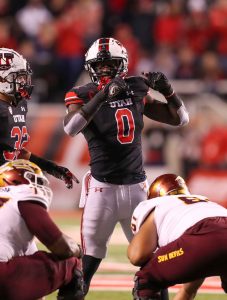 Moving up six spots for Lloyd, the Jags continued their big offseason at linebacker. The team plans to play the ex-Ute as a first-string inside 'backer alongside Oluokun but has intermittently tried him on the edge as well. At Utah, Lloyd's hybrid skillset earned him Pac-12 Defensive Player of the Year acclaim last season. Lloyd paired 111 tackles (a staggering 22 for loss) with seven sacks and four interceptions in 2021.
Although Micah Parsons set the bar high for hybrid linebackers, Lloyd's versatile senior season presents optimism about his NFL capabilities. DC Mike Caldwell also has some experience with an off-ball linebacker capable of impacting games as a pass rusher, with Devin White on his way to a monster Buccaneers extension. The Oluokun payment and Lloyd trade-up made the Muma selection rather curious, with a starting spot seemingly not in play for the ex-Mountain West Conference standout in the near future.
The Jags re-signed Tyler Shatley, Linder's primary replacement who has made 33 career starts but have the 31-year-old blocker battling for the left guard job with Ben Bartch. Fortner is already ticketed to be the team's starting center. That is a nice leap for the third-rounder, but as the only O-lineman the Jags selected, Fortner was unlikely to be given a long learning curve. Fortner trained behind Shatley during the team's offseason program, and the 36-game Kentucky starter will be given a sink-or-swim opportunity snapping to Lawrence.
Extensions and restructures: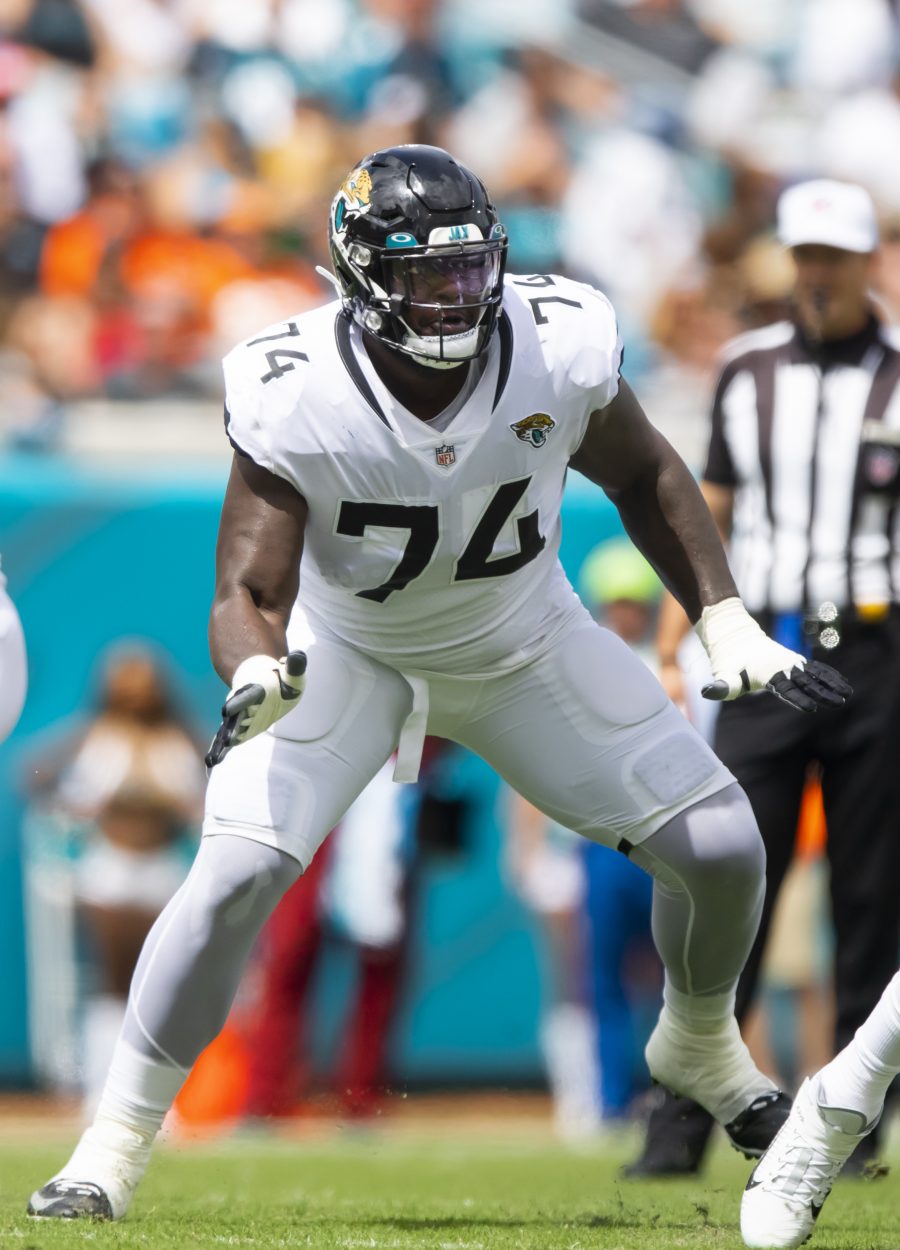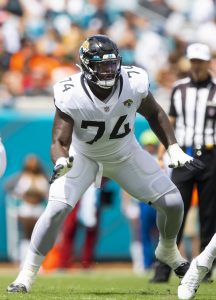 The Jags changed head coaches in 2021 and 2022, but each staff saw fit to cuff Robinson via the tag. This year-to-year partnership produced a resolution this year — one that seems a nice compromise. Robinson is not an elite left tackle. The former second-rounder's lack of accolades and modest PFF placements (70th, 62nd and 48th among tackles from 2019-21) reveal a middling player. But he is coming off his best season — a year in which he allowed just one sack and graded as an above-average pass protector — and has been available since the early-season ACL tear cost him most of the 2018 slate. A $33MM guarantee and an opportunity to move toward free agency ahead of his age-30 season is a nice arrangement for the former Alabama talent.
Despite being tied to the tag, Robinson agreed to the seventh-highest left tackle AAV. But his fully guaranteed money checks in fifth. These figures are not commensurate with the sixth-year blocker's status in the game — ESPN.com's offseason poll of anonymous NFL execs did not yield a single vote for Robinson as a top-10 tackle — but Robinson found himself on a team without a cornerstone young lineman and played the part during this multi-offseason stretch. The Jags cannot reasonably escape this contract until 2024.
Other:
Meyer-to-Pederson may be one of the NFL's biggest 2022 upgrades. There simply are not many coaches across the NFL's 102-year history who can be considered for having a worse stay than Meyer, whose poor record came along with a cavalcade of strange headlines and subplots. Khan had pursued the three-time national championship-winning HC in the past, but in a poor ownership run, the decision to give Meyer a five-year contract worth around $10MM per year and make him the de facto top decision-maker stands out.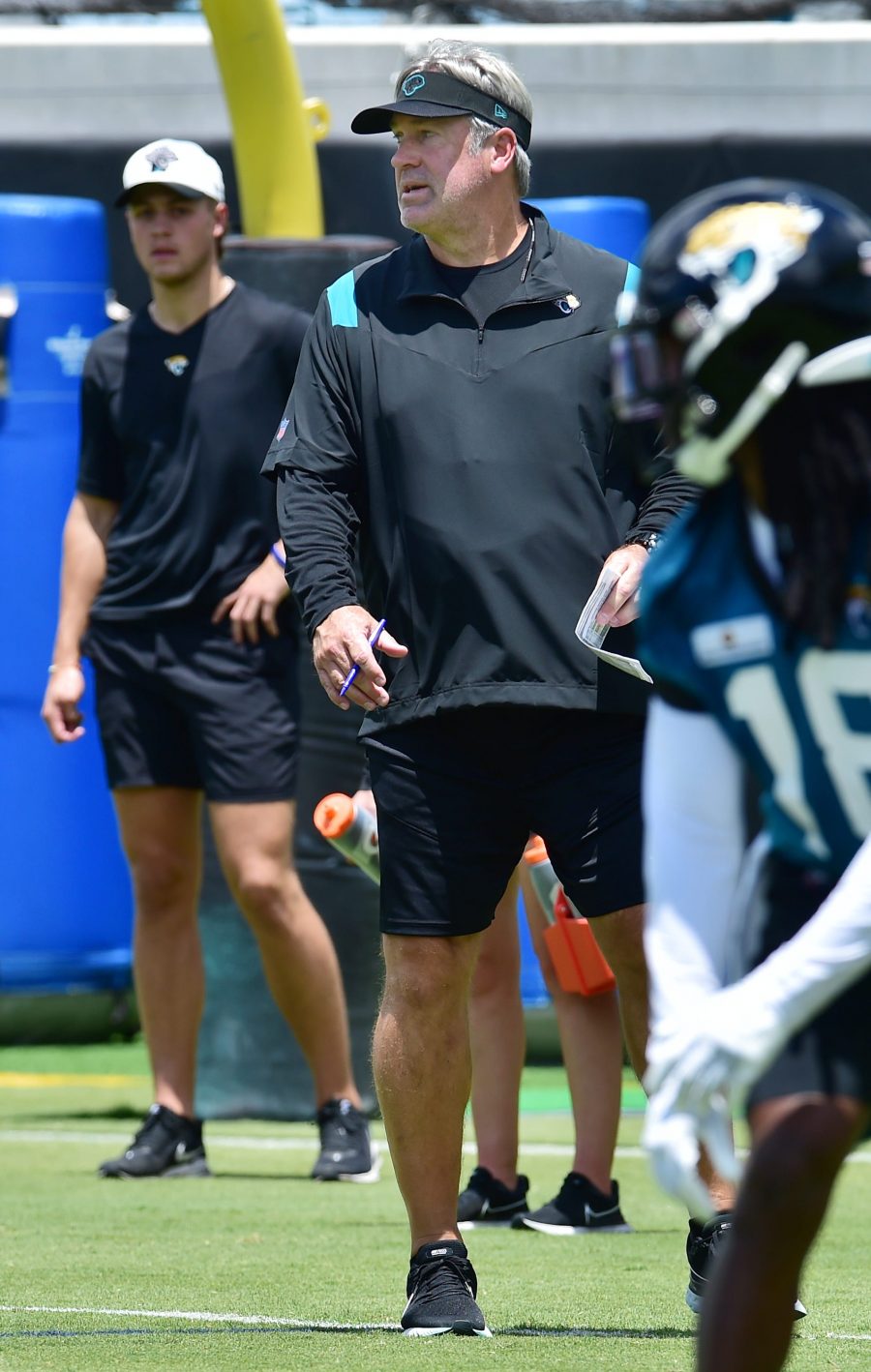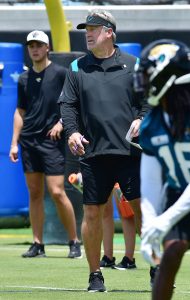 Credit Khan for recognizing his mistake less than a year in, and the Jaguars launched an early salvo to avoid paying the final four years on Meyer's deal. But putting Meyer in this position does not exactly reflect well on the owner's decision-making, thus clouding Pederson-related optimism. The Jags then meandered through winding searches for a head coach and potential executive who would outrank Baalke. Khan hired Pederson and did not add longtime Vikings GM Rick Spielman as a bridge between Baalke and ownership — a rumored scenario. Adding a former Super Bowl-winning HC represents a nice fallback option for the Jaguars, but the damage from the Meyer tenure and the descent that had occurred before the restored FOX analyst's arrival will not be easy to surmount.
After Bucs OC Byron Leftwich was linked to being close to reuniting with the Jaguars as HC, prior to bowing out, the Jags wrapped their search — which also included second interviews for Matt Eberflus and ex-Jacksonville OC Nathaniel Hackett — with Pederson. The five-year Eagles HC will be tasked with best positioning Lawrence to move past the rough circumstances his rookie year brought. The super-prospect led the NFL in interceptions (17) and threw one touchdown pass between Halloween and New Year's Day.
Pederson, 54, went 42-37-1 as Eagles HC. His tenure gave the franchise its first Super Bowl win, and although OC Frank Reich is consistently credited with much of the offensive success from that 2017 season, Pederson called plays for a team that won three playoff games with a backup quarterback. Nick Foles' Jaguars and Bears outings help illustrate the challenge Pederson faced during those playoffs, and Carson Wentz's career crossroads makes his 2017 and '19 success in Philly look pretty good. Then again, the Eagles bottoming out at 4-11-1 in 2020 dinged Pederson's stock considerably. After clashing with Eagles GM Howie Roseman and ownership, the second-chance HC should have more say in personnel matters in Jacksonville.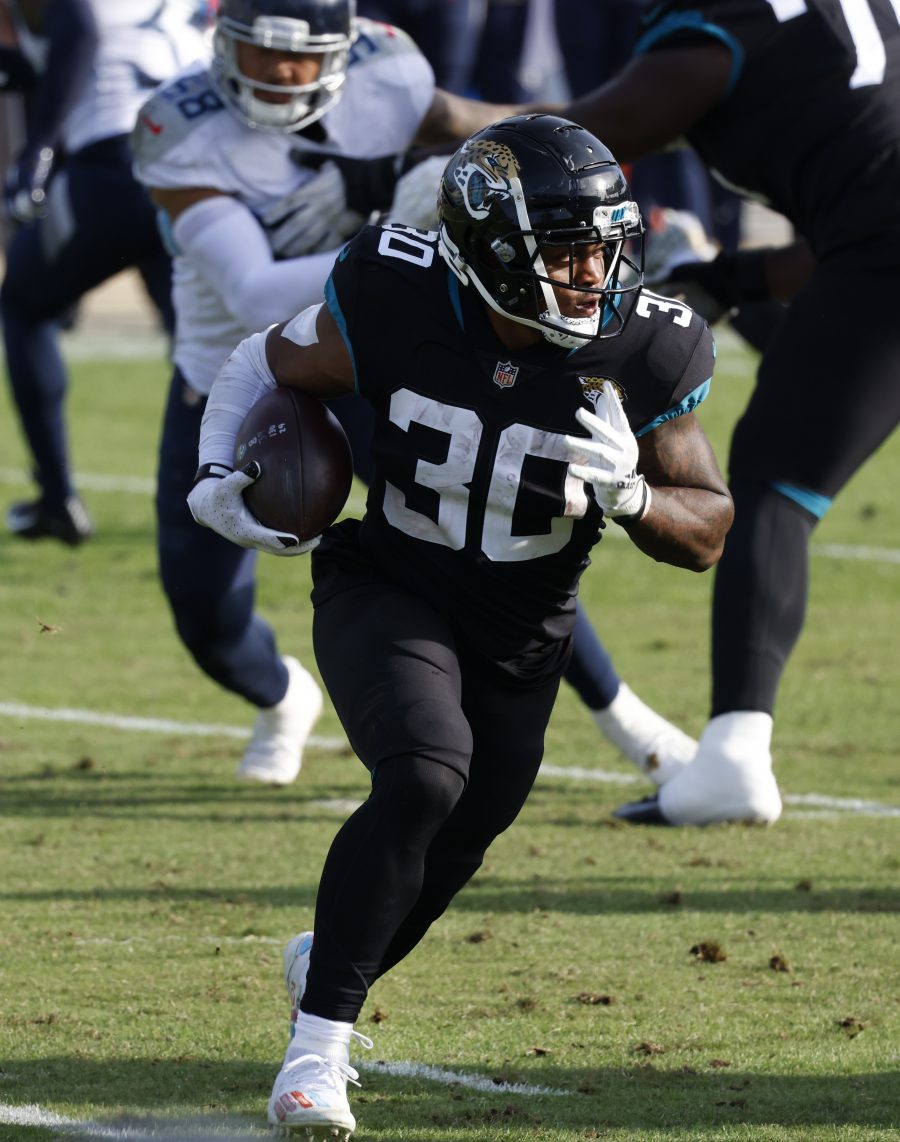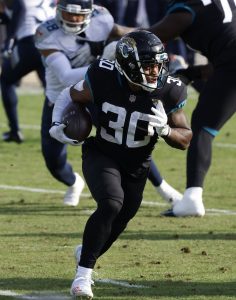 Pederson will call plays for the Jags, but in addition to Cooter — a former Lions OC — longtime lieutenant Press Taylor, 34, is back with Pederson in Florida. The younger brother of Bengals HC Zac Taylor, Press has worked with Pederson and Reich. The ex-Eagles assistant — initially a Chip Kelly hire — spent 2021 as a Colts senior offensive assistant.
Caldwell, who played 11 NFL seasons as a linebacker, is moving from the Bucs' inside linebackers coach. Caldwell, 50, did not work under Pederson but coached alongside him when both were Andy Reid Philly assistants. A Todd Bowles disciple in New York and Tampa, Caldwell has brought Bowles' 3-4 scheme to Jacksonville. The Jags defenders who have been with the team since 2020 will play in a third scheme in three seasons, moving from Todd Wash to Joe Cullen to Caldwell.
Meyer did leave the Jaguars with an intriguing weapon whose debut is coming soon. Travis Etienne sat throughout the 2021 disaster, rehabbing a preseason foot injury. That gave Robinson a second season as the team's three-down back, save for occasional Meyer shenanigans interrupting this usage, but the Jags finished the season without Etienne or Robinson. It is not a lock Robinson's Achilles rehab will be complete by Week 1, but it sounds like the two-year starter will be ready early in the season. Having the NFL's UDFA rookie-year scrimmage yards record holder (1,414) and Lawrence's longtime Clemson back — he of three straight seasons of 1,500-plus scrimmage yards for the Tigers, who deployed him frequently in the passing game — in a rotation and playing together at times will provide the second-year QB with tools he did not possess as a rookie.
Trades:
Top 10 cap charges for 2022:
The Jaguars are far more talented than they were in 2021, and the coaching change should ensure they are better prepared. The team has a quarterback still regarded as an elite young talent. This amounts to a second rookie year for Lawrence, who does face a challenge after struggling last season. Jacksonville using big money or first-round picks to import defensive upgrades should almost certainly pay immediate dividends as well.
The Bengals showed how quickly the formula of a No. 1 QB pick and big defensive investments can produce a quick turnaround. Jacksonville does not look to have Cincinnati's skill-position weaponry and is coming off a worse season than the Bengals were a year ago. But some similar ingredients are present. The Jags would be a friskier wild-card contender in the NFC, but it would not shock to see them make inroads this year en route to a place as an AFC threat by 2023. Of course, entering the 2022 season, a long bridge to this reality still exists.
Follow @PFRumors