For the second time in franchise history, the Jaguars overcame a 2-6 start to make the playoffs. The last time the team did so (1996), a run of playoff appearances followed. This Jaguars nucleus has similar ingredients in place compared to the Mark Brunell-fronted teams of the late '90s. At the center is Trevor Lawrence, the former No. 1 overall pick who shook off a rough rookie season to emerge as a factor in the QB-rich AFC. The Jags' 27-point playoff rally past the Chargers and competitive effort against the eventual champion Chiefs would seemingly depict a clear team on the rise.
The organization proceeded accordingly this offseason, not doing much to tamper with the roster it assembled during the 2022 free agency period. The Jags enter the season as favorites in what appears to be the AFC's weakest division. How much more of a level jump can the 2023 edition make?
Extensions and restructures:
The Jaguars look to have made several strong investments in 2022. While the rest of the A- and B-listers from that pricey lot received multiyear deals, Engram needed to prove his value after an inconsistent Giants run. The former first-round pick did that, establishing a new Jaguars single-season best for tight end receiving yardage (766) last season. Although the Jaguars also had right tackle Jawaan Taylor looming as a free agent, they slapped a less expensive franchise tag ($11.35MM) on Engram. After both sides expressed interest in a long-term partnership, an agreement emerged barely 24 hours before this year's deadline for tagged players to sign extensions.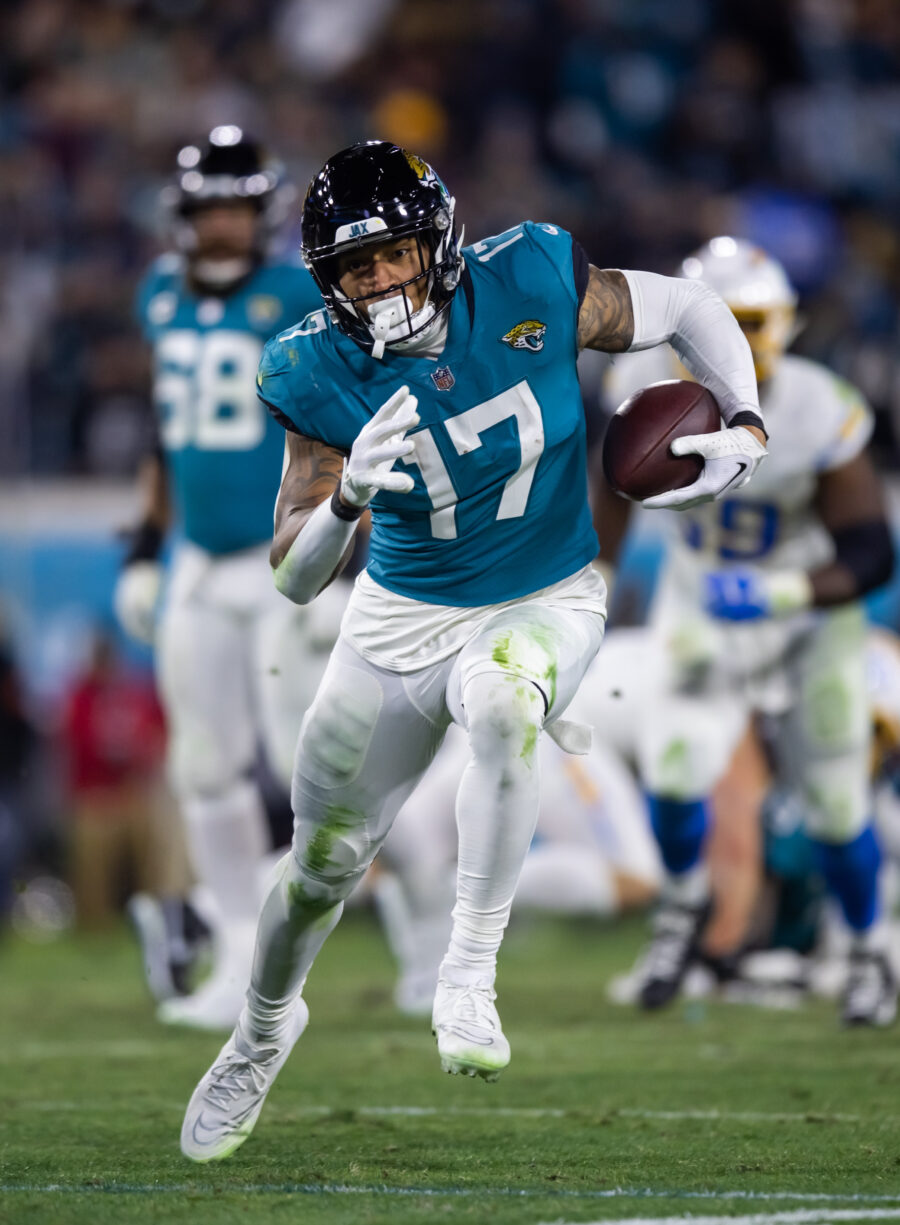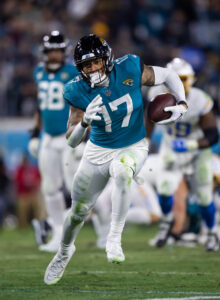 As the tight end position remains undervalued relative to its best players' contributions, Engram and contract-year Vikings tight end T.J. Hockenson represented this year's needle-movers on the financial front. But Engram is both going into his age-29 season and has not been a reliable pass catcher from a year-to-year perspective. As such, he and the Jags reached common ground short of the $17MM-per-year positional ceiling Darren Waller established in September 2022. At $13.75MM per year, Engram is now the NFL's sixth-highest-paid tight end.
It is a bit surprising Engram could not clear the $14MM-AAV barrier, seeing as the salary cap is back on its steady rise after a 2021 reduction. Both Mark Andrews and Dallas Goedert signed $14MM-per-year deals in 2021, and Engram's 2022 season featured better production than either of Waller's past two slates. The Ole Miss alum became one of Lawrence's go-to targets, adding 12 catches for 124 yards and a touchdown during Jacksonville's two playoff games. In terms of guarantees, Engram did slightly better. The $24MM, which covers this year's franchise tag and the tag amount had Engram been cuffed in 2024 as well, checks in fifth at the position.
While Travis Etienne is tied to a rookie contract, Lawrence's top four pass catchers are all either tied to veteran deals or a fifth-year option (Calvin Ridley). Lawrence's eventual extension will likely be a record-setting accord, but the Jaguars can backload that deal to make the cap numbers to best line up with those of Engram and Christian Kirk. Zay Jones' $8MM-per-year pact runs through 2024, while Ridley should be an extension candidate, provided he bounces back from 1 1/2-season absence.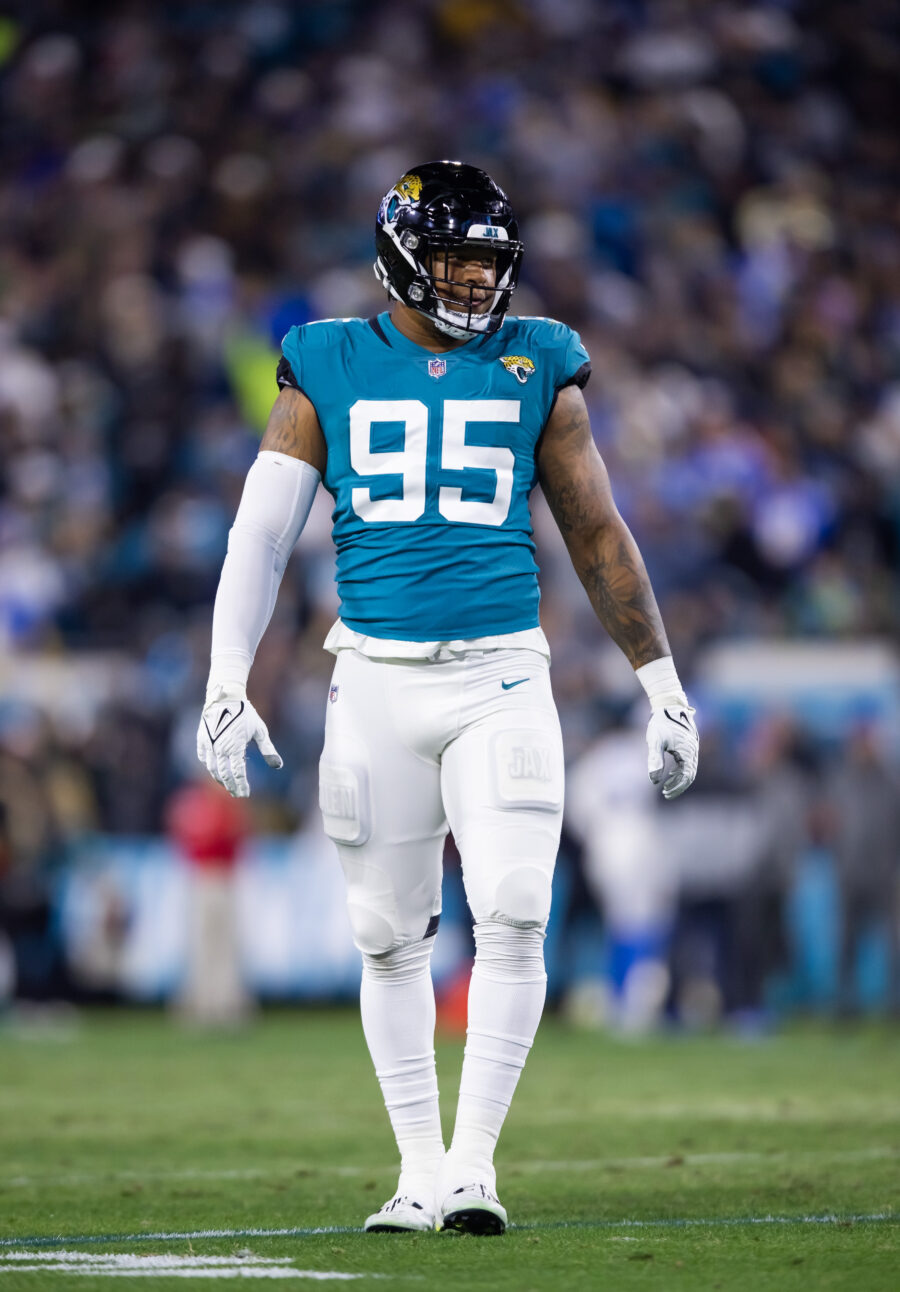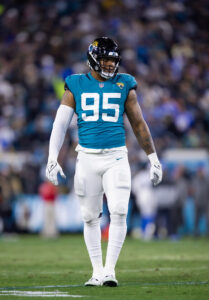 Engram could not become a reliable difference-maker in New York, but he did surpass 700 receiving yards as a rookie (2017) and earn a Pro Bowl bid during a 2020 season in which alternates were not part of the equation (due to the game not actually being played). In his three other Giants years, the 6-foot-3 target underwhelmed. This included a 408-yard 2021 showing, but the Giants were not exactly giving their pass catchers much of an opportunity during this period, which bottomed out following Daniel Jones' neck injury in November 2021. Engram showed enough in Jacksonville last season, and a team that has struggled for years to generate notable work from the tight end position rewarded him.
After bouncing back from the Urban Meyer debacle, the Jaguars made a concerted effort to retain talent this offseason. This was particularly a point of emphasis along their defensive front. One year remained on Hamilton's rookie contract, with Robertson-Harris' three-year deal also running through 2023. The Jaguars drafted Hamilton in the 2020 third round, when former GM Dave Caldwell was still running the show, and added Robertson-Harris during Meyer's short span in charge. GM Trent Baalke, however, was with the organization when both arrived. The Baalke-Doug Pederson regime prioritized both as D-line supporting-casters.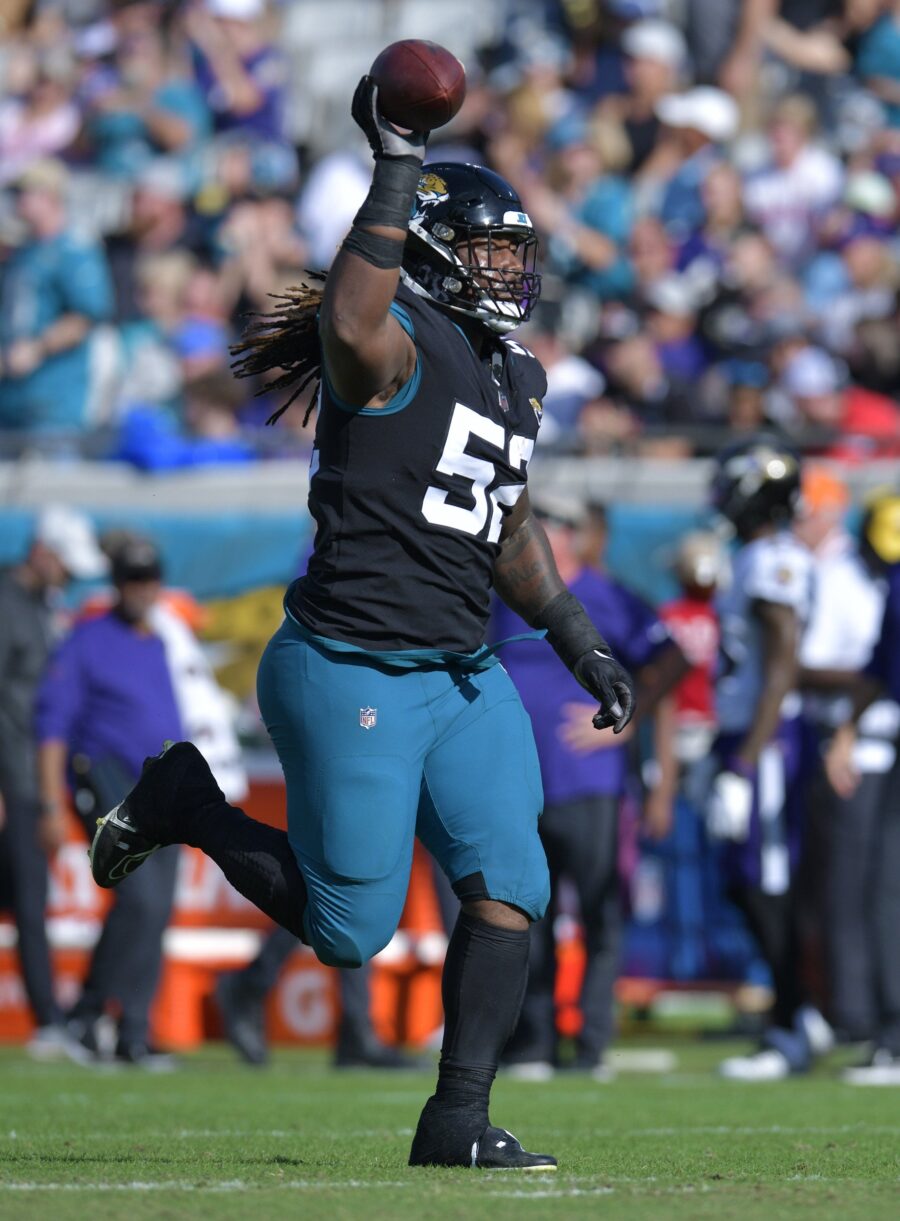 A part-timer on his rookie contract with the Bears, Robertson-Harris has now fetched two three-year deals from the Jags. His $14.4MM guarantee is nearly identical to the one that brought him to Duval County — $14MM — two years ago. Robertson-Harris is primed to continue his run as a starter. The former UDFA has started 30 games with the Jags — nearly triple his Bears first-string work — and is coming off his most productive season. In 2022, Robertson-Harris equaled his 2021 sack total (three) but offered career-best marks in tackles for loss (seven) and QB hits (12). Going into his age-30 season, Robertson-Harris opted to stay in Jacksonville rather than aim for a bigger deal in free agency next March.
Hamilton, 26, emerged as a full-time starter last year. Pro Football Focus rated the Ohio State alum as a top-30 interior D-lineman in 2022, giving the Jags an ascending player alongside veterans Fatukasi and Robertson-Harris up front. Playing a career-high 610 defensive snaps last season, Hamilton has helped the Jags compensate for missing on 2018 first-rounder Taven Bryan. Hamilton also looks to be an under-the-radar draft win for the Jags, who reached their franchise nadir in the first two years of this decade.
With Hamilton also bypassing a chance at a free agency payday in 2024, the team has an interesting trio complementing its pair of ex-top-10 draftees on the edge.
Free agency additions:
Last year, the Jags signed Kirk, Scherff, Oluokun, Engram, Fatukasi, Jones and Darious Williams; five of those contracts were worth at least eight figures per year. Baalke said this would be a quieter free agency, and the third-year Jags GM did not deviate from that plan. Johnson, Brewer and Wells profile as backups, while McManus' latest contract is worth far less than his most recent Broncos agreement.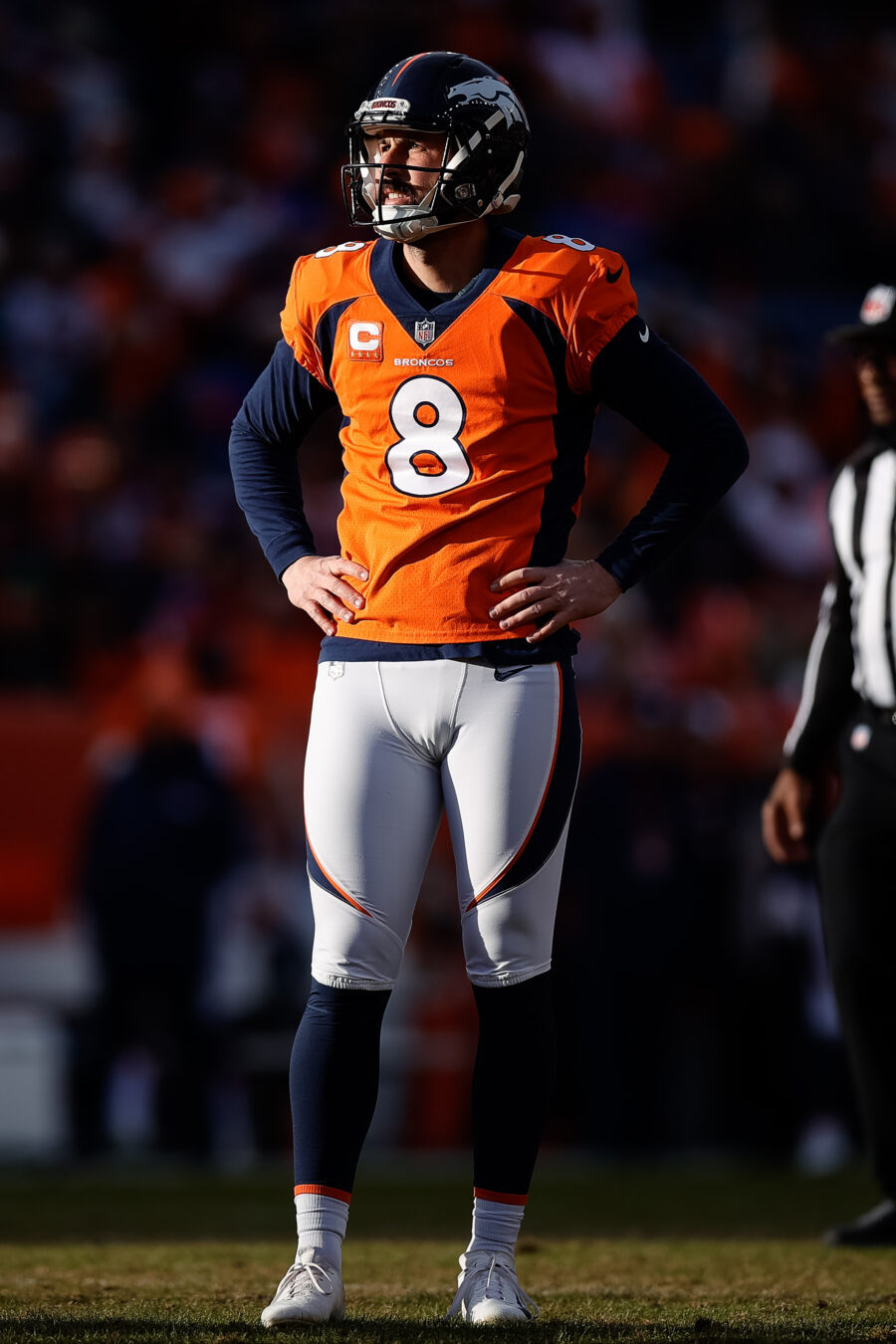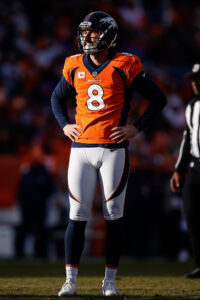 Working behind Nick Chubb and Kareem Hunt in Cleveland, Johnson did rise to the Browns' RB2 when one of the stalwarts was hurt. This led to the former Alliance of American Football performer rushing for 534 yards in 2021. In Johnson's three games as the Browns' primary running back that year, he gained 146, 99 and 123 rushing yards. The South Florida alum is already 27, but he only has 141 career carries. The Jags, who are planning to reduce Etienne's workload by a touch, figure to give their RB2 a change-of-pace workload to spell their clear-cut starter. Third-rounder Tank Bigsby will likely push Johnson for the backup role, but the free agency addition also has steady special teams experience to bring value as a third-string option.
McManus, 31, spent the past nine seasons as the Broncos' kicker. Last year, which began eventfully via the Nathaniel Hackett-ordered 64-yard game-winning try in Week 1, was not the veteran's best work. McManus made just 77.8% of his field goal tries — his worst accuracy rate since 2017 — but did connect on 8 of the 12 50-plus-yard tries he attempted after that bizarre Week 1 scene in Seattle.
The Broncos used the McManus post-June 1 cut money to add Frank Clark. As Sean Payton's team zeroed in on the veteran edge rusher, McManus contacted the Jaguars about a gig. The push worked, and the Jags will aim for kicker stability after years adrift at the position. Eight kickers had seen time in Jacksonville from 2020-22, with last year's option — Riley Patterson — after training camp had concluded.
Re-signings:
Bigger money went to players on the Jags' extension radar, but the team also retained multiple regulars on defense. Wingard made 24 starts over his rookie contract, including 15 during the dismal 2021 season. Last year, he settled in as a third safety behind starters Rayshawn Jenkins and Andre Cisco. PFF has viewed Wingard's work well, ranking him as a top-35 safety during his 2021 starter year and slotting him in the top 10 — albeit on just 223 defensive snaps — last year. Wingard's ability around the line of scrimmage and work on special teams has allowed him to become a UDFA success story out of Wyoming, and the Jags' retention mission included a pay bump from rookie-deal money for the 26-year-old defender.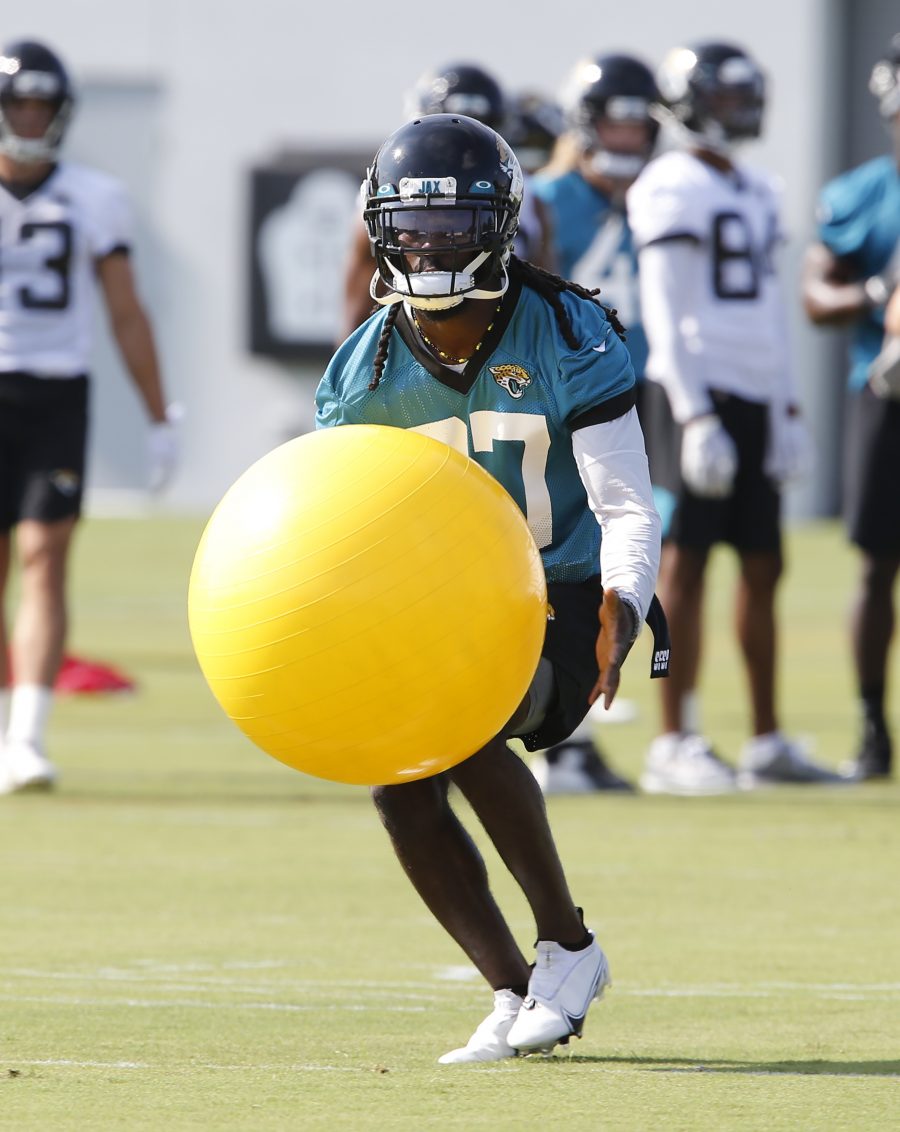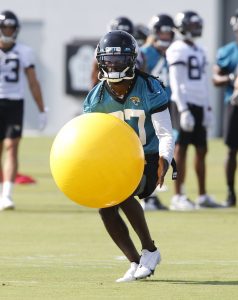 This is the third straight offseason in which Jacksonville kept Herndon via a one-year contract. Re-signing in March 2021 and '22, Herndon has been in the Jags' good graces regardless of the defensive system. Hip and back injuries sidelined Griffin last year, and the team plugged Herndon back into the slot to pair with Williams and Tyson Campbell. PFF and Pro-Football-Reference's coverage metrics did not view Herndon's age-26 season favorably, but the $2.58MM represents the ex-Jalen Ramsey/A.J. Bouye sidekick his largest guarantee with the team to date.
The Jags did add two sixth-round rookie corners this year, providing some competition for a position group that did not see any notable veteran additions. Still, in keeping Wingard and Herndon, the Jags will run it back with their entire starting 11 from 2022 and multiple key bench players in familiar roles. This will be both players' first time in the same defensive system in consecutive offseasons since Todd Wash's final two years (2019-20) with the team.
DVOA ranked Mike Caldwell's first Jaguars defense 26th, while they ranked 12th (points) and 24th (yards) in terms of traditional numbers. Does the core the Jaguars have built on this side of the ball justify the inaction regarding outside investments?
Lawrence is 36-for-36 in starts as a pro, keeping Beathard parked on the bench. Beathard's senior year at Iowa occurred during Baalke's final year as 49ers GM (2016), and after the 49ers ended up drafting him in Round 3 post-Baalke, the backup quarterback found his way to Jacksonville weeks after Baalke's appointment as GM. Beathard, 29, has attempted all of 13 passes with the Jags.
Notable losses: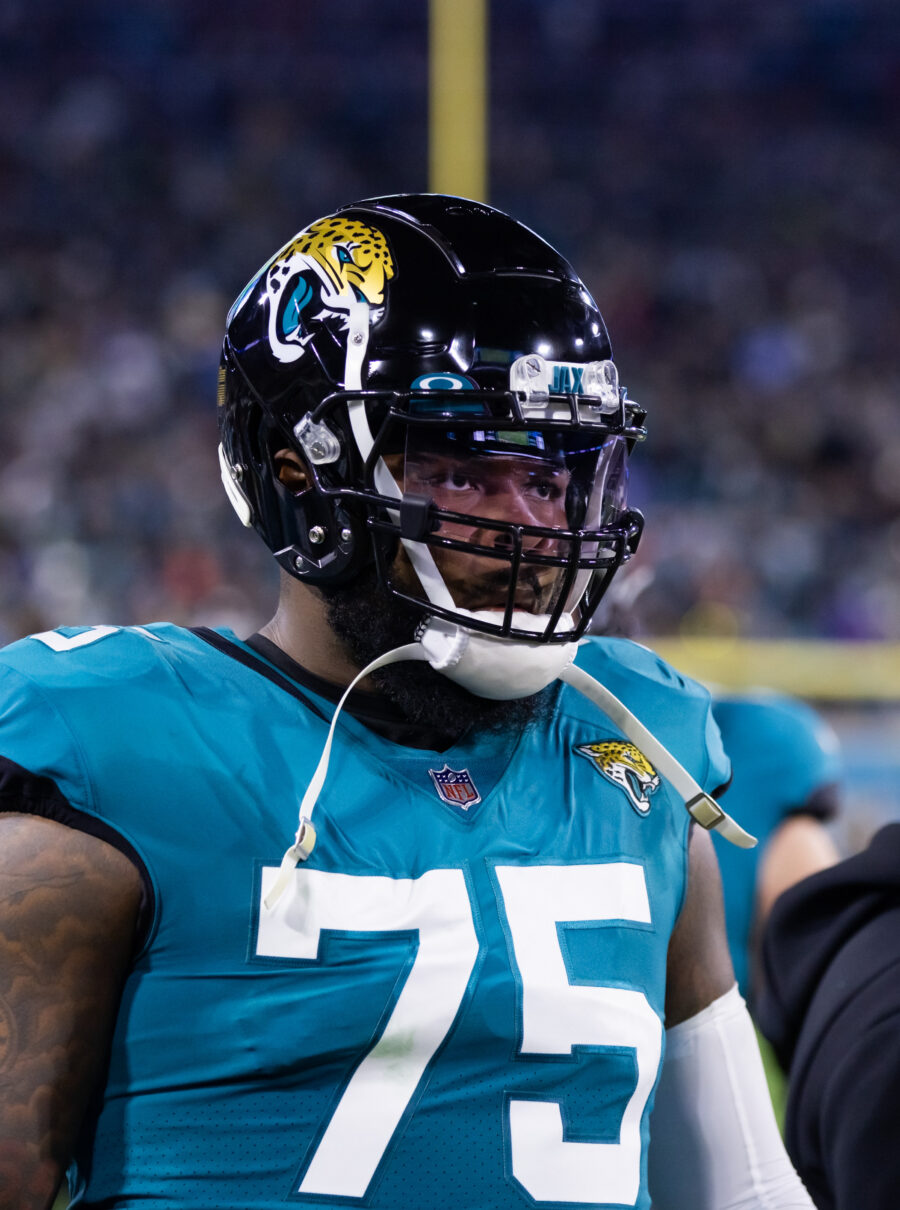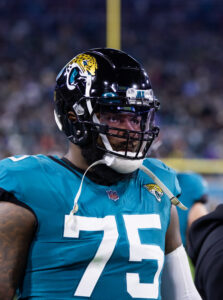 No pure right tackle has been franchise-tagged since the Bengals cuffed Stacy Andrews back in 2008. All offensive linemen being grouped together on the tag makes it difficult for teams to tag right tackles, but Taylor's free agent market helped bridge the divide between the blindside blockers and their less heralded bookend partners.
Despite Taylor being in a training camp competition with Walker Little last year, the Chiefs gave the former second-round pick a four-year, $80MM deal. At the time, it appeared Kansas City would move Taylor — primarily a right tackle at Florida — to the left side. But the defending champions' post-draft Donovan Smith accord cleared that up; Taylor will stick at his usual position.
One of a few experienced right tackles hitting the market, Taylor scored big in the form of a $40MM guarantee. Offering a bit more pass-protecting security compared to Mike McGlinchey, who scored a $52.5MM practical guarantee from the Broncos, Taylor is now the NFL's second-highest-paid right tackle (behind Lane Johnson's new Eagles extension). The 2019 draftee has never missed a game, and although PFF has never given him high marks, a bidding war ensued for the 25-year-old blocker's services. The Jaguars have left tackle Cam Robinson signed long term. With the Jags letting Taylor walk, the Broncos are the only team with two tackles tied to top-10 AAVs at their respective positions.
Although his production fell short of his Lions best, Marvin Jones did deliver some memorable moments as a Jaguar. He scored fourth-quarter touchdowns in 2022 comeback wins over the Ravens and Cowboys and added another score in the playoff rally past the Chargers. But the Jags brought in Calvin Ridley, whose contract did not hit their books until his March 6 reinstatement. Barely three weeks later, Jones rejoined the Lions. Jones, 33, only signed a one-year, $3MM Detroit deal; the Jags will effectively replace him with Ridley.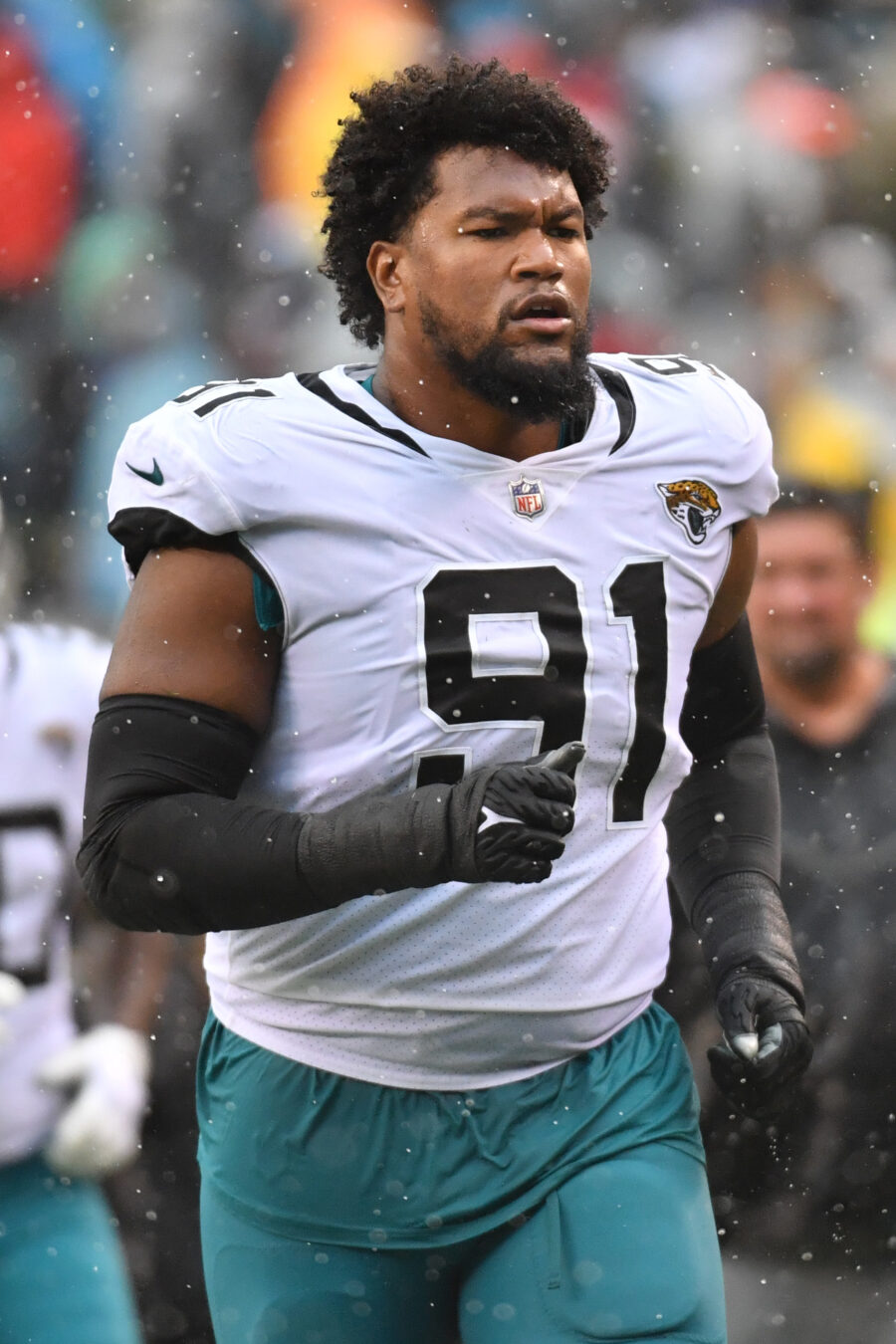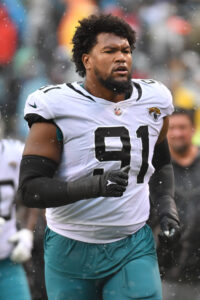 It might be premature to suggest Smoot is a surefire Jags departure, as he remains unsigned. But the veteran edge defender has been a free agent for more than four months. A six-year Jaguar who became the team's longest-tenured defender following Myles Jack's March 2022 exit, Smoot saw a December Achilles tear torpedo his free agency value. The former third-round pick worked well as a supplementary rusher for the Jags, collecting 22.5 sacks over the past four years. Following the quick breakup of its "Sackonville" D-line, the Jags relied on Smoot for steady production.
With the team not addressing the position until Round 5 this year, Smoot coming back on a value-reestablishing deal should not be ruled out. For now, though, the Jags are somewhat thin on rotational outside linebackers.
Also among the reasons Smoot — or another of the veteran edges still available — could be in the Jaguars' plans: Key's departure for the rival Titans. The former Raiders draftee-turned-49ers contributor registered 4.5 sacks, bringing his total to 11 over the past two seasons. He added 15 QB hits. The Titans gave Key $13MM guaranteed on a three-year, $21MM pact. Key wound up collecting more guaranteed than Clark or Leonard Floyd did in free agency.
Draft: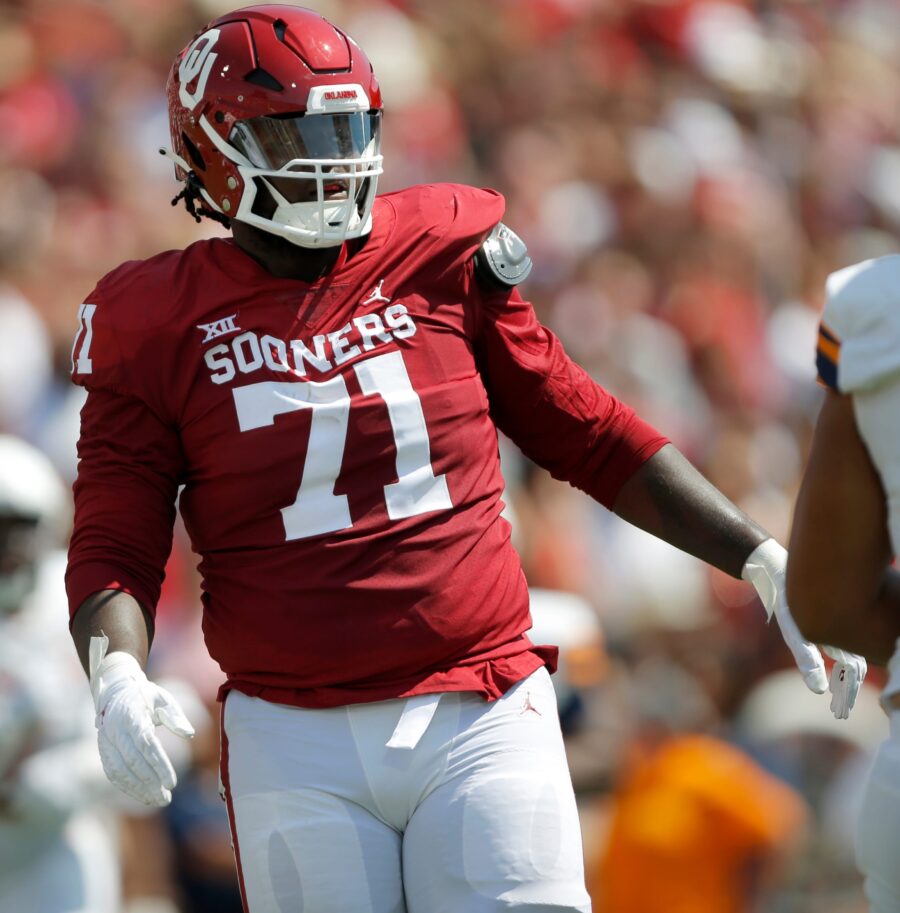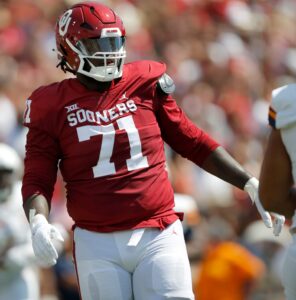 After four years of deploying Robinson and Taylor as their starting tackles, the Jags will begin this season with a new direction. With Robinson suspended and Taylor in Missouri, Harrison will likely to be needed from the jump. The Jags intend to keep Little at left tackle, where he finished last season in place of an injured Robinson, and begin Harrison on the right side. Seeing as right tackle serves as the long-term need in Jacksonville, stationing Harrison there makes sense.
How Jacksonville proceeded in Round 1 provides a good indicator of the team's hopes for the Oklahoma product. Baalke made two trades down the draft board but made both his trade partners — the Giants and Bills — assure him they were not taking a tackle.
While NFL teams moving college left tackles to the right side is nothing new, Harrison does face a learning curve. He made 23 of his 24 college starts at left tackle. Only allowing one sack last season, the Sooner blind-sider earned first-team All-Big 12 acclaim. ESPN's Scouts Inc. slotted Harrison 55th overall, but the Jags had identified him as a Taylor successor. The Jags had not taken a first-round tackle since selecting Luke Joeckel second overall in 2013, but the team did use Nos. 34 and 35 picks, respectively, on Robinson and Taylor. The Harrison move represents a similar investment.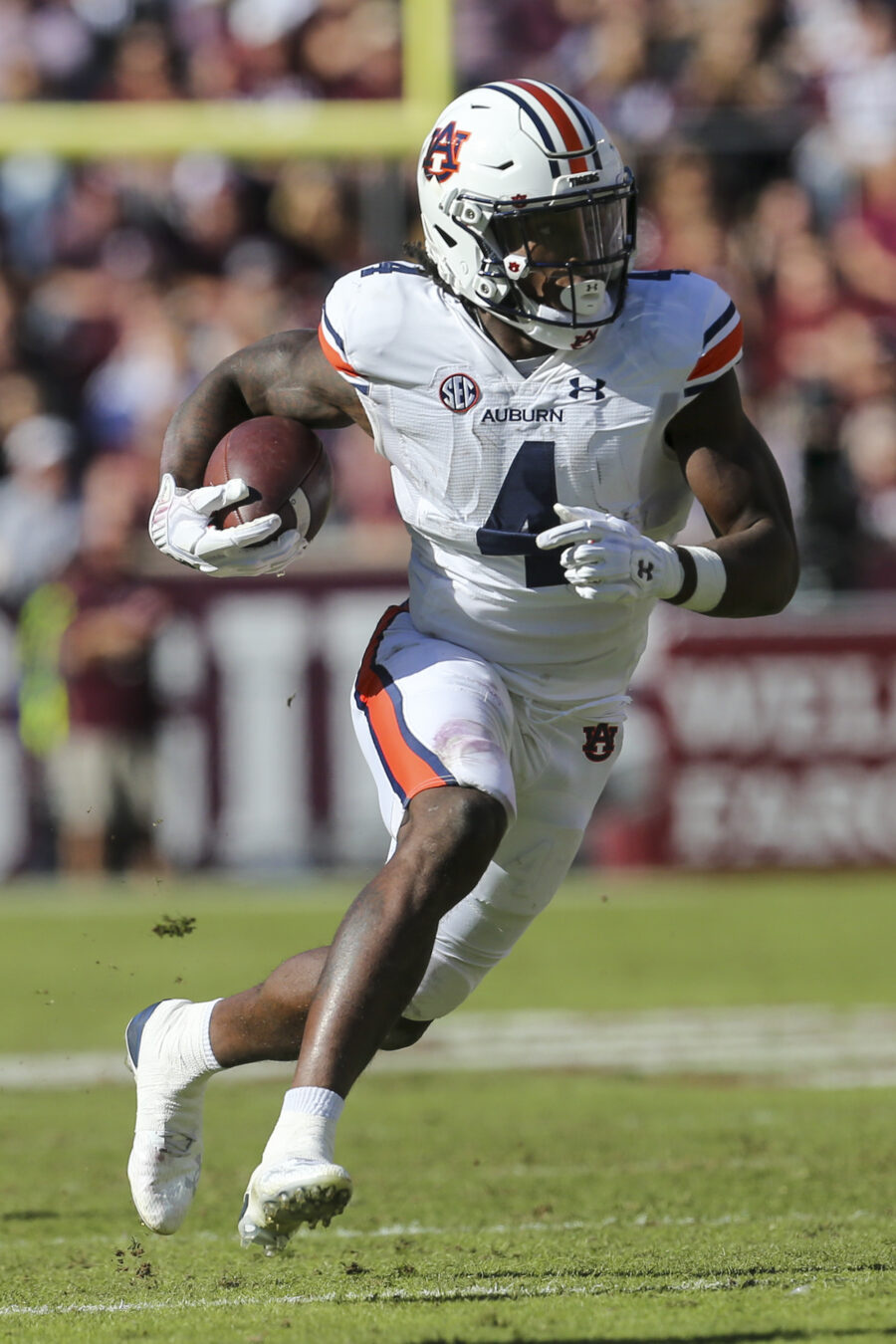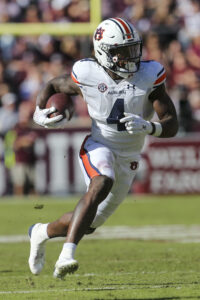 Strange wrapped the second-round run on tight ends. Five went from No. 33 to No. 61. Now that Engram is signed through 2025, a TE2 ceiling is in place for Strange for the foreseeable future. The 253-pound pass catcher totaled 32 receptions for 362 yards and five touchdowns last season, earning third-team All-Big Ten honors for his senior-year work. While Engram's skillset is closer to that of a wide receiver, Strange displayed effective blocking traits with the Nittany Lions. With Jacksonville's receiving tight end spot locked down for a bit, blocking could be Strange's niche as he begins his NFL foray.
Dissatisfied with his Combine 40-yard dash time (4.56 seconds), Bigsby trained to improve upon that clocking at Auburn's pro day. The school event produced a 4.45 time, helping the three-year Tigers contributor lock in Day 2 value. Etienne's rookie contract runs through 2024, with the fifth-year option in place in the event the Jags want to push it to 2025, so Bigsby could be a long-term backup. With only D'Ernest Johnson in his way right now, the 210-pound back will enter training camp with an opportunity. Bigsby exceeded 800 rushing yards in each of his three college seasons, topping out at 1,099 in 2021. Auburn did not use Bigsby much in the passing game.
Trades:
Other:
The first in what turned out to be a wave of gambling suspensions over the past year and change, Ridley's officially ended in March. The Jags' top 2023 addition happened in 2022, when the team bought low on the suspended Falcon. Pederson and Co. limited Ridley during the team's offseason program, bringing the former first-rounder along slowly given his recent past. Ridley has not played since October 2021, when mental health issues prompted Atlanta's then-No. 1 receiver to leave the team. The Falcons were close to trading Ridley to the Eagles before his suspension surfaced in March 2022, but the Jags will now be the team that bets on the ex-Matt Ryan weapon.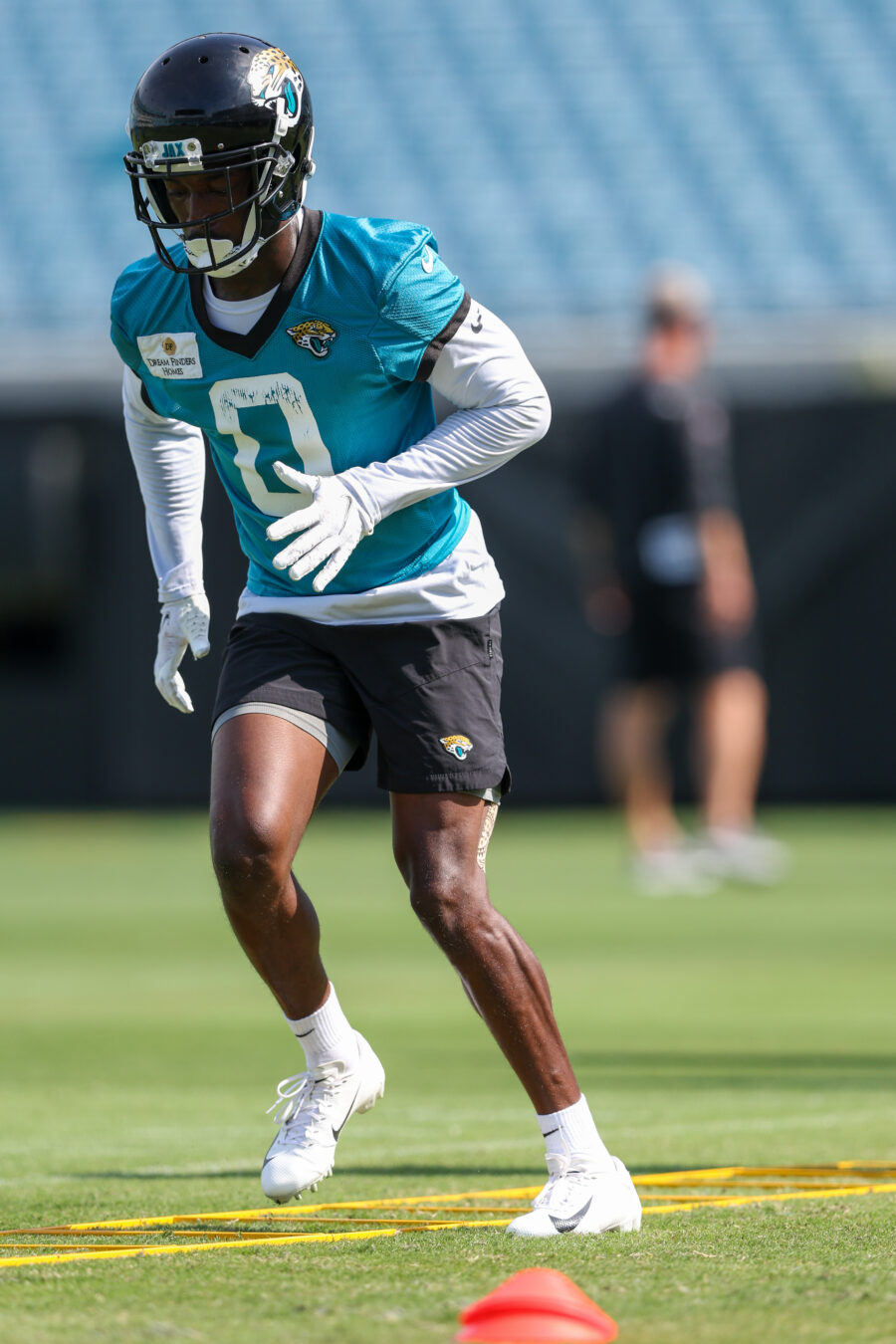 Ridley played alongside a healthy Julio Jones for his first two seasons, showing promise in back-to-back 800-plus-yard years. Jones' chronically troublesome hamstring sidelined him for much of the 2020 season, and Ridley broke out. The Alabama alum totaled 90 receptions for 1,374 yards and nine touchdowns that year. Overall, the 6-1 receiver has 28 TD catches as a pro. Ridley also played through a significant foot injury in 2020, indicating he received a belated diagnosis of a broken foot — an issue that led to his 2021 hiatus. A healthy Ridley figures to enhance Lawrence's capabilities, though this also represents a gamble by the Jags.
Jacksonville is taking on an $11.12MM fifth-year option salary for someone who has not played in consecutive games since Weeks 3 and 4 of the 2021 season. Ridley also turned 28 during his suspension; his contract tolling makes an extension more complicated. The Jaguars already paid the Falcons a 2023 fifth-round pick; if they re-sign Ridley before the 2024 draft, they owe Atlanta a '24 second-rounder.
With Ridley turning 29 during this season, the Jags will have plenty to think about as the Fort Lauderdale, Fla., native begins his run with the team. But the prospect of Ridley, Kirk, Engram and Zay Jones as Lawrence's top four weapons certainly supplies intrigue.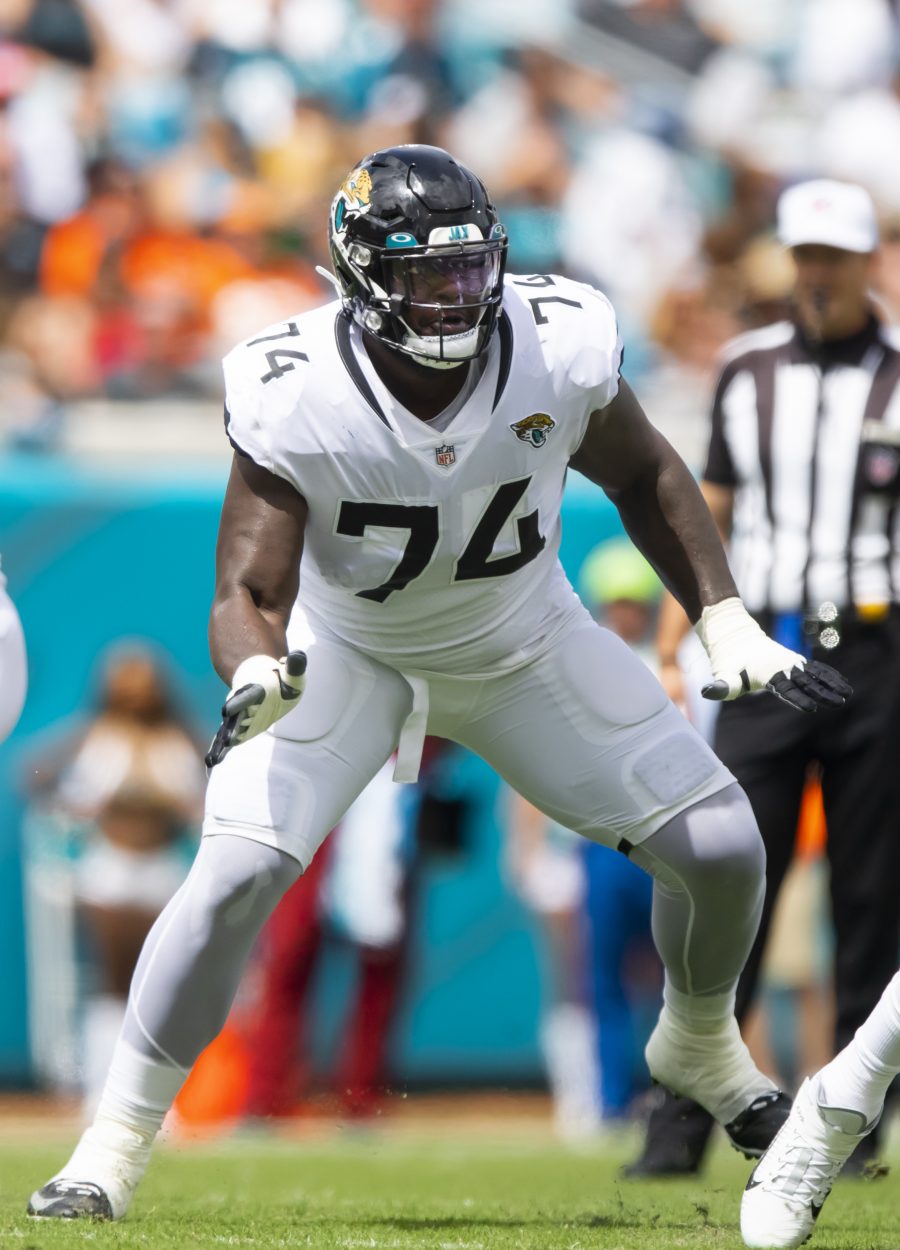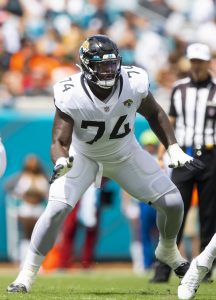 Lawrence protection will be another matter. Little has gone from backup to entrenched starter to open this season, and with Harrison inexperienced at right tackle, the team's foundation suddenly looks faulty after the Robinson-Taylor tandem offered relative security during Lawrence's first two years. Pre-draft talks with the Bengals on Jonah Williams did not appear to progress, leading to the team's Harrison commitment. Previously unhappy about the Bengals moving him to right tackle, Williams appears to have accepted the change.
While Robinson's PED ban will allow an extra month to ensure his meniscus tear is fully repaired, the Jags will face the Chiefs (Week 2) without their seventh-year tackle. PFF rated Little as last season's 58th-best tackle. The suspension also voided the remaining guarantees on Robinson's three-year, $52.75MM extension.
Cooter served as the Jaguars' pass-game coordinator for one season. After his Indianapolis departure, Jacksonville will turn to 2022 UNLV offensive coordinator Nick Holz in this role. Holz had been a Raiders assistant from 2012-21, mostly working as a low-level staffer before finishing his tenure as the team's assistant wide receivers coach. Pederson and OC Press Taylor will still run the show, but Holz will have some input.
Top 10 cap charges for 2023:
An Allen extension still looms on the Jaguars' radar, though scant buzz has circulated this offseason about a re-up for the Dave Caldwell/Tom Coughlin-era draftee. Struggling around the trade deadline, the Jags received interest on Allen. The organization's decision to stand pat looks smart given the events that followed. And Allen (seven sacks, 22 QB hits last season) could be a key part of the team's long-term future. The Jags have used their franchise tag in each of the past three years. No extension being reached this year would put that option on the table for Allen in 2024.
A depleted Titans team still pushed the Jaguars to the brink in Week 18, injecting some uncertainty regarding this nucleus' 2023 viability. Lawrence taking another step forward would in turn elevate the Jags, who suddenly look to have a major advantage over their divisional rivals at quarterback. With the Texans still rebuilding and the Colts attempting to mix their Frank Reich-era veterans with a QB wild card (Anthony Richardson), another Jags-Titans divisional race appears on tap. With the Titans changing GMs and sending their cornerstone offensive pieces (Derrick Henry, Ryan Tannehill) into contract years, the organization appears less sold on its 2023 team's prospects compared to the Jaguars.
How high can this Jags iteration climb in the AFC hierarchy following a 9-8 season? After a post-AFC championship game descent turned into a bottoming-out effort, the Jaguars (one 10-win season in the past 15 years) look to have recovered. But Lawrence is set to become extension-eligible in January. This looms as a big season on the franchise's timeline.
Follow @PFRumors