The Texans' rebuild continues, and it now involves a third head coach in three years. Following in the footsteps of the 1970s and 2010s 49ers in seeing back-to-back one-and-done coaching tenures transpire, the Texans have been the league's most anonymous on-field operation during the 2020s. GM Nick Caserio generated scrutiny as the losses piled up, but he convinced one of this year's hottest head coaching candidates to sign up.
DeMeco Ryans is now in charge of this lengthy ascent attempt. The Texans turned to their former linebacker — who presumably will receive more than the one season David Culley and Lovie Smith did in the HC chair — and this offseason at least brought some big swings from an organization that kept the car in neutral in 2021 and '22. The C.J. Stroud–Will Anderson Jr. pairing will go a long way toward determining if Caserio's rebuild will work.
Trades: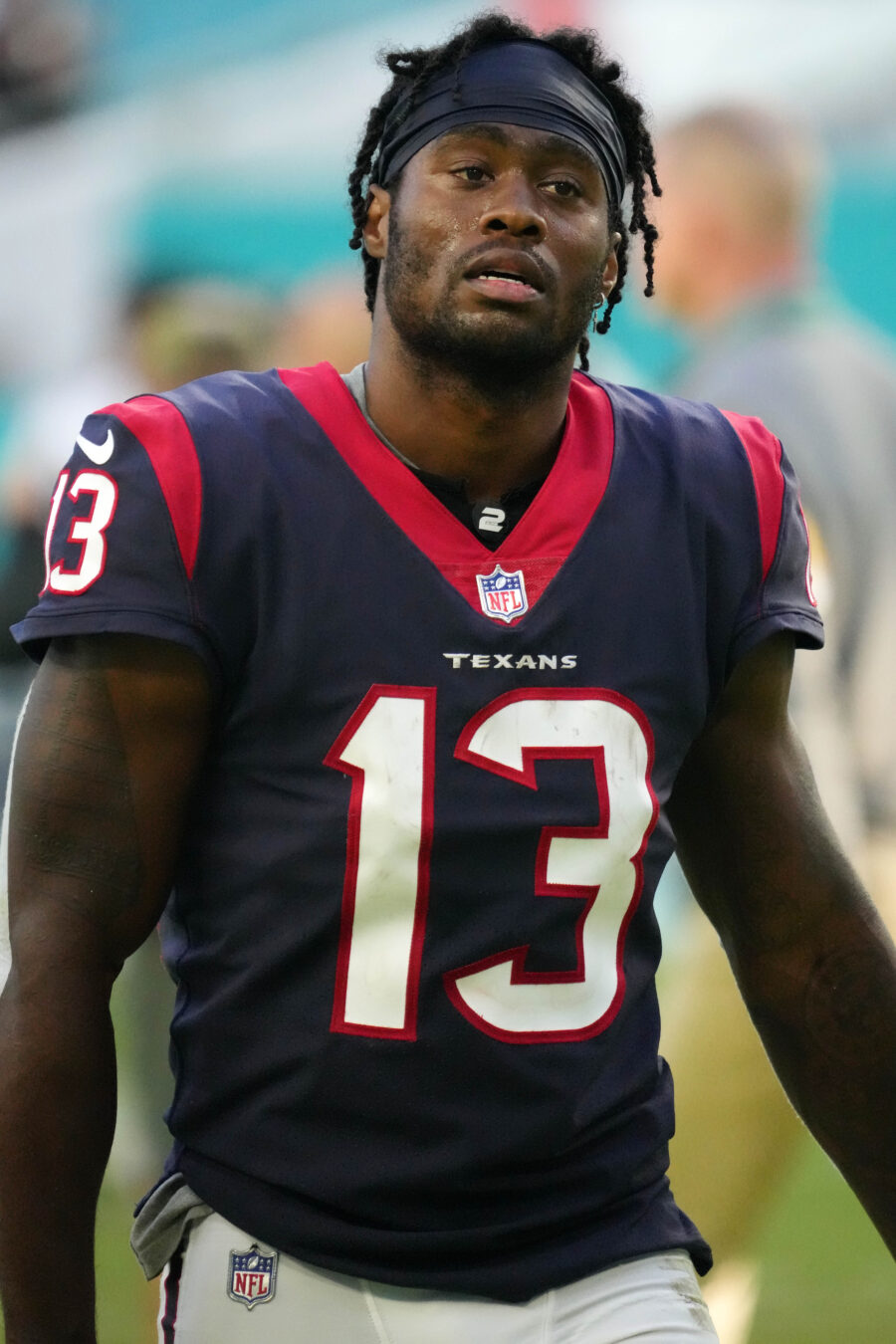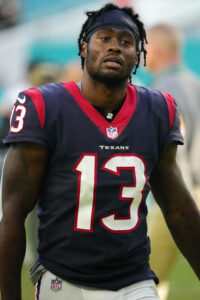 Even though Cooks' production fell off in 2022, the NFL's active trade kingpin had long been destined to get off the Texans' long rebuild runway. It did look strange to see Cooks sign a two-year, $39.5MM Texans extension in April and then want out by midseason. Cooks' NBA-esque about-face did not result in a midseason trade. Instead, the veteran deep threat languished on a 3-13-1 Houston team, finishing the season with a career-low 699 receiving yards.
Cooks effectively boycotted the Texans' first post-trade deadline game but returned to action soon after. Interest came from nearly a fourth of the league, and the Texans listened to offers before the 2022 trading cessation. The team is believed to have sought a second-round pick, which was an unrealistic ask for a ninth-year player with an $18MM guarantee for 2023.
The actual trade price came in far below the 2017, '18 and '20 Cooks deals (which collectively involved two first-rounders and a second). After the Cowboys renegotiated Cooks' deal, the former Saints, Rams and Patriots pass catcher is now part of an exclusive NFL club, being traded four times. Two of Cooks' six 1,000-yard seasons — for four different clubs — came in Houston, which looks to be without an upper-echelon receiver after this deal.
Extensions and restructures:
Seemingly incongruent with the Texans' timeline, Tunsil's presence has offered high-end left tackle play and affected his position's market. Few would label Tunsil (zero first- or second-team All-Pro nods) as the game's best tackle, but he has managed his career well. This offseason marked the second time the Texans have made Tunsil the NFL's highest-paid offensive lineman. The three-time Pro Bowler played a full season for the first time in his career last year, and while a Texans team that has shown no interest in contending (since at least 2020, that is) carrying a high-priced tackle has been a bit strange, checking off this key box has not been a problem thanks to a Bill O'Brien trade.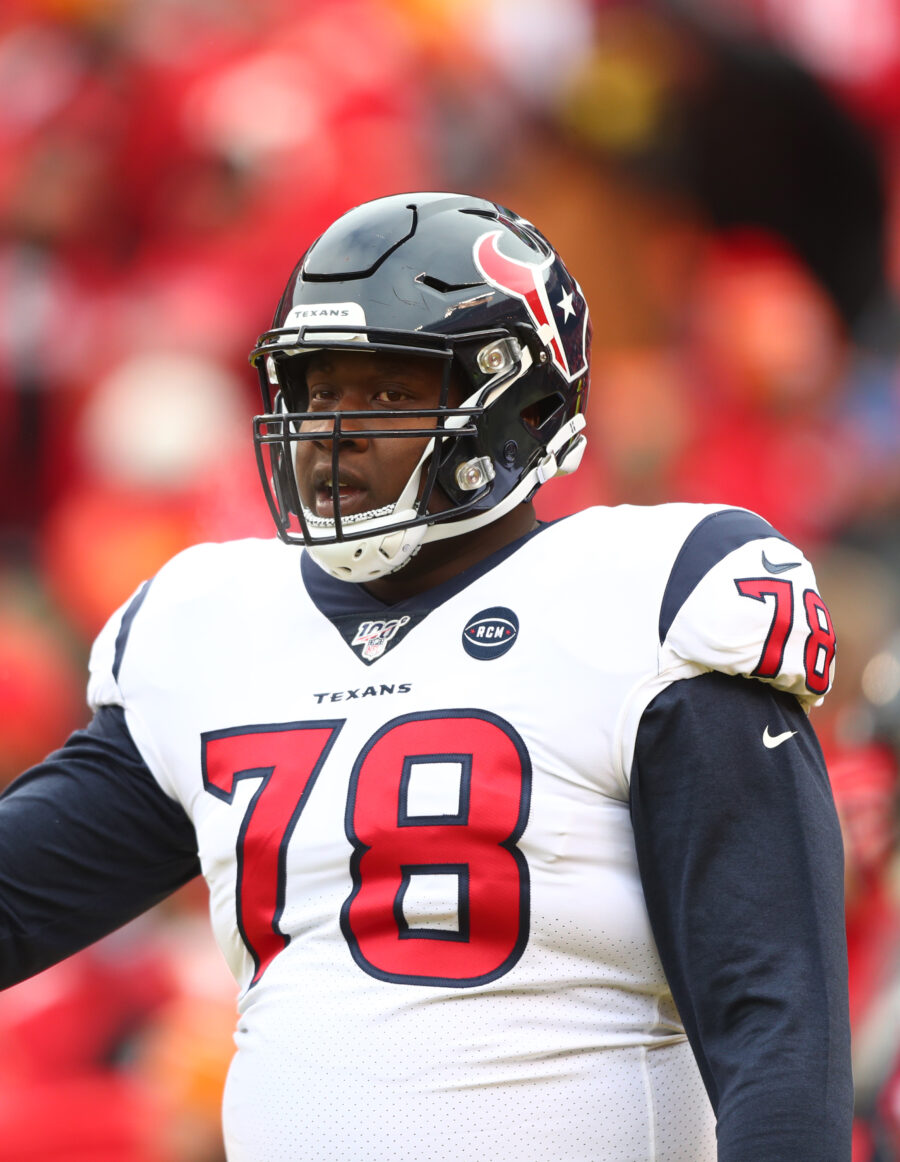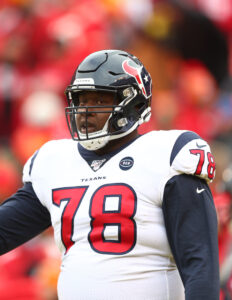 Months after trading two first-rounders and change to the Dolphins for Tunsil, O'Brien — during a short but eventful run wearing both HC and GM hats — signed off on a three-year, $66MM extension. That made Tunsil by far the NFL's highest-paid O-lineman. Three years after Tunsil became the NFL's first $20MM-per-year O-lineman, he is the only $25MM-AAV blocker.
The short-term contracts Tunsil has preferred have proven tremendously beneficial, as they have given him leverage of two contract years coming in his 20s. Tunsil also did not make any real guarantee concessions despite the medium-term deal; his $50MM guarantee figure trails only Ronnie Stanley's among tackles. After two seasons without a franchise quarterback to protect, Tunsil will be assigned to Stroud's blind side. This extension also dropped Tunsil's 2023 cap hit from $35MM to $26.6MM. Pro Football Focus has graded Tunsil as a top-30 tackle in each of his three non-injury-marred Texans seasons, with last year bringing a career-high placement (11th).
The Texans did authorize a $39MM-per-year Deshaun Watson extension in 2020, but beyond that and the disastrous Brock Osweiler deal they paid the Browns to take on, the franchise has kept QB costs low over the past 10 years. Building around Stroud's will give the organization flexibility. With no big-ticket wideout, tight end or running back deal on the payroll, Caserio has invested up front. Mason is now signed through 2026 at $12MM per, and right tackle Tytus Howard — who may or may not be on the team's extension radar — holds the team's second-largest cap number ($13.98MM).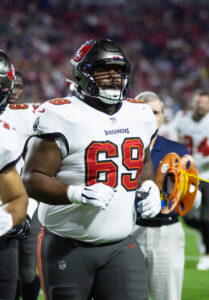 Mason, 29, joins Tunsil in signing a third contract. The Patriots gave the steady guard a five-year, $45MM deal in 2018, when Caserio remained Bill Belichick's right-hand man. Houston's payroll now includes two eight-figure-AAV O-line deals. This brings a change from recent years, when the Texans opted to add bottom-tier or low-middle-class contracts around Tunsil's.
In Mason, the Texans have one of the league's most consistent players. PFF graded the former fourth-round find as a top-10 guard for six straight years (2016-21). After a Bucs one-off, which did feature 17 starts and a top-30 PFF grade, how long will Mason's prime extend into his Texans years? He will be a key part of the team's Stroud-years plan.
Caserio has inked numerous veterans to two-year deals during his time as Houston GM. Collins has now signed two of those. The former Cowboys draftee has signed a Texans contract in each of the past three years, coming over in 2021 (one year, $5MM), re-signing in 2022 (two years, $17MM) and now inking a player-friendly extension. Collins, 28, will shift back to a 4-3 scheme under Ryans, after playing two years in Smith's system. Collins, who was a 4-3 D-tackle in Dallas and Las Vegas, totaled 18 tackles for loss over the past two seasons, representing one of the few Texans bright spots during this bleak period.
Free agency additions:
Caserio's preferred genre of veteran contract appeared often on the transaction wire this year. Middling talent floods this section, though the team did cut down on its volume of two-year deals compared to 2022. Still, the Texans added a host of veteran role players, stocking Ryans' defense with potential starters alongside cornerstones Anderson and Derek Stingley and giving new OC Bobby Slowik some skill-position talent.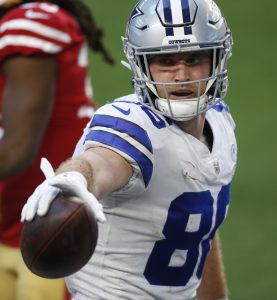 This contract is not what Schultz envisioned during his year on the franchise tag. The Cowboys are believed to have made their former tight end starter a long-term offer, but the preference for a shorter-term agreement — not a Cowboys specialty — helped lead to Schultz playing on the tag. After missing early-season time due to injury, Schultz still resided as one of Dak Prescott's top targets. But his overall and per-game yardage totals were down compared to 2021.
Schultz, 27, will join fellow 2022 tight end tag recipient Mike Gesicki in attempting to boost his value on a one-year deal. The Texans have struggled for nearly a decade to find a reliable pass-catching tight end. No Texan tight end has surpassed 600 receiving yards in a season since Owen Daniels in 2012. Schultz has done that in two of the past three seasons and should be a go-to player on a team likely to be without a No. 1-caliber wide receiver.
Was Woods' down 2022 a sign of a decline, or was the 527-yard year due to a woeful Titans pass offense and being a year out from an ACL tear? The Texans paid a fairly surprising amount — adding the Titans cap casualty before the market opened — to find out. Woods, 31, did play in all 17 Titans games last season, and he resided as a consistent player (three 900-yard seasons) in Sean McVay's attack. With Cooks gone, Houston needs a reliable veteran to foster Stroud's development. With Nico Collins the team's top returning receiver, Woods looks to be that player.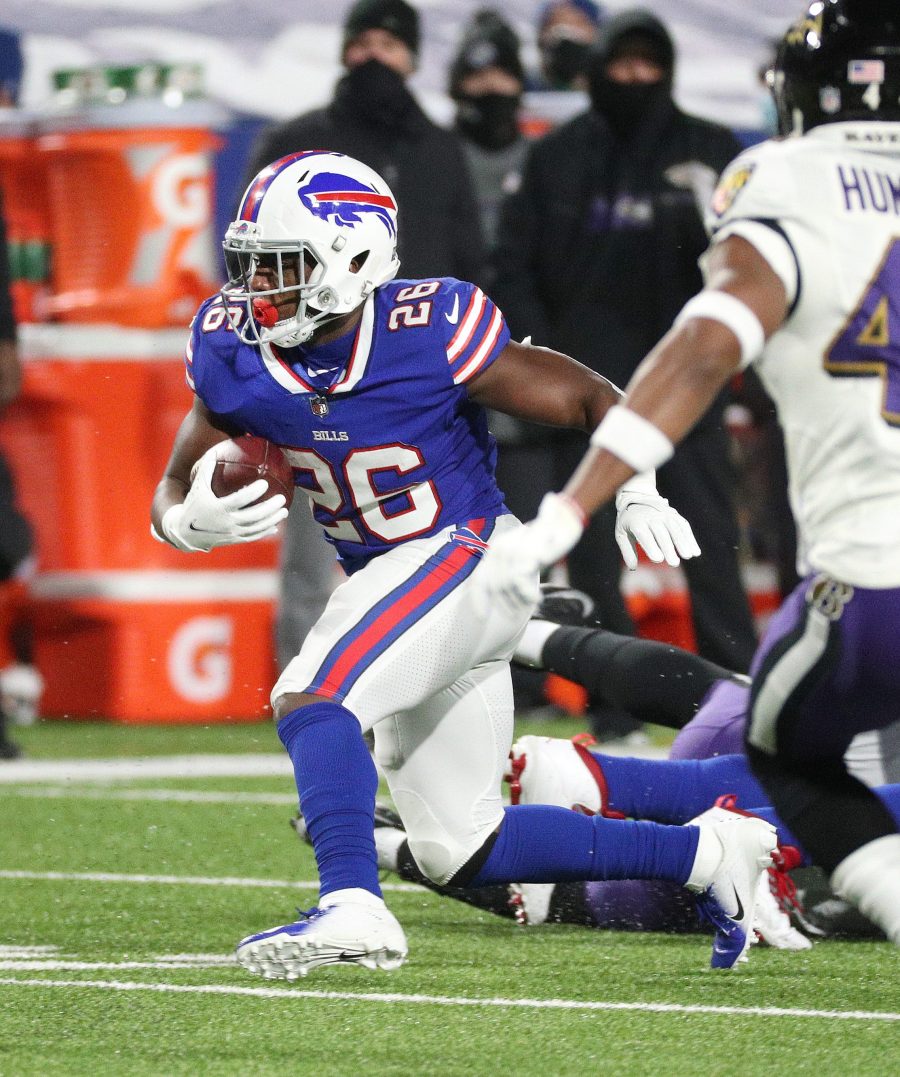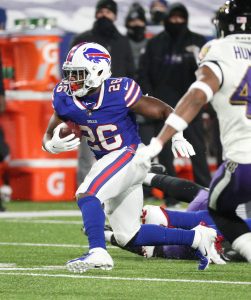 As the contracts for Mark Ingram, Rex Burkhead, Phillip Lindsay and Royce Freeman showed, Caserio has not shied away from veteran backs during his tenure. Singletary will be tasked with supplementing Dameon Pierce this season. The former Florida Atlantic star worked as the most prominent Bills back during Josh Allen's career, eclipsing 150 carries in each of his four Buffalo seasons and surpassing 750 rushing yards in three of his four rookie-contract years. The Texans did not possess much behind Pierce last season. Singletary, 25, has not offered much in the passing game, but he is a proven ball-carrier who should have some use as a 1-B option.
Undoubtedly placing a premium on Ward's leadership and system intel, Ryans had spoken to the nine-year 49ers safety about following him to his next destination before last season ended. Ward, 32 next week, toggled between safety and cornerback during his San Francisco stay. The former first-rounder expressed disappointment in being moved back to the nickel role last season, but while Ryans was leading the 49ers' defense at that point, the Texans are planning to move Ward back to the safety spot at which he is more comfortable. Ward has battled injuries throughout his career but has made 79 starts. He profiles as a mentor to emerging safety Jalen Pitre.
The Texans also beefed up their defense using one-year contracts, most notably the Rankins agreement. The Jets pushed to keep the former first-round pick, with it turning into a free agency battle between the 49ers' past two DCs. Rankins' fit in Robert Saleh's Jets defense certainly points to a useful cog for Ryans. The inside pass rusher has not replicated his eight-sack 2018, but at worst, the 29-year-old defender can assist as a rotational option. Ridgeway, 28, has been a 4-3 D-tackle for most of his career, including a 2022 stopover in San Francisco.
With Jerry Hughes still here and the likes of Littleton and Perryman coming in, most of the Texans' defense consists of second- or third-contract players, which is atypical for a team in Houston's position. Most of Houston's defensive two-deep stands to consist of veteran-contract performers, which partially highlights the void that came from the lack of first- and second-round picks in 2020 and '21.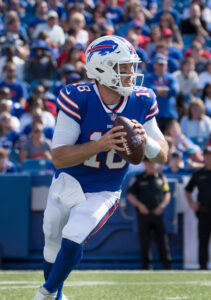 Draft investment dictates Stroud will be the Texans' starter early in the season — perhaps in Week 1 — but the team brought back Keenum as insurance against the Ohio State product needing more developmental time. Keenum, 35, never disproved 2017 — when he ranked first in QB DVOA while leading the Vikings to the NFC championship game — was an outlier. Keenum's Denver and Washington seasons returned him to the QB2 level. But the former Texans UDFA, who made 10 of his 64 starts with the franchise, has remained one of the better backup options.
Keenum's arrival and $4MM guarantee leaves Davis Mills without an obvious role. The 2021 third-round pick has started the bulk of Houston's games over the past two seasons and took first-team reps during the team's offseason program. A May report indicated the Texans were not shopping Mills, and Keenum could conceivably serve as an expensive mentor-only option — rather than a true bridge QB — should Mills outplay him in training camp. Still, two years remaining on Mills' rookie contract would make him an intriguing commodity for a team eyeing a better backup or a spot starter.
Re-signings: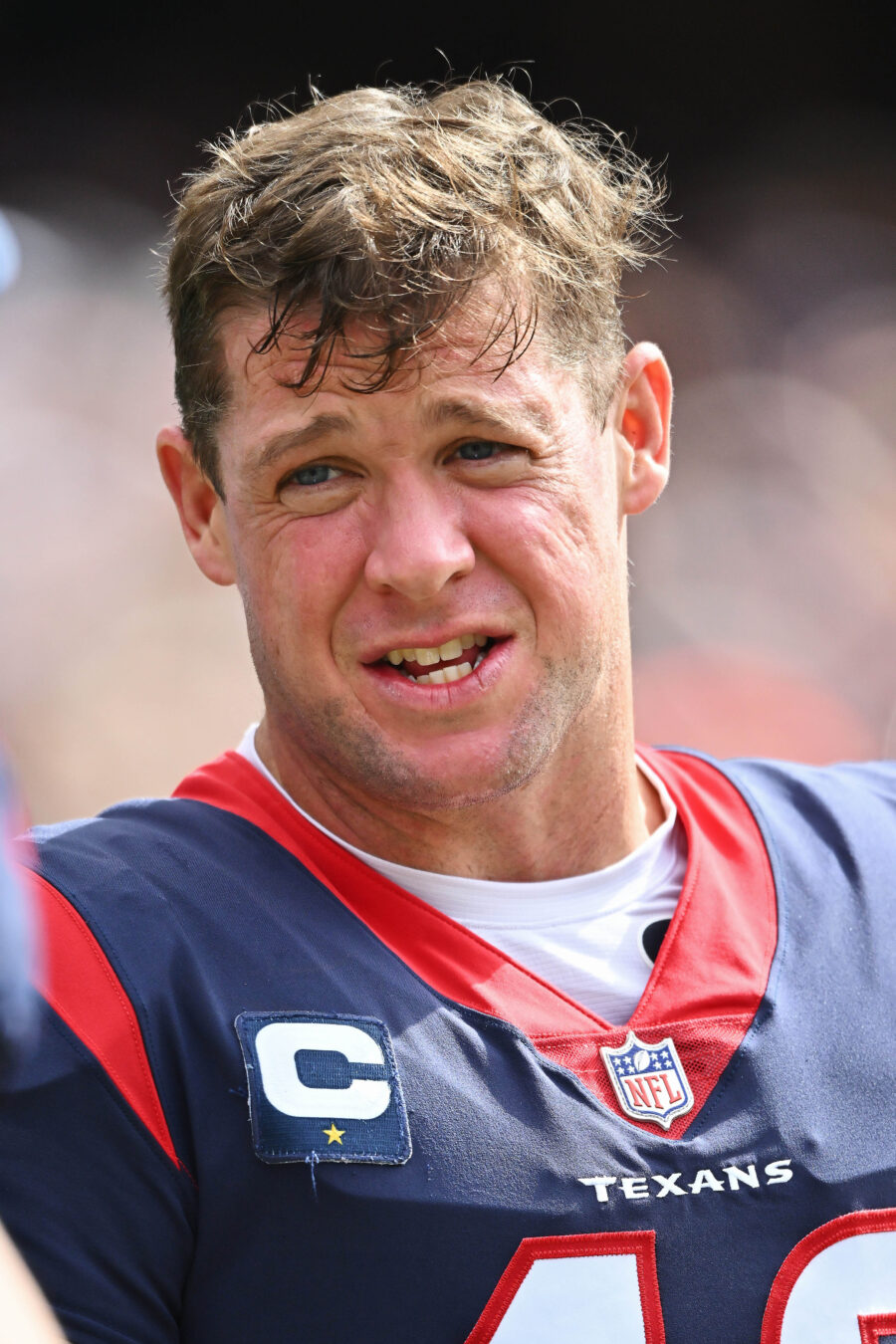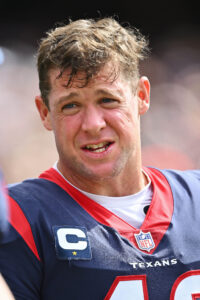 Houston's DBs room is crowded compared to 2022, with Ward and Griffin in place. Still, the team restructured Eric Murray's deal and reached agreements to retain Stewart and Thomas. Between these two and Murray, the Texans have three ex-Browns positioned as second-string secondary options. Stewart and Thomas served as two of the Texans' special teams regulars last season. With the Texans retaining ST coordinator Frank Ross — an ex-Patriots scout during Caserio's time in Foxborough — despite changing HCs once again, it is unsurprising continuity will be prioritized on these units. Ditto Hewitt, who has been an ST mainstay during his two Texans years.
On the subject of Texans mainstays, Weeks is the only player in team history to play 13 seasons with the franchise. The long snapper is now in position for Year 14. This niche position can offer extreme longevity, and teams almost never stray far from the league minimum to staff it. Weeks, 37, has never missed a game, having played 210. The only player active in each Texans playoff contest, Weeks will look to bury the franchise's games-played record.
Notable losses:
In place of Britt and Cann (16 starts last season), the Texans made bigger investments on their interior O-line this offseason. They also said goodbye to two more of their veteran running backs. After 122 carries in 2021, Burkhead saw his usage rate plummet last year. The departures of Okoronkwo (five sacks in the team's final six games) and Green do leave some depth questions on the edge around Anderson, but Jonathan Greenard remains in the mix in a contract year. Addison, 35, recorded just one sack last season. While Hughes will turn 35 next month, he remains rostered after racking up nine sacks in 2022.
Draft:
For a few weeks, it seemed like the Texans were giving legitimate consideration to overlooking their quarterback need once again. Seeing as last year brought a down QB rookie class and the team trudged through a strange first year under Caserio — due to the Watson scandal/full-season deactivation — the Texans carried some cover for their previous delay. This year, they would not have been shielded from investment-based criticism.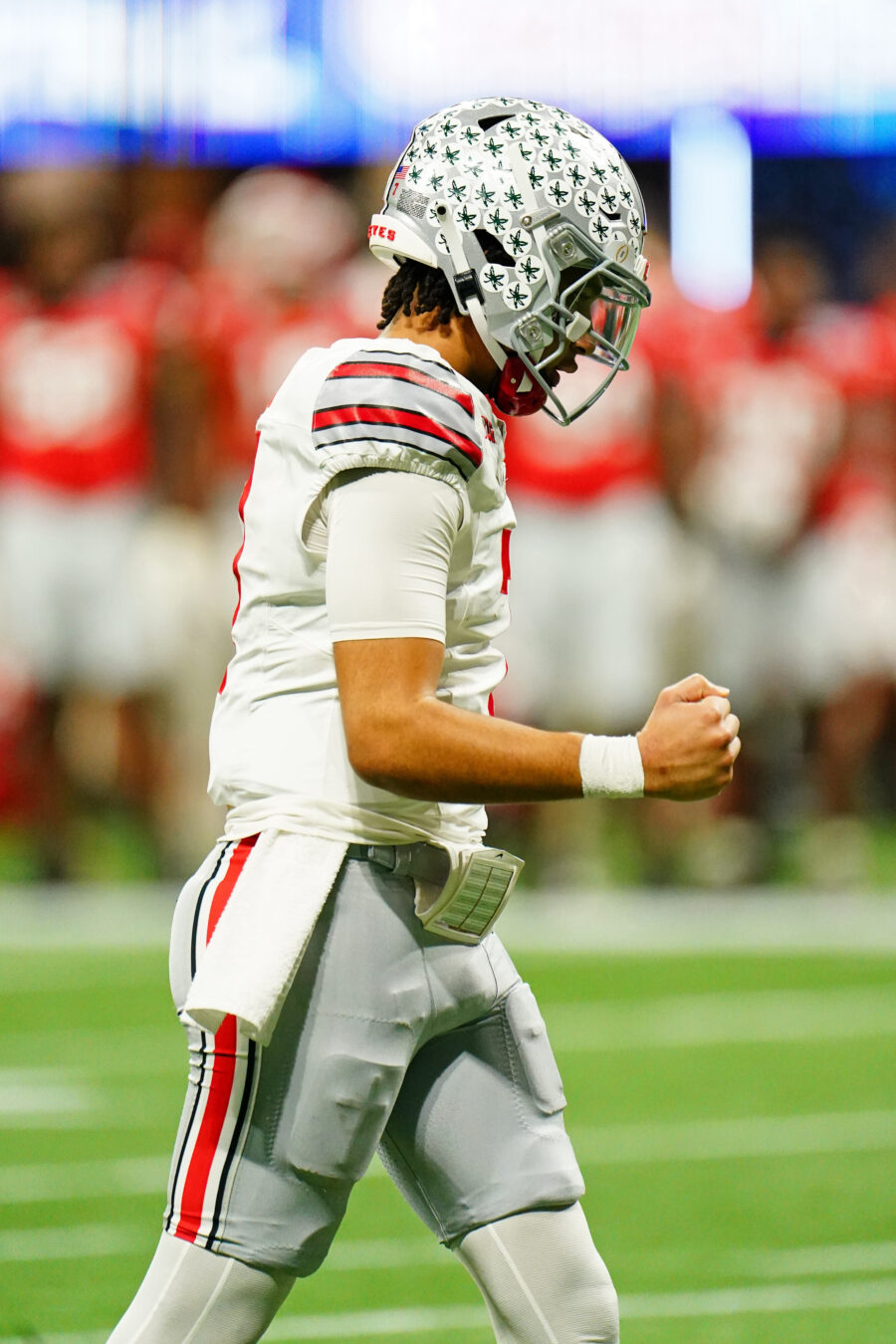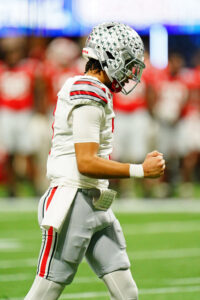 The Texans were deep in talks with the Bears (and Panthers) about a deal that would have seen them move up a spot to No. 1, where Bryce Young awaited. Rumored to be iffy on this year's non-Young QB crop, the Texans then became tied to taking Anderson or Tyree Wilson at No. 2 and then finding a way to add a passer through other avenues. It turned out to be the other way around, with Houston drafting Stroud and then moving up nine spots to acquire Anderson. Houston became the first team since Washington in 2000 to make two top-three selections in a draft.
It cost the Texans considerable capital to pry No. 3 from the Cardinals, however. The nine-spot vault required near-QB-level trade terms. The Texans sent No. 33 and 2024 first- and third-rounders to climb up for Anderson. It is surprising Caserio signed off on trading a 2024 first to make this leap. The past three Texans seasons have secured the team a top-three draft choice. Seeing as the AFC South team remains in rebuild mode in a stacked conference, the now-rebuilding Cardinals have a good chance of carrying two top-five choices into next year's draft. This raises the stakes on the Anderson bet, and it could turn up the heat on Caserio, whose job security has come up on multiple occasions over the past several months. Caserio was loosely linked to leaving his current post after this draft, but he squashed that rumor quickly.
After backing out of talks with the Bears, the Texans will be tied to the Young-Stroud debate for a while. And considering how much buzz surfaced regarding Texans apathy toward Stroud, Anthony Richardson and Will Levis, it is worth wondering if ownership pushed for a quarterback. Cal McNair and Co. were believed to have more involvement in this year's draft, though the second-generation owner denied having input in how the team proceeded at No. 2. A fairly decent Texans-Stroud smokescreen also may have occurred. Regardless of how the Texans ended up here, they now have a franchise-QB hopeful two years after their previous such investment both asked for a trade and disgraced his reputation as the subject of dozens of sexual assault/misconduct accusations.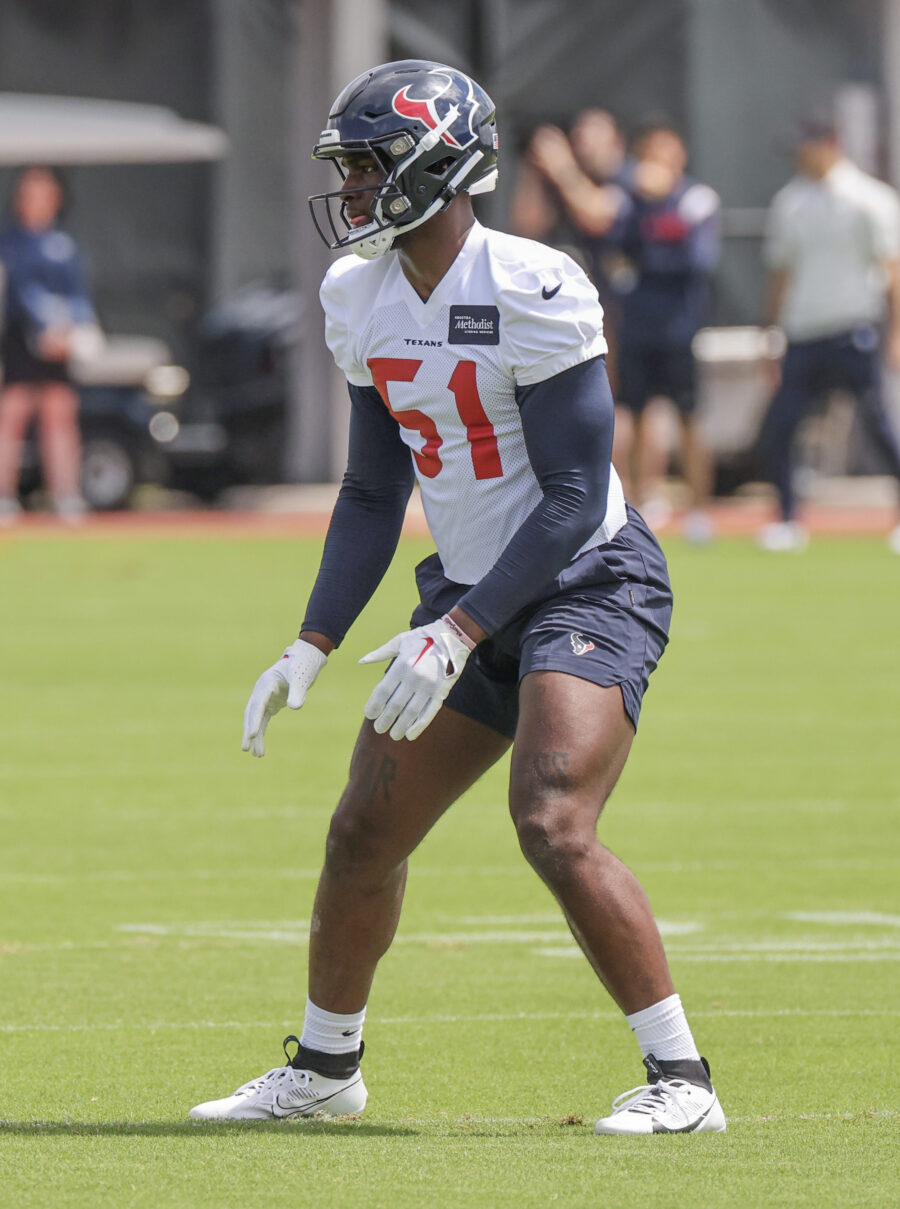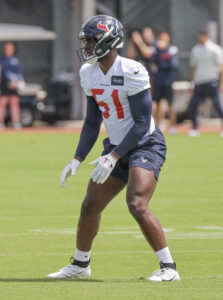 The latest Ohio State-produced QB talent, Stroud graded as Scouts Inc.'s No. 5 overall prospect and shined in two seasons after Justin Fields' NFL exit. The Titans were viewed as Stroud suitors, via trade-up, and the Texans taking the 6-foot-3 signal-caller at 2 — rather than choosing Anderson there — prevented them from having to compete with Tennessee in terms of an offer for No. 3.
Stroud earned Big Ten Offensive Player of the Year acclaim in 2021 and 2022, totaling 8,123 yards and 85 touchdown passes in that span. His 348-yard, four-TD passing performance against Georgia in the semifinal round aged quite well, considering how a dominant Bulldogs defense fared in the championship game. Mills' experience aside, it would be shocking if Stroud were not at the controls early in the season.
Texans-Anderson connections emerged in early April, and the team had not made a splashy move at edge rusher since Caserio's arrival. Set to slide to defensive end in Ryans' 4-3 scheme, Anderson will anchor Houston's pass rush and serve as Ryans' new Nick Bosa-like presence. A two-time recipient of the Nagurski award (given to the top Division I-FBS defender), the Alabama product hardly could have accomplished more in college. The Crimson Tide outside linebacker totaled 27.5 sacks and a whopping 48 tackles for loss from 2021-22. The Texans have more work to do in future offseasons to address their pass rush, but they made a big bet Anderson will be their cornerstone cog.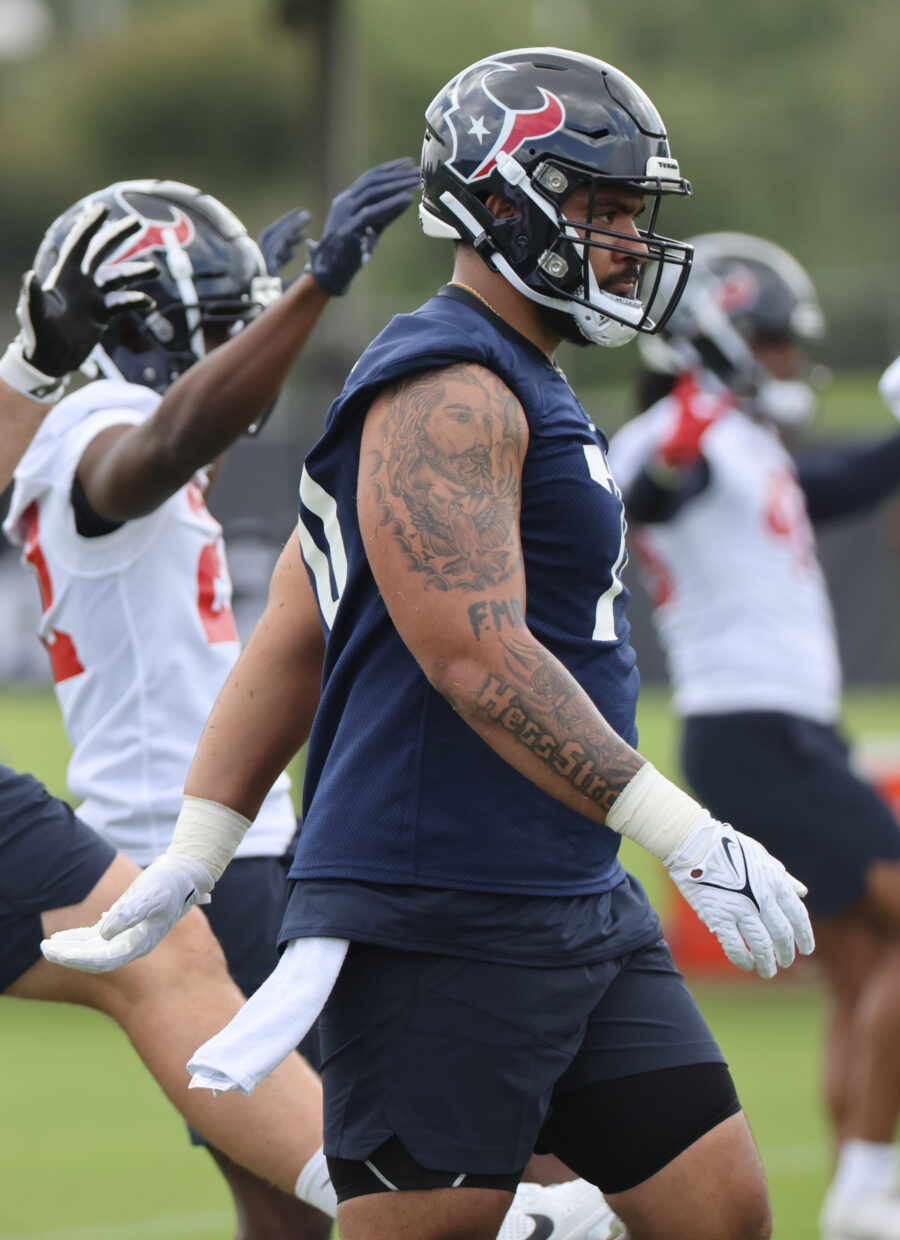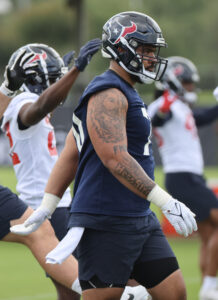 Considering the makeup of the Texans' center position, it would surprise if Scruggs were not an early-season starter. A 2019 car accident nearly ended Scruggs' career, but he recovered and grew into one of the top O-line prospects in this year's draft. Scruggs has experience at both guard and center, finishing his career at the latter post. The Texans now have an O-line housing four first- or second-round picks and Mason, who has long outplayed his fourth-round slot.
A Texan for all of a day, Stroud lobbied for Dell, leading to a four-spot trade-up maneuver. Stroud worked with Dell at the Combine, and the ultra-productive Houston Cougars wideout will stay in town. Dell's 5-8, 165-pound frame provides limitations, but he put together back-to-back 1,300-yard seasons in college and totaled 29 TD receptions from 2021-22. Dell should be expected to see most of his time in the slot; he also could offer his new Houston squad vertical and return-game capabilities.
Other:
Smith delivered a knockdown body shot on his way out, going for a final-minute two-point conversion — after a Hail Mary touchdown set it up — to beat the Colts and deny the Texans the No. 1 pick. Neither Smith nor Culley were part of other teams' HC searches when hired. While neither 60-something HC was given much to work with, it always seemed as if they were placeholders until Caserio — who admittedly oversaw two strange coaching searches — found his long-term leader. As his six-year contract shows, Ryans will be expected to be that coach.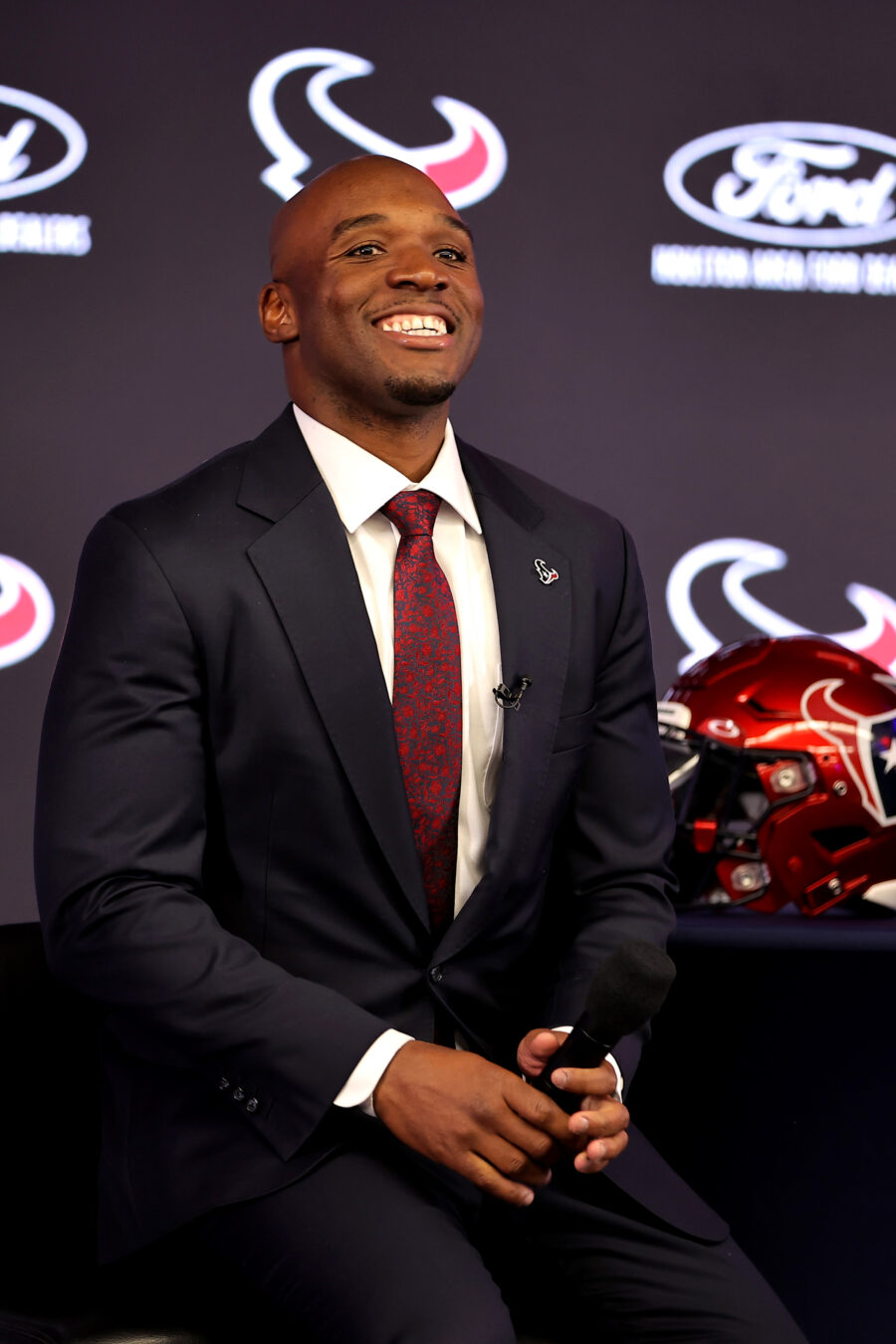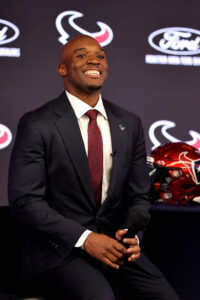 This doubles as a nice homecoming effort for Ryans, a 2006 second-round linebacker who made 86 starts in six seasons with the Texans. Ryans, 39 this month, finished his career with the Eagles and later sued the Texans because of NRG Stadium's playing surface (a 2014 injury led to Ryans' career ending). The sides moved past that, and despite widespread interest, Ryans limited his interviews to the Texans and Broncos. While Denver looked close to offering Ryans the job, he preferred the Texans. With Houston, Ryans will have the opportunity to lead a rebuild.
Succeeding Saleh as San Francisco's DC, Ryans landed on the HC radar early during his second season in that job. The 49ers' defense led the NFL in points, yards and DVOA. The Bosa-powered unit gave Kyle Shanahan's offense, which had gone through three starting QBs by season's end, a sturdy safety net that produced another NFC championship game berth. Long viewed as a fast-rising assistant, Ryans went 2-for-2 in NFC title game appearances as a coordinator.
Slowik, 36, worked with Ryans for six years on Shanahan's staff. The new Texans OC is a second-generation coach, as the son of veteran DC Bob Slowik. While the younger Slowik did not rise up the 49ers chain as swiftly as Ryans did, he had worked under longtime Shanahan assistants Mike McDaniel and Mike LaFleur. Once they departed, Shanahan made Slowik his right-hand man on offense. The 49ers staying afloat despite Jimmy Garoppolo's injury clearly helped Slowik, who will be a first-time play-caller in Houston.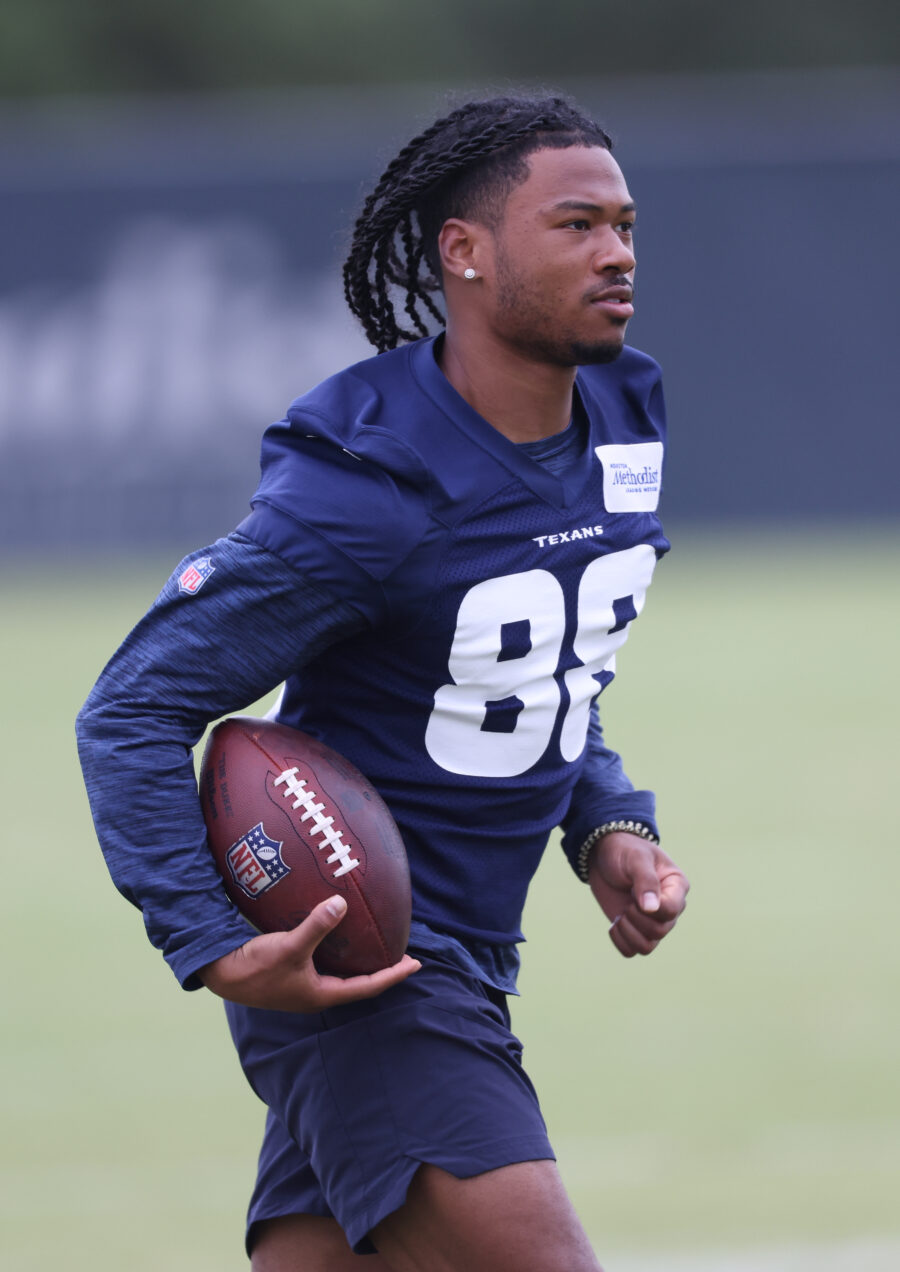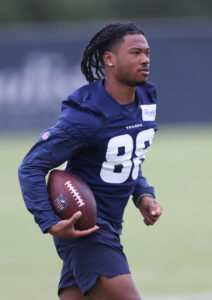 The team does have some experience behind Slowik on offense. Lazor is a two-time NFL OC, with the Bengals and Bears, while Day is a two-time QBs coach with 15 years' experience in the NFL. On defense, both Burke and Undlin are previous coordinators.
Burke, 47, served in that role for the Dolphins under Adam Gase from 2017-18 but has bounced around since. Last season, he served as the Cardinals' defensive line coach, overseeing a J.J. Watt bounce-back effort and Zach Allen's breakout. Undlin has been in the NFL since 2004, serving as DBs coach on Super Bowl-bound Broncos (2013) and Eagles (2017) teams and being Matt Patricia's final Lions DC. Undlin spent the past two years as a Ryans lieutenant in San Francisco, leading the 49ers' DBs. That will make for a seamless transition.
Metchie participated in the Texans' offseason program and is on track to make his NFL debut. The multiyear Alabama starter suffered an ACL tear late in his junior season and was then diagnosed with leukemia. Viewed as a strong route runner for the Crimson Tide, Metchie totaled 1,142 receiving yards during an abbreviated 2021, helping the SEC power compensate for the losses of DeVonta Smith and Jaylen Waddle. Metchie, who missed offseason time with a hamstring injury, looms as a Texans wild card. But with Cooks gone, the team needs all the help it can get as Stroud begins his development.
Top 10 cap charges for 2023:
With the AFC incredibly deep — though, the AFC South does not appear especially imposing — the Texans could make strides without their record improving by much. The team also added more building-block players, in Stroud and Anderson. Observing the first-rounders' progress will be important for a team that made a stronger commitment to a head coach this offseason. It will probably take multiple successful offseasons before the playoffs are a realistic goal, but this should mark the team's return to relevant on-field action. It has been a bit since Texans fans could enjoy that.
Follow @PFRumors