It seems neither party involved wants Adam Vinatieri's ineffective performance in Kansas City to be his final NFL act.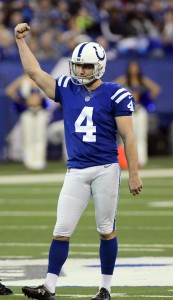 After the 46-year-old kicker expressed interest in playing at least one more season, the Colts also want to have their longtime kicker back for the 2019 season, Mike Chappell of CBS 4 tweets.
Another Vinatieri deal would mean a 14th season with the Colts and a voyage further into rare NFL territory. Only two players — kicker Morten Andersen and quarterback/kicker George Blanda — have played either a 24th season or past their 47th birthdays.
"If they're wanting, I can't imagine (I'd) not keep playing, you know?" Vinatieri said (via Joel A. Erickson of the Indy Star). "I haven't made the decision yet. I'll spend a week or two and just kind of see where we're at."
Vinatieri made 85 percent of his field goal tries (23-for-27) for a second straight year and connected on a 54-yard field goal for a third straight season. He made four 50-plus-yard field goals — the fourth straight year he has connected on at least four from beyond 50 yards. However, he missed an extra point and a field goal inside of PAT distance in the Colts' 31-13 loss to the Chiefs.
Last year, Vinatieri earned $3.625MM on a one-year deal with the Colts.
Photo courtesy of USA Today Sports Images.