Adam Vinatieri hopes to still be kicking when he celebrates his 48th birthday in December, as NFL.com's Tom Pelissero tweets. At the same time, he says that quarantine life has hampered rehab on his surgically-repaired knee.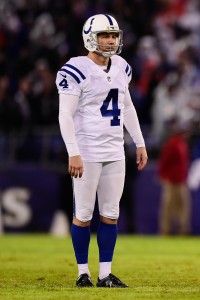 Vinatieri's contract with the Colts expired at the end of last season, making him an unrestricted free agent. Meanwhile, the Colts are exploring their options. This week, they signed undrafted rookie kicker Rodrigo Blankenship to compete with Chase McLaughlin, who took over for Vinatieri following his injury in December.
On the whole, Vinatieri's career has been legendary. Over the course of 24 seasons, he's captured four Super Bowl rings, three First Team All-Pro nods, and countless clutch kicks. His late-year injury resulted in his first missed game since Super Bowl XLIV. And, with the Colts, he had perfect attendance dating back to 2010.
With that said, Vinatieri did show some signs of slowing down in 2019. He made just 17 of his 25 field goal tries and 22 of his 28 extra points. The Colts had issues beyond the special teams unit, of course, but those misses did not help matters as they dropped out of playoff contention.
If Vinatieri returns for another NFL season, it'll be a historic feat. Currently, quarterback/kicker George Blanda holds the league's all-time record on that front having played at the age of 48 in the 1975 season.
Photo courtesy of USA Today Sports Images.