Patriots tight end Benjamin Watson is likely to retire, as the 39-year-old told reporters, including Zack Cox of NESN, in an emotional interview last night (video link).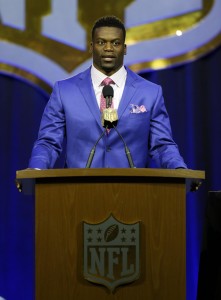 New England was eliminated from the postseason on Saturday, and Watson, who was brought in to help fill the void left by Rob Gronkowski's retirement, caught three passes for 38 yards in the game. He also had a long reception called back due to an ineligible receiver downfield penalty.
Of course, Watson announced in December 2018 that he would be hanging up the cleats, but he chose to come out of retirement to sign with the Pats in May. Unfortunately, he was suspended for the first four games of the 2019 season due to a violation of the league's PED policy — he reportedly took a testosterone supplement subscribed by his doctor while he was still retired — and New England released him on October 7. But he re-signed with the team shortly thereafter, and he ended the season with 17 catches for 173 yards.
In sixteen seasons in the NFL that included two separate stints with the Patriots and Saints, in addition to stops with the Ravens and Browns, Watson — who has been a finalist for the Walter Payton Man of the Year award on several occasions — compiled 547 catches for 6,058 yards and 44 TDs. He also captured a championship ring as a member of the Patriots' Super Bowl XXXIX team.
Watson said, "there's only so much your body can take, and so much you want to put your family though, before you want to settle down and have some roots. Figure out what the next chapter of your life is going to be."
Photo courtesy of USA Today Sports Images.