With so many NFL draft declarations over the past few weeks, one of college football's premier defensive lineman has gone against the grain and has decided to stay for his senior season. Defensive tackle Christian Wilkins has opted to try for another College Football Playoff Championship, the team announced on Twitter.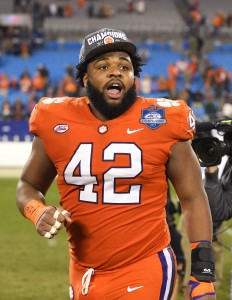 While the news is at least somewhat surprising considering that Wilkins was thought of by many as a sure bet to be selected in the first round, the motivation of getting beaten by Alabama has clearly fueled most of the team's draft eligible players decisions to try and avenge that loss in 2018.
Wilkins was ranked as the number one defensive line prospect by Matt Miller of Bleacher Report before this decision became official. He also is coming off an outstanding junior season that saw the dominant defender rack up five sacks and help lead one of the defensive units in the country.
Wilkins' decision to return to school pushes the likes of Michigan's Maurice Hurst and Washington's Vita Vea as the best interior defenders in the 2018 NFL Draft.
Photo courtesy of USA Today Sports Images.