At some point, the Chiefs and star quarterback Patrick Mahomes are going to agree to a long-term extension that will make Mahomes the highest-paid player in NFL history. But while we heard back in February that the two sides could finalize something after the draft, negotiations have not yet gotten underway.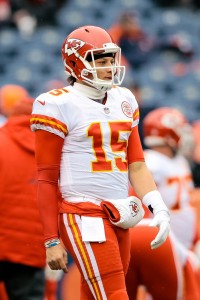 In a Facebook Live event with Dallas radio station 105.3 The Fan yesterday, Kansas City chairman and CEO Clark Hunt spoke about contract discussions with the face of his franchise (story via Jelani Scott of NFL.com).
"The negotiations are something we'll be getting into this summer," Hunt said. "But what he has said and what we've said, both sides is, he wants to be a Kansas City Chief for life, and that's our mentality as well. We want him to play his entire career in Kansas City, and that's what we're going to be shooting for."
Hunt had indicated before this year's Super Bowl that a Mahomes extension would not necessarily get done prior to the end of the 2020 season, but it appears that his timeline has been accelerated (it's amazing what a Lombardi Trophy can do for someone's goodwill). At the same time, it also makes sense from the team's perspective to make sure that there will be a 2020 season before paying a player — even a player like Mahomes — tens of millions of dollars in upfront cash. Perhaps that's why negotiations have been pushed back to the summer.
Mahomes was hampered a bit by a knee injury in 2019, so his regular season performance was not quite as otherworldly as it was in his MVP romp in 2018. But he was brilliant in the Chiefs' title run, which culminated in Super Bowl MVP honors.
For his part, the 24-year-old sensation says he has no intentions of going anywhere. "I want to make sure I do [my next contract] the smart way and do it the right way, and so I don't know exactly which way that is, yet," Mahomes recently said. "I know that my people and the Chiefs' people will talk about it, and will do it at the right time and for the betterment for the team. But I'm excited to be a Kansas City Chief for a very long time, and I know that's going to be handled the right way because of the people the Kansas City Chiefs have in their organization
Photo courtesy of USA Today Sports Images.