Oklahoma junior offensive lineman Cody Ford announced that he will forego his final year on campus in order to enter the NFL draft. Ford ranks as one of the best guards in this year's class and may wind up as a first round pick.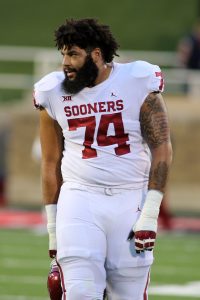 [RELATED: Lincoln Riley Signs Extension To Stay At Oklahoma]
Ford was a first-team All-Big 12 selection in 2018 and helped Oklahoma win Joe Moore Award, given to the country's best offensive line. Clearly, Ford has a chance to lock in NFL riches, and coach Lincoln Riley recently explained that he understood the desire of Ford and other top OU prospects who wanted to jumpstart their pro careers.
"I mean, you see guys do it different ways," Riley said. "I would never agree with somebody going to be a free agent. I mean, that's [foolish]. But some guys do, and so I think the best thing we can do is we be proactive. We don't make it like the elephant in the room that nobody talks about. We try to be proactive with them, talk about them, educate them and their families. We have a lot of talks with NFL GM's, NFL coaches, the people that are [in the know]."
Ford played at left guard in 2016 and 2017 but shifted to right tackle this past season. At the pro level, the 6'4″, 337-pound Ford is projected to play on the interior, but his versatility will work to his advantage.
Photo courtesy of USA Today Sports Images.