After letting some of their regulars walk in free agency last year, the Chiefs have more auxiliary performers set to hit the market in March. A historic payment to Patrick Mahomes and a possible Chris Jones franchise tag will force the Super Bowl champions to prioritize come free agency.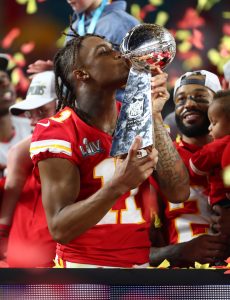 Kendall Fuller, Emmanuel Ogbah, Bashaud Breeland and Demarcus Robinson are among Kansas City's notable non-Jones UFAs. Robinson appears to have a suitor with a greater receiver need than the Chiefs, who still have Tyreek Hill, Sammy Watkins and Mecole Hardman under contract.
The Eagles are interested in the four-year veteran wideout, Jeff McLane of the Philadelphia Inquirer notes. They brought Robinson in for one of their 2016 pre-draft visits, but the Florida prospect went to the Chiefs in that year's fourth round. Considering the Chiefs' front-burner issues, Robinson's second contract looks likely to come from another team.
During Hill's injury-related absence early in the season, Robinson became a key Mahomes target. Although the 25-year-old receiver caught 32 passes for a career-high 449 yards, he delivered his most notable audition during a six-reception, 172-yard, two-touchdown day in Oakland. During Mahomes' two years as the Chiefs' starter, Robinson totaled 54 catches and eight touchdowns.
After injuries to DeSean Jackson, Alshon Jeffery and Nelson Agholor, the Eagles deployed a skeleton-crew receiving corps during the season's stretch run. Both Jackson and Jeffery are likely to return, thanks to big 2020 guarantees. Agholor will probably depart, per McLane. The Eagles figure to be targeting wideouts in the draft as well, but it appears they will consider Robinson on a mid-level pact. Doug Pederson was already in Philadelphia by the time Robinson arrived in Kansas City, but bringing in a longtime Andy Reid weapon would be a logical fit for the ex-Chiefs OC.
Photo courtesy of USA Today Sports Images.