The Colts aren't sold on Jacoby Brissett as their starting quarterback. Brissett has one more year to go on his contract, but GM Chris Ballard says "the jury's still out" on the 27-year-old.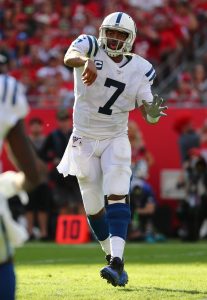 "That's why we did a short-term deal with Jacoby," said Ballard. "Jacoby did some good things. I don't want to just look at the second half of the season and say he didn't, because Jacoby did some good things. I think as a whole, not just the quarterback position, but our passing game has to improve. Unequivocally. That has to get better. You have to be able to throw the ball to win in this league."
This all jibes with a December report from NFL.com's Ian Rapoport – the Colts, armed with the No. 13 overall pick in the draft, could look for a new signal caller. One can't help but wonder if their QB search could lead them back to old friend Andrew Luck, but Ballard did his best to downplay that possibility when speaking with reporters on Thursday.
"Andrew's retired," Ballard said. "Do I talk to Andrew? Yes, I do. Haven't talked to him in a few weeks, I'm sure he's been busy being a father. But Andrew's retired, and I think we all need to accept that. That's where he's at. He's retired."
After being thrust into the starting QB role, Brissett completed 60.9% of his throws in 2019 for 2,942 yards. He also threw for 18 touchdowns against just six interceptions and advanced the ball on the ground a bit as well. Brissett averaged 4.1 yards on 56 rushing attempts in 2019, scored four rushing touchdowns, and picked up 20 first downs with his feet.
Photo courtesy of USA Today Sports Images.