An encouraging comeback game turns out to be the final one of the 2017 season for wide receiver Jaelen Strong. After catching his first touchdown pass of the season against the 49ers, the 23-year-old wideout revealed on his own personal Instagram that he has torn his ACL, effectively ending his third professional season.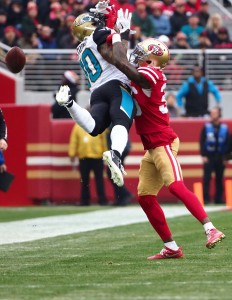 "I was cut in September by the Texans. Jags claimed me a day after. 14 weeks later I am finally active. My first reception goes for a TD. IM SO EXCITED to finally be out here w GANG grinding w my dogs and then I tear my ACL. I walked off on my own power cause i immediately thought of who was watching me, our youth! Let this be a testimony for you. No matter what knocks you down you gotta pull ya self back up and what better way to show you then this… can't wait to watch my dogs in the OFFS! Love everybody who been in my corner."
Strong had spent his first two seasons in the NFL with the Texans, who had selected him in the third round of the 2015 NFL Draft. Strong was cut by Houston in September, but was signed by the Jaguars after the team needed wide receiver depth. Strong was activated for the first time this season as Jacksonville dealt with injuries to starters Marqise Lee and Allen Hurns.
Strong responded by catching three balls and a game tying touchdown at the end of the first half. It's a cruel turn of events for what was looking to be a nice turn around story. Now the Jaguars will have to hope for the likes of Lee and Hurns to return for the postseason. Rookies Keelan Cole, Dede Westbrook and Jaydon Mickens have stepped up admirably for quarterback Blake Bortles over the past few weeks, but Jacksonville would certainly like their more veteran playmakers to get back in the lineup with the playoffs just two weeks away.
Photo courtesy of USA Today Sports Images.