Free agent running back Joseph Randle is once again in legal trouble, reports KAKE-TV in Wichita, Kan. The former Cowboy is now facing a felony charge stemming from allegations that he threatened a Sedgwick County Jail deputy on May 14. Randle was in Kansas awaiting dates on two other felony cases at the time, according to the Dallas Morning News.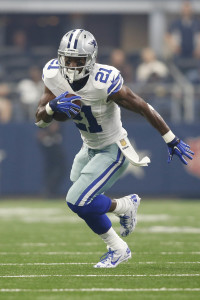 This represents the latest in a string of off-field incidents for the 24-year-old Randle, whom the Cowboys waived in November and who, as the Morning News details, accrued six arrests in an 18-month span at one point. Randle spent more than a week in jail in February after charges of aggravated battery, criminal damage and possession of marijuana led to an arrest. Prior to that, Randle was arrested at a Kansas casino in November and charged with one felony and five misdemeanors.
Based on his arrests, Randle earned a four-game suspension from the NFL in November for violating its personal conduct policy. Teams had interest in possibly pursuing Randle before the announcement of the ban, but his ever-increasing rap sheet makes it unlikely he'll ever suit up in the league again.
Randle flashed plenty of talent on the field during his three seasons with the Cowboys, making his personal problems all the more unfortunate. After Dallas selected him in the fifth round of the 2013 draft, the ex-Oklahoma State standout totaled 822 yards on 181 carries, good for a stellar 4.5 per-rush average, and nine touchdowns in 35 games. Despite appearing in only six games in 2015 – all of which were starts – he set career marks in carries (76) and scores (four).
Photo courtesy of USA Today Sports Images.