Before Matt Bryant's 10-year Falcons tenure, he established himself as a reliable NFL kicker during a four-year Tampa Bay stay.
Bryant is interested in returning to the Buccaneers, and the 17-year veteran's former team is "definitely" interested in bringing Bryant back, Vaughn McClure of ESPN.com reports.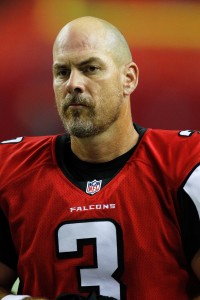 The Falcons will not pick up Bryant's option for 2019, sending him toward free agency. The Bucs cannot sign him until March 13, when his contract expires, since this is an option-based departure rather than an outright release. But after several years of issues at kicker, the Bucs may have a solution planned.
"They are definitely an option," Bryant said, via McClure. "I could definitely [see myself] going back there to play. Bucs special teams coach Keith [Armstrong] knows me, and I know him. We've worked together. There's a strong familiarity. I mean, there are all kind of things that go into this."
The Bucs hired Armstrong this offseason. He was the Falcons' special teams coordinator from 2008-18.
Bryant, who kicked for the Bucs from 2005-08 and still has a house in Tampa, will turn 44 in May and missed three games due to injury last season. But he made 20 of his 21 field goal attempts, including four from beyond 50 yards. The 95.2 percent success rate was the best of his career.
The Bucs went through two kickers last season — Chandler Catanzaro and Cairo Santos, who combined to make 20 of 27 field goal tries — and used two more (Nick Folk and Patrick Murray) in 2017. Folk beat out Roberto Aguayo in training camp that year. Aguayo has not kicked in an NFL game since missing nine field goals as a rookie. The 2015 Bucs used two kickers as well, Connor Barth and Kyle Brindza. Bryant obviously has a much better track record than this group over the past several years.
Photo courtesy of USA Today Sports Images.