NOVEMBER 18, 2:58pm: The Steelers officially announced Freiermuth's activation this afternoon, along with a number of other Saturday transactions. Joining Freiermuth on the active roster will be practice squad linebacker Mykal Walker, whom the team was hoping to involve more with Kwon Alexander on injured reserve.
In order to make room on the roster, Pittsburgh has placed starting safety Keanu Neal on injured reserve. Neal joined his fourth team in as many years this offseason and has made the most of it, becoming a starter for the Steelers. He hasn't had the strongest season, grading out as the league's 62nd-best safety, according to Pro Football Focus (subscription required). Neal's absence will likely mean a bigger role for fellow safety Damontae Kazee, who was teammates with Neal from 2017-2021 during stints in Atlanta and Dallas.
Lastly, the Steelers announced their standard gameday practice squad elevations for tomorrow's game in Cleveland. The team will promote LB Tariq Carpenter and safety Trenton Thompson for the matchup. Thompson's callup fills out the depth chart a bit with Neal gone. Carpenter will team up with Walker to provide some reinforcements at linebacker with Alexander hurt.
NOVEMBER 18, 8:45am: The quick ramp-up period will be sufficient for the Steelers, who will activate Freiermuth at the earliest opportunity. Freiermuth will end up spending the minimum four games on IR, with NFL.com's Tom Pelissero indicating he will move back onto Pittsburgh's active roster before this afternoon's deadline. While the former second-round pick has not played since Week 4, a hamstring aggravation is responsible for the extended absence. This transaction will leave the Steelers with four IR activations remaining.
NOVEMBER 15: Pat Freiermuth's third NFL season has not gone as hoped, but the Steelers are moving closer to having their tight end ready for the stretch run. The team designated the young pass catcher for return Wednesday.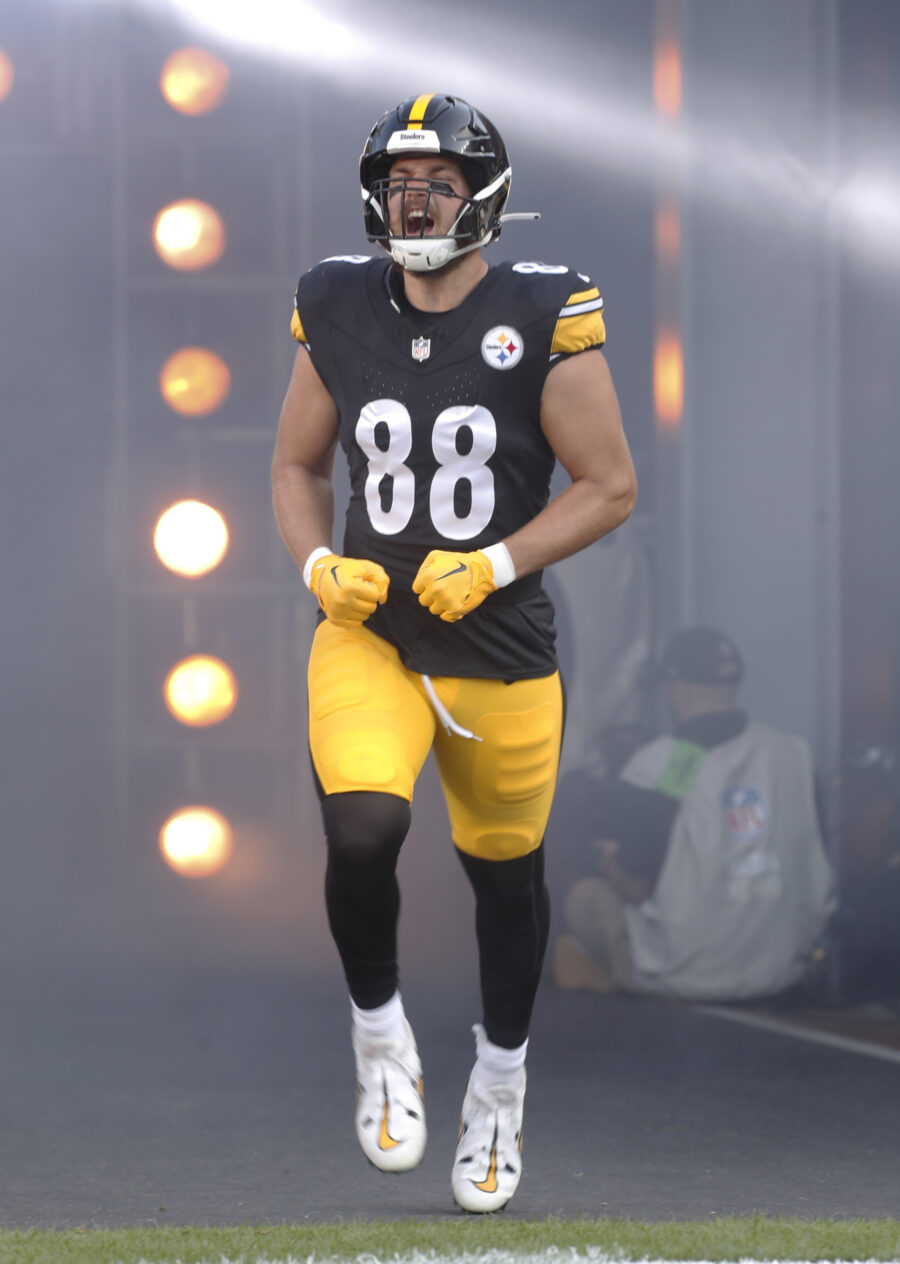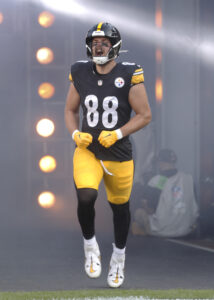 This will start Feiermuth's 21-day activation clock. The Steelers placed Freiermuth on IR due to a hamstring injury last month. While Freiermuth did not initially land on IR due to the injury, an aggravation led to the Steelers moving him off their 53-man roster.
The Steelers have moved to 6-3 despite persistent struggles on offense, but the team has missed Freiermuth and Diontae Johnson for extended chunks of the season. Johnson returned from his hamstring injury weeks ago, and it appears another activation will soon commence after a hamstring malady. This will be good news for Kenny Pickett, who targeted the 2021 second-round pick frequently in his first season as Pittsburgh's starter.
Last year, Freiermuth finished with 63 receptions for 732 yards and two touchdowns. While his yards-per-reception and touchdown numbers were down compared to his rookie year, the Penn State product's yardage total dwarfed his rookie-year number (497). Pickett and Mitch Trubisky targeted the talented tight end regularly, and the Steelers came into this season expecting another steady showing from the 6-foot-5 weapon.
Freiermuth has not played since Week 4, and he struggled to find his footing in the latest Matt Canada-run Pittsburgh offense. Freiermuth finished three games with fewer than 10 receiving yards, and although Week 4 involved an early exit, Weeks 1 and 2 brought sluggish outings. Freiermuth has eight receptions for 53 yards and two TDs this season. In his absence, the Steelers have seen Connor Heyward work as their top receiving tight end. The second-year option has 17 catches for 137 yards. Third-round rookie Darnell Washington has not factored in prominently, exiting Week 10 with three grabs for 23 yards.