The Panthers have been graced this summer with an unfamiliar status of health in their cornerbacks room. That hasn't stopped them from bringing in some veteran, starting depth at the position. Tom Pelissero of NFL Network reports that Carolina has agreed to terms with cornerback Troy Hill.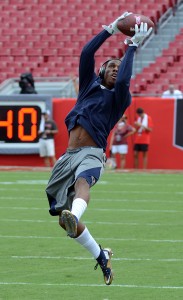 After seeing both of its top cornerbacks, Donte Jackson and Jaycee Horn, miss extended periods of time over the last few years, Carolina is finally ready to see both players on the field and healthy together. After suffering a minor foot injury in the spring, Horn has been 100 percent in camp. And Jackson, coming off an Achilles tear from last season, has received full clearance, as well.
Regardless, the team will be adding Hill to the fold. The 31-year-old undrafted cornerback has stuck around for eight years in the NFL, so far, and will be joining his sixth NFL team for the 2023 season.
After sputtering around as an undrafted rookie in 2015 with the Bengals and Patriots, Hill landed in St. Louis off waivers at the very end of his rookie season. The Rams' subsequent move to Los Angeles marked a new start for Hill, as well. In his sophomore season, Hill made four starts for the Rams despite entering the year as the team's fifth cornerback. Over a few more years in the Rams' system, Hill solidified his role as part-time starter and heavy-rotation contributor.
When Los Angels finally gave Hill a chance to be a full-time starter, he had a career year, setting career-highs in tackles (77), passes defensed (10), and interceptions (3). He proved dangerous with the ball in his hands, as well, returning two of those picks for touchdowns and leading the league with 119 interception return yards.
The breakout performance in a contract year resulted in him signing a four-year, $24MM contract with the Browns. Cleveland's system forced him to play out of his skillset a bit, resulting in a severe dip in production in coverage but a career-high in both sacks (2.0) and tackles for loss (7). After only one season with the Browns, Hill was traded back to Los Angeles for a 2023 fifth-round draft pick. Hill returned to his role as a starter for the Rams, but a restructured contract meant that he would find his way to free agency at the end of the season.
Hill joins a talented, young group in Carolina. Jackson and Horn are the clear favorites to start, but there is plenty of talent behind them with former first-round pick C.J. Henderson coming off the bench and former safety Jeremy Chinn playing in the slot. Hill's role among this group isn't immediately clear, but he brings plenty of experience to contribute. All of a sudden, fully healthy, cornerback is looking like a position of strength for the Panthers.