Free agent cornerback Tracy Porter was arrested Tuesday in Baton Rouge, La. and charged with possession of marijuana, distribution of schedule II drugs, and battery of dating partner, as WAFB first reported.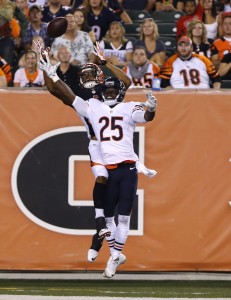 Porter was allegedly involved in a altercation with a woman on October 5 (one that she claims became violent when Porter grabbed her face and neck area). Police arrested Porter five days after the incident, at which time they found him in possession of at least 46 prescription pills (and no prescription), marijuana, drug paraphernalia, and a firearm, WWLTV reports.
Legal issues aside, Porter has struggled to find a new NFL home this offseason, and hadn't drawn any known interest since being released by the Bears in April. That's likely due to his age (31) and his performance in 2016, when he graded as a bottom-five cornerback in 15 starts for Chicago, per Pro Football Focus.
Porter, who's perhaps most-well known for his fourth quarter pick-six of Colts quarterback Peyton Manning that sealed Super Bowl XLIV for the Saints, isn't likely to land a contract following the incident. But even if he escapes legal ramifications, Porter could still face NFL discipline if and when he returns to the league.
Photo courtesy of USA Today Sports Images.