**Updated Friday morning, 10:12am CT**
This afternoon, we'll know the fates of seven franchise-tagged players for the 2016 season and beyond. If their respective teams do not sign them to long-term contracts by 4pm ET/3pm CT, Broncos linebacker Von Miller, Redskins quarterback Kirk Cousins, Bears wide receiver Alshon Jeffery, Jets defensive end Muhammad Wilkerson, Chiefs safety Eric Berry, Rams cornerback Trumaine Johnson, and Ravens kicker Justin Tucker will all play out the 2016 season on their one-year franchise tenders.
Will some of these players will reach lucrative multi-year deals between now and Friday afternoon? Or could we see all seven players nudged towards free agency in 2017? Here's a complete rundown of what's happening with each of these seven players as the deadline approaches: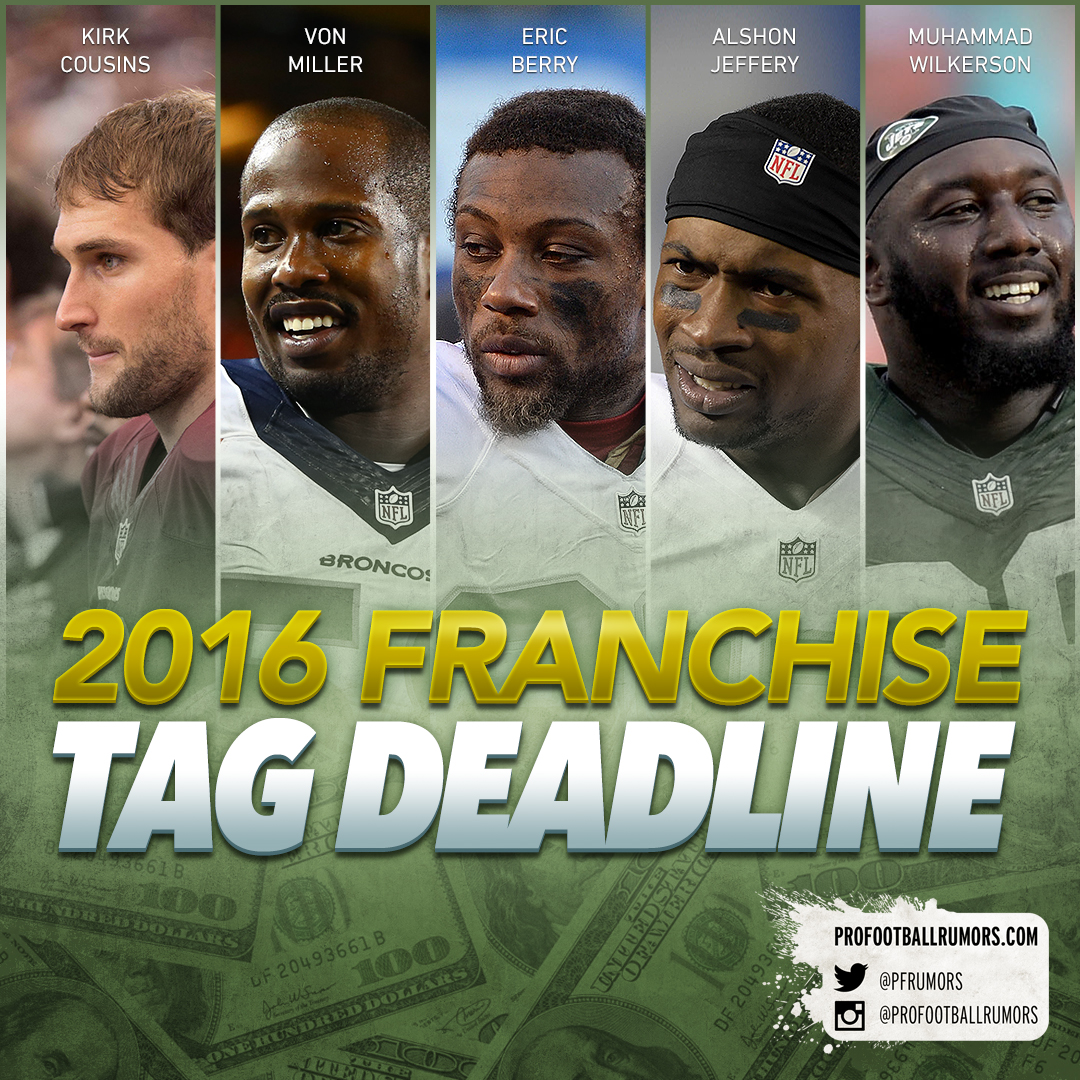 Von Miller, Broncos
This offseason, Von Miller went from Dancing With The Stars to wrestling with the Broncos. Naturally, there is strong mutual interest in a new multi-year deal between Denver and the reigning Super Bowl MVP and the two sides even seem to have agreed upon terms of about $114.5MM over six years. However, there remains a significant gulf between the two sides when it comes to guaranteed money and cashflow in the first couple of years. As we've seen before, NFL contract terms are often not what they appear to be on the surface. In this league, you can be promised a small fortune, but it doesn't mean much unless a significant portion of it is guaranteed and comes early on in the deal when the team values you most.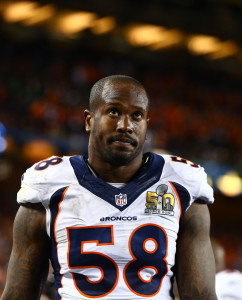 Back in June, the Broncos offered up a six-year, $114.5MM deal with nearly $40MM guaranteed in the first two years. However, Miller wanted more in the way of guaranteed cash and wanted a higher payout in the first three years. Soon after, Miller doubled down on his threat to hold out in 2016 if he does not get the multi-year deal that he is after and his teammates say that he's not bluffing. Would one of the league's best defensive players and fiercest competitors really stay home all year long rather than chase another ring and earn more than $14MM? It's hard to imagine, but there's also considerable incentive for Miller to stick to his guns in this situation.
If Miller opts to sit out the 2016 season, the Broncos will only be able to use the non-exclusive franchise tag on him and will not have the exclusive franchise tag at their disposal. Typically, a team that is able to pry a player away on the non-exclusive tag would have to forfeit two first-round picks to the former team. However, per the terms of the CBA, the compensation price would drop from two first-round picks to a first and a third if Miller were to sit out. Some teams would consider forfeiting two first-round choices to land Miller and even more teams would mull it over if that price drops to a first- and third-round choice.
Reportedly, Miller still harbors resentment towards the Broncos for the way that talks have gone this offseason. However, things could be changing now that Denver has updated their offer to give Miller $70MM in "solid guarantees."
Because of Miller's holdout threat, there's arguably more at stake for the Broncos than the other six teams negotiating with their franchise-tagged stars.
Kirk Cousins, Redskins
After a breakout 2015 season, Kirk Cousins wants to be paid like a top NFL quarterback. The Redskins, meanwhile, want to see him do it all over again in 2016 before committing major dollars to him across a five or six-year period.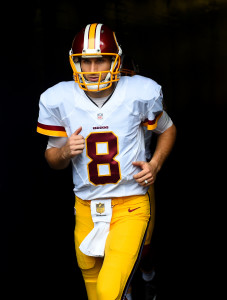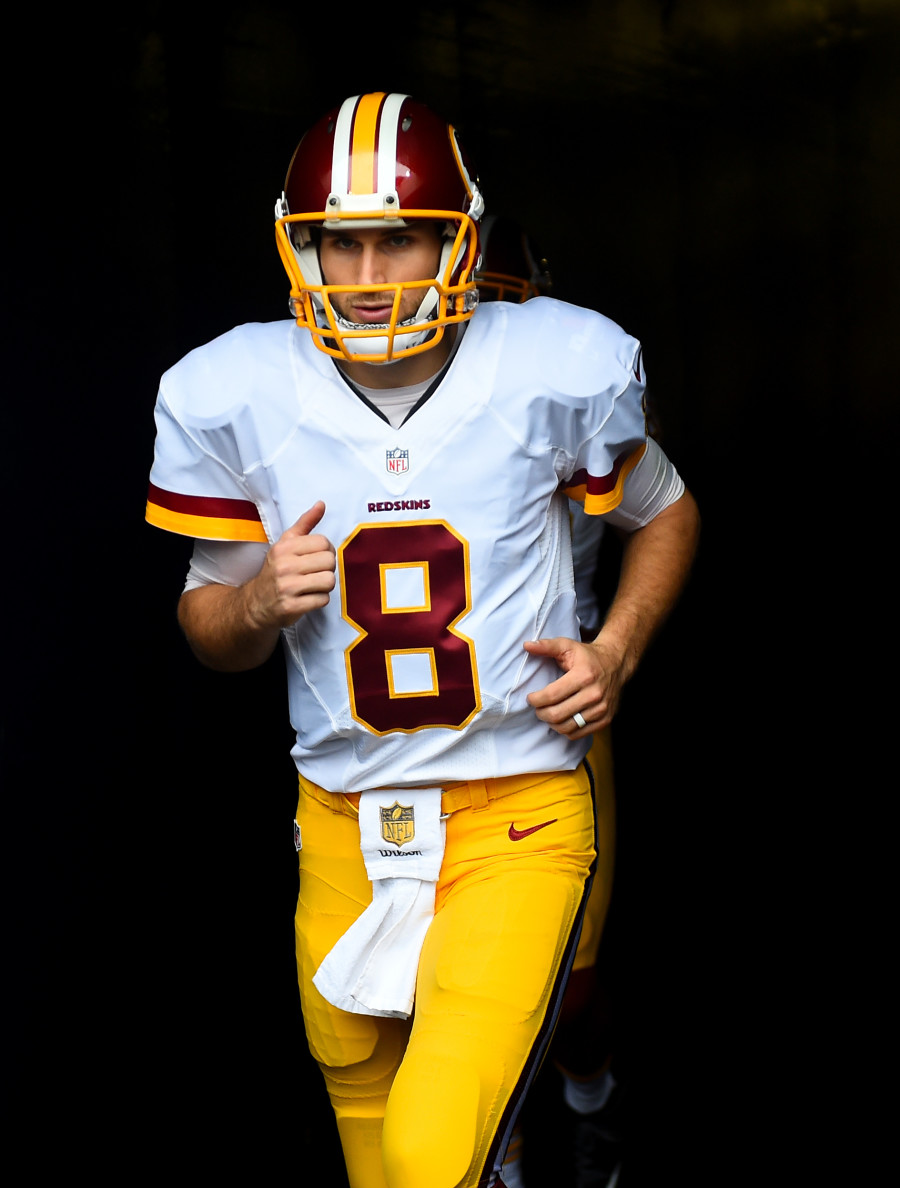 After watching Brock Osweiler go from backup to baller this offseason, Cousins' camp is salivating at his potential payday on the open market. For Cousins to forego a shot at free agency down the line, his agents are demanding $43.89MM in guarantees over the first two years of the pact, for starters. Wonder where that number comes from? That's the combined value of the 2016 franchise tag ($19.95MM) and the franchise tag in 2017 ($23.94MM), if the Redskins were to use it again. If Washington wanted to go for an unprecedented three-peat of franchise tags, it would cost them $34.47MM (!) in 2018.
Cousins earned just $660K in 2015, making him one of the league's very best values last year. Now, he's looking to cash in on his next deal and he's made it clear that he's willing to bet on himself in 2016. As of this writing, the two sides are not expected to come to an accord by Friday afternoon.
Alshon Jeffery, Bears
Alshon Jeffery is regarded as one of the league's top wide receivers – when he's healthy. That's likely the sticking point for the Bears, who want to see the 26-year-old give them a complete season before they give him enough money to buy his own private island. The 6'3″, 216-pound receiver missed six games during his rookie season because of hand and knee injuries. Last year, he sat out seven contests due to calf, hamstring, groin, and shoulder ailments.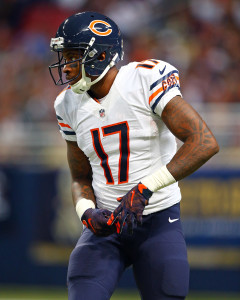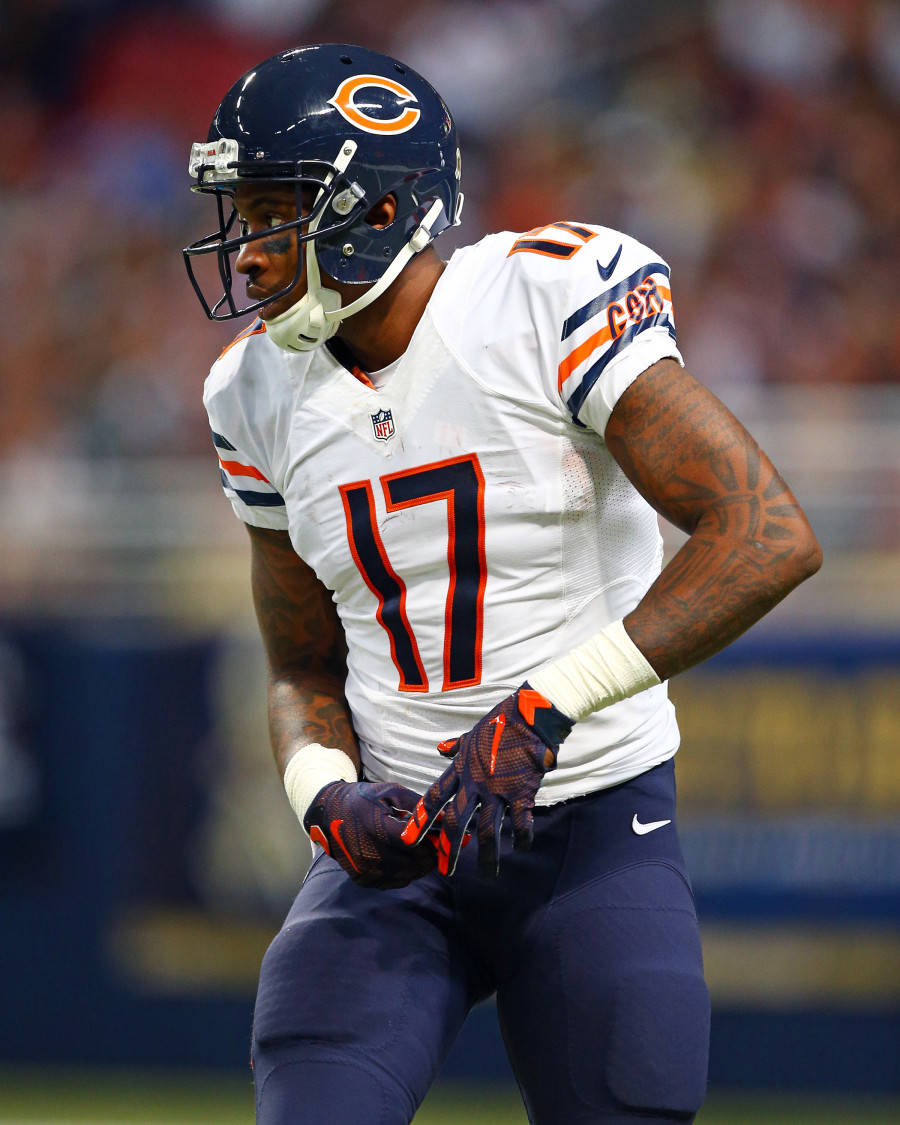 However, despite missing a good chunk of the 2016 season, Jeffery still racked up 54 catches for 807 yards and four touchdowns. Since his breakout campaign in 2013, the former second-round pick has averaged 89 receptions, 1,312 yards, and eight touchdowns per 16 games. Jeffery might not have a perfect attendance record, but he is a true game-changer when he is on the field.
Right now, it doesn't sound like the Bears are going to get a deal done with Jeffery. GM Ryan Pace doesn't have any qualms about moving on from players of the past regime and he could theoretically allow Jeffery to walk thanks to the presence of Kevin White.
Continue reading about the rest of this year's franchise-tagged stars:
Muhammad Wilkerson, Jets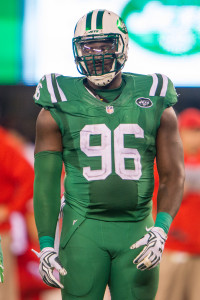 The Jets have shown very little interest in re-signing Muhammad Wilkerson to a long-term deal and, frankly, their lack of movement on that front is perplexing. Sure, the team already has a star lineman in Sheldon Richardson with another budding talent in Leonard Williams, but Wilkerson is a proven commodity who has delivered for the team ever since his rookie debut in 2011.
"It's shocking. It's frustrating," Wilkerson said of the barely existent contract talks last month. "Because I feel like I've earned it and I deserve it. It would be different if I was just a mediocre player. I feel like each and every week I'm dominating and it's showing. The stats speak for themselves. Basically, what more do I need to do? You know what I mean?"
We know exactly what you mean, Mo. The 26-year-old enjoyed his best season as a pro in 2015, racking up a career-high 12 sacks and forcing three fumbles, to go along with 64 tackles. Arguably the best defensive player for the Jets last season, Wilkerson also earned his first Pro Bowl berth. Still, the Jets seem quite comfortable with letting him ply his craft somewhere else after the 2016 season.
The two sides are reportedly making an effort to talk as the deadline approaches, but an accord still seems like a longshot.
Eric Berry, Chiefs
As the face of the franchise, many viewed a lucrative multi-deal between Berry and the Chiefs to be a foregone conclusion. However, we're less than 24 hours away from the deadline and there's no pact in place.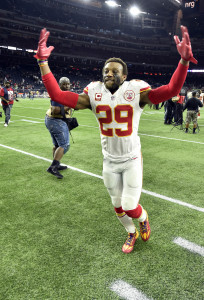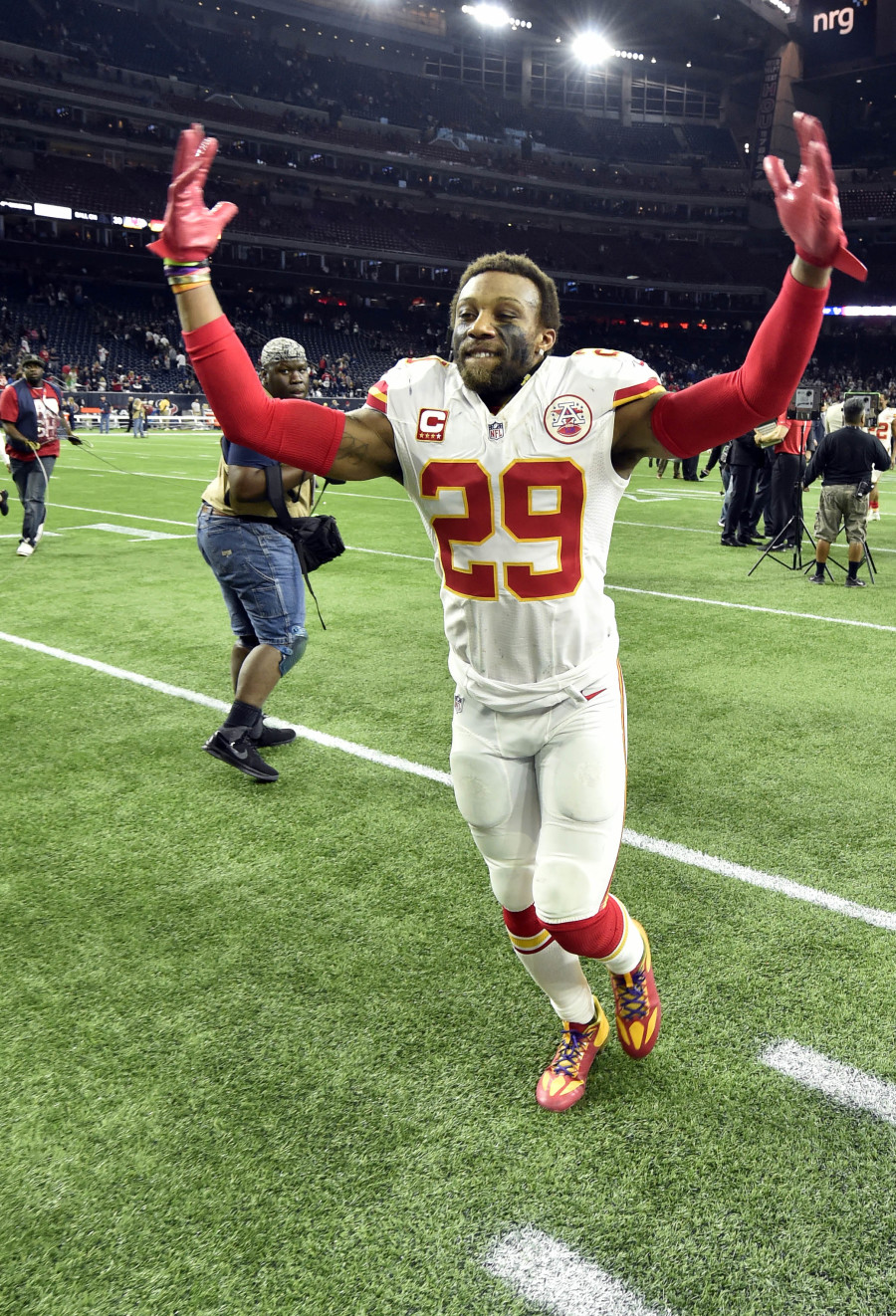 This offseason, Vikings safety Harrison Smith set a new bar at the position with his five-year, $51.25MM contract, giving him a higher AAV than Jairus Byrd, Devin McCourty, and Earl Thomas. Understandably, Berry wants to top Smith, even though the Vikes standout was rated by Pro Football Focus as the league's best safety in 2015.
Lately, talks have been moving slowly between the two sides and that's partially due to KC's tight cap situation. While a backloaded Berry deal would actually help create some breathing room against the cap limit for 2016, it would simultaneously put the squeeze on for 2017. Of course, the Chiefs have other players and needs to address, including a contract for nose tackle Dontari Poe. If you asked us to wager on Berry signing a long-term deal with KC back in March, we would have bet the house. A deal was thought to be unlikely as of Thursday evening, but the latest word on Friday morning is that talks are active and the two sides are planning to work up until the deadline to get something done.
Trumaine Johnson, Rams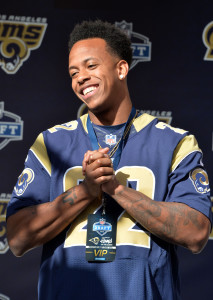 For weeks, we've been hearing that a long-term deal between Trumaine Johnson and the Rams is unlikely. On Thursday morning, word leaked out that a deal is still pretty darn unlikely. On Friday morning, we heard more of the same.
This offseason, the Rams had a choice between giving the franchise tag to either Johnson or fellow cornerback Janoris Jenkins. While Johnson was invited to make the move from St. Louis to Los Angeles, Jenkins was allowed to test the open waters and wound up signing a five-year, $62.5MM deal with the Giants. Logically, Johnson's reps view Jenkins' deal as a perfect comp and they are not interested in taking a dollar less. While things have gotten chippy for others (see: Miller and the Broncos), talks have remained civil between Johnson and L.A. The cornerback seems content to play out the 2016 season under the $13.952MM tender.
Johnson, 26, had just 20 career starts on his NFL résumé prior to 2015, but he established himself as a reliable starting cornerback last season, picking up 71 tackles, seven interceptions, and 17 passes defended, grading out as the No. 17 CB in the league, according to Pro Football Focus.
Justin Tucker, Ravens
Just as one of the seven dwarfs always seems to get forgotten, there hasn't been much talk nationally about Justin Tucker's negotiations with the Ravens. The Ravens took the somewhat unusual step of tagging their kicker with the franchise tag this offseason and the two sides have been working on a long-term deal ever since. Earlier this week, Tucker expressed confidence that a deal would get done by the Friday deadline, though he admitted that momentum has stalled: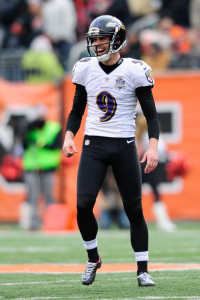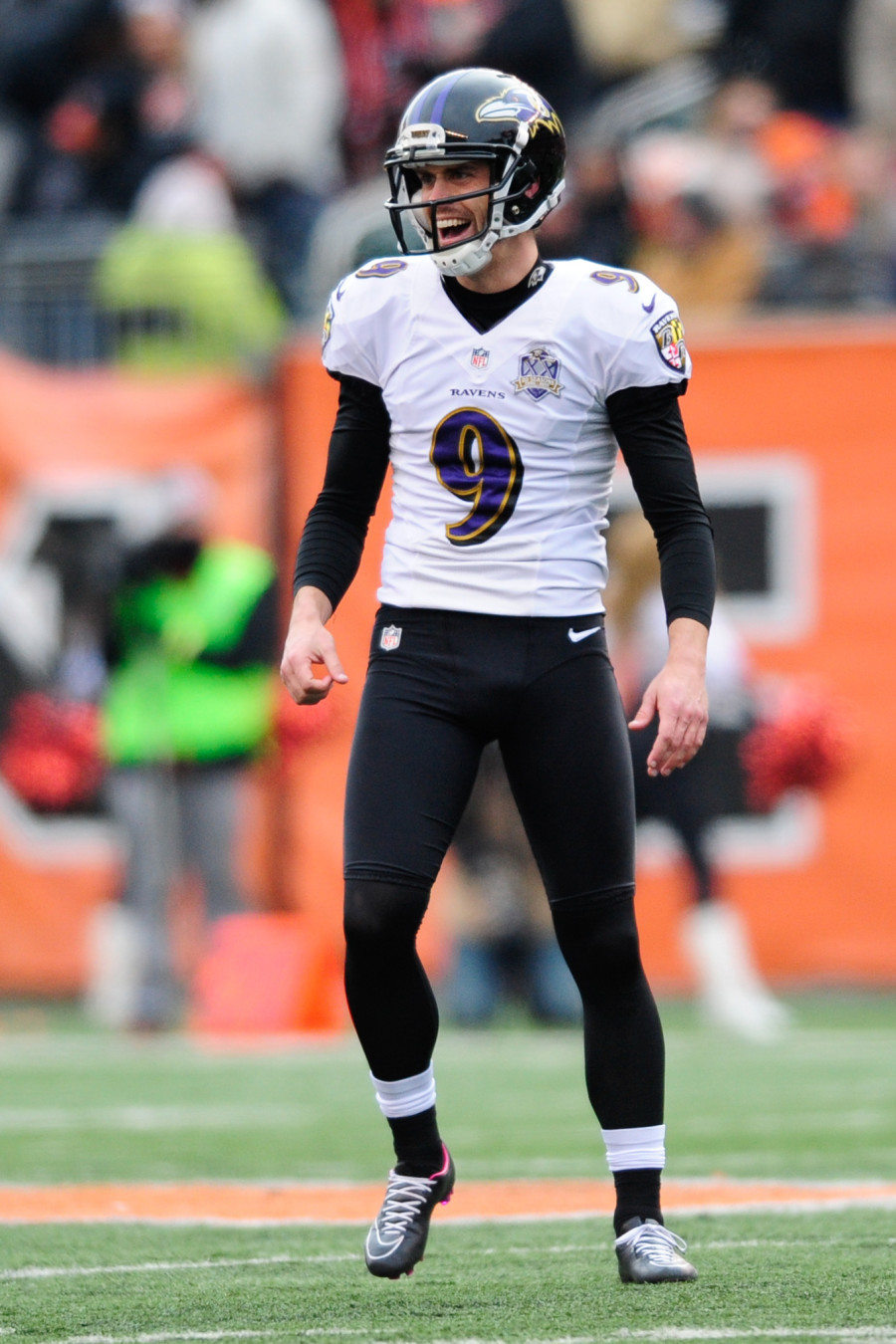 "As of right now, there hasn't been a whole lot happening, but there's still time. Like I've said before, I'm optimistic that something will get done. It's a matter of when, not if," Tucker said. "I know there's a lot of things to juggle from their perspective, so all I can do is just be patient and let the process unfold how it's going to unfold," he said. "There's no sense in complaining about it. I'm definitely in a very fortunate position, and I just hope that I can take this one year and turn it into four or five, or perhaps even more."
On Thursday, things apparently regressed between the two sides. Tucker is said to be so upset with the tenor of the talks that he's promising not to re-sign with Baltimore after the 2016 season if no extension is reached by the deadline. Baltimore's latest proposal to Tucker was not only for less than their past offers, but less than what the Packers are paying fellow kicker Mason Crosby. Baltimore's latest proposal to Tucker was not only for less than their past offers, but less than what the Packers are paying fellow kicker Mason Crosby.
Tucker, meanwhile, is likely looking to top the contract signed by Patriots kicker Stephen Gostkowski last year. Gostkowski's deal four-year, $17.2MM deal gave him significant guarantees up front while reducing the Pats' present-day cap hit. A similar deal could still be on the way for Tucker, but if they can't come to terms, he'll play out 2016 on a one-year, $4.572MM contract. If that's the case, Tucker could be taking his leg elsewhere.
Photos courtesy of USA Today Sports Images.
Follow @PFRumors