Arguably the least talented of the Broncos' four Peyton Manning-era teams, the 2015 iteration allowed the franchise to collect its third Super Bowl title, and the 2016 version will prepare to defend it in interesting fashion. Denver not only lost its starting quarterback of the past four years but allowed his backup to exit as well, creating a strange scenario for a defending Super Bowl champion.
The Broncos' quarterback quagmire notwithstanding, they still will probably return nine starters from their No. 1 defense and remain one of the AFC's favorites. Whereas many once thought Manning's retirement would double as the end of Denver's championship window, the team's dominant defense looks to keep it pried open. But has Denver gambled too much at the game's most important position to make a realistic title defense?
Notable signings:
The latest in the Broncos' steady line of franchise tag impasses has predictably been the team's most complex battle, with Miller having turned down a six-year, $114.5MM deal that would make him the league's highest-paid defender. His negotiation takes on a much more seminal essence than John Elway's previous midsummer value debates. Miller's team does not feel the full guarantees included in Denver's initial proposal were sufficient given what Ndamukong Suh and now Fletcher Cox received. Cox's Eagles deal doesn't contain more guaranteed cash at signing but includes nearly $60MM in full guarantees within nine months, essentially tethering the defensive tackle to Philadelphia's payroll for the next three seasons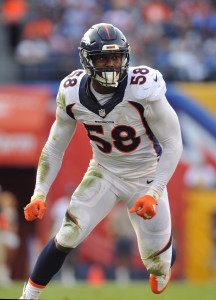 .
However, the Broncos have increased their efforts to retain Miller by Friday's deadline, pushing more guaranteed money toward the former No. 2 overall pick within the first nine months of the prospective deal. Miller's camp has not accepted or rejected these new terms, and either way, a resolution is coming this week.
Miller's options remain the same, realistically speaking: sign a long-term deal by July 15, or play 2016 on the exclusive franchise tag. The 27-year-old pass-rusher has threatened to hold out, refusing to play the season on the tag, but would miss out on $14MM+ if he sat out the season. However, he may need to keep up this threat since the Broncos aren't negotiating against any other team like the Dolphins were with Suh or Giants with Olivier Vernon.
The Broncos have received an incredible bargain from Miller. In his initial five seasons with the Broncos, Miller earned barely half of what Suh raked in ($60MM) in his five Lions years after being drafted No. 2 overall under the old CBA.
While a Miller-less 2016 could deal a knockout blow to a potential Broncos repeat that rests on its defense's shoulders, Denver has signed all three of its franchise players under Elway — Matt Prater (2012), Ryan Clady ('13) and Demaryius Thomas ('15) — to long-term deals. And Thomas' standoff with the Broncos lasted until minutes before the deadline, much like Miller's could.
The Dolphins' Suh pact is playing a key role in the Miller talks, and the Fins signing Anderson to an offer sheet also heavily impacted the Broncos' offseason. The running back will now more than triple what his salary would have been had he signed the low-end RFA tender ($1.67MM) after Denver pulled an about-face of sorts and matched Miami's offer. Anderson received interest from several teams, with the Bears offering the most money, and it appeared the Broncos miscalculated their starting ball-carrier's market.
That said, Anderson's deal may end up benefiting the Broncos if he can continue to be an effective runner. After the Dolphins frontloaded the offer sheet to give the 25-year-old back a $6MM cap number in 2016, the figures drop to $3MM in '17 and $4.5MM in '18; the latter three sums are almost completely non-guaranteed. As the salary cap continues to rise, the Broncos may have backed into a favorable agreement with someone who could be their first long-term solution at running back since Terrell Davis.
Their Super Bowl conquest notwithstanding, the Broncos did not receive much from their tackles last season. After Ryan Clady and Ty Sambrailo were lost for the season, Ryan Harris and Michael Schofield underwhelmed. The defending champions' line will likely feature Okung and Stephenson as its bookends. Each comes with risk.
Stephenson actually slotted below both Harris and Schofield in Pro Football Focus' 2015 tackle rankings after an injury-plagued season with the Chiefs. Given many chances to start during the past four years, Stephenson couldn't keep Kansas City's right tackle job. A third-round pick in 2012, the 6-foot-6 Stephenson has always looked the part but lost his job due to a PED suspension in 2014 and couldn't hold off replacement-level talent Jah Reid as last season progressed. Gary Kubiak is high on the Broncos' first free agent signing of 2016, and Stephenson hasn't been tried as a zone-blocker yet. But the results haven't come to this point for a player given starter-level money.
Okung also did not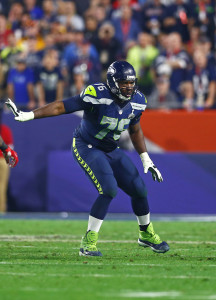 receive starter-level cash, at least not guaranteed. The self-represented player took the same two-pronged deal Kelvin Beachum did with the Jaguars as a bet on himself in advance of what will be an audition season for him in Denver. But the soon-to-be 29-year-old Okung didn't receive any guaranteed money and can be cut easily. The Broncos don't have another option to plug in here, but if the former Seahawks tackle's injury-prone ways persist, he may be back in free agency at age 30 and have to accept another short-term deal. Of course, Okung received quite a bit of cash from Seattle as an old-CBA top-10 pick, but he took considerable risk signing this deal.
Had the Broncos known Devontae Booker was going to fall to them in the fourth round, they probably would have moved on from Hillman. Last season's primary starter, but a player whose production faded badly down the stretch, Hillman did not find much of a market for his services and now looks to be a temporary stopgap behind Anderson while Booker develops. However, this does create an interesting scenario for the Broncos.
After Davis' knee issues forced a retirement after 2001, the Broncos plugged in numerous backs. They traded four starters — headlined by 2004's Clinton Portis-for-Champ Bailey swap — in the 2000s and moved on from Willis McGahee and Knowshon Moreno after they led the team in rushing. Odd circumstances now have the same runners set to reside atop the backfield depth chart for the third straight year.
Graham and Crick represent the latest Kubiak disciples to venture to Denver from Houston. Both are short-term options in all likelihood, having signed later in free agency. Crick struggled across from J.J. Watt last season but is known for his above-average play against the run. Graham may be an insurance policy in case Jeff Heuerman is not ready to take on the starting tight end position for which the Broncos seem to be preparing him.
Notable losses:
After one of the greatest stretches of quarterback play in NFL history, Manning declined immensely around October 2014. But, the Broncos rolled to two Super Bowls with their prescient 2012 free agent signing and re-established themselves as one of the league's powers after years of middling play. Manning quarterbacked the Broncos to four AFC West titles, four first-round byes – Denver was just the fourth team in NFL history to accomplish that feat – and returned from a career-threatening foot injury to lead Denver to three playoff wins to leave the game as a Super Bowl cham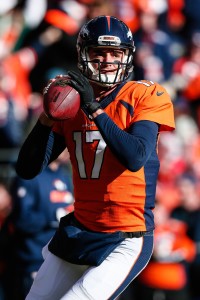 pion.
What happened next for Denver doesn't have a historical parallel, at least not the way the Broncos did it. By watching Osweiler venture to Houston for four years and $72MM (John Elway didn't go higher than $16MM AAV for the four-year backup's late-20s seasons), the Broncos will now be the second Super Bowl champion in the free agency era to watch their top two QBs depart. The 2001 Ravens also signed Elvis Grbac, whose reputation and resume at the time surpassed 2016 Broncos trade acquisition Mark Sanchez.
The 25-year-old Osweiler's market may have formed when the Eagles signed Sam Bradford to a deal worth $18MM per season, and the Broncos then became linked to just about every available quarterback this offseason — including Bradford — before selecting Paxton Lynch in the first round.
Denver pursued Colin Kaepernick, brought Brian Hoyer in for a visit and was also connected to Ryan Fitzpatrick and Josh McCown briefly. It will mark the first time since the those Ravens that a defending Super Bowl champion will enter the following season without either of its top two QBs from the championship campaign.
The quintet assigned to block for Manning's eventual replacement will look much different as well, with the Broncos parting ways with two All-Pro guards. Cutting Vasquez and letting Mathis walk deprives the Broncos of two of the best guards in team history. Vasquez struggled with knee problems last season and did not perform as well as he had during his 2013 All-Pro slate or a 2014 season that saw a relocation to right tackle. The 29-year-old lineman remains unsigned, an indication of his perceived health going into what would be an eighth NFL season.
Mathis battled maladies as well but still finished as Pro Football Focus' best run-blocking guard in 2015. The emergency signing last summer delivered on his one-year contract, leading a three-guard rotation that also included current left guard Max Garcia. Denver still did not make a concerted effort to retain Mathis, and the All-Pros' departures leave Garcia and Ty Sambrailo as the projected first-string guards.
The Jaguars and Bears plucked two defensive starters from the Broncos' roster. Denver went to nearly $11MM per year in an effort to keep Jackson but didn't make a concerted attempt to re-sign Trevathan.
An analytic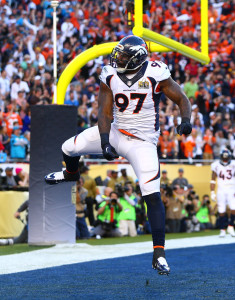 s darling in 2013-14 as a part-time player in Jack Del Rio's 4-3 defense, Jackson broke out as a starter in his contract year despite playing his third position in three seasons. The former fifth-round pick lined up as a 3-4 five-technique end after spending the '13 season as a 4-3 three-technique tackle — where he'll start in Jacksonville — and '14 slate as a 4-3 end. Jackson became the eighth-highest-paid defensive lineman at $14.25MM per year this offseason, and the Broncos will likely turn to a committee to replace him at right defensive end.
The team's leading tackler in both of its recent AFC championship seasons, Trevathan functioned as a three-down linebacker as both a 4-3 outside presence under John Fox and on the inside under Wade Phillips. The ex-sixth-round pick's last full season under Fox produced 152 tackles — the Broncos' most in a season since Michael Brooks in 1992. Denver did not opt to address the position in the draft or via free agency and will give incumbents Todd Davis and Corey Nelson, former Day 3 draft picks themselves, the chance to slot in alongside Brandon Marshall.
The team does not have a surefire replacement at tight end. Daniels came to Denver a step slower than his Houston days and struggled oftentimes to separate from coverage during the season. But he did produce 517 receiving yards, just 10 more than his 2014 Ravens output and nearly 100 more than Julius Thomas' injury-limited 2014 work in Denver, and scored twice in the AFC championship game. After being cut a day before free agency opened, Daniels remains unsigned.
Trades:
Going from Clady and Peyton Manning to Russell Okung and Mark Sanchez on a resume page, Denver exchanged nine first-team All-Pro appearances combined for zero. But Manning's retirement came as a result of a rapid decline, and Clady missed 36 total Broncos games due to foot and knee maladies in 2013 and 2015. Although Clady could still be better than the Broncos' current tackles, his best days are probably behind him.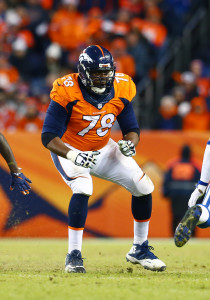 The 29-year-old left tackle volunteered to renegotiate his contract, but the sides couldn't agree on terms, inducing the Broncos to trade their longest-tenured player. A two-time All-Pro prior to the Lisfranc setback in 2013, Clady appeared a step slower in his last starts in Denver in 2014, inducing hesitancy from the team about bringing him back on an $11.6MM cap figure this season.
It was somewhat surprising the Broncos' veteran quarterback option became Sanchez given his disappointing career to date. The 29-year-old quarterback is a career 56% passer and has just one 20-touchdown pass season to his credit (2011), but like in New York, a lot doesn't figure to be asked of Sanchez. He'll have a strong defense and probably the two best wide receivers he's played with during his career to target. But unlike the Jets in 2009-10 — when Sanchez quarterbacked Gang Green to back-to-back AFC title games — the Broncos' run game is not an unquestioned offensive centerpiece, however, given the fact four of their offensive line spots will be housed by new full-time starters at those positions.
The Broncos didn't give up anything of relevance for Sanchez and have him under contract for just one more season. But the former No. 5 overall pick may be the team's best option under center if it wants to claim a sixth straight AFC West crown.
Draft picks:
The final pages of the Broncos' layered offseason quarterback screenplay led to Lynch becoming the heir apparent Brock Osweiler was supposed to be. Also a 6-foot-7 early-entry prospect considered a developmental player, Lynch is believed to possess a higher ceiling than Osweiler did coming out of college four years ago. Enough so that Jerry Jones publicly lamented not offering enough to the Seahawks to trade up to No. 26. The Memphis alum's skills aren't disputed, but Lynch's timetable is.
Denver going only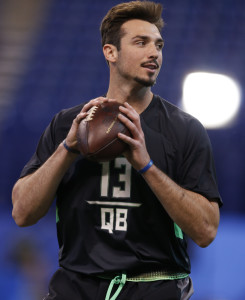 with Sanchez as a veteran gatekeeper option will force Lynch to the field far quicker than Osweiler got there. The mobile Lynch threw 28 TDs compared to four INTs in the mid-major American Athletic Conference last season but is viewed by most experts as a project. Reports of the Broncos deeming him ahead of schedule notwithstanding, he remains behind Sanchez and Trevor Siemian going into training camp and could need a year to observe. Sanchez might not offer him that luxury, making the Broncos' quarterback plan a short-term risk at a time when the franchise boasts an otherwise-strong nucleus capable of succeeding in January.
Gotsis and Simmons both figure to be rotational presences as rookies. Viewed as a reach by some, the Georgia Tech product is coming off a torn meniscus and looks to be behind Vance Walker and Jared Crick in the defensive end rotation. Simmons intercepted five passes at Boston College as a senior but won't start over T.J. Ward or Darian Stewart this season. The latter's contract expiring after 2016 could create a long-term competition between Simmons and Parks at free safety.
McGovern could end up a starter at right guard soon, should the Broncos deem his strength more important than Ty Sambrailo's agility. Both played guard in college before moving to tackle later in their respective careers at Missouri and Colorado State. They figure to be matched up in a head-to-head competition.
Dixon's arrival may end the Britton Colquitt era despite the incumbent being a key player in the postseason, punting 23 times in the playoffs. He averaged 46.61 yards per boot, exactly a three-yard increase from his regular-season production, and forced the Steelers, Patriots and Panthers to make long drives against the Broncos' No. 1 defense. That said, the 31-year-old Colquitt has a $4MM cap number, which is the third-highest among punters. The$1.4MM pay cut Colquitt accepted last August did not affect his 2016 salary.
Extensions and Restructures:
The Broncos' penchant for reaching extensions at or near deadlines continued this June when they retained Marshall a day before teams could rescind tenders assigned to RFAs. Although the June 15 date doesn't bring the high stakes July 15's franchise tag deadline does, Marshall's future in Denver would have become less certain if he played this season on the $2.55MM second-round tender and hit free agency. Marshall becomes the Broncos' most notable non-rush linebacker extended since they re-upped D.J. Williams in 2008.
As I anticipated in May, Marshall landed on the second tier of 3-4 inside linebacker contacts. His $8MM-AAV deal, which was nearly $2MM more per year than the Bears gave Trevathan, placed the 26-year-old former practice squad player seventh at his respective position — between Brian Cushing and Mychal Kendricks.
Marshall led Broncos 'backers in snaps the past two seasons and has a longer track record of being a plus coverage player than Trevathan. Denver's decision not to draft or sign another inside 'backer pointed to the team prioritizing a Marshall deal, with the former Jaguars fifth-rounder profiling as the only non-rush linebacker on the roster with much experience.
Other:
Williams' 2017 option would have made him the second-highest-paid 3-4 nose tackle in the league, behind only Marcell Dareus, in 2017. And the Bills dynamo earned his contract on the strength of his work in a 4-3 scheme, which is much friendlier to tackles' stat pages. Williams, who did not flash much as a 4-3 tackle in 2013-14, will also turn 29 in what would have been his fifth-year option season after entering the league a bit later due to a delayed college start. A middling talent who did not factor into the Broncos' historically elite nickel package last year, Williams has not yet justified that price, so the former North Carolina standout will join DeMarcus Ware and Darian Stewart as expiring defensive starters.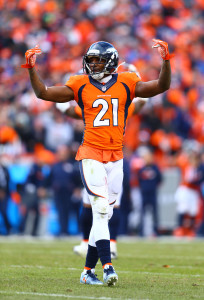 Talib's situation looms as less certain. The Broncos signed him two years ago to a frontloaded six-year deal that really profiled as a three-year pact with an escape hatch after Year 3. He's delivered on the six-year, $57MM accord to date but still stood as unlikely to see all six of those years when he signed the deal. Now 30, Talib could be a darkhorse release or trade candidate in 2017 due to this latest off-the-field incident — one that could induce a suspension soon — and the fact that the dead money on his deal shrinks from $11.5MM in 2016 to $2MM in '17.
However, the Broncos have the cap space to keep Talib on their books next season. So, the top-tier trio of Talib, Chris Harris and Bradley Roby could remain intact going forward if the troika's highest-paid member continues to produce in 2016. The former first-round pick sees more work against No. 1 receivers, with Harris sticking to the slot on passing downs in most instances, so it's clear the Broncos value Talib. How much they'll continue to tolerate from probably their most polarizing player, especially with both Harris and Roby booked long-term at cheaper rates, poses as a key question.
Top 10 cap hits for 2016:
Well-positioned on defense even if it will be tough to repeat 2015's level of performance, the Broncos stand in good position to vie for another AFC West championship. Assuming Miller signs an extension, the questions for Denver loom inside the hash marks on offense. Like it will be difficult for the defending champions' defense to replicate that showing, it stands also to be hard to advance deep in the playoffs again with substandard quarterback play. The Broncos' bold strategy here will play the biggest part in determining how close they can come to defending their title.
Contract information from Over the Cap, Spotrac, and Roster Resource was used in the creation of this post. Photos courtesy of USA Today Sports Images.
Follow @PFRumors