After a 6-10 finish in 2015, the Giants made a coaching change and spent like crazy in free agency to right the ship. Will it be enough to put Big Blue back in the postseason?
Notable signings:
The cost of edge rushers goes up year and after year and the Giants set a new watermark this offseason when they signed free agent Olivier Vernon. Vernon's five-year deal is worth $85MM overall with $40MM+ in guaranteed cash, the largest guarantee of any free agent in the 2016 class. Though Malik Jackson's $85.5MM deal technically edged him out for overall base value, Vernon probably got the better deal.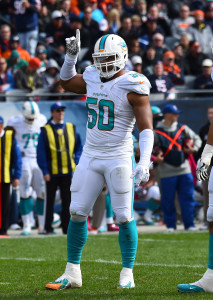 Vernon ranked third overall behind only Khalil Mack and Von Miller among edge defenders last season, according to Pro Football Focus, after amassing 7.5 sacks and 61 tackles. That puts the former Dolphin in elite company, though a pessimist would note that Vernon has only topped 10 sacks once in his career (11.5 in 2013) and $40MM+ guaranteed is a lot for a guy who doesn't have a history of elite sack production. Regardless, Vernon is a difference-maker and one of the league's best bookends any way you slice it. The giant deal may not prove to be a wise investment in the long run, but there's little doubt that it will reignite the Giants' pass rush in 2015.
On the first day of free agency, the Giants pounced to sign Janoris Jenkins, a player widely considered to be the best cornerback in this year's class. The Rams, choosing to put their funds elsewhere and their faith in Trumaine Johnson, only offered Jenkins a a five-year offer worth about $45MM. Jenkins wisely declined and entered the open market, where he got a whopping $62.5MM over five years with nearly $29MM guaranteed. In Jenkins, the Giants got a top cornerback who doesn't turn 28 until October. Now, the Giants will have Jenkins and Dominique Rodgers-Cromartie in the secondary (plus a promising first-round choice – more on that later) and that will force opposing quarterbacks to think twice before they throw.
Last summer, the New York tabloids were almost entirely dedicated to Jason Pierre-Paul and his 4th of July mishap. At the time, it appeared that JPP had blown up any opportunity at a future with the Giants. After the unfortunate accident, the Giants immediately reached out to the defensive end to check in on him and offer help. JPP responded by hutting out the team and keeping them in the dark for much of the offseason on his status. Eventually, Pierre Paul's relationship with the Giants healed up along with his hand.
Pierre-Paul returned to the field in November and ended up appearing in eight games, registering 26 tackles and a personal-low one sack. Despite his statistical decline, Pro Football Focus still ranked Pierre-Paul a solid 30th out of 91 qualifying edge rushers. Here at PFR, we ranked JPP as the seventh-best free agent on the market. It wasn't cheap, but the Giants retained Pierre-Paul for only one year, protecting themselves against any potential decline.
Notable losses:
When the Giants drafted Prince Amukamara No. 19 overall in 2011, Giants fans rejoiced. After watching Darrelle Revis dominate for the Meadowlands' other tenant, hopes were high that the Giants had just snagged an elite cornerback of their own. Unfortunately, Amukamara was never able to fulfill his potential for the Giants. In the last two seasons, injuries limited the Nebraska product to just 19 regular season games. The Giants did show some interest in a reunion with Amukamara, but that all went out the window when they splurged on Jenkins. Amukamara is now with the Jaguars and he's a player to watch. A change of scenery and good health could do wonders for the 27-year-old.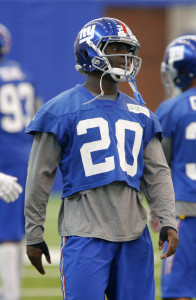 With so much talk around Pierre-Paul, it was easy to forget about the Giants' other major free agent defensive lineman. Robert Ayers followed Amukamara to Florida when he inked a three-year, $19.5MM accord with the Buccaneers. The former first-round pick stepped it up in his walk year, recording nine sacks. Ayers always had a rep for good run-stopping ability, but his newfound pass-rushing acumen got him paid this spring. Ayers graded as one of the top pass rushers in the NFL in 2015, according to PFF's metrics.
In March, the Giants opted to move on from offensive lineman Geoff Schwartz and linebacker Jon Beason. As it turns out, it would be the first of two times that Schwartz would be cut this offseason. Schwartz, 29, started 11 games for the Giants in 2015, but his season was cut short when he fractured a bone in his left leg in late November. By releasing him, the Giants avoided paying him $3.925MM annual salaries in 2016 and 2017, taking on a hit of about $1.917MM in dead money for 2016. Beason, meanwhile, decided to retire due to ongoing health issues.
Will Beatty's torn pectoral injury left the Giants with a big hole on the offensive line in 2015. In February of 2016, the Giants opted to cut him loose, leaving them with $5MM in dead money but also with $4.175 in cap space. The Giants ultimately did not want to commit that kind of money to a player that was still not healthy. Beatty only recently started auditioning for clubs and still finds himself without a job. The Jaguars, Cardinals, and Panthers are among the teams with interest.
It wouldn't have cost much for the Giants to retain Cullen Jenkins, but they wanted to go younger on the D-Line. Last season, the defensive end started in 14 games for the Giants and appeared in all 16 contests. He tallied 26 tackles and 3.0 sacks. Now, he'll look to terrorize the Giants as a member of the Redskins, provided that he makes the 53-man cut.
Hakeem Nicks was one of the best wide receivers to put on a Giants uniform in recent years. In November, the Giants welcomed the UNC product back after Victor Cruz was officially shut down for the season. Nicks, 27, spent the first five years of his career in New York with the Giants, enjoying the most productive stint of his career with the team. Posting consecutive seasons of 75+ receptions and 1,000+ receiving yards in 2010 and 2011, Nicks totaled 311 catches, 4,622 yards, and 27 TDs from 2009 to 2013. Of course, he's no longer the same player. As of this writing, Nicks is without an NFL home for 2016.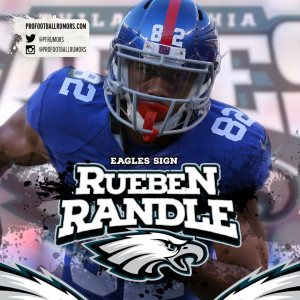 Rueben Randle was once viewed as a future star for the Giants. After years of waiting, the future never came for the powerful receiver. This offseason, Randle was courted by the rival Eagles and the Giants didn't do much to keep him. The Giants were said to be concerned about Randle's work ethic and they may have been proven right this week when the Eagles released him, leaving them with $500K+ in dead money.
Draft picks:
Early on in draft season, scouting guru Dave-Te Thomas identified Eli Apple as the best cornerback in the draft not named Jalen Ramsey. If you want to get technical and call the versatile Ramsey a safety, then Apple stands as the top CB talent in the 2016 class. Truth be told, Apple was not the Giants' top target at No. 10. Leading up to the draft, GM Jerry Reese was hoping to land either Georgia linebacker Leonard Floyd or Michigan State tackle Jack Conklin, but both prospects came off the board before it was their turn at the podium.
Earlier this offseason, Thomas told PFR that he sees Apple making both an immediate and long-term impact for the Giants:
The early first round surprise could be starting by the time the season opener rolls around, at least as the nickel corner. He's likely to ease Dominique Rodgers-Cromartie off the roster after the season to take his place opposite high-priced Rams addition, Janoris Jenkins. The first thing you notice about this former Buckeye is his natural playmaking instincts. He understands how receivers are trying to attack coverage and he is a master at reading quarterbacks' eyes when having to drop into zone coverage. He also does an excellent job of mid-pointing high-low routes.

Apple is an explosive, quick-twitch athlete with a sudden closing burst, especially when receivers catch the ball in front of him. He possesses that second gear needed to track the ball downfield and he's fast enough to recover when gets caught out of position. Thanks to his fluid hips, he can make the smooth transition when forced to change directions quickly. When he stays under control and keeps his knees bent, is a good tackler in space.
Apple isn't the only Giants rookie drawing rave reviews in camp. The hype train behind wide receiver Sterling Shepard is going full speed as many envision him doing serious damage out of the slot. Darian Thompson, meanwhile, is likely to start for the Giants at free safety.
Extensions and Restructures:
Other:
It's easy to take the skeptical view of the Giants' head coaching change. After the Giants limped to a 6-10 finish in 2015, it made sense for the Giants to explore the possibility of moving on from Tom Coughlin. However, some questioned the team's choice to stay in-house and promote offensive coordinator Ben McAdoo to the lead role.
McAdoo, who was hired as the Giants' offensive coordinator in 2014, has helped Eli Manning enjoy perhaps the most productive two-year stretch of his NFL career. His success with Manning was the driving factor behind his promotion and Manning personally endorsed McAdoo for the job. Although the club has posted a 6-10 record in consecutive seasons, Manning has thrived, averaging 4,423 yards and about 33 touchdowns per season over the last two years, to go along with a 92.9 rating. The Giants finished in the top eight in the NFL in terms of both yards per game (372.3) and points per game (26.3) in 2015.
Top 10 cap hits for 2016:
After three consecutive losing seasons, is this the year that we see the Giants rebound? There was a lot to like about what the Giants did this offseason – they made clear upgrades at cornerback and on the defensive line. However, they still have question marks on the offensive line and all the quarterback whispering in the world won't help Manning if he doesn't have adequate time in the pocket. We fully expect the Giants to win more than 6 games this year, but we're less-than-certain about their playoff hopes.
Information from Over the Cap, Spotrac, and Roster Resource was used in the creation of this post. Photos courtesy of USA Today Sports Images.
Follow @PFRumors