Last season marked the beginning of the post-Ben Roethlisberger era in Pittsburgh, as well as Omar Khan's first year in the general manager role. A slow start seemed to threaten an end to the team's 19-year streak of non-losing seasons, but a strong stretch after the bye week resulted in a 9-8 record. That was insufficient to qualify for the playoffs, but it presented reasons for optimism moving forward.
The free agent period and draft presented plenty of opportunities for Khan to retool the Steelers' offensive line, secondary and linebacking corps in particular. New faces in those positions, and others, should give quarterback Kenny Pickett a stronger supporting cast ahead of his first full season as a starter, one where offensive improvement will be required for a return to the postseason.  
Trades:
Pittsburgh already boasted an intriguing receiver tandem of Diontae Johnson and George Pickens, and the organization has a well-earned reputation for developing its own at the position. The Rams were active in dumping several veteran contracts during the offseason, however, and they were more than willing to move on from Robinson after only one season in Los Angeles. The soon-to-be 30-year-old was limited to 10 games last season, and he posted underwhelming totals (33 catches, 339 yards, three touchdowns) for the second consecutive season.
Guaranteed money is only present in 2023 on Robinson's restructured contract, making this essentially a low-cost, one-year rental for the Steelers. A move to the slot could help player and team in this instance, with a complementary role available while Johnson, Pickens and tight end Pat Freiermuth serve as focal points in the passing game. A veteran presence alongside those three could help what is otherwise a young offense as it looks to become more productive and consistent through the air. A return to the earlier form in his career could allow Robinson to benefit from the recent surges in the WR market, either with an extended look in Pittsburgh or another new beginning.
Free agency additions: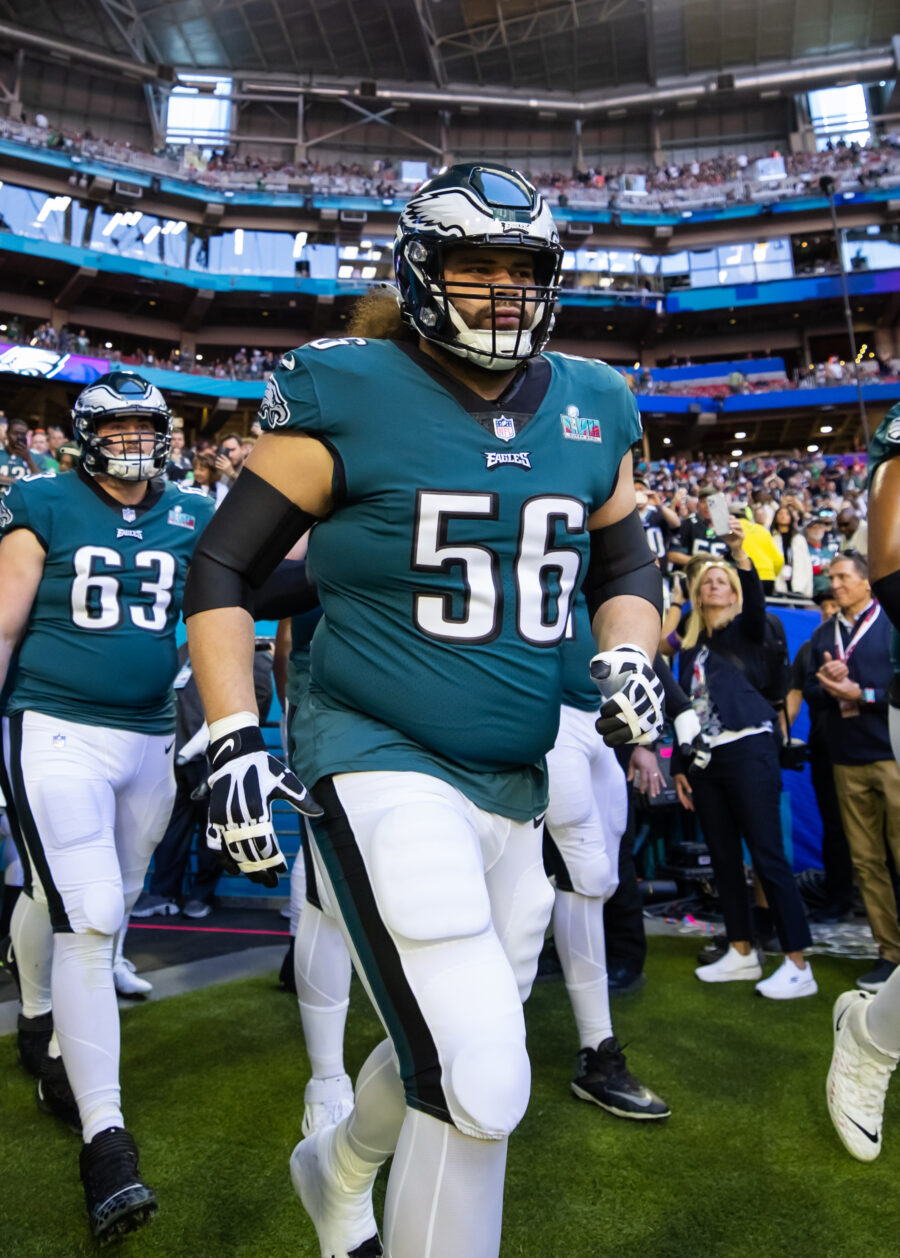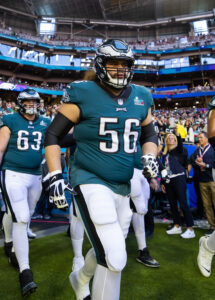 The new league year brought about a full-scale renovation of Pittsburgh's inside linebacker corps, but it also comes as little surprise that the interior O-line and cornerback spots received the largest financial commitments. Seumalo represents a sizable guard investment for the second straight offseason, after James Daniels was added in 2022. Seumalo proved his worth across career 60 starts with the Eagles, including a fully healthy campaign last season (having been limited to just 12 total contests between the two previous years). He continued his strong showings in terms of PFF evaluations while helping Philadelphia's elite offensive front guide the team to the Super Bowl, leading to his intrastate move.
The 29-year-old, as expected, earned a more lucrative three-year pact in free agency than his previous one. Carrying over his consistent high-level performances will bolster the Steelers' O-line, something which will in turn pave the way for a continued heavy reliance on workhorse running back Najee Harris. If Seumalo's injury issues return, ex-Eagles teammate Herbig should be able to provide quality fill-in play. In any event, a needed step forward in terms of play along the interior should be expected in 2023.
Peterson will be counted on to remain a significant contributor deep into his career, after starting all 31 of his Vikings games. The 2010s All-Decade member racked up five interceptions (the second-highest single-season total of his career) last year, but he also allowed the same number of touchdowns in coverage on a leaky Minnesota defense. Peterson, 33, should rarely leave the field in his third NFL home, though he may no longer exclusively see time as a boundary corner. He and Tomlin have discussed the possibility of being used at multiple spots in the secondary, including safety.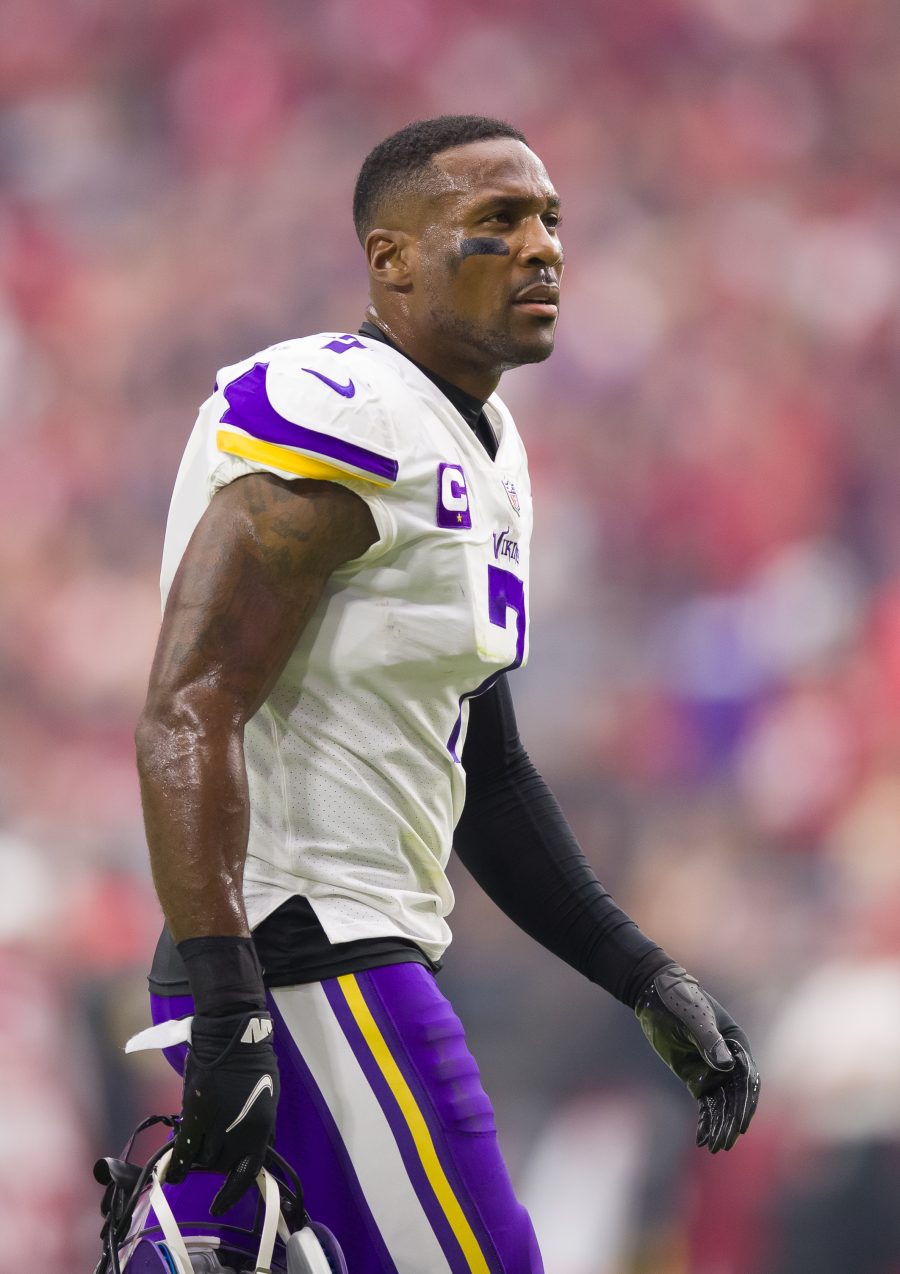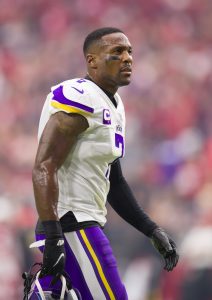 The three-time All-Pro will join a defense featuring a vaunted pass rush, but a backend which has room for improvement. The Steelers ranked 19th against the pass in 2022, and improvement in that regard will be needed to contend in an AFC loaded in quarterback talent. Like Peterson, Neal will provide versatility to the Steelers' new-look secondary after joining a new team for the third straight offseason. The 28-year-old has seen time at safety and linebacker across his time with the Falcons, Cowboys and Buccaneers, and the absence of Terrell Edmunds and each of the starting 'backers from last season leaves plenty of opportunities for him to find a role.
Holcomb will lead the new LB room, after a highly productive stint in Washington. He started all but two of his games with the team that drafted him, grading out as a top-25 linebacker from PFF in 2020 and logging over 1,000 snaps the following year. His market was not hindered by the injuries which limited him to seven games in 2022, allowing the former fifth-rounder to price himself out of the nation's capital. Production similar to that of fellow Steelers target Leighton Vander Esch would prove Pittsburgh's investment in Holcomb to be worthwhile.
Roberts will look to build off his career year in Miami last season, while holding down a full-time starting role for the first time. He has never logged a snap share above 59%, but his production with the Dolphins in 2022 showed the impact he is capable of making against the run and pass. Topping the 100-tackle mark for the first time last campaign, the ex-Patriot also set a new personal best with 4.5 sacks. At 29, Roberts does not possess the upside that incumbent Mark Robinson (23) has, but that pair will be given considerable opportunity to provide consistent play at the second level for a defense seeking just that.
Alexander, Kwiatkowski and Muse represent experienced fill-in options should the new starters miss time or underperform. Altogether, the new LB corps will spend the buildup to the season aiming to establish a firm pecking order in the middle. Successfully doing do could foreshadow needed improvement at the position during the campaign.
Re-signings: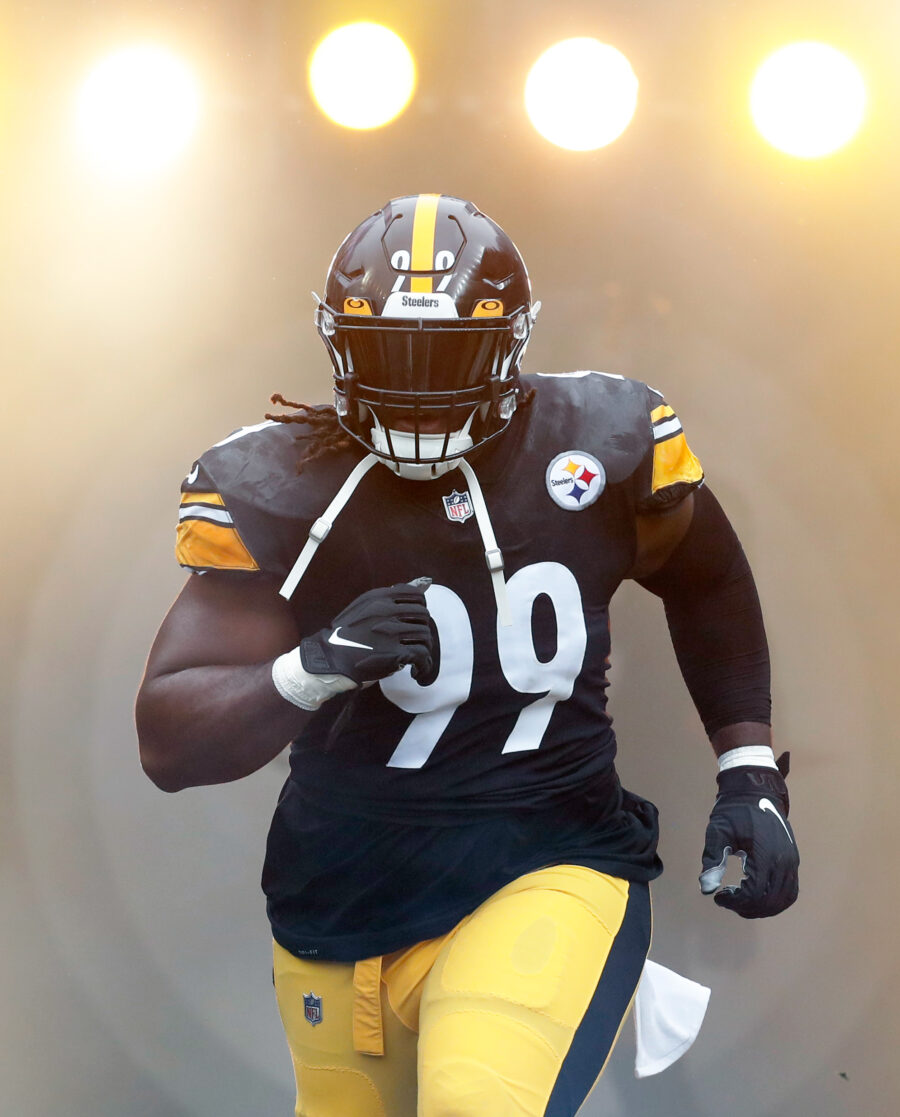 Ogunjobi was set to play in Chicago last season, but his Bears deal fell through and allowed him to remain in the AFC North. The former Brown and Bengal played on a one-year contract and earned himself an extended look in Pittsburgh. He took a significant step back in terms of sacks (1.5, compared to a career-best 7.0 in 2021) but was credited with 30 total pressures by PFF. That led to an overall grade of 61.7, the highest since his rookie campaign. Ogunjobi, who missed only one game last year, will thus remain in place alongside Cam Heyward at the heart of Pittsburgh's defensive front moving forward. The structure of the 29-year-old's deal does leave open the possibility of the Steelers cutting bait after this season, though, so his play will be worth watching closely in his second Pittsburgh campaign.
At least one change to the QB depth chart seemed inevitable this offseason for the Steelers, but Rudolph's free agent period was very brief. The third-string passer was mentioned in trade talks last summer and fielded offers from other teams to sign this spring, but he ultimately decided to remain in his only NFL home. The former third-rounder has made only two starts since the 2019 campaign and did not see any game action last year. A lack of opportunities to unseat fellow veteran Mitch Trubisky for the No. 2 role seen in 2022 is likely to be repeated this year, so plenty would need to take place for Rudolph, 28, to see the field. If he does, though, his market could look much different come next March.
Seeing a dramatic increase in playing time over the past two seasons, Gentry is one of several depth pieces who will return in 2023. His blocking skills give Pittsburgh an effective compliment to Freiermuth's abilities as a pass-catcher. Gentry, like some other incumbents, should continue to see significant usage after a slew of departures.
Notable losses:
Devin Bush, LB
Tae Crowder, LB (released)
Myles Jack, LB (released)
William Jackson, CB (released)
Jamir Jones, LB (released)
Arthur Maulet, CB (released)
Carlins Platel, CB (released)
Malik Reed, OLB
Steven Sims, WR
Robert Spillane, LB
Cameron Sutton, CB
Ahkello Witherspoon, CB (released)
Largely by choice, Pittsburgh's linebacker and cornerback rooms will look far different than they did last season. Sutton's absence could be acutely felt, especially if Peterson and the new group of corners fail to live up to expectations. The former third-rounder graduated from part-time duties to emerge as a key member of the team's secondary over the past two seasons in particular. Sutton was essentially an every-down player in 2021 and '22, totaling five interceptions and 21 pass breakups over that span and posting strong coverage numbers in the latter campaign.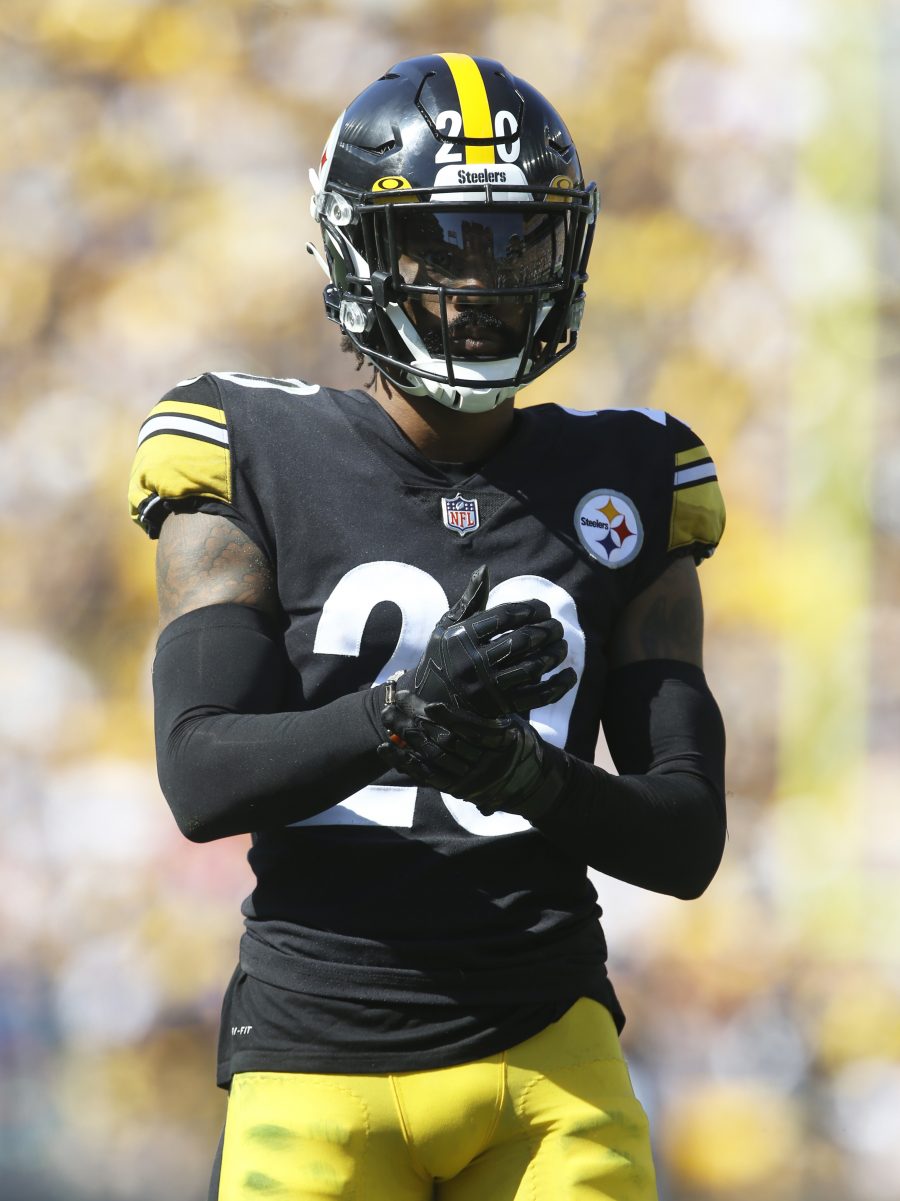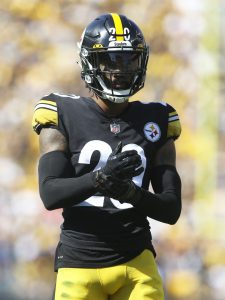 The 28-year-old's performance earned him a spot in the renovated Lions' secondary on a three-year, $33MM deal – one which notably outpaced the Steelers' efforts to retain him. Expectations will be high for him in Detroit, while fellow veteran Levi Wallace will be counted on alongside Peterson to provide a veteran presence to an otherwise low-cost CB contingent. Compared to Sutton, the other departures at the position are in a much different financial situation.
Witherspoon and Maulet each signed low-cost one-year deals deep into the offseason as they look to serve complementary roles with the Rams and Ravens, respectively. Jackson is among the veteran cover men who have still yet to find a home despite training camps being well underway. The former first-rounder did not make an appearance in Pittsburgh after his trade acquisition, something which has no doubt hurt his market.
Bush entered the NFL with significant expectations after the Steelers executed a rare trade-up in the draft to acquire him, but by the start of the 2022 season his long-term future with the team was shaky at best. The former No. 10 overall pick saw his playing time cut considerably for the second consecutive year in 2022, and he was on the field for just 62% of Pittsburgh's defensive snaps. Bush failed to replicate the statistical success of his rookie campaign, and with his fifth-year option having been declined, it came as no surprise that he looked elsewhere in free agency.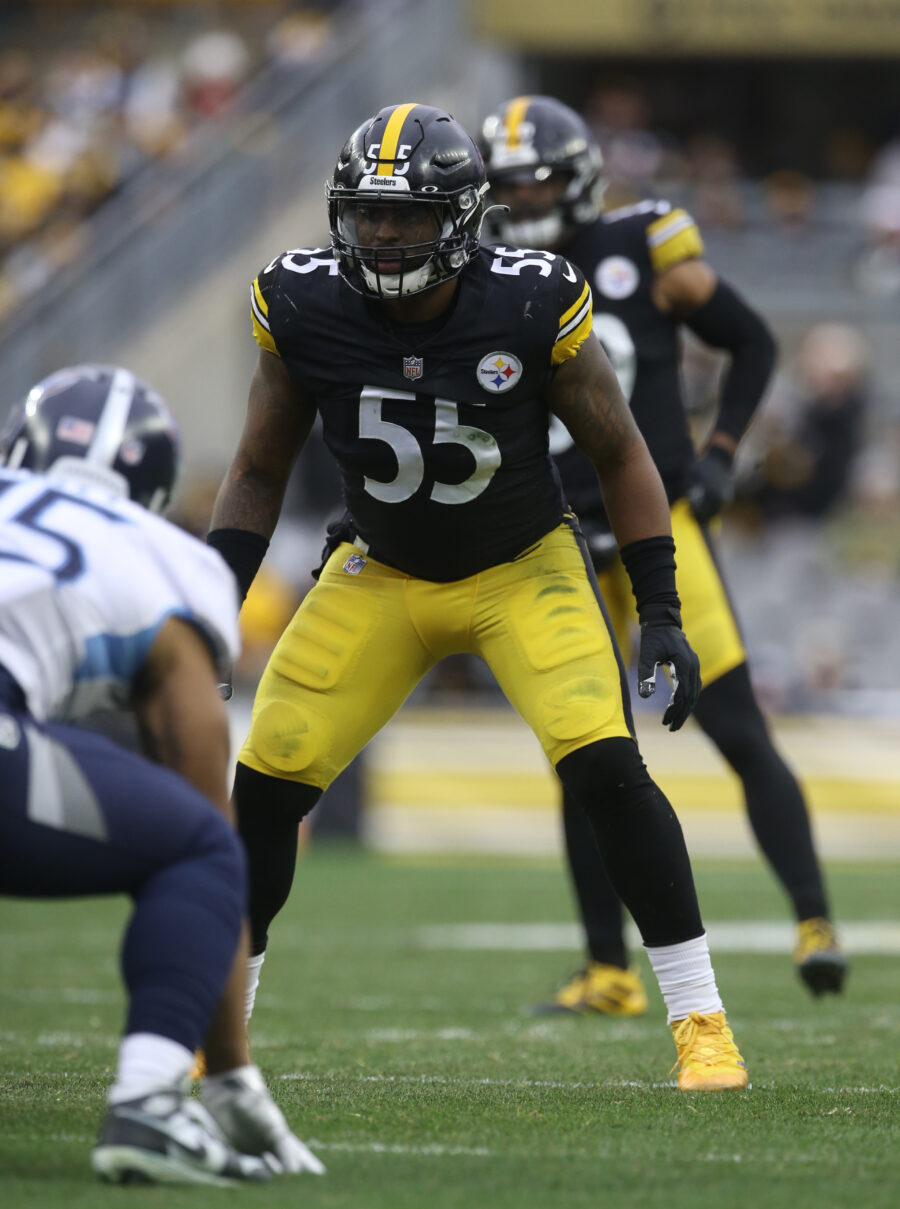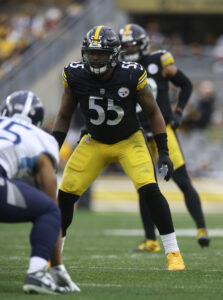 The Michigan alum secured a prove-it deal with the Seahawks, a team which has reunited with Bobby Wagner to offer a familiar face at the second level of the defense. A strong performance from Bush, 25, could be the start of a new chapter in his career and boost both his confidence and market value. It is telling, however, how willing the Steelers were to move on from him and several other key members of the previous LB corps.
Bush, coupled with Jack, Spillane and Jones combined to play 2,025 defensive snaps last season. Their collective performance left enough to be desired that the team set about acquiring numerous replacements (though Pittsburgh did rank in the top 10 in run defense last season). Still, the sheer total of plays available to the unit's newcomers will make their ability to outproduce its predecessors a storyline to follow closely as the season progresses.
While he landed a far less lucrative deal than his brother Tremaine, Terrell Edmunds' absence will be notable given the size of his role during his Steelers tenure. The former first-rounder never saw a snap share below 89% in his five Pittsburgh campaigns, and his consistent (if unspectacular) play will need to be effectively replaced by Minkah Fitzpatrick's next running mate(s). The loss of D-lineman Tyson Alualu will likewise be noticeable if in the locker room more than on the field at this point in his career. The 36-year-old would prefer to play an eighth straight season in Pittsburgh, but that desire has not been reciprocated to date.
Extensions and restructures:
By the time the calendar flipped to July, it was clear the top remaining Steelers priority was working out a second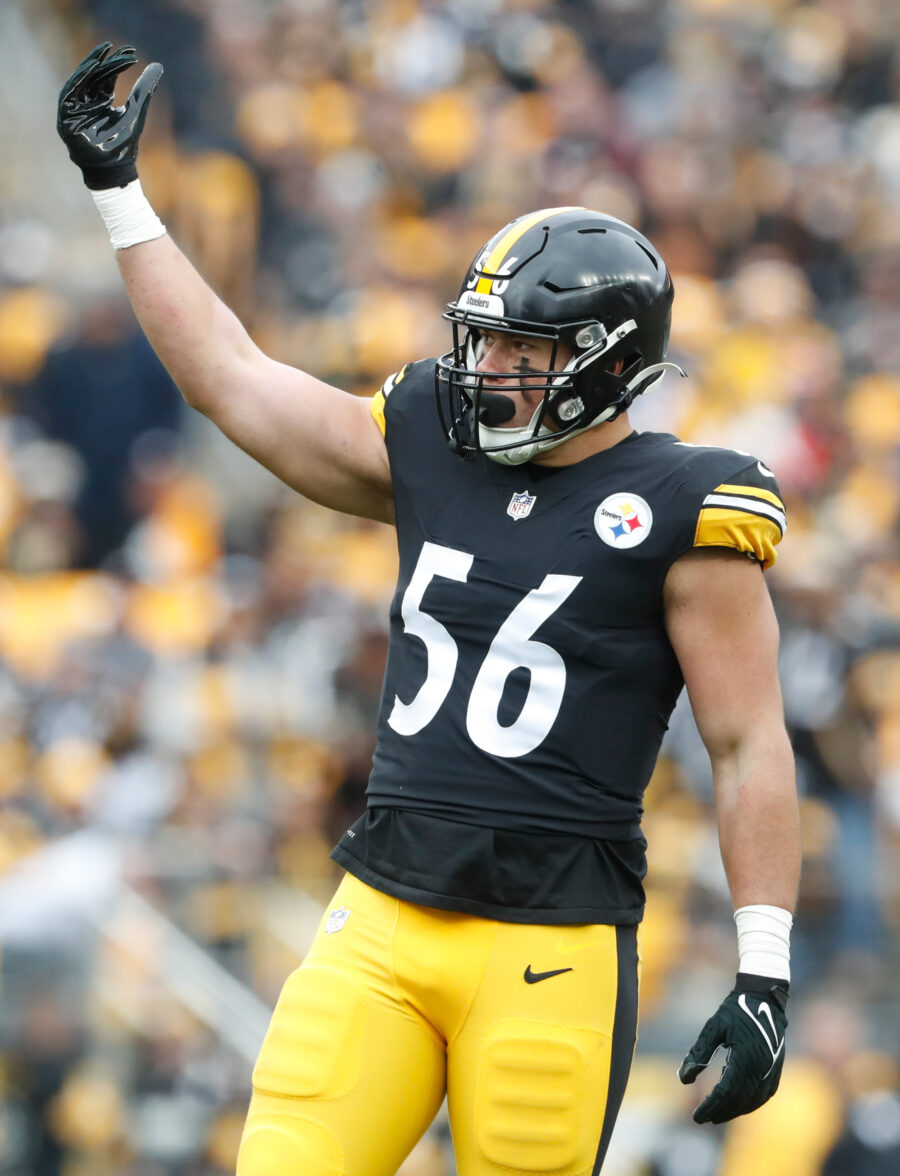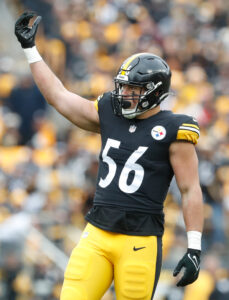 contract with Highsmith. The former third-rounder once again took a step forward in production in 2022, reaching double-digit sacks for the first time (14.5) while also leading the league in forced fumbles (five). Optimism was expressed by both team and player regarding a deal being finalized before camp, and Highsmith will now see his partnership with Watt continue for years to come.
The latter's injury left Highsmith with the bulk of Pittsburgh's pass-rushing responsibilities in 2022. Despite the 25-year-old's relative lack of production when on his own compared to when Watt was on the field, the Steelers are banking on continued growth over the coming years while still operating as an every-down starter. The team is one of four in the NFL with multiple edge rushers connected to deals worth more than $15MM per season, but elite sack totals have been a driving force of Pittsburgh's success for years now. If Highsmith continues his career ascent and Watt can avoid further serious injuries, that will remain the case for the foreseeable future.
Trubisky was always considered a lame-duck starter in his first Steelers season, and it came as little surprise that his time in the No. 1 role was short-lived. Pickett is the undisputed starter moving forward, but the Steelers made it clear keeping the former second overall pick in the fold was in their long-term plans. Trubisky, 29 by the start of the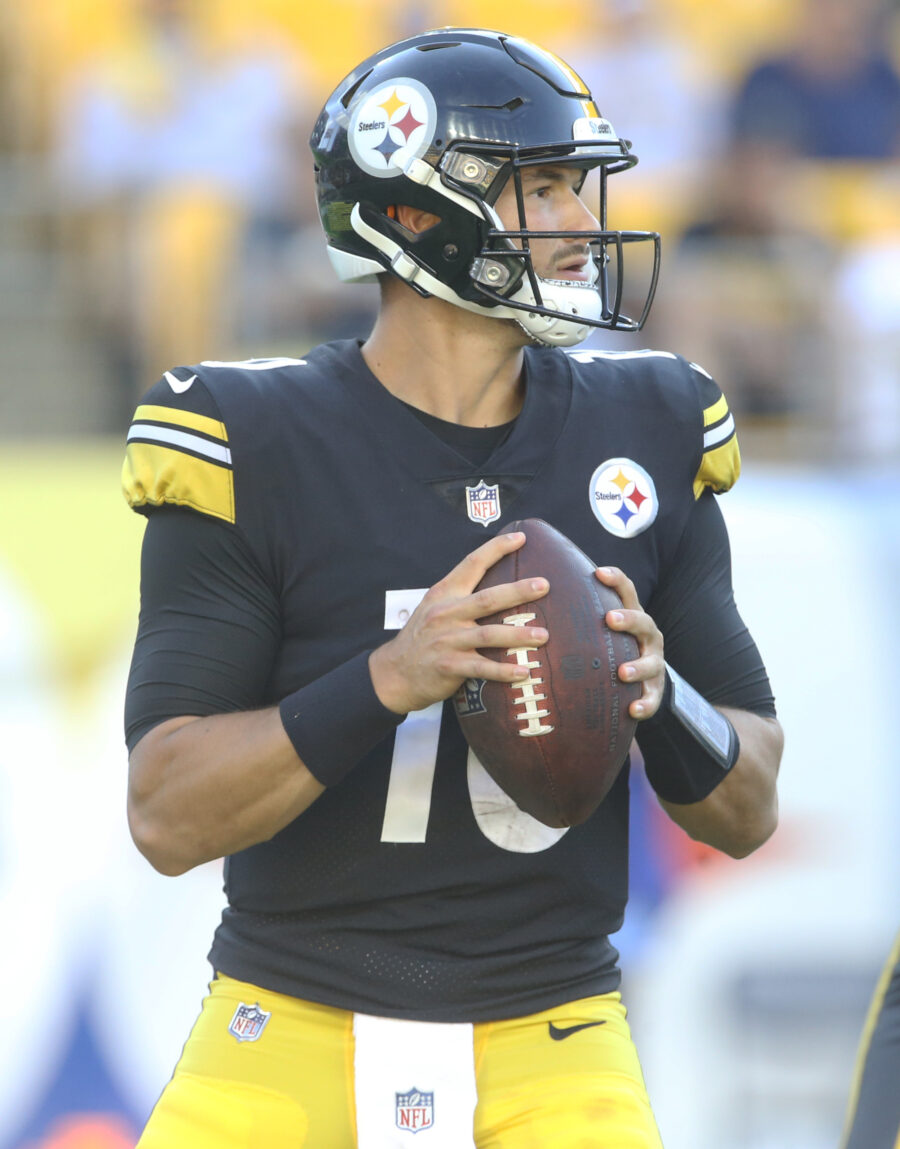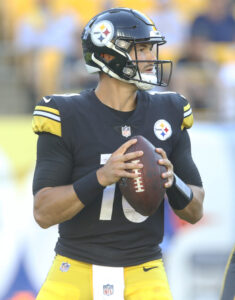 season, saw plenty more action in Pittsburgh than he did during his one-year stint with the Bills, but his performance significantly hindered his claim to a starting role down the line.
The North Carolina product posted a negative touchdown-to-interception ratio in 2022, and his 81.1 passer rating fell short of his career average. Now four years removed from his Pro Bowl Bears season, Trubisky faces the prospect of several more years of backup duty. His extension does have a maximum value of $33MM via incentives, however, so fill-in play in case of Pickett injury troubles (such as a recurrence of the multiple concussions he suffered as a rookie) could prove to be rather lucrative.
Fitzpatrick landed an extension last offseason which included fully guaranteed compensation in its second year, something which was unprecedented for non-quarterbacks in the organization before Watt's megadeal. Fitzpatrick's willingness to redo his contract provided breathing room in the immediate future, but it swelled his cap hits from 2024 through the pact's final year (2027). No guaranteed salaries exist after this season, so it will be interesting to see how the three-time All-Pro's situation is handled in the near future. His crucial importance to Pittsburgh's defense will no doubt make Fitzpatrick, 26, a continued long-term financial priority.
Draft:
After a busy first few waves of free agency, the remaining positional needs for the Steelers were quite clear. The top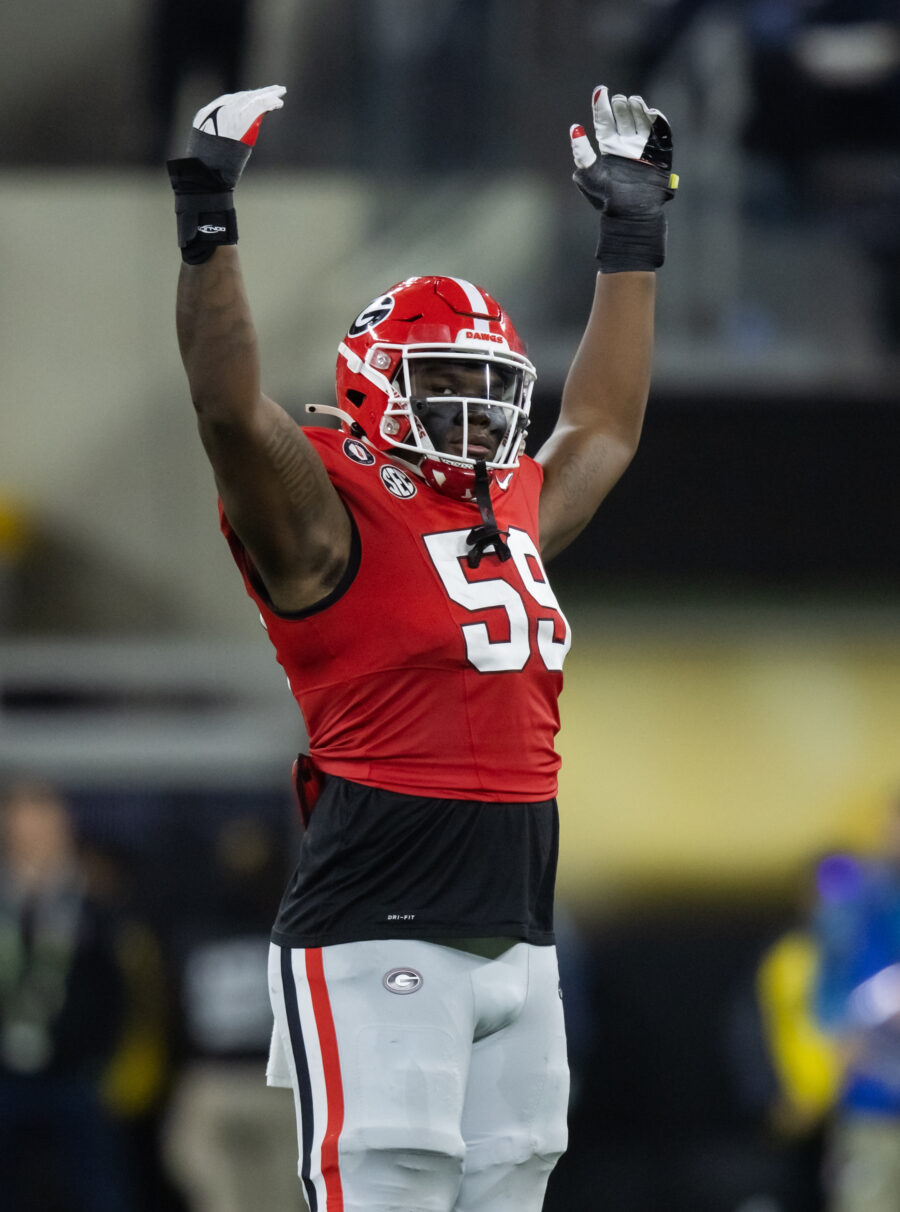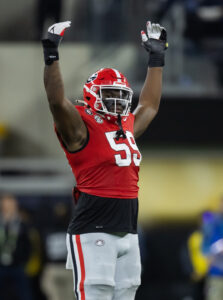 of the draft board presented an effective opportunity to fill them, and the first Day 1 trade-up since the Bush selection opened the door for Jones to be acquired. One of the consensus top tackles in the class, Jones was lauded for his athletic potential, though a lack of playing time contributed to the fact that Paris Johnson Jr., Darnell Wright and Peter Skoronski heard their names called first. Jones was long thought to be the top target of the Jets (who selected at No. 15), however, likely making the trade a necessary move.
The Jets have publicly denied having Jones atop their board, but the two-time national champion will nevertheless be a key part of Pittsburgh's long-term success on the offensive line when he plays. Immediate blindside duties might not be in the cards, with incumbent Dan Moore having impressed during the spring. But Jones will give the Steelers a left tackle answer for many years down the road if he lives up to his billing.
Porter was often named as a potential target of Pittsburgh's first selection, so securing him at No. 32 (the selection acquired in the Chase Claypool trade) was a best-case scenario. The son of the longtime Steelers player and coach of the same name, the rookie corner will have a significant role right away after the numerous CB departures seen this offseason.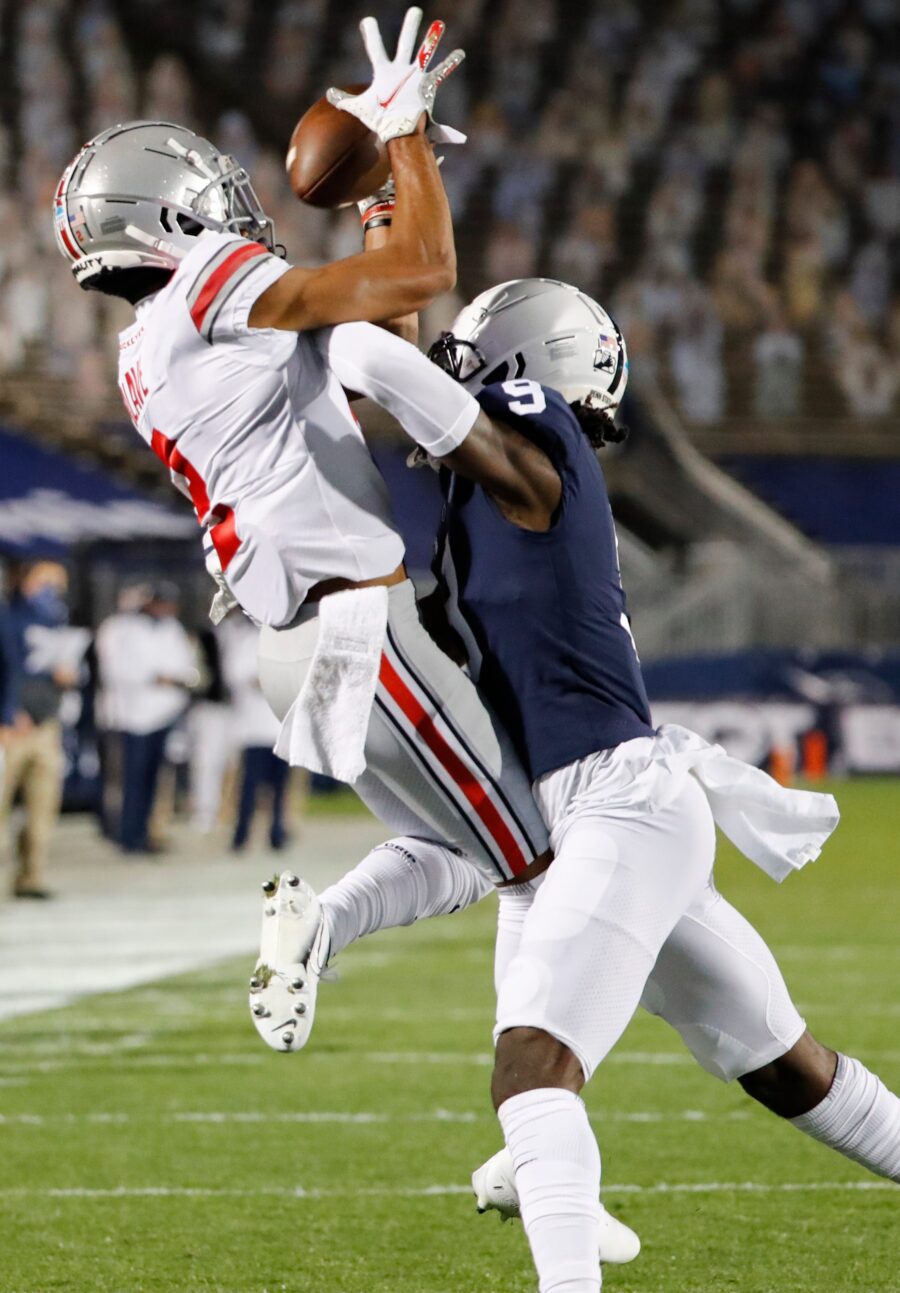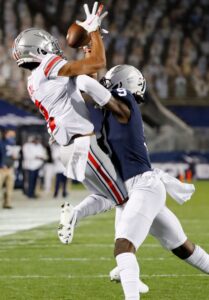 Porter's Penn State career saw him record only one interception, but it also demonstrated the physicality which his size (6-foot-2, 200 pounds) should allow him to carry over to the NFL level. If he does so, he will be a mainstay in a transitioning secondary for both the short- and long-term future.
With the Dolphins having been docked their first-round pick, Porter found himself in the unique position of being one of the top 32 selections in the draft but not hearing his name called on Day 1. That led to a lengthy negotiation on the topic of guaranteed money in his rookie contract, but a resolution in time for training camp avoided any potential holdout. Porter is well-positioned to not only carry on his father's legacy, but to create one of his own.
The trade for Jones still left Pittsburgh with the picks used on Benton and Washington. The former flashed considerable pass-rush potential in his final two seasons in college, recording seven sacks and 15 tackles for loss. A rotational role at first could see him supplant Ogunjobi not too far down the road if he can remain a force against the pass in the NFL. Washington, on the other hand, will likely have to wait to see starter's snaps. Development as a pass catcher for the already dominant run blocker could turn the latter's selection into a highly fruitful one.
Other:
Tomlin has traditionally signed extensions with two years remaining on his existing contracts, making this offseason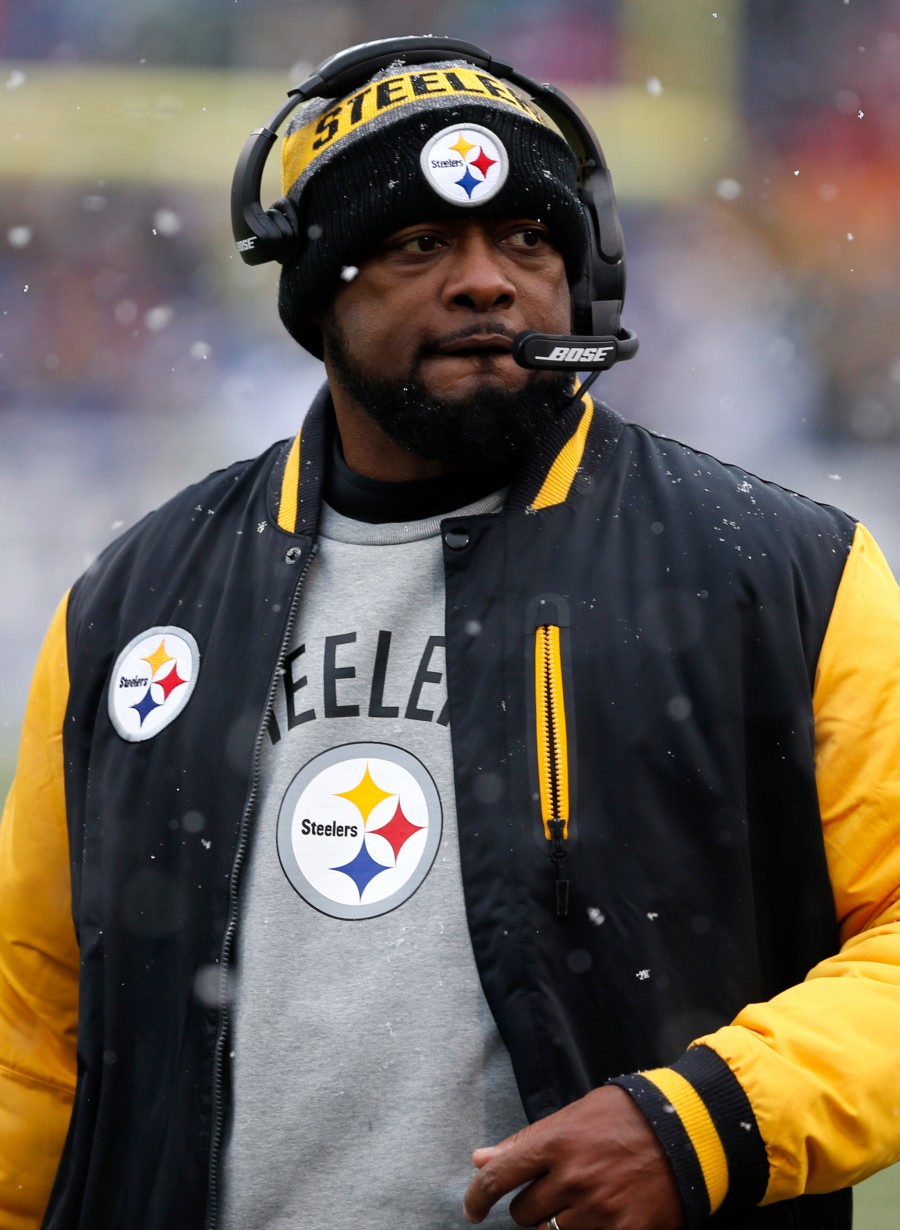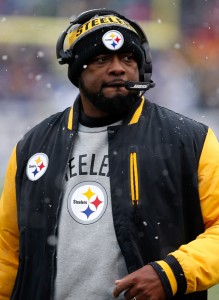 the next logical time for one to be signed. Owner Art Rooney II expressed his latest round of confidence in the 51-year-old in January, which made it seem inevitable that a seventh extension was just around the corner. It now appears that will wait until next year, but by being on the books through 2024, Tomlin can approach the coming season with a fair amount of job security intact.
The league's second-longest tenured head coach, Tomlin has embodied consistency during his Steelers stint. Postseason success has been elusive for a mounting stretch of campaigns, however; Pittsburgh has not won a playoff game since 2016. Reversing that trend will be difficult given the landscape of the AFC, but an impressive year would likely cement his status on the sidelines for the foreseeable future. Changes amongst his lieutenants could continue by the time Tomlin has his next deal in hand, though.
Offensive coordinator Matt Canada has routinely come under fire for the struggles of his unit, one which he has guided for the past two seasons. A lack of downfield passing proficiency in particular has led to mediocre performance on the ground and through the air. In spite of that, Tomlin has once again endorsed Canada as the offensive play-caller, meaning all eyes will be on the latter to guide Pickett and Co. to a much better season than 2022. Failure to do so would no doubt add substantially to the ongoing calls for an OC change.
Flores joined the Steelers last offseason after his controversial Dolphins exit and subsequent unsuccessful round of head coaching interviews. He took a role as linebackers coach in Pittsburgh, though he held duties beyond those of a typical position coach. The 42-year-old was involved in the 2023 hiring cycle as well, and at one point appeared to be in the lead to land the Cardinals gig. He ultimately withdrew from Arizona's search, however, and took charge of a Minnesota defense which has plenty of room for improvement from last season and will feature many new faces after the departure of several veterans. Flores' racial discrimination suit against the NFL and a number of teams is ongoing, and many of his allegations are set to be tried in open court.
Pressley Harvin has handled Pittsburgh's punting duties since being selected in the seventh round of the 2021 draft. He managed to up his net yardage average in his second season, but a regression in punts landing inside the 20 contributed in part to the Steelers' decision to bring in Mann for competition. The latter was quite busy during his two fully healthy campaigns in New York, punting a combined 165 times in 2020 and '22. His performance in terms of gross average and punts downed inside the 20 was better than Harvin's last year, so Mann could unseat the incumbent over the remainder of preseason and training camp.
Top 10 cap charges for 2023:
With several contributors, particularly on offense, still in the midst of their rookie contracts, stability amongst many of the team's veterans is possible. Every player on the above list except for Wallace is on the books in 2024, with most set to see their cap hits remain stable compared to this season. A notable exception is Fitzpatrick, whose burden on the Steelers' cap sheet will nearly triple next season (and remain above $22MM for two years after that) unless another restructure or extension is worked out. Najee Harris will be eligible for an extension next offseason, but Khan's recent remarks on the nature of the running back market do not suggest the team will be particularly urgent with respect to pursuing a lucrative long-term commitment.
Much of the Steelers' 2023 success will depend on the core which remains in place from the previous season. Many of the new additions could raise the team's ceiling, however, and an extension of Tomlin's run without a losing record would come as no surprise. Projecting success beyond that mark would require not only a healthy campaign from Watt and the rest of the edge rushing group, but also development from Pickett and the offense as a whole.
Provided that takes place, Pittsburgh will figure to be squarely in the mix within a highly competitive division and conference, and the team will be well-positioned for sustained success in its new era. Falling short of the standards established by this franchise, though, could lead to calls for significant alterations to be made.
Follow @PFRumors