Life after Russell Wilson began for the Seahawks in 2022, a season in which very little was expected of the team. Rather than setting upon a long-term organizational reset, however, Seattle remained competitive in large part due to the surprising success Geno Smith found in his latest opportunity to serve as an NFL starter. The veteran steered the team to a playoff berth, and the young contributors added in each of the past two drafts offer considerable reasons for optimism moving forward.
Weaknesses on defense were exposed throughout the season, though, and much of the team's efforts in recent months (including a reunion with an icon from Seattle's Super Bowl-winning core) has been aimed at addressing them. If they prove to have been successful, Smith – the reigning Comeback Player of the Year who has a new, more lucrative Seahawks deal in place – will be well-positioned to prove 2022's success was not a fluke.
Free agency additions:
Seattle ranked 30th against the run in 2022, and breakdowns in the front seven were common during the regular season. That factored into the team's postseason exit as well, as the 49ers recorded over 500 yards of offense in their wild-card victory over the Seahawks. Long before free agency began, it was therefore obvious that much of the offseason would need to be devoted to reconfiguring the defensive line and linebacking corps.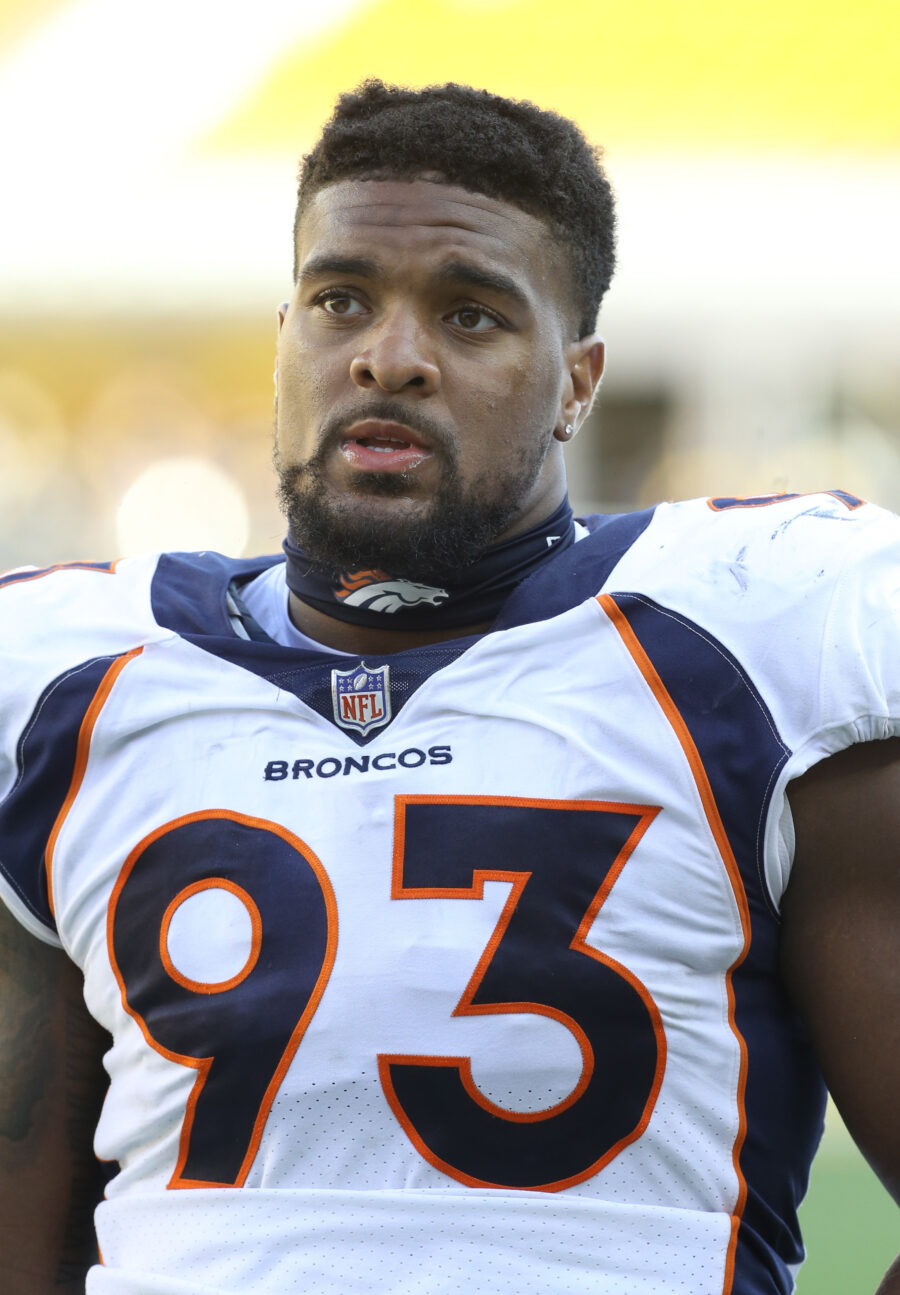 Jones will be at the heart of that effort, tasked with providing a much-needed boost with respect to interior pass-rushing production. The Seahawks finished tied for seventh in the league in sacks last year, but much of that came off the edge. If Jones can replicate his success from Denver, more balance will be attained. The 26-year-old totaled 22 sacks and 60 pressures across four years with the Broncos, making him one of the most attractive members of a deep D-line free agent class.
The Broncos were interested in retaining Jones, but for a time he seemed to be headed toward a deal with his hometown Browns. In the end, the former third-rounder landed a contract with a higher AAV than what both Denver and Cleveland gave to Zach Allen and Dalvin Tomlinson, respectively. The latter two are regarded as better run defenders than Jones, but if he remains productive on passing downs, he will be central to a rebound performance from Seattle's defense.
Both Reed – who is returning to Seattle after spending his first five seasons there – and Edwards are in line for starting roles alongside Jones. That new trio will give the team a much different look in its second year with a 3-4 base scheme, although depth additions could be on the radar. In any event, the play of the revamped D-line will be a major storyline in 2023.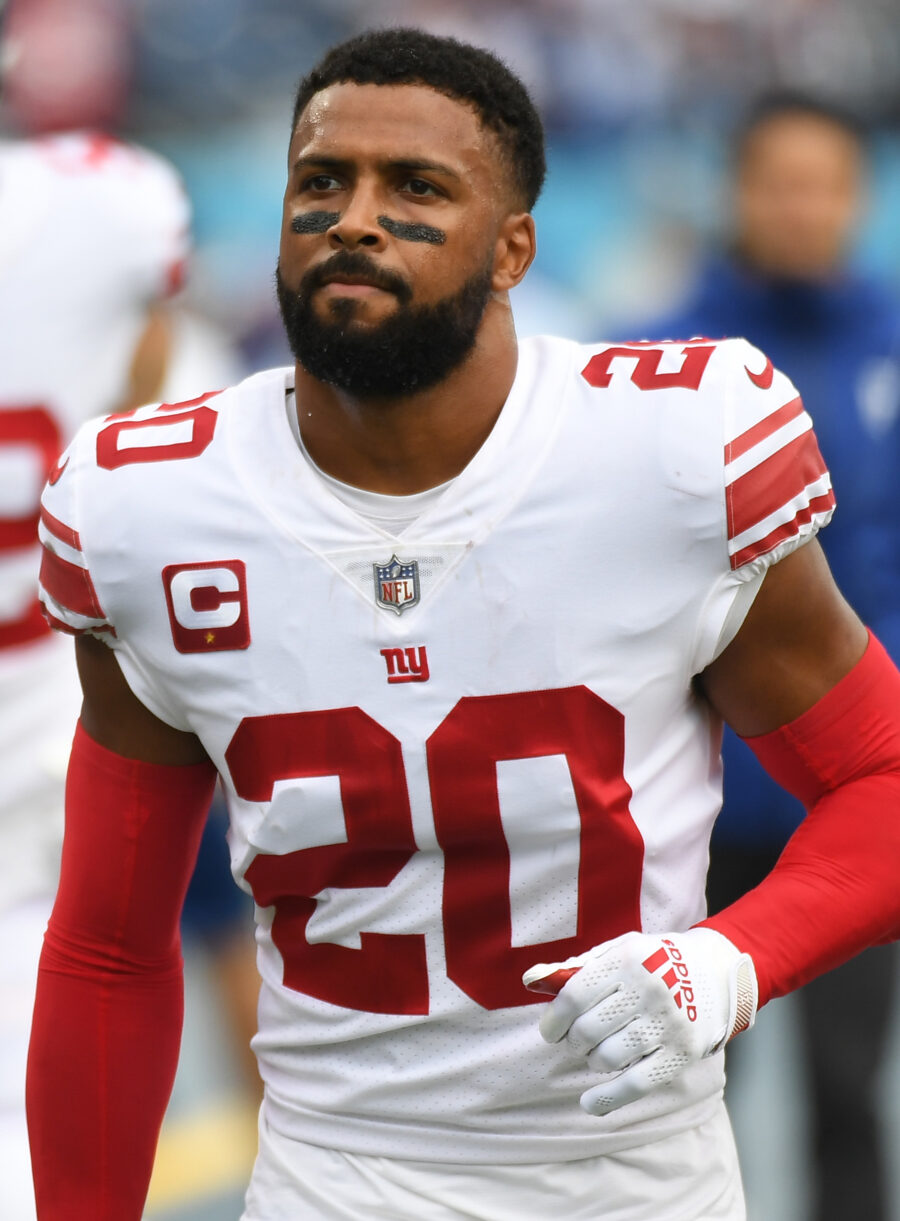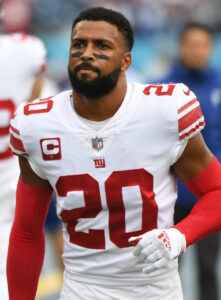 The Seahawks already had the league's most expensive safety tandem in Jamal Adams and Quandre Diggs before adding Love to the mix. The latter expressed a desire to remain with the Giants after his breakout season, though he was acutely aware of how his 2022 production helped his earning power. The 25-year-old will be able to hit the open market a second time rather quickly if he plays out this Seattle deal without an extension, though he could play his way into the team's long-term plans if he picks up where he left off last season.
Love posted career-highs in a number of categories during the 2022 campaign, his first operating as a full-time starter. He remained a constant in a Giants secondary which faced injury absences for much of the year, seeing usage at a number of different spots on the field. The Notre Dame alum thus made himself one of several noteworthy safeties who were available in free agency, although a number of players with a longer track record at the position secured more lucrative deals.
Adams' history of missed time – which will continue into the 2023 campaign – could make Love's presence particularly important for Seattle. Plenty of playing time should be available when the Seahawks' starting trio are all healthy, in any case, and Love will be a central figure in the team's play on the backend.
Wagner's fifth career contract is far smaller than all but his rookie pact, but it will be a valuable one on several fronts if he can maintain his level of play upon his return to the Emerald City. A central figure in the Legion of Boom-era defenses throughout a 10-year Seahawks run to begin his career, the eight-time Pro Bowler's time with the team appeared to be over when he took a five-year, $50MM contract with the division rival Rams last offseason.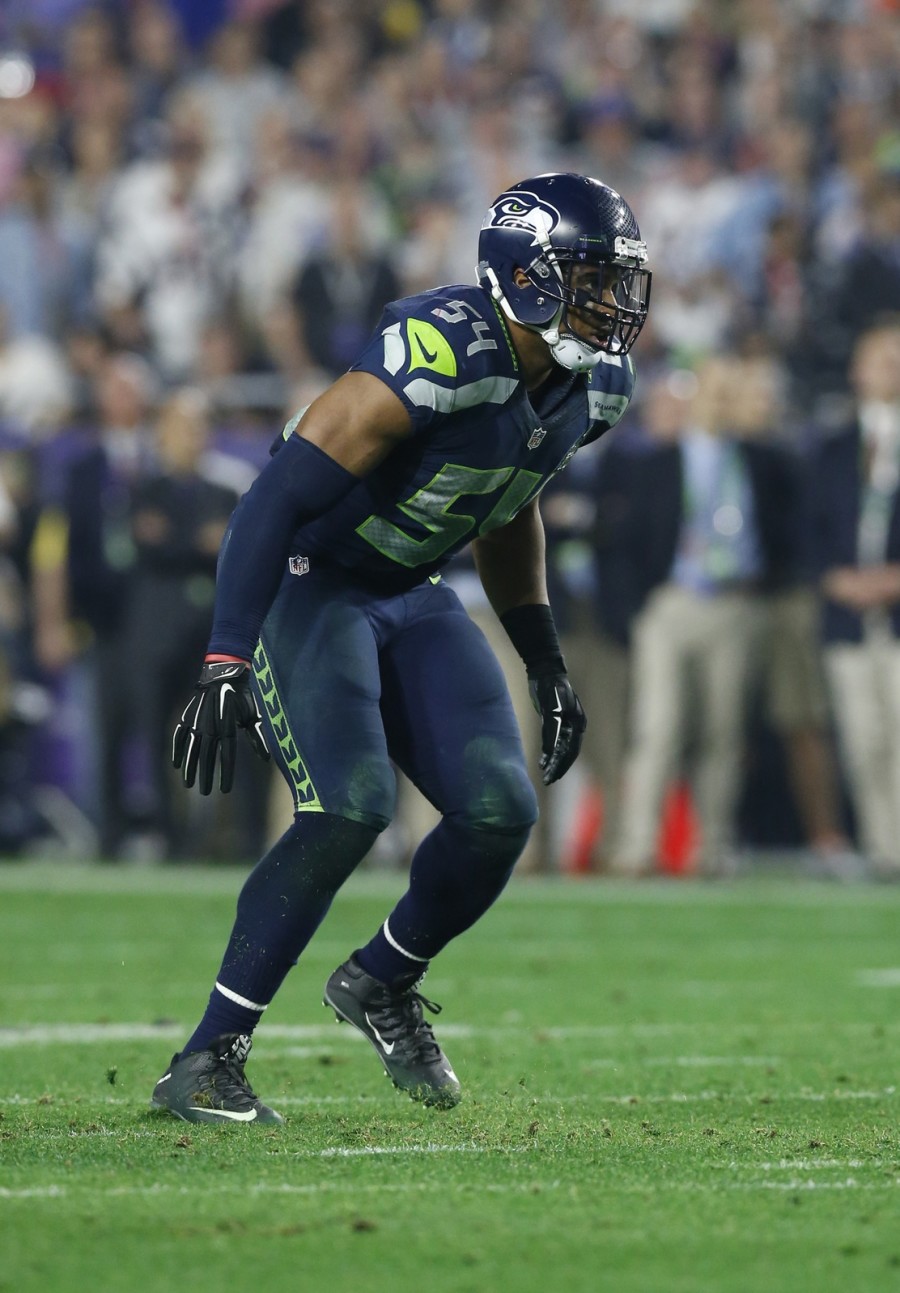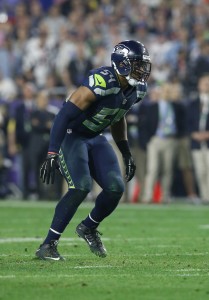 The 33-year-old drew the No. 1 PFF grade amongst inside linebackers in his debut Los Angeles season. After a calamitous title defense, however, the Rams elected to part ways with several high-priced veterans. Part of that process including granting Wagner's release request, clearing the way for his return to Seattle, one which could result in up to $7MM in earnings. The six-time first-team All-Pro will reprise the starting role at the Seattle LB spot he has held for most of his career, and a continuation of his past performances would go a long way in stabilizing the Seahawks' reconfigured front seven.
Bush could play a role in that regard as well, and success in a new environment would do wonders for his career. The former Steelers first-rounder flamed out in the seasons following his 2020 ACL tear, seeing his playing time drop sharply in each of the past two years. Bush, 25, will likely work in a rotational capacity behind Wagner and incumbent starter Jordyn Brooks, neither of whom are on the books for 2024. He could thus play his way into an extended stay in Seattle, or at least help his prospects in free agency next spring.
 Re-signings:
After the blockbuster deal sending Wilson to Denver, a QB competition which received little fanfare took place last summer. Many expected Lock, part of the package sent by the Broncos, to beat out Smith for the starting role. It was instead the latter who earned the No. 1 job, and he held it for every snap of the regular and postseason.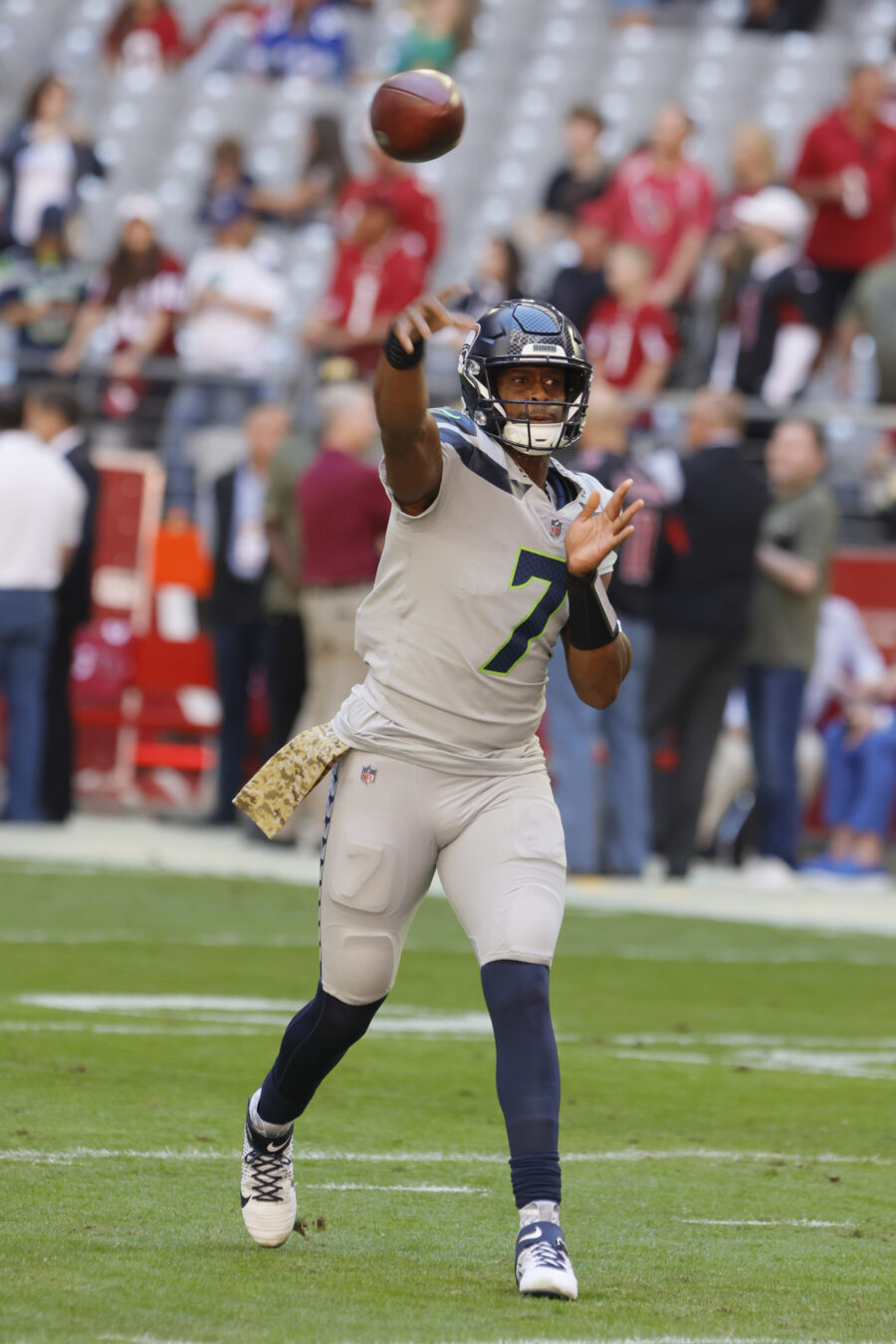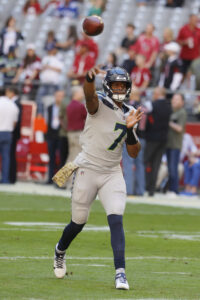 Six years removed from his last campaign as a full-time starter, Smith authored an incredibly unlikely success story in 2022. The 32-year-old led the league in completion percentage (69.8%), shattered his career high in touchdown passes (30) and finished in the top 10 of MVP voting. A considerable raise from the $3.5MM he saw in 2022 and the smaller figures represented in his previous one-year Seahawks pacts was in order.
On the other hand, Seattle was frequently named as a team to watch with respect to drafting a passer in April. Both head coach Pete Carroll and general manager John Schneider admitted to doing more QB scouting than usual while in the rare position of having a top-five pick (owing to the Broncos' struggles in their first season with Wilson at the helm). A long-term answer at the position will still likely be coming sooner than later. But for at least one more year the Seahawks will maintain the Smith-Lock tandem.
Should Smith's 2022 turn out to be fluky, the Seahawks will be able to escape this contract fairly easily in 2024. The team could move on via a post-June 1 cut in either of the next two offseasons and see notable cap savings against only an $8.7MM dead cap charge. Despite his success last year, Smith will therefore face another round of considerable expectations as he looks to back up his production and lead the Seahawks to consecutive postseason berths.
Lock's deal can reach up to $7.5MM via incentives, something which would come into play if Smith were to miss time or regress. Either scenario could put his Seattle future in jeopardy, given the fact his contract only includes full guarantees for this season.
Myers proved to be a solid investment in 2019 after his stints with the Jaguars and Jets. He has gone a combined 98-for-112 on field goals during his time in Seattle (including 13-for-17 on kicks beyond 50 yards). The 32-year-old earned a second career Pro Bowl nod in 2022 and made the decision to authorize a re-up an easy one from the team's perspective. Meyers now sits third in the league for AAV amongst kickers ($5.28MM) behind only Justin Tucker and Matt Gay, setting himself up to continue his consistent play with the Seahawks.
Notable losses: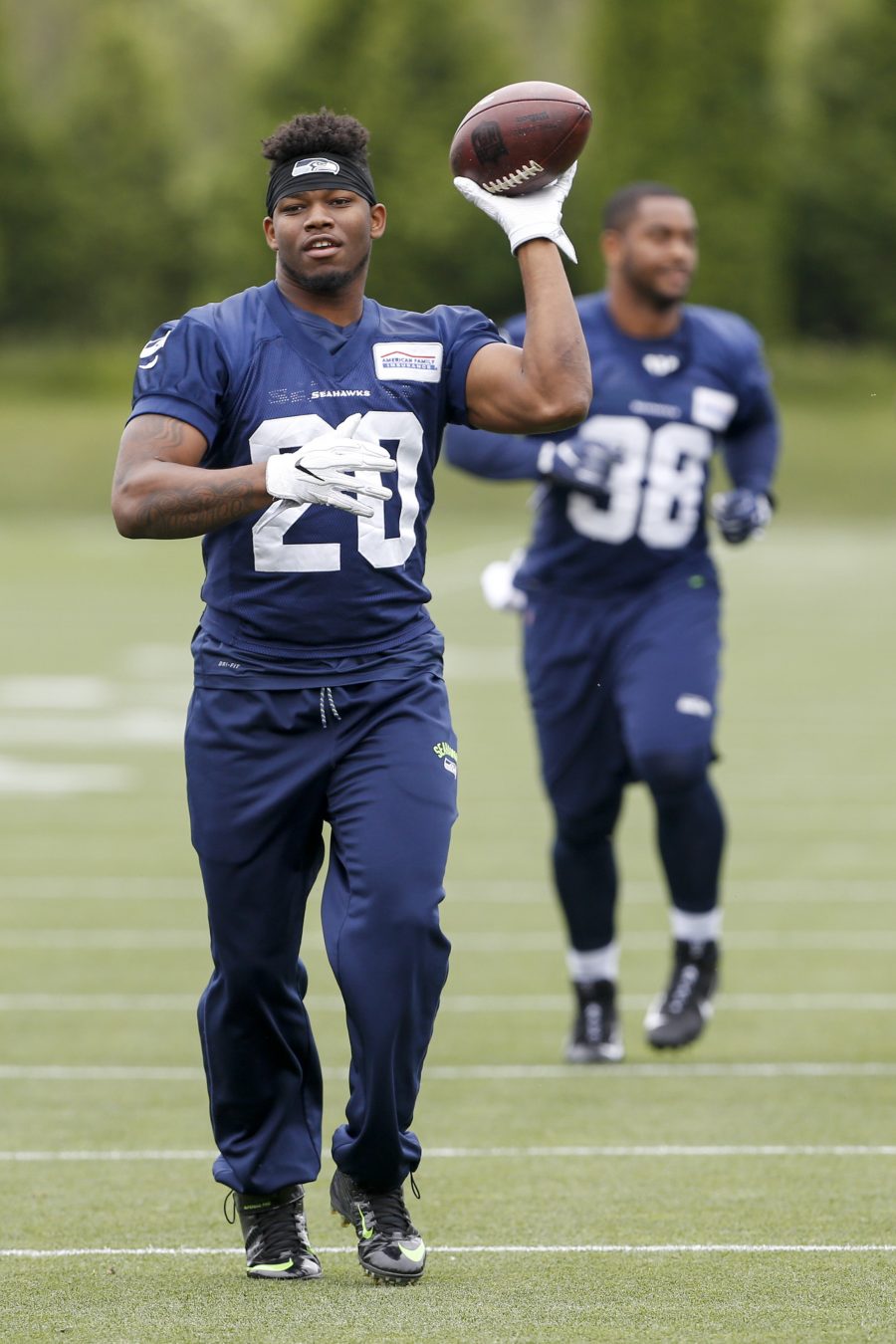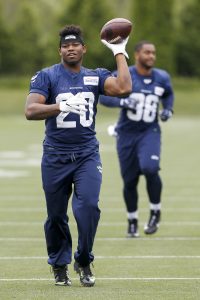 Penny was one of two former first-rounders whose Seattle departure came as little surprise in free agency. Highly efficient when on the field with a career 5.7 yards-per-carry average, Penny has missed notable time in every year since his rookie campaign. The San Diego State alum has been limited to just 18 games over the past three years, a fact which hurt his value on the open market.
Penny landed just $600K guaranteed to serve in a Miles Sanders-less Eagles backfield committee. Homer will find himself in a similar situation with the Bears as they begin the post-David Montgomery era at the RB spot. With Offensive Rookie of the Year runner up Kenneth Walker atop their depth chart, though, the Seahawks should feel comfortable in their running game moving forward.
With both Blythe and Jackson no longer in the picture, however, Seattle's offensive front will look different in 2023. Neither blocker had a lengthy stay with the Seahawks, nor were they able to duplicate the success they found elsewhere in terms of PFF evaluations. Jackson, 32, remains unsigned despite having 130 starts to his name. Stronger play at the C and RG spots will be a target for Evan Brown and Phil Haynes, respectively, as the team looks to build off the strong tackle play generated from last year's draft class.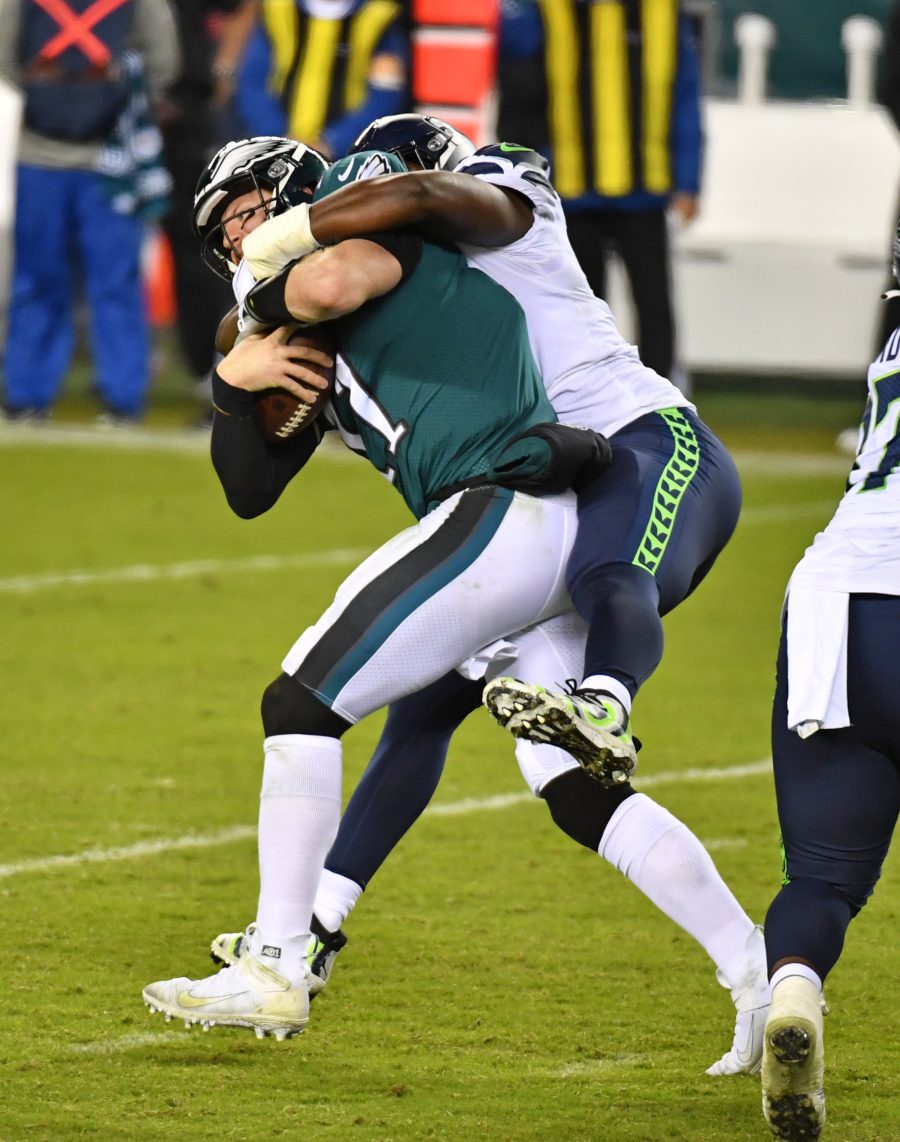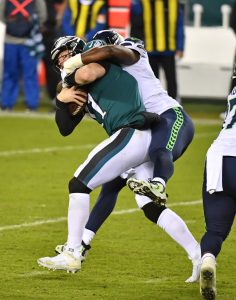 Given the team's struggles along the defensive front last season, it came as no surprise that Ford was allowed to depart in free agency while Woods, Jefferson and Harris were let go in cost-shedding moves in another high-turnover offseason along Seattle's D-line. Harris was under consideration to be brought back on a less expensive deal, but his extended stay on the open market ultimately led him to a Browns team which is likewise seeking to take a major step forward on the D-line in 2023.
That quartet of defenders combined to play over 2,100 snaps in 2022, leaving plenty of playing time available for their replacements. Collier was not, however, a significant contributor in his final Seahawks campaign. After having his fifth-year option declined, the TCU alum logged just a 28% snap share last season, marking an end to a disappointing four-year stretch. Arizona will, like Seattle attempted to, use Collier at a variety of D-line spots in the hope finding one which breeds statistical success. While the Seahawks have received praise for their past two drafts, the Carroll-Schneider regime's against-the-grain decisions with Penny and Collier backfired.
Both Barton (26) and Neal (27) were mainstays during their time in Seattle, but the respective arrivals of Bobby Wagner and Julian Love left them in need of new homes. The linebacker and safety spots should be areas of strength in 2023 if Seattle's starters remain healthy and live up to their pedigree, but as is the case along the defensive line, familiar faces will be lacking as the team integrates a plethora of new contributors.
Extensions and restructures:
Nwosu put up modest numbers to begin his Chargers career, seeing incremental jumps in playing time over his first three seasons with the team. His contract year yielded a spike in production, with Melvin Ingram out of the picture. That showing landed him a two-year, $20MM Seattle agreement. The USC alum proved that investment to be a worthwhile one.
Lining up opposite Darrell Taylor on the edge, Nwosu tied his sack partner with a team-leading 9.5 in that department. That figure also marked a Nwosu career high for the second straight year and confirmed a considerable raise on a deal keeping him in place through his prime years was in order. The 26-year-old is now under contract through 2026 (a season in which he could earn up to $6MM extra via incentives) and is set to carry a reasonable cap hit for three of the next four years.
Nwosu will face major expectations not only because of the numbers he put up in the team's first year after transitioning to a 3-4 scheme, but also the plethora of new faces along the defensive line. If the interior pass rush does not emerge as planned, much of the Seahawks' defensive improvement in 2022 will depend on him continuing to pressure quarterbacks at a high rate. Seattle should be confident that will be the case for the foreseeable future, though.
Lockett has been a model of consistency during his eight-year run in the Emerald City, recording at least 73 catches, 1,033 yards and eight touchdowns in each of the past four years. He has a strong chance to move into second on the franchise's all-time receiving list this season, but his future beyond 2023 could see further adjustments to his pact. The 30-year-old is set to carry cap hits of $26.9MM in 2024 and '25, and no guaranteed money is due for those years. For at least one more season, however, he should provide cost-effective production in the passing game.
Adams is likewise due to count heavily against the cap in future years, in part due to the adjustment to his deal. The former Jets first-rounder could confirm his importance to Seattle with a productive 2023 campaign, but failure to do so would make his $26MM-plus cap hits hard to swallow over the following two years. Like Lockett, Adams does not have guaranteed money due after this season, and his release would yield notable savings if designated as a post-June 1 cut starting next spring.
Draft:
If the Seahawks' 2023 draft class makes anywhere near the impact of last year's, the team will be in business for short- and long-term success. The benefits from the Wilson trade continued into this past April, and it gave the Carroll-Schneider regime a rare opportunity to select in the top five, as well as additional Day 2 draft capital. Both Broncos picks yielded defensive additions which should help the rebuilding effort on that side of the ball.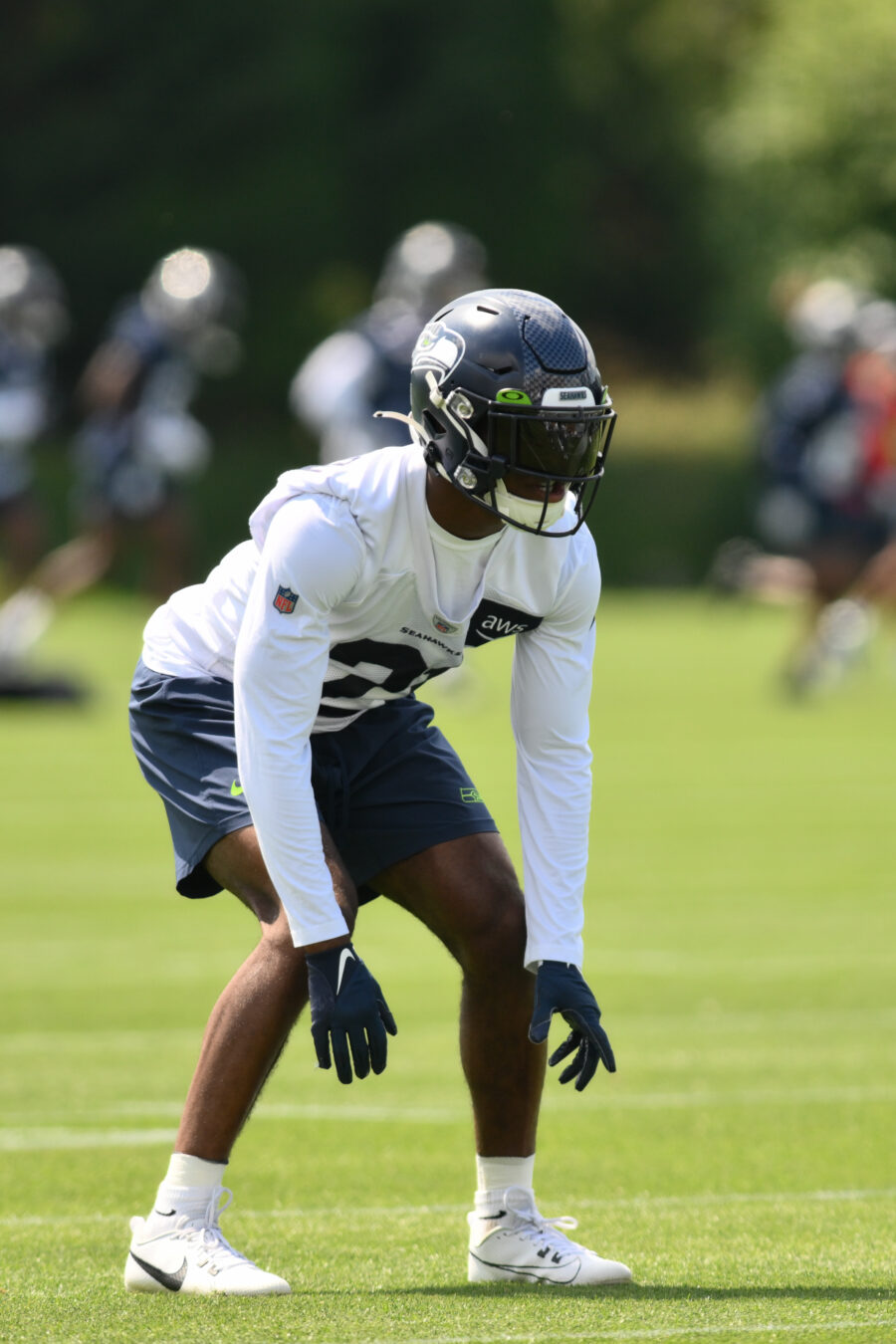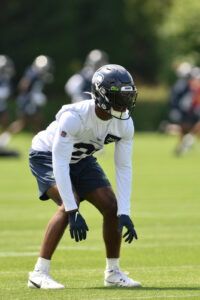 By the time the draft began, Witherspoon was the consensus top defensive back in the class. Though, the gap between he and fellow corner Christian Gonzalez was not expected to be as large as the latter's drop to the No. 17 pick (and ranking as the third CB off the board) would suggest. The headliner of a well-respected fighting Illini secondary, Witherspoon showcased ball production and strength as a run defender by piling up three interceptions, 23 pass deflections and 10.5 tackles for loss across his final two college seasons.
A 2022 first-team All-American, the 6-foot, 180-pounder will see plenty of time lining up opposite 2022 fifth-rounder Tariq Woolen. The latter took the league by storm as a rookie, tying for the NFL lead in interceptions (six). A pairing of he and Witherspoon could give Seattle a highly productive CB tandem right away and for years to come if both play to their potential.
Carroll, notably, was believed to be on board with the idea of taking defensive tackle Jalen Carter at No. 5 in spite of the Georgia alum's legal troubles and character concerns. That sentiment did not seem to be matched elsewhere in the organization, though, leading to a safer selection in Witherspoon but also an interesting what-if situation to monitor as Carter ultimately landed ninth overall with the Eagles.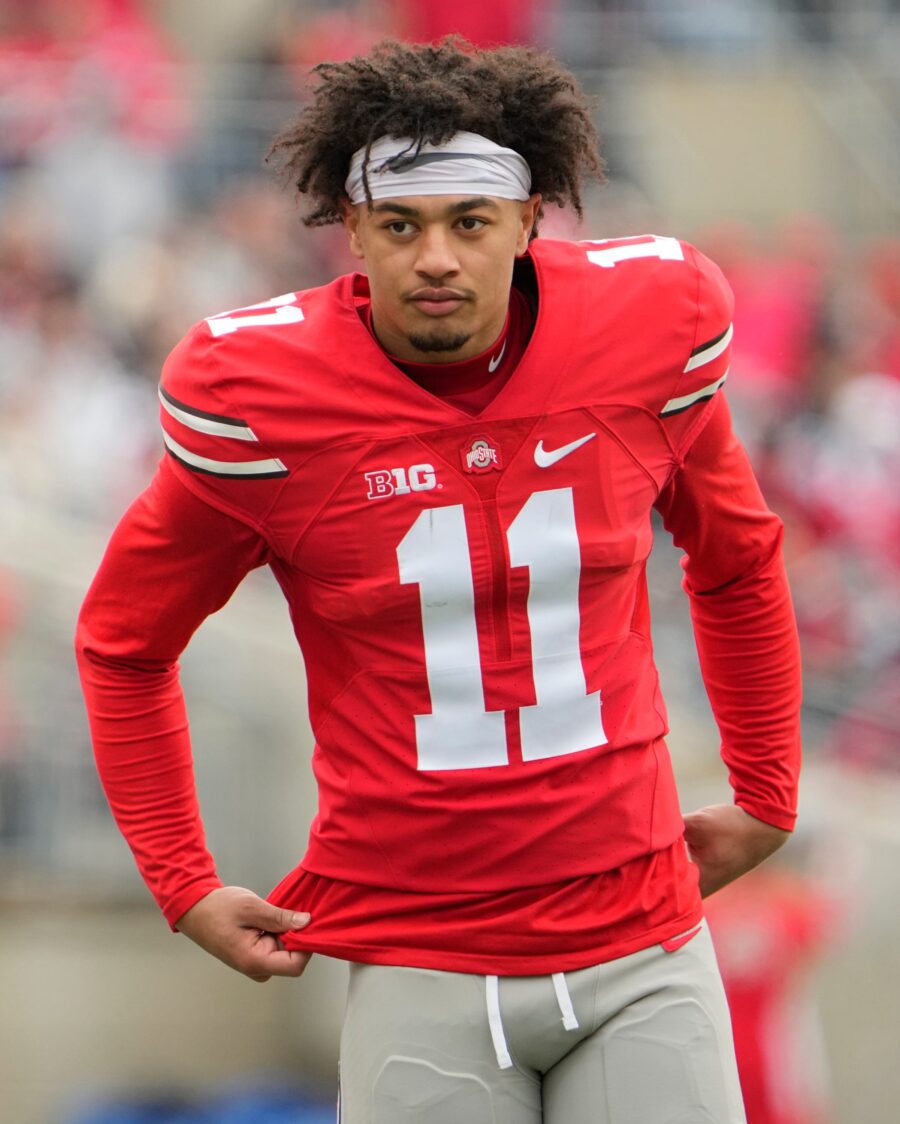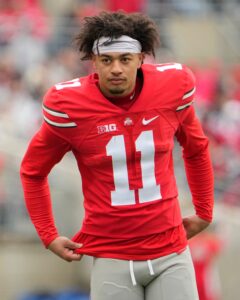 Back on the clock in a more familiar draft spot, the Seahawks had their pick of the lot at the receiver position with their second first-round selection. It thus came as little surprise that Smith-Njigba was the team's preference, as an injured-shortened 2022 season still left him at the top of many WR rankings leading up to the draft. The 21-year-old enjoyed a stellar sophomore season (95 catches, 1,606 yards, nine touchdowns) while competing for targets with eventual first-rounders Garrett Wilson and Chris Olave.
Those totals made his three-game junior season — hindered by a nagging hamstring injury — a disappointment, but it will still lead to high expectations at the NFL level. D.K. Metcalf and Tyler Lockett will eat up plenty of targets in Seattle's passing game, but Smith-Njigba could see considerable time in the slot. It is there that he is likely to see much of his time in the pro game, as it would allow for his route-running prowess to compensate for a lack of top-end speed. In any case, he should provide at least a complementary option on offense with the potential to develop into a focal point in the future.
Hall posted strong numbers in his final two Tigers seasons in particular, but much of his success has been attributed more to effort than top-tier athleticism or overwhelming size. If he follows a similar path to 2022 second-rounder Boye Mafe, though, a rotational role and the opportunity for modest production should be in store. Charbonnet, likewise, is set to begin his Seattle career behind Kenneth Walker on the depth chart. However, it does appear the former Michigan transfer's prowess in the passing game has him in line for third-down work right away; success in that regard could strengthen Seattle's backfield and give the team a long-term tandem at the position.
Other:
Brooks graduated to full-time starting duties in his second season, and he has filled the statsheet since then. The Texas Tech alum has racked up 345 tackles (second-most in the league in that span), including 13 for loss, along with a pair of sacks and 10 pass breakups over the last two years. Those figures have not translated to favorable PFF evaluations, however, and, like all other inside 'backers from the 2020 draft class, he will enter this season without being on the books for next year. Brooks joins all other Seattle first-round picks in having his option declined since the current system was implemented in 2011.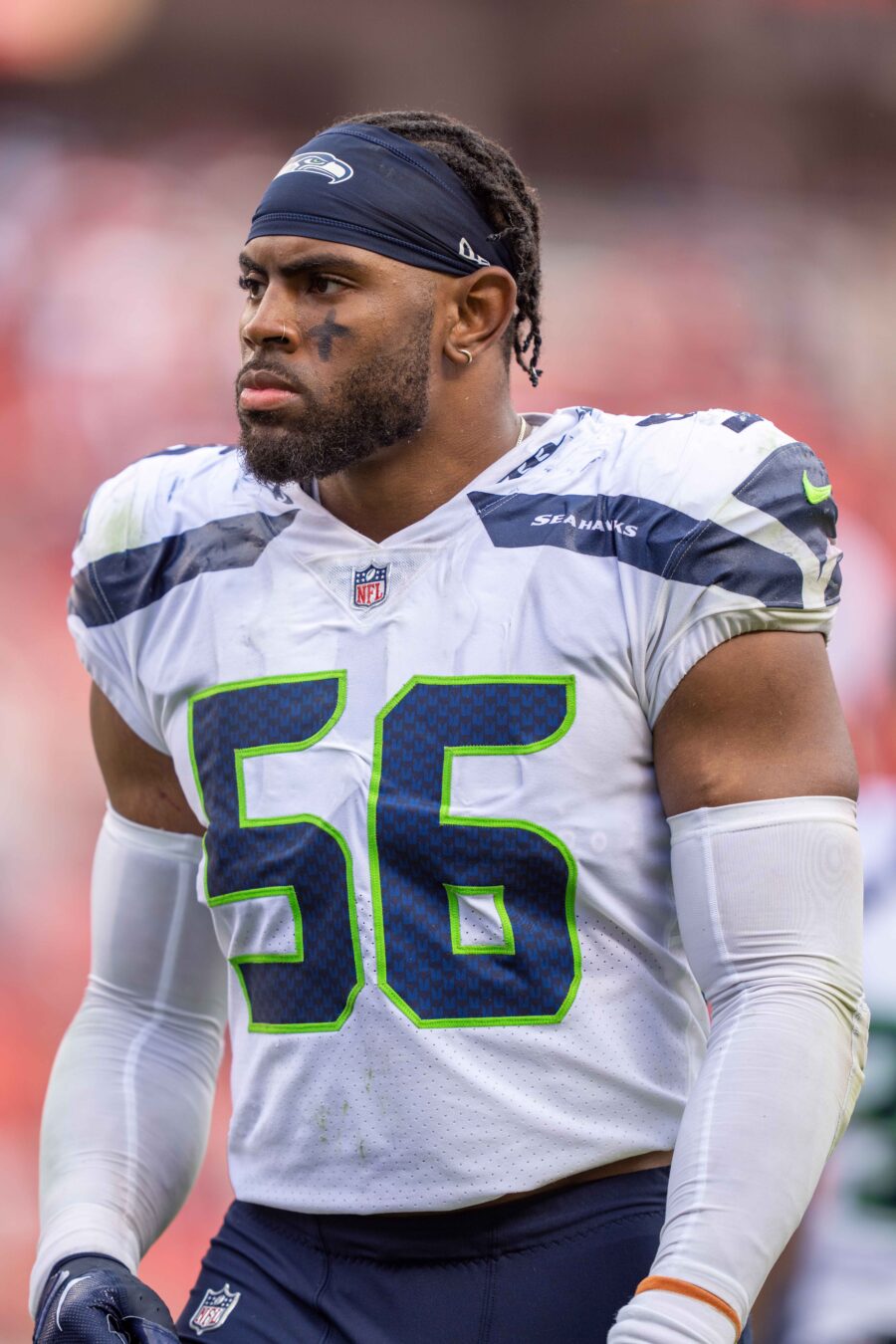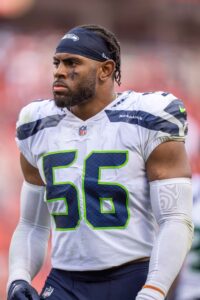 The 25-year-old will maintain his first-string role in 2023, and with Bobby Wagner and Devin Bush also headed for free agency next March, Brooks should still be in the Seahawks' plans for years to come. A multi-year deal may not reach the eight-figure-per-year mark (which would be required to move him into the top 10 at the position in annual compensation), but a notable raise could still be in the cards if he can put together a strong season this year. Health will be a factor to monitor in 2023, though.
Brooks missed the final game of last season with an ACL tear, and he was sidelined for much of the offseason while recovering. The fact that Seattle was able to activate him from the active/PUP list last month puts Brooks on track to be in the lineup in Week 1, but his ability to return to pre-injury form will be worth watching closely. A healthy campaign will do wonders for Brooks' financial situation with the Seahawks or another team in the future.
Both Canales (42) and Desai (40) received looks from multiple teams in need of coordinators this offseason. The former interviewed twice for the Ravens' OC gig before ultimately landing one in Tampa. That gig will give Canales his first chance to lead an NFL offense. Canales drew significant praise for his role in Geno Smith's remarkable success story last year, and he will aim to replicate that scenario with a Buccaneers team relying on Baker Mayfield under center.
Desai, meanwhile, met once each with the Broncos, Dolphins and Vikings in their respective searches for a defensive upgrade on the sidelines. He will once again hold a DC title after having ascended to that position with the Bears in 2021. The arrival of a new staff in Chicago last year led Desai to Seattle, where the team's performance did not match the reputation he has generated as one of the league's up-and-coming defensive minds. He will face a tall task in Philadelphia helping guide the defending NFC champions, who lost a number of defensive starers in free agency. But success with the Eagles could put him on the head coaching track before long.
Amazon founder Jeff Bezos was frequently linked to a potential bid on the Commanders, but none came. He is still a name to watch with respect to a potential Seahawks sale, something many expect will take place in the not-too-distant future. Nothing will take place before May 2, 2024, in all likelihood, given the nature of Allen's estate situation. Still, her willingness to explore a sale (something which does not currently exist, as her remarks last summer confirmed) will be an ongoing storyline for the organization – especially if Bezos becomes involved.
Top 10 cap charges for 2023:
D.K. Metcalf, WR: $13.72MM
Quandre Diggs, S: $11.94MM
Jamal Adams, S: $11.5MM
Tyler Lockett, WR: $11.06MM
Geno Smith, QB: $10.1MM
Uchenna Nwosu, OLB: $10.1MM
Dre'Mont Jones, DT: $10.06MM
Will Dissly, TE: $9.19MM
Bobby Wagner, LB: $7MM
Noah Fant, TE: $6.85MM
If Smith's 2023 play is near the level of his 2022 performance, he will prove to be a bargain considering the current going rate for starting quarterbacks. However, he is one of five players listed whose cap hit is set to jump over $20MM next season (above $30MM, in Smith's case). With Jones due for an increased cap burden by a margin of $8MM and Wagner and Fant set to hit free agency in the spring, plenty of difficult decisions will need to be made and the team's youth movement at many positions will likely continue.
Questions will linger about Smith's ability to back up his 2022 success as the season begins, but even a slight regression should be easier to manage given the skill-position contingent surrounding him. If the multitude of efforts made to shore up the defense prove effective, a postseason berth in what appears to be a comparatively weak NFC would come as no surprise. Another year of top-level play from this year's rookie class could even vault Seattle into contention for one of the deep postseason runs the franchise became accustomed to in the 2010s.
Follow @PFRumors