As expected, the Cardinals have placed the non-exclusive franchise tag on Chandler Jones. The Cardinals had until March 1 to make the call, but they are taking care of business early.
In theory, the non-exclusive tag allows room for Jones to land elsewhere if he signs another team's offer sheet and the Cardinals opt not to match. However, any team signing Jones away would have to give Arizona two first-round picks. That's a steep price to pay on top of whatever contract he commands. Therefore, Jones will likely play 2017 under a one-year, $16.955MM tender unless the two sides reach agreement on a longer pact between now and July.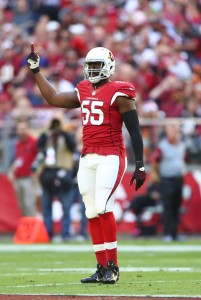 [RELATED: Follow Pro Football Rumors On Instagram]
In January, coach Bruce Arians said that the Cards would apply the franchise tag to Jones if they were unable to immediately lock him up to a long-term deal. Weeks later, Cardinals president Michael Bidwill gave additional confirmation of those plans.
"We're not going to mess around with that," Bidwill said with regards to Jones. "He's a great pass rusher, but if we can't agree to terms that work for us, we're just going to franchise him. His people know that."
In my most recent edition of the Free Agent Power Rankings, I had Jones as the No. 2 player available, second only to quarterback Kirk Cousins. Our defensive rankings by position naturally had Jones as the top edge rusher available. Now, that mantle belongs to teammate Calais Campbell.
Jones now becomes the first player to get hit with the franchise tag in the 2017 offseason. More players will receive the designation in the next 48 hours.
Photo courtesy of USA Today Sports Images.