Four years ago today, Charles Clay officially went to the Bills on a five-year, $38MM deal. Has the deal been worth it?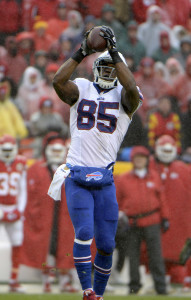 The 2011 sixth-round pick out of Tulsa spent the first four seasons of his career in Miami. Between 2013 and 2014, Clay averaged 63.5 receptions for 682 yards and 4.5 touchdowns. The tight end then hit free agency as a transition player, and he garnered a relatively lucrative offer from Buffalo.
Then, on this date in 2015, the Dolphins decided to not match the offer, clearing the way for Clay to officially join the Bills. At the time, the pairing made sense. Then-offensive coordinator Greg Roman planned to capitalize on the tight end's versatility, as Clay had the ability to line up in multiple formations.
The result? Well, Clay's numbers through his first three seasons in Buffalo were about on-par with his Miami numbers. The tight end was actually remarkably consistent between 2015 and 2017, compiling at least 49 receptions and 520 receiving yards.
However, the veteran took a major step back in 2018. In 13 games, he hauled in 21 receptions for 184 yards and no touchdowns. With a year remaining on his contract, the Bills moved on from Clay back in February. The move saved Buffalo $4.5MM. Clay ended up catching on with the Cardinals on a one-year, $3.25MM deal.
Was the move ultimately worth it? The ~$7.5MM average annual value was a bit high, although when you also consider Clay's blocking prowess, you could justify that type of money through the first three years of the deal. Getting little to zero production through the final two seasons isn't a good look, but the Bills were partly paying for potential, anyway. The contract didn't work out as planned, but it wasn't a debilitating deal for the franchise.
Photo courtesy of USA Today Sports Images.