It appears the Bengals and Jeremy Hill are going their separate ways. The running back's rookie deal expired at season's end, and with the Bengals having both Joe Mixon and Giovani Bernard signed long-term, Hill is going to test the free agent market.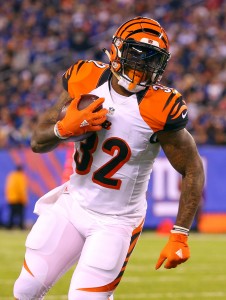 Hill posted on Twitter that he won't be playing for the Bengals next season and said (via Jim Owczarski of the Cincinnati Enquirer) he's going to be available come March. He'd left the door somewhat ajar about a Bengals reunion after the season but is now set to head elsewhere.
"I'm not nervous at all," Hill said. "I think the chips will fall where they may and I'm good with that going forward. I'm going to put the work in and when you do that you can sleep good at night knowing you did everything you could, and that's what I'm going to do."
Although the former second-round pick is just 25, he is not going to be entering free agency with much momentum.
The LSU product who enjoyed a strong rookie season (1,124 rushing yards, nine touchdowns) and followed it up with an 11-touchdown 2015, but he ventured to IR last season and was the third-string running back prior to doing so. Hill received just 37 carries in 2017 after an incredibly consistent workload (222, 223 and 222 carries during his first three seasons) prior to his contract year.
Hill averaged 5.1 yards per carry as a rookie but failed to exceed four yards per tote in each of the following slates. Hill, who switched agents early in the season, told Owczarski he played through ankle trouble over a multiyear period and decided to undergo surgery to get ready for free agency.
"I had some bone spurs build up in my ankle the past few years, just from rolling it, playing through it," Hill told said. "… At that point in the season, they decided to go forward with Joe and my people, my family and myself, we just thought it would be best for me to have surgery and make sure I'm good to go going forward, putting my career over this season. That was a decision that I felt was best for me going forward and that's what I did."
He'll join Carlos Hyde, Isaiah Crowell, Terrance West and Jerick McKinnon among fifth-year players looking for their second contract. Le'Veon Bell is technically a free agent, but the Steelers are expected to either use the franchise tag on him or reach an extension agreement.
Photo courtesy of USA Today Sports Images.