The Alliance of American Football has recruited another veteran kicker. ESPN's Michael Rothstein reports that the Arizona Hotshots have signed former Pro Bowler Nick Folk. The 34-year-old will be joining fellow veteran kicker Nick Novak in the inaugural season of the league.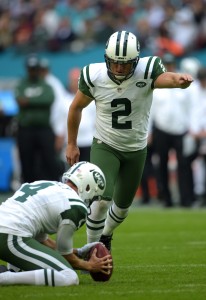 "The biggest thing, I still have a passion to play. I still want to prove I can play," Folk told ESPN on Saturday night. "And it's a good opportunity for me to show that. I ended my time in Tampa with that injury, and my last game being hurt I wasn't able to perform at my best, and I want to show people that I'm back to kicking well."
The former sixth-rounder will now have an opportunity to return to Arizona, where he played in college. He'll also have a chance to return to competitive football after having sat out the entire 2018 campaign. Folk last appeared in four games with the Buccaneers during the 2017 season, converting six of his 11 field goal attempts and seven of his nine extra point tries. He was placed on the injured reserve after his knee tendinitis required surgery, and he was released several months later.
While the injury was more severe than anticipated, Folk told ESPN that he's been healthy for a bit more than a year. The veteran had previously discussed joining the AAF, but he kept his options open during the NFL's regular season. The veteran was among a group of kickers to audition for the Bears earlier this week.
Folk is 50th on the NFL's all-time points list, and he's the second-leading scorer in Jets history. He's converted 98.8-percent of his extra point attempts in his career; however, as Rothstein notes, this won't matter much in the AAF, as there are no extra points (nor kickoffs) in the league.
Photo courtesy of USA Today Sports Images.