It looks like Garrett Celek is hanging up his cleats. The 49ers tight end announced his retirement from the NFL in an Instagram post Friday afternoon.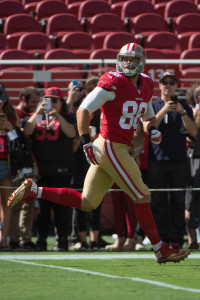 Celek entered the league back in 2012, and spent all eight years of his career with San Francisco. One of the longest-tenured members of the organization, he became a fan favorite and was a leader in the locker room. He inked a four-year deal worth $10.20MM back in 2016, which just expired after the Super Bowl. An undrafted free agent from Michigan State, he made the 53-man roster as a fourth tight end his rookie year and steadily earned more playing time. He never had a massive role as a receiver but was always a key contributor as a blocker, and he did have some decent pass-catching years.
In 2016 and 2017 he had at least 336 yards. His best season as a receiver was in 2016, when he reeled in 29 passes for 350 yards and three touchdowns. He missed some significant time due to injuries throughout the course of his career, and was placed on injured reserve after appearing in only five games this season. The younger brother of former Eagles tight end Brent Celek, he carved out a heck of a career for an UDFA. All of us here at PFR wish him the best in retirement.