Former Steelers fullback Roosevelt Nix is calling it a career. Nix announced his retirement from the NFL with an Instagram post on Tuesday night.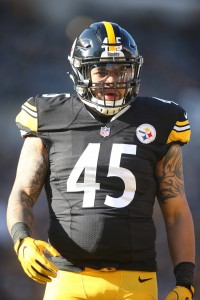 "This game has given me everything I could ask for and everything I needed. GOD blessed me with a talent that allowed me to touch so many souls all across the world and I'm truly grateful for it," Nix wrote.
Nix, a defensive end at Kent State, first tried to break into the NFL as a linebacker. After going undrafted in 2014, he joined the Falcons on a three-year deal and switched to fullback. However, he didn't see his first live action until 2015 with the Steelers.
Nix proceeded to appear in 60 games (11 starts) during his five seasons in Pittsburgh, serving primarily as a fullback and special teamer. He hauled in 12 receptions for 69 yards and one score across five seasons, plus two forced fumbles on special teams. The highlight of his career came in 2017, when he went to the Pro Bowl as James Develin's replacement.
Nix was named a Steelers captain prior to the 2019 season, but he was limited to only three games as he dealt with a knee injury. Last year, he signed with the Colts, but missed the final cut. After spending a full year out of the league, Nix has decided to move on to his next chapter.