Thomas Davis said in January 2018 he was eyeing one more season and a retirement as a Panther. But in June of last year, he reopened the door to his career extending beyond 2018.
The four-game PED suspension played a key role in the veteran linebacker deciding to return for a 15th season. He is now attached to a two-year, $10.5MM Chargers deal.
"In my mind, going into last season, that was the thought process," Davis said, via The Athletic's Rich Hammond, of retiring after 2018, "that I would go in and have a good season and play well. But then, after being out for that time, you start to realize how much you really love the game, and I thought if I could still go out and compete at a high level, then there was no thought in my mind at that point that I was going to shut it down."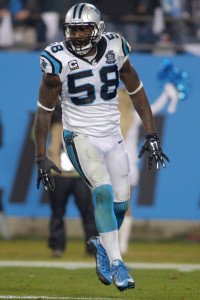 Although entering his age-36 season, Davis is projected to be a Chargers starter. After seven years of the Davis-Luke Kuechly partnership, the Panthers moved on. Shaq Thompson is in position to be Kuechly's new three-down sidekick, with Thomas announcing in January that the Panthers were moving in this direction.
Davis chose the Bolts quickly in free agency, citing the talent on the team's roster — in particular Philip Rivers — as why he opted to move across the country. The Bolts went 12-4 last season — their first double-digit win total since 2009 — and return one of the NFL's most balanced rosters.
"That's all I'm thinking of. That's all that matters now," Davis said of winning a Super Bowl. "Philip is a guy that's getting up there in age like me and he deserves a ring. I feel like, given what I've gone through, I deserve it as well."
Los Angeles' AFC franchise opted to fortify its linebacker corps via the Davis addition and re-signing Denzel Perryman this offseason. They also drafted two 'backers, fourth-rounder Drue Tranquill (Notre Dame) and sixth-rounder Emeke Egbule (Houston).
Davis' deal includes $5.25MM in guarantees, but his base salary spikes from $1.25MM to $4.25MM between 2019 and '20. Hammond does not expect the Chargers to carry a 37-year-old linebacker on a $7.25MM cap number next season, but despite going into last season with retirement plans, Davis has not decided 2019 will be his final NFL slate yet.
"I'm coming in with the mindset of being the best I can this year," Davis said, "and then seeing what happens after the season. If we win the Super Bowl and they want me back, then we'll see how it goes."
Photo courtesy of USA Today Sports Images.