After finishing 8-8 in 2015 and extending their NFL-worst playoff drought to an absurd 16 years, a dearth of cap space prevented the Bills from acquiring significant veteran upgrades during the offseason. The club instead had to use the bulk of its spending room to re-sign its two best offensive linemen, leaving it to go the draft route to supplement a defense that was surprisingly underwhelming last season.
Notable signings:
The Bills' offense improved across the board last season after a dismal 2014 performance, going from 18th in the NFL in points to 13th, 26th in yardage to 12th and 26th in DVOA to ninth. That was thanks largely to the unexpectedly effective play of dual-threat quarterback Tyrod Taylor, the additions of running backs LeSean McCoy, Karlos Williams and Mike Gillislee, and the hiring of coordinator Greg Roman to replace Nathaniel Hackett. But Taylor and the backs wouldn't have helped the unit take such a sizable leap forward without the work done by the offensive line's left side, where tackle Cordy Glenn and guard Richie Incognito started all 16 games and thrived.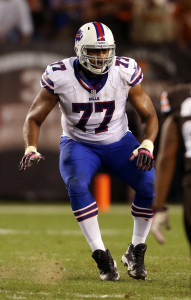 Glenn ranked as Pro Football Focus' (subscription required) 10th-best tackle among 77 qualifiers, while the site gave Incognito a better mark than every left guard in the league. Glenn's strength was in pass blocking, in which he graded as PFF's fifth-best tackle. Incognito, on the other hand, was top seven among all guards in both pass and run blocking. His efforts in the latter category enabled the Bills' ground attack to finish first in the league, and the team's rushers averaged an incredible 6.58 yards per carry when they ran behind the left guard (per ESPN's Mike Rodak). The only negative to glean from the excellence of Glenn and Incognito is that the Bills had to award the pair appreciable raises to keep them in the fold.
After the Bills initially slapped the franchise tag on Glenn to stop him from testing free agency, he inked a five-year, $60MM pact with the club that features $26MM in guarantees. Glenn – whom the Bills selected out of Georgia in the second round of the 2012 draft – parlayed his consistently stellar blocking and durability (61 appearances and starts in 64 regular-season games) into a deal that ranks fifth among left tackles in total value, fourth in yearly average and second in guarantees.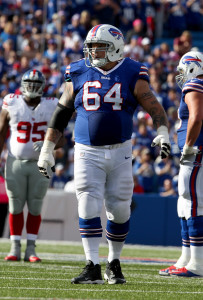 Incognito is six years older than Glenn (32 to 26) and plays a position of less prestige, so the Bills didn't have to surrender nearly as much cash to retain him. Nonetheless, he procured a notable payday after settling for a prove-it deal the prior offseason, recovering from a 2013 bullying scandal in Miami to haul in $15.75MM and $5.45MM in guarantees over three years. Incognito, who made his second Pro Bowl last season, is now eighth among left guards in average annual value and 10th in guarantees. In the event Incognito declines as he climbs toward his mid-30s, his accord is easy to escape after the 2017 season, when Buffalo will save $6.43MM in cap space and take on just $1.15MM in dead money if it releases him.
Locking up both Glenn and Incognito was a must for the Bills, but it left them without the spending room necessary to make even medium-sized splashes elsewhere. That led them to scan free agency for bargain bin pickups like linebacker Zach Brown, cornerback Sterling Moore and receiver Leonard Hankerson, who first joined the Bills last December before signing with the team again in March.
Considering his production in Tennessee, where he piled up 261 tackles, 10 sacks, six interceptions and two forced fumbles in 49 appearances (33 starts) from 2012-15, it was surprising that the best Brown could do was a one-year, $1.25MM deal. After appearing in 46.6 percent of the Titans' defensive snaps in 2015 and ranking an impressive 30th among 97 qualifying linebackers at PFF, Brown should at least provide the Bills with useful depth. Buffalo is projected to rely heavily on two younger LBs, second-round rookie Reggie Ragland and third-year man Preston Brown. The latter followed a terrific rookie campaign with a disappointing showing in 2015, though new assistant head coach/defense Rob Ryan heaped praise on him earlier this month.
"This Preston Brown is going to be a star," said Ryan, who comes from a family known for making bold declarations.
If Preston Brown doesn't meet Ryan's expectations this year, at least the Bills have Zach Brown in the equation as a fallback option.
Moore, meanwhile, started in nine of 16 appearances with the Buccaneers last season and led their corners in defensive snap percentage (64.9) and pass breakups (six), and added three forced fumbles and a pick. He now has an opportunity to replace the departed Leodis McKelvin as the Bills' top corner option behind stalwarts Stephon Gilmore and Ronald Darby.
Hankerson, 27, could catch on in a Bills receiving corps that lacks starting-caliber targets aside from injured star Sammy Watkins – whose status for training camp is uncertain because of a minor foot fracture – and fourth-year man Robert Woods. Over 34 games dating back to 2012, Hankerson has amassed 94 catches on 150 targets, averaged 13.2 yards per reception and posted nine touchdowns. Those aren't great numbers – and it's important to note that both the Falcons and Patriots waived Hankerson last season – but they're enough to rank behind only Watkins, Woods and January reserve/futures signing Greg Little on Buffalo's roster. With Percy Harvin having retired and Chris Hogan having joined the Pats in free agency, the Bills will need someone to serve as a respectable complement to Watkins and Woods, and either Hankerson or Little might have the most realistic shot.
Continue reading about the Bills' offseason…
Notable losses:
Nigel Bradham, LB
Ron Brooks, CB
Alex Carrington, DL
Stefan Charles, DL
Anthony Dixon, RB: Released
MarQueis Gray, TE
Percy Harvin, WR: Retired
Chris Hogan, WR: Bills declined to match Patriots' offer sheet
Josh Johnson, QB
Leodis McKelvin, CB: Released
Ty Powell, LB
Tony Steward, LB: Waived
A.J. Tarpley, LB: Retired
Kraig Urbik, G: Released
Mario Williams, DE: Released
Jarius Wynn, DL: Released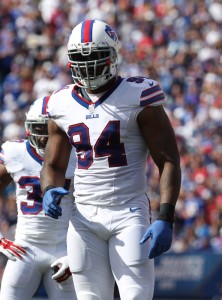 Thanks to both his subpar output in 2015 and his exorbitant cap number ($19.9MM), the release of four-time Pro Bowl defensive end Mario Williams was a foregone conclusion entering the offseason. Williams was a bust under head coach Rex Ryan and defensive coordinator Dennis Thurman – his sack total plummeted from 14.5 in 2014 to five, and he was largely invisible otherwise – and the 31-year-old was unafraid to voice his disenchantment with their scheme throughout the season. Still, Williams' sack production tied for the most on a defense that took down enemy quarterbacks just 21 times, the fewest in the AFC and the second-worst mark in the league.
Aside from Williams, the most noteworthy defenders to exit Western New York were linebacker Nigel Bradham and the aforementioned McKelvin.
Bradham finished second among Buffalo's linebackers in snaps last year, but he took a big step backward under Ryan and Thurman, making his decision to reunite with ex-Bills D-coordinator Jim Schwartz in Philadelphia unsurprising. Given Bradham's inability to fit into the Bills' defense in 2015, Ragland doesn't exactly have a tough act to follow.
As was the case with Williams, it was an easy call for the Bills to release McKelvin in favor of cap savings. The Bills drafted McKelvin 11th overall in 2008, but he never lived up to his first-round status with the club and, like Bradham, is now in Philadelphia. Whether someone – be it Moore, Nickell Robey or sixth-rounder Kevon Seymour – will capably take the reins as the Bills' third corner remains to be seen. Like Bradham, though, McKelvin's 2015 production shouldn't be overly difficult to replicate or improve upon.
As mentioned earlier, the Bills absorbed multiple blows at wideout with Harvin's retirement and Hogan's pay raise in New England. In his age-27 season, the injury-prone Harvin appeared in only five games, but he added 19 catches and accrued 30 targets. Although general manager Doug Whaley wanted to bring back Harvin, the physical toll of football led the once-electrifying playmaker to call it quits.
The loss of Hogan is a more serious issue for the Bills, whose cap problems prevented them from matching the front-loaded offer sheet the division-rival Patriots presented the 27-year-old. Hogan pulled in 77 receptions, 876 yards and six scores between 2014-15 and would have continued as the Bills' third-best option at wideout had they been able to match the three-year, $12MM deal the Pats gave him. He also pitched in on special teams for the Bills, ranking ninth on the team in snap percentage (39.1) last season.
Trades:
Acquired a 2016 second-round pick (No. 41) from the Bears in exchange for a 2016 second-round pick (No. 49), a 2016 fourth-round pick (No. 117), and a 2017 fourth-round pick.
Draft picks: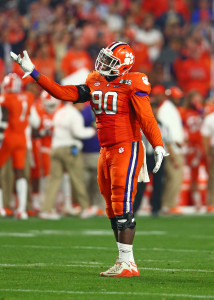 The Bills had one of the league's premier defenses in 2014, when they led the sport in sacks (54) and finished fourth in yards allowed and second in DVOA. As the pass rush disappeared last season, so did the Bills' defensive dominance. The unit's 31st overall ranking in sacks accompanied 19th- and 24th-place finishes in the other two categories.
After racking up 12.5 sacks at Clemson last season, first-round edge rusher Shaq Lawson – the 19th overall pick – figures to provide the Bills some much-needed pass-rushing prowess. It's unknown precisely when he'll be able to help, however, as Lawson had to undergo post-draft surgery after aggravating his balky right shoulder during rookie minicamp in early May. Lawson's shoulder troubles were known coming into the draft, but the Bills didn't expect him to require surgery until after his rookie season. The 22-year-old is now likely sidelined until sometime in October, thus costing him minicamp and OTAs, training camp, the preseason and a handful of regular-season games. That doesn't mean Lawson will prove to be a poor long-term investment, but it's fair to say his career is off to an inauspicious beginning. It's also fair to wonder just how much he'll contribute this year, which should worry a team whose pass rush was so woeful in 2015.
On the heels of grabbing Lawson, the Bills swapped second-rounders with the Bears and traded two other picks (a fourth- and seventh-rounder in 2017) to move up eight spots and select Ragland. It'll be quite costly, then, if Ragland doesn't pick up where he left off at Alabama, with which he was the SEC's top defender last season. Barring injury, Ragland's set to join Preston Brown and Manny Lawson as the Bills' most relied-on linebackers, perhaps giving Rex Ryan the David Harris-type LB his scheme was missing last year.
Buffalo continued the defensive theme in the third round, where it selected ex-Ohio State tackle Adolphus Washington 80th overall. With an enviable D-tackle duo in Marcell Dareus and Kyle Williams, the Bills aren't counting on Washington to play a huge role this year. That could change in 2017, however, as Williams will then be 34 and going into the final year of his contract. If the Bills release Williams after next season, they'll save $6.8MM in cap space and deal with only $1.5MM in dead money. For now, Washington is insurance behind him and Dareus.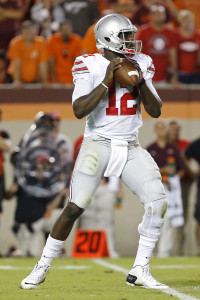 With their fourth-round choice, the Bills took another former Buckeye, quarterback Cardale Jones, who became one of college football's most famous names despite accruing a limited amount of playing time. Ohio State went 11-0 overall with Jones, whose crowing achievement under center was helping the Buckeyes to a national championship to cap off the 2014-15 season. However, Jones didn't keep the starting job for all of last season, and he only attempted 270 total passes in college. Prior to the draft, one pro offensive coordinator told NFL.com that the mobile 6-foot-5, 253-pounder has more physical tools than the Vikings' Teddy Bridgewater and the Raiders' Derek Carr, but he "can't touch their poise and leadership as young quarterbacks." Given the presences of Taylor and backup EJ Manuel, Jones is unlikely to see the field in any meaningful action this season. Taylor and Manuel are unsigned beyond then, though, so Jones has a chance to at least become the Bills' No. 2 QB by 2017.
Extensions and Restructures:
Other:
In order to avoid a lame-duck situation this year, the Bills elected in January to award Whaley an extension through 2019. That doesn't mean he'll hang on past 2016 if the team takes a step backward, however. Since the Bills promoted him to GM in 2013, Whaley has acquired the likes of Taylor, McCoy, Karlos Williams, Watkins, Charles Clay, Incognito, Jerry Hughes, Darby and Corey Graham, but his tenure isn't without warts. Cap management has been an issue, for one, as the questionable contracts given to McCoy and Clay have helped sap the Bills of financial breathing room. Despite Watkins' all-world talent, Whaley's bold gambit to trade up five spots for him in 2014 and surrender a first-rounder both that year and in 2015 hasn't gone over well – especially considering Odell Beckham was ultimately still on the board for the club's original choice. Still, thanks in part to Whaley's roster-building skills, the Bills have gone a passable 17-15 over the previous two seasons. Sadly enough, that's the franchise's most successful two-year stretch since 1999-2000.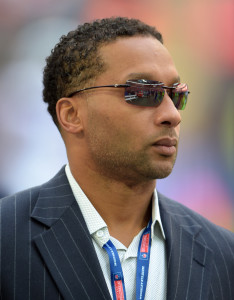 Whether Whaley remains in Buffalo beyond this year could rest largely on the arm and legs of Taylor, on whom the GM struck gold via free agency in March 2015. After signing a low-cost deal with Whaley's Bills, the ex-Ravens reserve ended up top seven among QBs in yards per attempt (7.99) and passer rating (99.4) in 2015. He also accounted for 24 touchdowns (20 passing, four rushing) against a meager six interceptions. Further, Taylor paced signal-callers in yards per carry (5.5) and trailed only MVP Cam Newton in rushing yards (568). Whether to extend the soon-to-be 27-year-old Taylor prior to the season or let him play the campaign without a new deal is the most crucial dilemma Whaley is currently facing.
In an effort to bolster his defensive coaching staff, Rex Ryan hired his equally entertaining brother in a prominent role. Rob Ryan was previously the defensive coordinator for the Saints, who fired him last November after he oversaw a unit that was allowing 424.7 yards per game at the time of his dismissal. Had the Saints kept up that pace, it would've been the second-worst all-time mark for a full season. Nevertheless, Rex Ryan spoke glowingly about his brother in May, and Rob Ryan showed off his family's signature confidence in vowing to take down the Patriots.
A few months after adding another Ryan to the payroll, the Bills made the no-brainer move to decline Manuel's $11MM-plus fifth-year option for 2017. Manuel, whom the Bills took 16th overall out of Florida State in 2013, has appeared in 22 games, logged 16 starts and tossed 19 TDs against 15 INTs. Thanks to an uninspiring rookie campaign and a lack of progress early in 2014, Manuel has mostly served as a backup – first to Kyle Orton and now to Taylor – and is probably going into his last year with the Bills.
Top 10 cap hits for 2016:
Aside from their rookie draft class, whose injured top pick will only make a somewhat limited impact this year, the Bills weren't able to land game-changing talent during the offseason. Thus, in order to end its seemingly interminable skid and return to the playoffs, Buffalo will need its offense to match or better last season's respectable showing and its defense to look something like its 2014 self. With Ragland as the defense's biggest healthy pickup, a return to the elite on that side of the ball looks like an especially tall order, though the ever-confident Ryans would certainly disagree.
Information from Over the Cap, Spotrac, and Roster Resource was used in the creation of this post. Photos courtesy of USA Today Sports Images.
Follow @PFRumors