The Redskins entered their second offseason under general manager Scot McCloughan, and while the club has shown an interest in developing a draft-based approach — as opposed to targeting high-priced free agents — Washington had to deal with the impending free agency of its franchise quarterback, and weigh a pursuit of a veteran defensive back who unexpectedly hit the open market.
Notable signings:
The Redskins didn't wade very deeply into the free agent waters, choosing to spend their money at lower end of the market. However, the club did make two exceptions to that strategy, and each was its own unique situation. The first was on offense, where Washington retained its quarterback — fifth-year pro Kirk Cousins — via the franchise tag after the two sides couldn't come to an agreement on a long-term deal.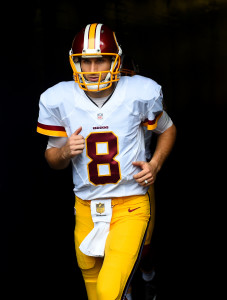 It's not surprising that that Cousins and the Redskins couldn't come to a middle ground on his value given that he only has one full season of starting experience (and only one half-season of exceptional play). Washington was reportedly offering an extension that contained $24MM in guarantees and a $16MM per year salary, but given that the franchise tag will pay Cousins nearly $20MM in 2016 alone, he had no reason to accept such a proposal.
Both the club and Cousins seem content with the idea of him playing out the year under the tag, and the issue will clearly be revisited next offseason. If the Redskins want to place the franchise tender on Cousins again in 2017, they'd have to be willing to pay him almost $24MM (120% the value of the 2016 tag). But the more likely scenario — if Cousins plays well once again — entails the two parties coming to terms on an extension.
While Cousins is only locked up for one season, Washington signed cornerback Josh Norman for the next five years, agreeing to a $75MM contract with the All Pro after the Panthers rescinded the franchise tag.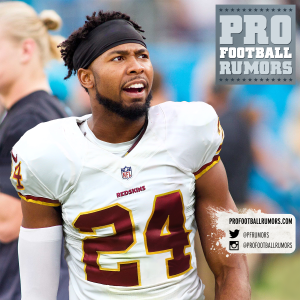 The deal contains $36.5MM in full guarantees, but nearly 60% of that total comes in the form of guaranteed 2016 and 2017 base salaries. As such, the Redskins could conceivably exit the deal after two seasons without much dead money being left on the cap.
If Norman continues his current level of play, of course, Washington won't have any reason to get out of the contract. Norman, 28, enjoyed a career-year in 2015 as he was named to the All Pro first team and selected for his first Pro Bowl. He produced career highs in both interceptions (four) and passes defensed (18), and was well-regarded by advanced metrics as well, finishing as the league's 12th-best corner by Pro Football Focus' grades.
Norman wasn't the only addition the Redskins made to their secondary, as the club also agreed to terms with former Broncos safety David Bruton. Nearly 30 years old, Bruton has never been a full-time starter during his NFL career,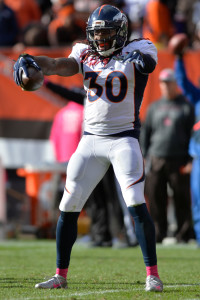 but he'll get that opportunity now opposite DeAngelo Hall. Denver played a bunch of three-safety looks last year, so Bruton did see action on more than 40% of snaps in 2015. Meanwhile, Will Blackmon, Greg Toler, and Duke Ihenacho will all vie for rotational snaps in the defensive backfield while adding value on special teams.
Washington also made several cheap signings along the front seven, and two of them — defensive lineman Ziggy Hood ($20K guaranteed) and Kedric Golston (no guaranteed money) — are listed as starters on the club's official depth chart that was released today. Along with fellow new addition Kendall Reyes and holdovers Ricky Jean-Francois and Anthony Lanier, the Redskins figure to rotate their defensive lineman quite a bit in order to keep everyone fresh.
Two re-signings that didn't make much sense were tight end Vernon Davis and linebacker Mason Foster. Davis, 32, has a familiarity with McCloughan from the pair's time in San Francisco, but the veteran tight end looked completely lost with both the 49ers and Broncos last season. Clearly, he won't be asked to be a No. 1 option with Jordan Reed in tow, but $1.1MM in guarantees is not an insignificant amount of money. Foster, meanwhile, wasn't very effective after being signed last September, and other free agent options such as Craig Robertson or Zach Brown could have been more cost-effective moves.
Continue reading about the Redskins' offseason…
Notable losses:
Tom Compton, T
Chris Culliver, CB: Released
Robert Griffin III: Released
Jason Hatcher, DL: Released, then retired
Adam Hayward, LB: Released
Jackson Jeffcoat, DE: Waived
Frank Kearse, DE
Alfred Morris, RB
Stephen Paea, DE: Released
Perry Riley, LB: Released
Andre Roberts, WR: Released
Keenan Robinson, LB
Alex Smith, TE
Pierre Thomas, RB
Cary Williams, CB
Darrel Young, FB
In terms of persona and public image, Robert Griffin III can be considered a "notable loss," but based solely on on-field impact, the former Offensive Rookie of the Year won't be missed, as he didn't play a single snap last season. Obviously, that was by design, as the Redskins didn't want to risk RG3's injury guaranteed 2016 salary to kick in. Griffin was never a great fit for head coach Jay Gruden's offensive system, and with Kirk Cousins now the lead dog in Washington, RG3 will try to restart his career in Cleveland.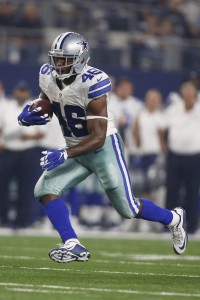 The Redskins also lost a couple key members from their backfield, as Alfred Morris defected to the division rival Cowboys while Pierre Thomas remains on the open market. Like RG3, Morris was never able to match his rookie season, when he rushed for more than 1,600 yards and 13 touchdowns. But as a back with limited ability in the passing game, Morris wasn't going to mesh with Gruden's offense. Thomas, meanwhile, is still a candidate to be re-signed if Washington doesn't want move forward with only Rob Kelley and Chris Thompson behind Matt Jones.
Most of Washington's losses came on the defensive side of the ball, as the club saw players leave at each level of the unit. Up front, Jason Hatcher retired, Terrance Knighton left via free agency (though he's now available once again after being cut by the Patriots), and Stephen Paea was released at final cutdowns. The 34-year-old Hatcher was probably the best of the bunch in 2015, as he started 14 games and graded as the No. 27 interior defender according to Pro Football Focus.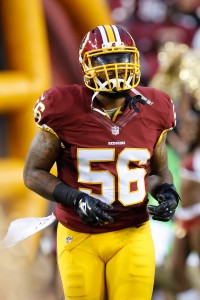 Linebacker Perry Riley was released at the same time as Paea, and Washington saved a considerable amount of money by moving on from him. Riley will leave a sizable void in the middle of the club's defense, however, as he'd started 63 games during his six-year tenure with the Redskins. Keenan Robinson, meanwhile, is also gone after playing more than half of Washington's snaps last season. He'll suit up for the division rival Giants in 2016.
In the back end, Washington parted ways with veteran safety Dashon Goldson, who played more than 90% of the club's defensive snaps but rated as one of the four worst safeties in the league, per PFF. He headed south to join the Falcons, whereas cornerback Chris Culliver — released earlier this year — signed on with the Dolphins. Culliver signed a four-year, $32MM contract with Washington in May 2015, ultimately playing out just one season of that deal. His $8MM guaranteed salary for 2016 was voided when the cornerback was suspended one game for a 2014 incident, and with Culliver coming off a torn ACL, the decision for the Redskins was simple.
Trades:
Acquired a 2016 first-round pick (No. 22) and a 2017 sixth-round pick from the Texans in exchange a 2016 first-round pick (No. 21).
Acquired a 2016 fifth-round pick (No. 152) and a 2017 fifth-round pick from Saints in exchange for a 2016 fourth-round pick (No. 120).
Acquired a 2017 fourth-round pick from the Jets in exchange for a 2016 fifth-round pick (No. 158).
Draft picks:
Josh Doctson was viewed by many observers as the best wide receiver available in this year's draft, but he ended up being the third pass-catcher to come off the board after Corey Coleman and Will Fuller. He's a bit older than your average rookie — he'll be 24 in December — but Doctson has a fan in scouting guru Dave-Te Thomas, who offered this analysis on Doctson earlier this year:
He lacks outstanding speed, but Doctson is a smooth route runner with the ability to stretch the field and separate, along with the natural hands needed to make the difficult catches. He displays above average balance and crisp change of direction agility to gain valid yardage after the catch and has the ability to extend while tip-toeing along the sidelines for the soft pluck. He does a good job of gaining separation off the snap due to his initial quick step. The thing you see on the field is his natural feel for making adjustments on the move, displaying good fakes and a bit of con in him to set up defensive backs in attempts to get open.
Doctson is unlikely to be a starter immediately as he deals with an injury and plays behind DeSean Jackson, Pierre Garcon, and Jamison Crowder, and Washington's mid-round picks don't project to play early in their rookie seasons, either. Second-rounder Su'a Cravens is expected to be used in a hybrid linebacker/safety role (think Deone Bucannon), while third-rounder Kendall Fuller will be a reserve corner.
Cutting a fifth-round pick isn't the end of the world, but it's a little surprising that Matt Ioannidis wasn't able to force his way into a defensive line group that is rather thin. Instead, he'll start his rookie year on the practice squad after clearing waivers. Nate Sudfeld will be the Redskins' third quarterback behind Kirk Cousins and Colt McCoy, while Steven Daniels and Keith Marshall will spend their rookie seasons on injured reserve.
Extensions and Restructures:
After agreeing to an extension that will keep him in the nation's capital through 2021, Jordan Reed is now the third-highest paid tight end in terms of annual salary, trailing only Jimmy Graham and (barely) Travis Kelce. The Redskins gave Reed a $9MM signing bonus, and as they often do, guaranteed his first two years of base salary. Reed was also able to secure $22MM in injury guarantees, an important concession given his history of health concerns.
After being limited to just 20 overall games in 2013 and 2014, Reed stayed healthy for 14 games last season, racking up 87 receptions for 952 yards and 11 touchdowns. In spite of Reed's injury history, he always seemed destined for a lucrative long-term extension, with Travis Kelce and Zach Ertz having already signed new mega-deals this offseason — neither of those tight ends matched the impressive numbers that the Washington pass-catcher put up in 2015.
Reed had been preparing to enter the final year of his rookie contract, and would have earned a base salary of $1.661MM in 2016 under the terms of his old deal. Extending him this offseason allowed Washington to apply some of the new money in the extension to the 2016 cap, increasing Reed's previous $1.808MM cap charge, in addition to allowing the tight end to get paid a year early.
Other:
Junior Galette just can't catch a break — after tearing his Achilles last August and missing what was supposed to be his first season with the Redskins, he suffered another Achilles injury earlier this year and will miss 2016 as well. If healthy, Galette can be a force rushing from the edge, but his recent ailments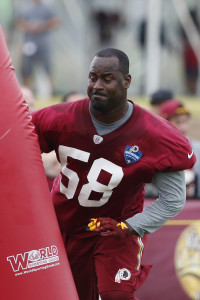 are going to severely limit his market next spring. His contract didn't contain any guaranteed money, and it's unclear if he'll earn his entire $1.6MM salary/roster bonus given that he's on injured reserve.
Offensive lineman Bryan Stork, meanwhile, also saw his offseason severely affected by injury concerns. The Patriots were reportedly set to waive the 25-year-old center when the Redskins swooped in and offered a conditional seventh-round draft pick. After being dealt, Stork apparently considered retirement before opting to give it a go with Washington. However, Stork failed his physical with the Redskins and the trade was rescinded, and Stork has since been waived by New England.
All those failed machinations show that the Redskins are clearly looking to upgrade the center position. They forced incumbent Kory Lichtensteiger to take a pay cut, and though it's not ideal to change up an offensive line during a season, it's always possible the club signs a free agent later this year. Backup guard Spencer Long has also been taking snaps at center, so he'd likely be the next man up if Lichtensteiger struggles.
Top 10 cap hits for 2016:
The Kirk Cousins negotiations took up most of the Redskins' offseason, but the club was able to add a decent amount of defensive depth while also bringing in a star in Josh Norman. The production of those two players will likely determine whether Washington's offseason is considered a failure or a success, but the Redskins are working on building a complete roster. With Tony Romo sidelined in Dallas, the Eagles undergoing a rebuild, and the Giants engaged in a yearly battle with mediocrity, the Redskins can probably be considered the favorites in the NFC East.
Information from Over the Cap, Spotrac, and Roster Resource was used in the creation of this post. Photos courtesy of USA Today Sports Images.
Follow @PFRumors