A brutal stretch to close last season doubled as one of the worst in the Giants' 100-plus-year history. It turned Joe Judge from a coach likely to see a third season — after the franchise had canned its past two HCs (Ben McAdoo and Pat Shurmur) during or after their second years — to a pink-slip recipient. The conclusion of the team's 4-13 season — its fifth straight campaign with double-digit losses — brought in a new regime responsible for reversing a longer run of struggles.
Joe Schoen and Brian Daboll, who helped the Bills morph from a team that missed 17 consecutive playoff brackets to a perennial Super Bowl contender, are now in charge of the Giants' rebuild. Their offseason did not involve splashy free agency work, and cost-cutting measures ensued. But the team did identify cornerstone talent with a rare draft opportunity. Still, big questions exist ahead of the franchise's latest relaunch effort.
Notable signings:
Injuries wrecked Judge's offensive line plan last season. By Week 1 of this year, as many as four new starters could be present up front. Glowinski and Feliciano are ticketed to be two of those. Coming off a successful tenure as the right guard for one of the NFL's top O-lines, Glowinski will attempt to keep going into his 30s after his Colts work led to a midlevel free agency accord. Pro Football Focus graded Glowinski as a top-25 guard last season.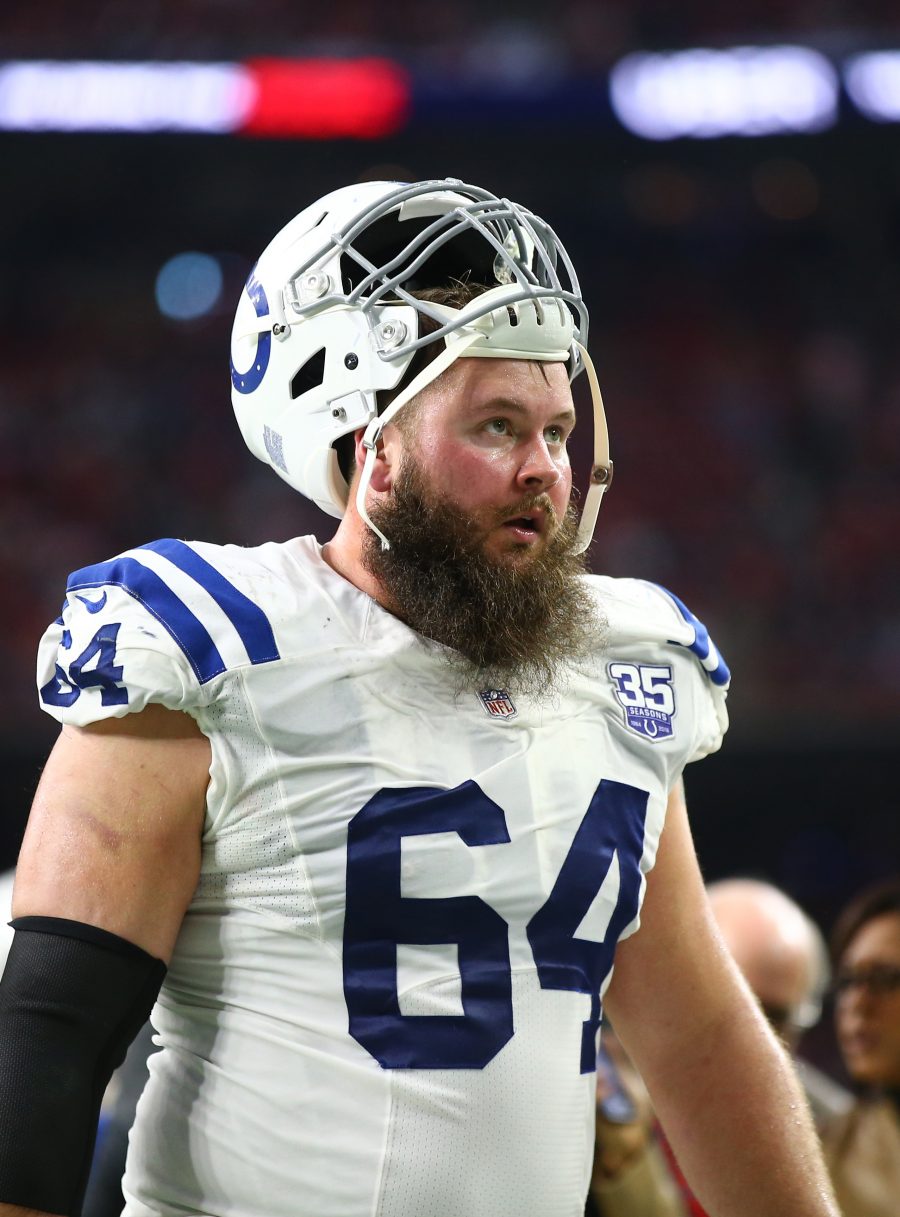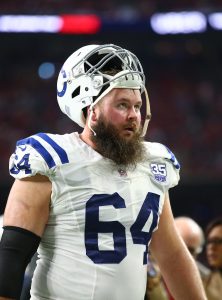 Despite the former Seahawks fourth-rounder only missing one game over the past three years and playing a key role in Jonathan Taylor's runaway 2021 rushing title, the 30-year-old blocker was unable to generate a big market. Quenton Nelson's former sidekick, however, should still have a couple of quality years left. Any sort of interior stability will be a change for the Giants, who have dealt with extensive injuries and underperformance inside since their Super Bowl-era O-lines splintered.
Feliciano, also 30, comes as a street free agent and clear stopgap measure. The Giants entered the offseason with so many needs it was impossible to allocate appropriate resources to filling each — especially considering the cap issues Schoen and Co. inherited. An ex-fourth-rounder like Glowinski, Feliciano has battled injuries in each of the past two seasons (15 absences in that span). But he did start 16 games for the 2019 Bills, establishing himself as a capable first-stringer after spending four years as a Raiders backup. Center could be an area Big Blue tries harder to address in 2023, but for now, Feliciano will be the team's pivot.
Taylor is an upgrade over Mike Glennon, having been a Week 1 starter in six of the past seven seasons. Two of those years saw Taylor quickly replaced, and last season finished with Davis Mills usurping the veteran signal-caller in Houston. But Taylor has a much better resume than previous Jones backups Glennon or Colt McCoy. Given Jones' injury history and ties to a previous regime, Taylor getting extended run this season should not be ruled out. Though, Taylor seeing the field often will both signal another plan gone awry and mark a precursor to a big QB swing in 2023.
It is interesting Schoen sought the ex-Buffalo starter, considering the current Bills regime ditched Taylor after one season — a 2017 slate that included a strange one-game benching for Nathan Peterman. But Taylor, set to play for a sixth NFL team at 33, is the only Giants passer signed beyond 2022.
Notable losses:
Devontae Booker, RB; released
James Bradberry, CB; released
Lorenzo Carter, OLB
Riley Dixon, P; released
Evan Engram, TE
Mike Glennon, QB
Austin Johnson, DT
Billy Price, C
Kyle Rudolph, TE
Logan Ryan, S; released
Nate Solder, T
Stature-wise, the Giants' departures were far more notable than their additions. No place felt the cost-cutting effects more than the secondary, which lost its two most experienced players. Given a three-year, $45MM deal in 2020, Bradberry played well in his first Giants slate and worked as the team's No. 1 cornerback during both his New York seasons. The Giants spent several weeks dangling the Gettleman-era pickup in trades and had a deal in place with the Texans, who nixed it because they sought a Bradberry extension as part of the swap. Bradberry's eventual release and Eagles arrival creates one of the NFL's thinnest position groups.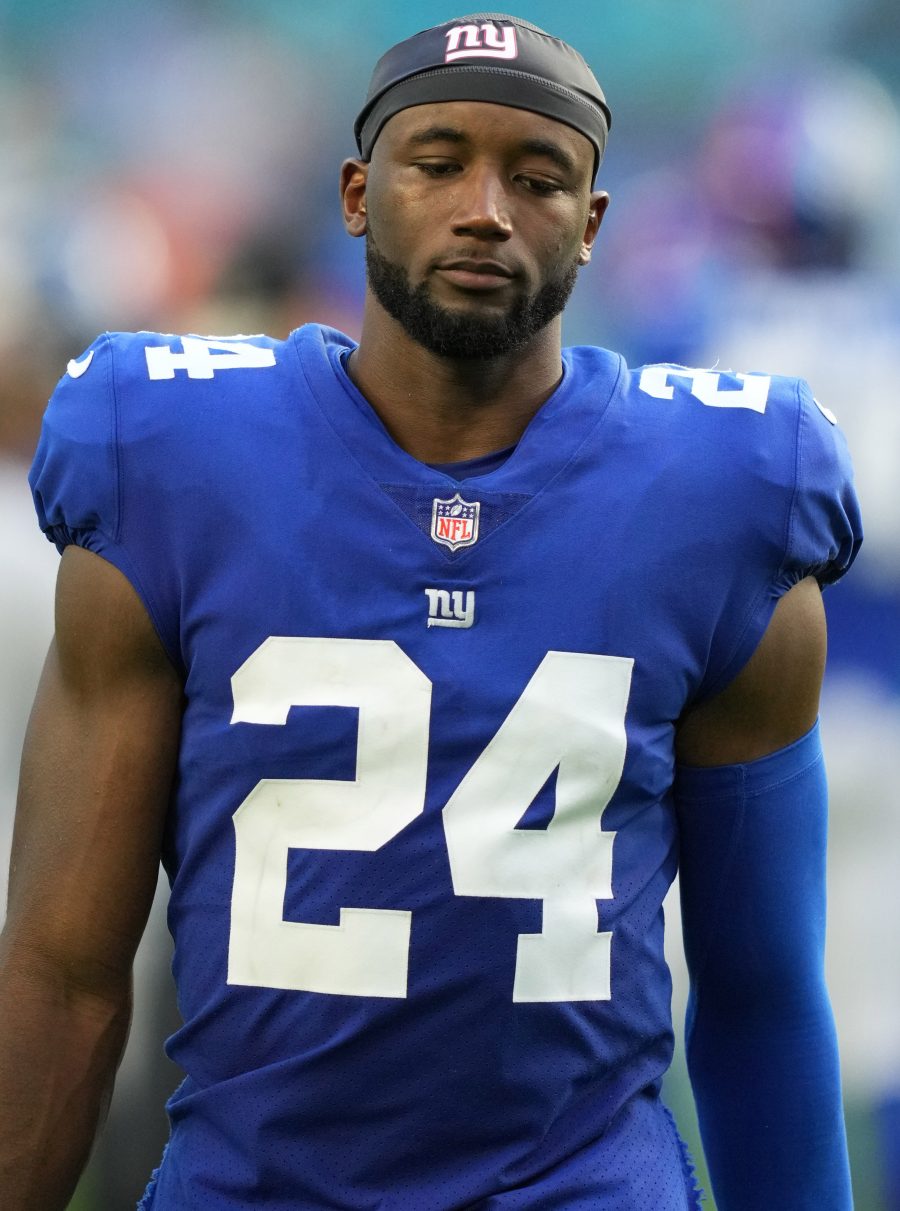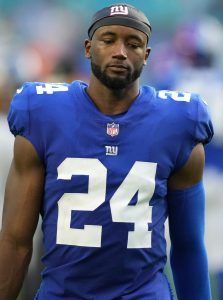 Adoree' Jackson is a former first-round pick, whom PFF tabbed as a top-20 corner last season. The sixth-year cover man has still missed 17 games over the past two seasons and has never been asked to be a No. 1-type stopper as a pro. Beyond Jackson, the Giants have next to no experience on the outside. Aaron Robinson, a 2021 third-round pick, is the favorite to replace Bradberry. He played 268 snaps during a rookie season that featured an eight-game absence. New York's slot outlook, featuring Darnay Holmes and third-round rookie Cor'Dale Flott, appears better. But Bradberry's exit could be quite noticeable this season.
The deeper safety contingent the Giants used to start last year dissipated after Peppers' early-season injury, but losing Peppers (now with the Patriots) and Ryan (Buccaneers) creates a void on the team's back line as well. Ryan signed two Giants contracts in 2020, a late-summer free agency accord and a three-year extension worth $31MM on Christmas, and his March release did not save the Giants much. The team did get out of paying a $3MM roster bonus, but its safety corps looks similar to its corner array. Xavier McKinney, though, is a nice place to start. There is not much around him.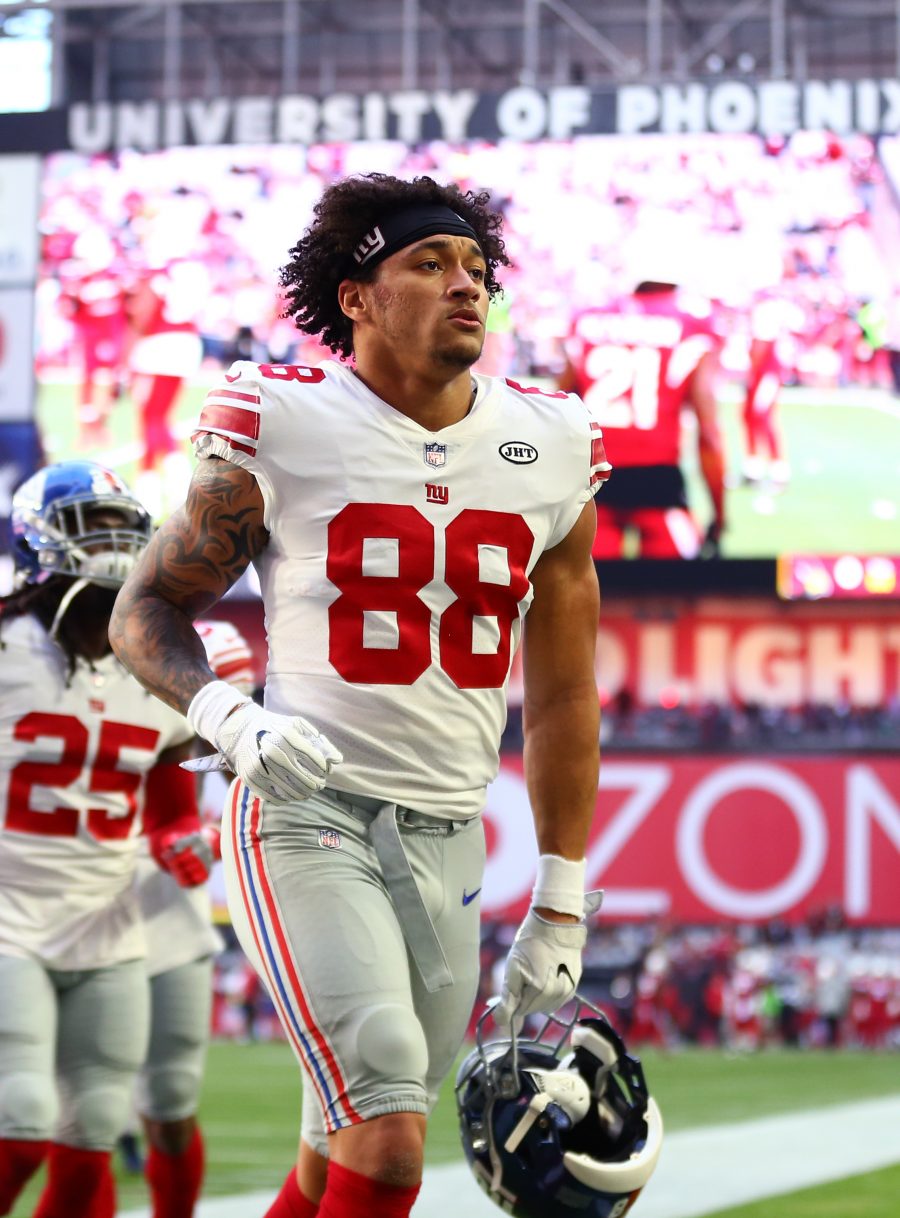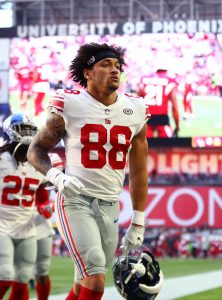 At least positional anchors exist at those secondary spots. Engram's Jacksonville move leaves little at the tight end position. Injuries and inconsistency plagued Engram throughout his five-year Giants run, though there were moments (a 722-yard rookie season, a somewhat surprising 2020 Pro Bowl nod). This was not exactly the best time to be a Giants skill-position player. Eli Manning's decline, Daniel Jones' struggles, a run of play-callers — a list bottoming out with the team's Jason Garrett–Freddie Kitchens 2021 setup — and generally bad O-line play hamstrung the Giants' chain-movers. The Giants gave Akins and Seals-Jones league-minimum deals. The ex-Texans starter (two 400-plus-yard years) at this price could represent value, but cost aside, Engram-to-Akins (or Engram-to-whatever tight end starts) will bring a major talent downgrade in a crucial year for Jones. Tight end is certainly a long-term need.
Solder's then-record tackle contract (four years, $62MM) in 2018 came a time when the team was desperate for an O-line cornerstone. That contract did well to ensure Gettleman's front-five rebuild would never take flight. Similar to many Bill Belichick cogs who have departed for big money elsewhere, Solder did not fare well away from New England. The 6-foot-8 blocker was durable for the Giants, minus his 2020 opt-out decision, but never came close to living up to the lucrative deal.
The Glennon-over-McCoy decision may well have gotten Judge fired, with the HC's dismissal being unexpected as late as January. The Giants oddly opted to move from McCoy to Glennon after 2020, despite the former helping them to an upset win in Seattle and being interested in staying. As McCoy capably replaced Kyler Murray last season, Jones going down with a more serious injury summoned Glennon. The 6-foot-7 passer completed less than 54% of his passes, finished with a 4-to-10 TD-INT ratio and lost all four of his starts. The Giants benched Glennon, bringing in Jake Fromm, who was at the controls for the two infamous quarterback sneaks from inside the Giants' 5-yard line. That led to John Mara labeling the 2021 season's conclusion the most embarrassing point in his ownership run.
Draft picks:
In the common draft era (1967-present), only 20 teams have made two top-10 picks in a single draft. The Giants used their opportunity, one provided by the previous regime's trade-down that gave the Bears Justin Fields, to tab two point-of-attack linchpins. The Gettleman-era Giants strangely did not pour many resources into its edge rusher spots, trading Jason Pierre-Paul and Olivier Vernon in consecutive offseasons. Schoen signaled a shift to a more conventional philosophy at this position by making Thibodeaux being his first draftee.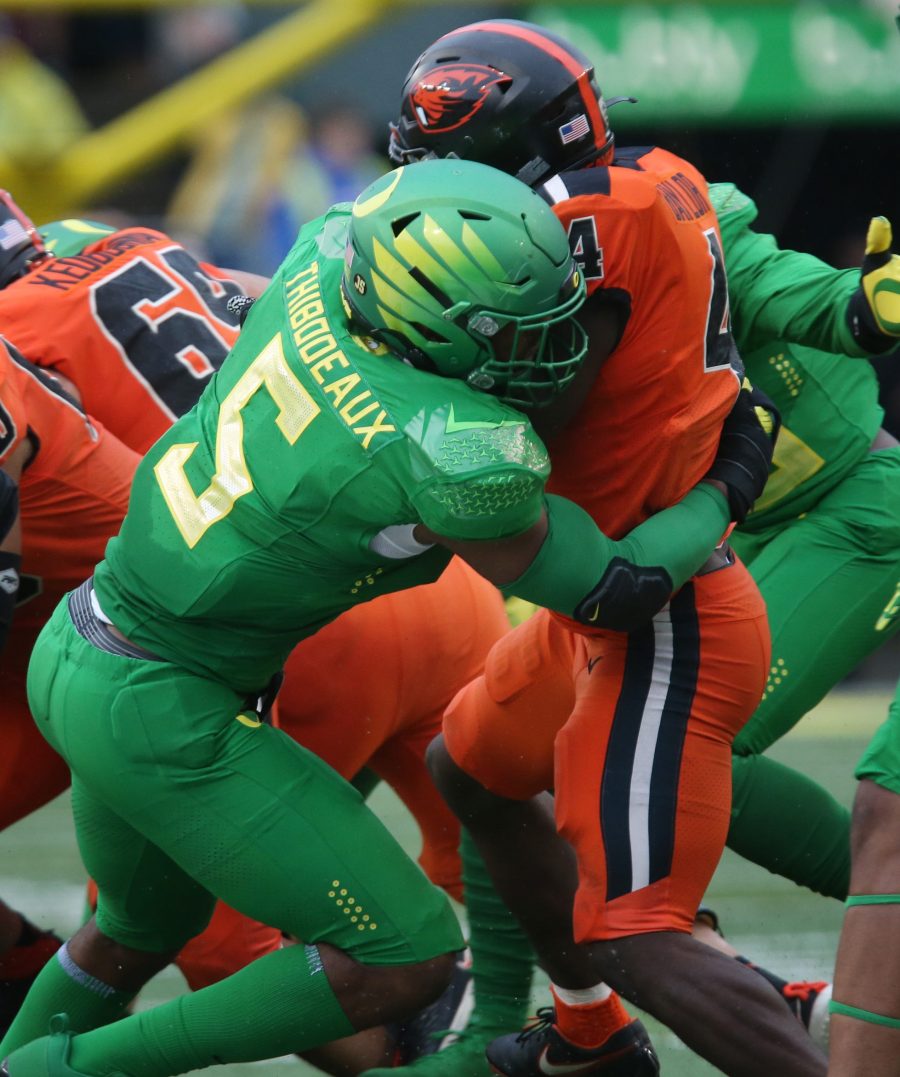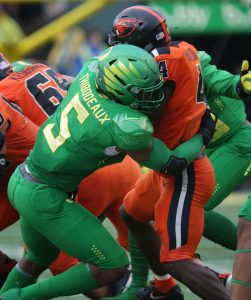 Although this prevented the Giants from having their choice of this draft's tackle crop, with the Panthers taking Ikem Ekwonu at No. 6, Thibodeaux is a badly needed outside linebacker reinforcement. Thibodeaux finished his junior year at Oregon viewed by many as the draft's top player, but pre-draft scrutiny related to his effort and attitude dropped the 6-5 edge to the No. 5 slot. Thibodeaux, who combined for 16 sacks in the Ducks' two non-pandemic-altered seasons, will join 2021 second-round pick Azeez Ojulari as the Giants' starters outside. DC Don Martindale said Thibodeaux was the top edge player on the team's board, and although this is common post-draft language, the team is planning to use the ex-Pac-12 star as an inside rusher as well.
Passing on Ekwonu for Thibodeaux, it still looked like the Giants would nab Charles Cross, the player to whom they had been most closely linked during the draft run-up. Revealing something of a smokescreen effort, Big Blue picked Neal, a player rated above Cross almost everywhere. The Giants have struggled to staff their right tackle spot dating all the way back to Kareem McKenzie's Super Bowl-years stint ending in 2012. Various investments have been unable to stick at that post. Arriving two years after Andrew Thomas went fourth overall, Neal will give the Giants two top-10 picks at tackle and a potential long-term tandem.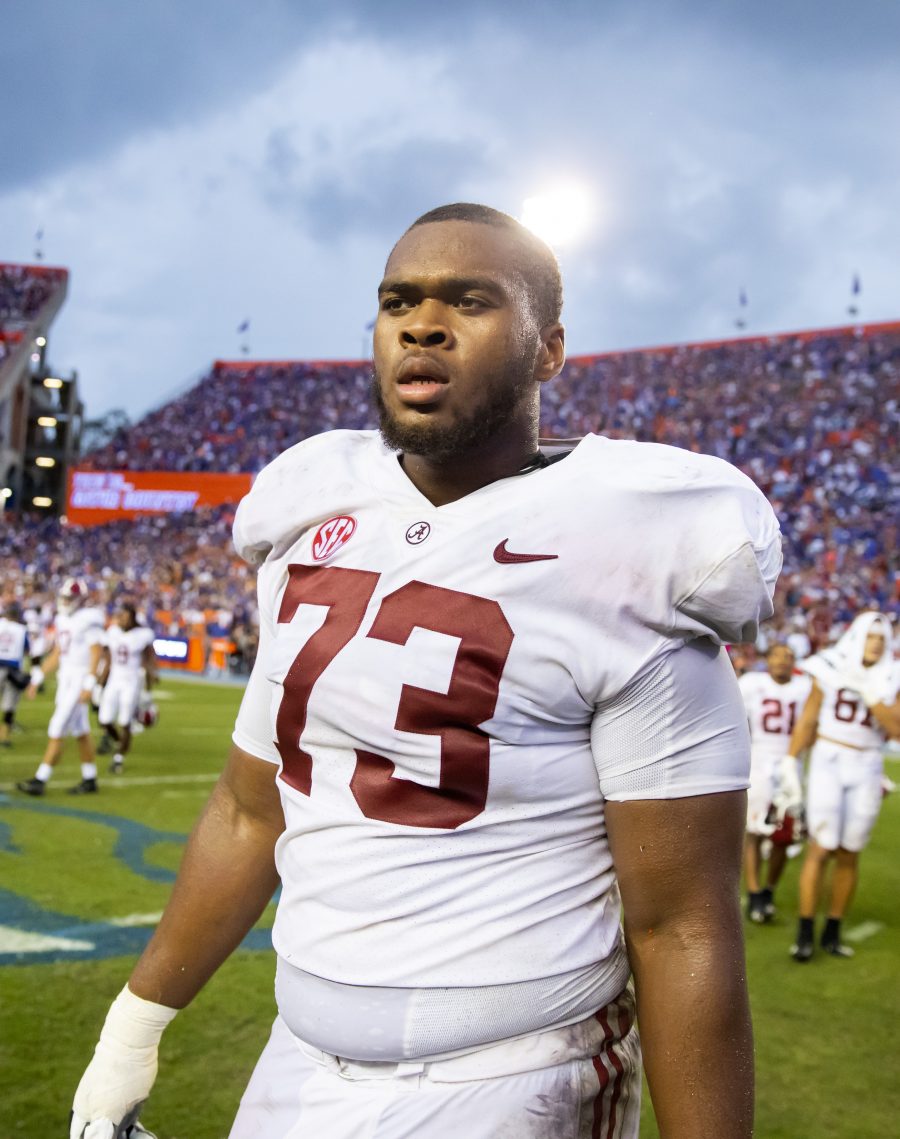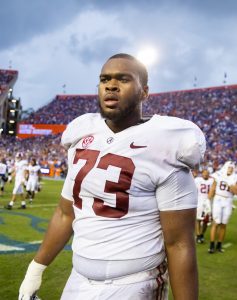 Robinson put together a prolific junior season, catching 104 passes for 1,334 yards. That pick overloads the Giants with slot receivers, with Sterling Shepard and Kadarius Toney on track to return. With Kenny Golladay and Darius Slayton still on the roster, the Giants' receiver situation could be dubbed a surplus. It could also be labeled a gaggle of unreliable performers.
Then again, New York wideouts have not exactly been positioned to succeed during the 2020s. The team ranked 31st in both scoring and total offense in each of the past two seasons. As the lone member of this quintet acquired by the current regime, Robinson will be the safest bet to be part of the 2023 Giants. Thus far, it looks like Slayton (two 700-plus-yard seasons) has the best odds of being traded this year. That said, the former fifth-round pick could be an insurance option for a Giants team that has a few contributors coming off injuries.
If Ezeudu can overtake incumbent Shane Lemieux, who is also returning from a severe injury, the Giants would have four new O-line starters. Even if Lemieux wins the preseason position battle, Ezeudu being acquired by the Schoen-Daboll duo points to a chance at an extended starter look at some point. The Giants lost both Lemieux and center Nick Gates to season-ending injuries early, and Gettleman-era draftee Will Hernandez is now in Arizona.
Extensions and restructures:
Injuries have continued to dog Shepard, who is now finishing off Achilles rehab. The longest-tenured Giant is the team's lone holdover from the Jerry Reese regime. The former second-round pick has been productive in spurts and accepted a pay cut to stay in New York. Shepard, 29, is now attached to a $1.5MM base salary. The void year used to take a season off Shepard's contract would tag the Giants with more than $4MM in dead money if the seventh-year wideout is not extended before the 2023 league year starts.
The Giants also used an injury to coax a pay cut from another starter, with Martinez accepting a slash rather than hit free agency coming off an ACL tear. Putting together four consecutive 140-plus-tackle seasons, including his 2020 Giants debut, Martinez is a key chip for a retooling Giants defense. The productive off-ball linebacker joins Shepard in a contract year.
Other:
Schoen's work as Brandon Beane's right-hand man in Buffalo, assisting on one of the more impressive rebuilds in recent NFL annals, made him an obvious GM candidate. The former Dolphins exec who spent five years with the Bills comes in as the first outside GM hire for the Giants since Hall of Famer George Young in the late 1970s, separating this addition from the likes of Gettleman (who worked in New York extensively prior to his Carolina GM stint), Reese and Ernie Accorsi.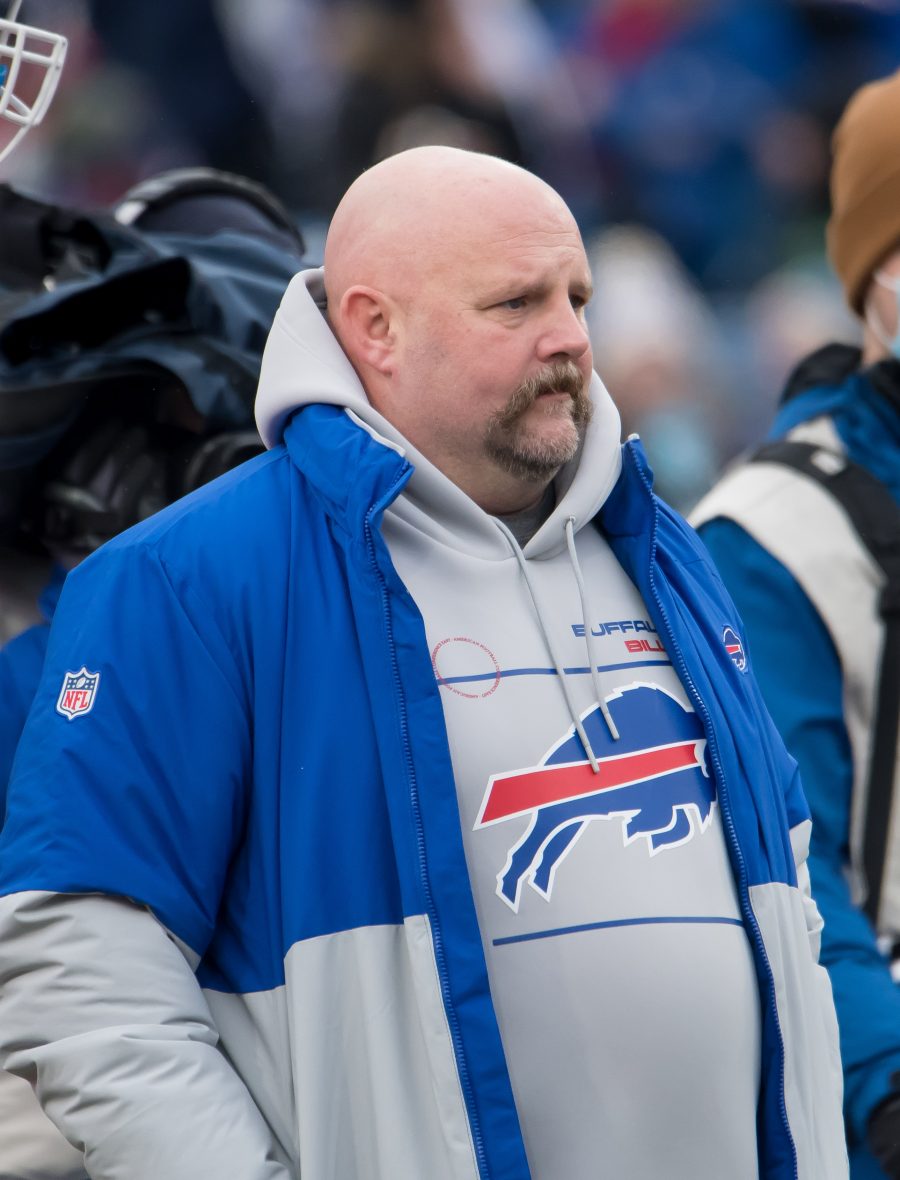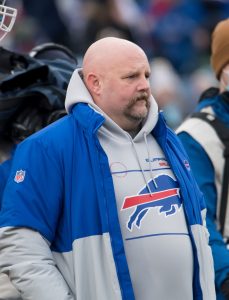 The Giants have gone a ghastly 22-59 over the past five seasons, with both Reese and Gettleman's efforts bottoming out. Schoen will attempt to reach a Reese-level peak, but unlike when Reese succeeded Accorsi in 2007, championship-caliber pieces do not appear in place. This promises to be a lengthier climb.
A five-year Bills exec, Schoen sought familiarity. Big Blue's HC hire came down to Daboll and Bills DC Leslie Frazier. The latter had head-coaching experience, but this is new ground for Daboll, whose pre-Buffalo time as an NFL play-caller did not go well. Daboll, 47, was OC for the Browns, Dolphins and Chiefs from 2009-12. Kansas City's 2012 team infamously ranked last offensively, in a 2-14 season, ahead of Andy Reid reviving the team in 2013. Following that stretch, Daboll worked alongside Judge for four seasons in New England as a tight ends coach.
Josh Allen's metamorphosis from a raw talent with accuracy issues into a fully honed superstar thrust Daboll onto the HC radar. Daboll's arrival should mean Jones will be better positioned to succeed, though the heavily scrutinized Gettleman pick has been trending downward.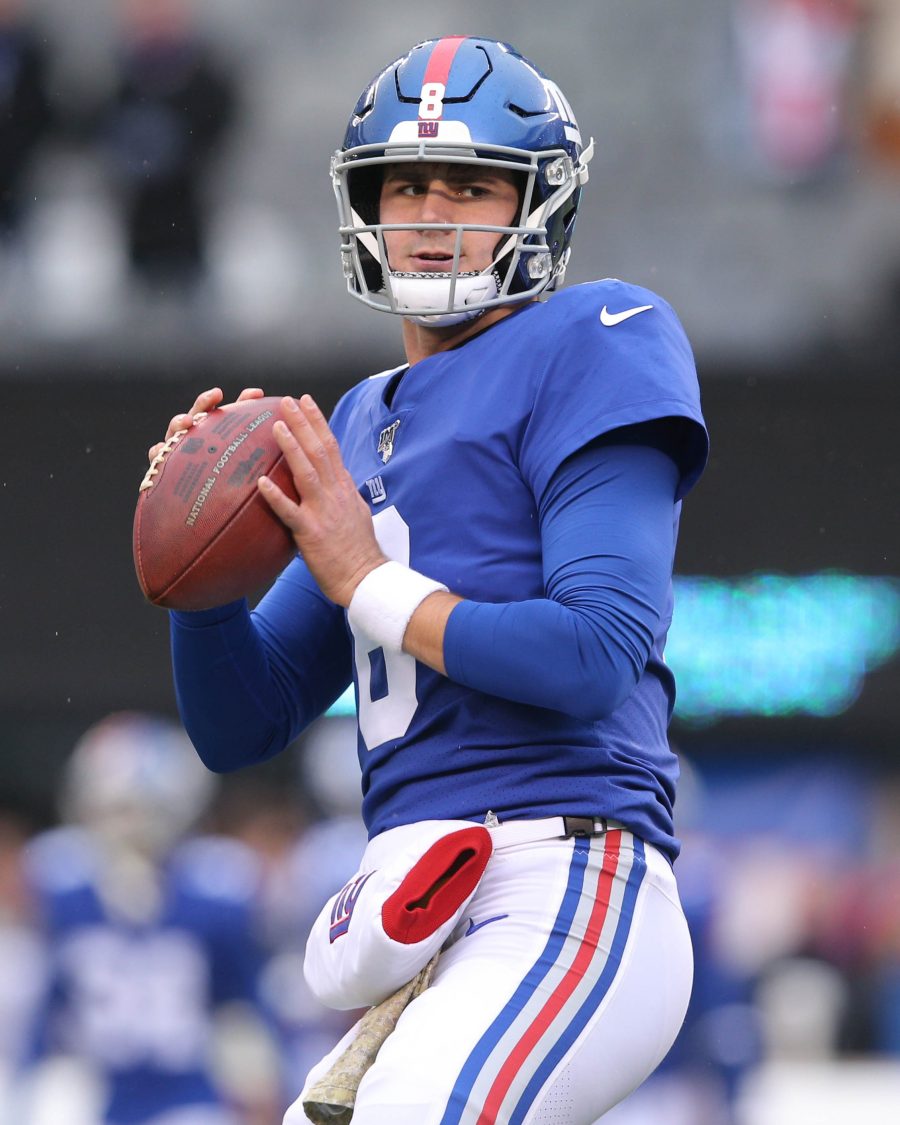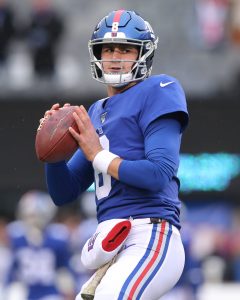 Jones threw 24 touchdown passes in 2019 — fifth-most by a rookie in NFL history — despite Manning making three starts that year. He combined for 21 TD throws over the past two years and cratered with a career-worst 41.5 QBR figure last season. This and Jones' 2021 injury made the Schoen-Daboll duo passing on a $22.4MM option unsurprising. Contract years often change careers, and Jones will have a better O-line and skill-position corps compared to his 2020 and '21 groups. If Daboll proves a gargantuan step up from Garrett, then the Giants' long-term QB plans may become Jones-centric again.
In 2020, the Giants deployed a strong quartet of interior defensive linemen. Two of those cogs — Dalvin Tomlinson and B.J. Hill — are gone, with Tomlinson signing with the Vikings and the Bengals pilfering Hill for Price (currently an unsigned UFA) in an August trade. The team gave Leonard Williams a monster extension, after two franchise tags, and now has Lawrence signed through 2023 (via a $13.25MM option). The most effective producer from 2019's Odell Beckham Jr. trade, Lawrence can be kept on his rookie deal throughout Williams' through-2023 extension. The new Giants regime can effectively determine how to organize their D-line payments next year.
The Giants interviewed Martindale, 59, for Judge's job two years ago but will get the veteran DC on the rebound. The Ravens did not retain their four-year defensive play-caller, but prior to last season's heavily injury-influenced descent, Baltimore sported a top-10 defense in each of Martindale's previous three seasons. It will be interesting to see how Martindale's blitz-heavy tendencies play in New York, considering the issues in the secondary.
Kafka, 34, will rise from the Chiefs' No. 3 offensive coach to Daboll's top lieutenant. Kafka rose to the position coach level in 2018, when Patrick Mahomes changed the Chiefs' trajectory. While Kafka profiles as a future HC candidate, his lack of a play-calling role should keep him with the Giants for a multiple seasons. More importantly, the Giants securing a commitment from Daboll will ensure they do not lose their play-caller to another team during this HC tenure.
Top 10 cap charges for 2022:
Giving Judge, Shurmur and McAdoo two or fewer seasons, the Giants are likely to keep Daboll into the mid-2020s, at least. The team held off on trading Barkley, giving the former superstar-tracked back an interesting opportunity to revive his career. This will be Barkley's age-25 season, and although injuries have defined his past three years, the former No. 2 overall pick still represents the type of weapon Daboll did not have in Buffalo.
Schoen wading through troubled cap waters point to 2023 as a better gauge of where this operation is headed. For now, the Giants have assembled a more intriguing roster than they featured in recent years. It will be interesting to see how prior-regime cornerstones like Jones and Barkley fare as inherited Daboll centerpieces.
Follow @PFRumors