With the Falcons' front office focusing its efforts on star wide receiver Julio Jones at the moment, it stands to reason that contract negotiations for other key players would take a temporary backseat. But once the Jones situation is resolved, Atlanta could turn its attention to an extension for tight end Austin Hooper, who became a reliable target for Matt Ryan in 2018 en route to his first Pro Bowl bid.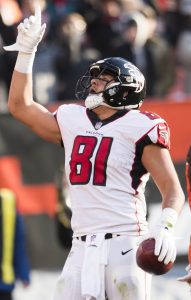 Now that Hooper has completed his third year in the league, he is eligible for a new contract. And since the Stanford product was a third-round selection, he cannot be kept under club control via the fifth-year option, so he will become an unrestricted free agent next year if he and the Falcons do not agree to an extension before then.
The market for tight ends has not taken off in the same way that the markets for edge rushers and quarterbacks have, so it would behoove the Falcons to commit a relatively small percentage of their cap space to a rising player who could be a fixture on the offense for years to come. Two of the best tight ends in the league, Travis Kelce and Zach Ertz, are making less than $10MM per season, and even Rob Gronkowski was unable to crack the eight-figure barrier before his retirement. The Bears gave Trey Burton a four-year, $32MM pact last offseason based largely on Burton's upside rather than his production to that point in his career, so it may take a little more than that for the Falcons to keep Hooper. Given the ever-rising salary cap, though, that does not seem like too steep of a price to pay.
Hooper lasted until the third round of the 2016 draft due to concerns about his hands and route-running, but he has largely quieted those concerns over his first three years in the league. And while his receiving ability is going to be what gets him the payday he's seeking, he was an above-average performer in terms of run-blocking and pass-blocking last year, per Pro Football Focus' metrics.
Advanced analytics from PFF and Football Outsiders still peg Hooper as more of a solid player than an elite one, but his trajectory is quite promising just the same, and when a club extends a player, it often makes sense to pay for trajectory rather than past performance.
In 2018, Hooper caught 71 passes — on 88 targets, for a league-best 81% catch rate — for 660 yards and four touchdowns. He may never become the threat that Kelce and Ertz are, but the Falcons don't necessarily need that. They need a dependable outlet for Ryan who catches passes that are thrown his way, who can create mismatches over the middle of the field, and who can make defenses pay for focusing their attention on other players (like Jones).
Hooper represents all of those things, and he should only get better. A five-year, $42.5MM pact with $20MM or so in guarantees seems to make sense for both sides.
Photo courtesy of USA Today Sports Images.