Back in October, there were rumblings that Bilal Powell's neck injury could threaten his career. Fortunately, it sounds like the veteran running back is on the road to recovery. NFL.com's Ian Rapoport reports (via Twitter) that the free agent back has been fully cleared from his neck injury and is "really looking forward to getting back to work."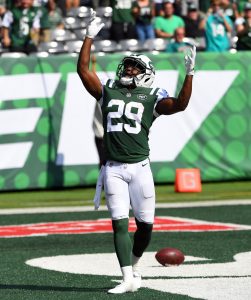 Powell suffered the injury during a mid-October contest agains the Vikings, and that may have ultimately marked the end of the running back's tenure with the Jets. A fourth-round pick back in 2011, Powell just completed his three-year, $11.25MM deal, making him a free agent. While he had been a staple of the Jets' backfield for years, it's possible that the Jets are content rolling into next season with Elijah McGuire and Ty Montgomery serving as Le'Veon Bell's backups.
Powell's never established himself as a household name, but he's been consistent through his eight-year career. Powell has rushed for an average of 4.4 yards per carry, and he's emerged as one of the more capable pass-catchers out of the backfield. In 2016, he caught a career-high 58 passes for 388 yards and two receiving scores.
Powell ultimately finished the 2018 season having run for 343 yards on 80 carries. He also hauled in 11 catches for 110 yards.
Photo courtesy of USA Today Sports Images.