Coming off their best performance of the season, the Broncos are unlikely to have their play-caller for Week 10's follow-up effort. Pat Shurmur is in the team's COVID-19 protocols, according to Tom Pelissero of NFL.com (on Twitter).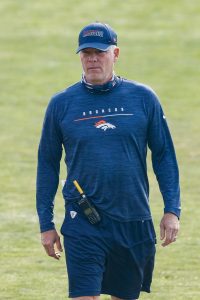 Denver's offensive coordinator for the past two seasons, Shurmur is not expected to be with the team when it faces the Eagles on Sunday. This opens a clear play-calling void for the Broncos, who have won two straight to reach 5-4. Shurmur tested positive for COVID-19, Vic Fangio said Friday.
Shurmur's former lieutenant with the Giants, Mike Shula, looms as a clear prospect to call plays. Shula has been the Broncos' quarterbacks coach for the past two seasons. While Shula served as Shurmur's OC with the Giants from 2018-19, he spent the previous five seasons calling the Panthers' plays as their OC. With that stint including Carolina's 15-1 season, Shula certainly makes sense as an emergency play-caller here.
Shula will relay plays to Teddy Bridgewater, per Fangio (via 9News' Mike Klis, on Twitter). It should then be expected the former OC will call plays Sunday, though Fangio said Friday he is not certain who will do so.
The Broncos also have former head coach Mike Munchak as their offensive line coach and ex-OC Curtis Modkins coaching running backs, giving the team other options for Sunday. The Broncos certainly will not be the first to go into a game without their play-caller due to COVID, with the Browns and Cardinals having also done so since the pandemic began.
Denver has run into a few coronavirus issues recently, one of which sidelining Noah Fant for last week's game in Dallas. Fant and guard Netane Muti are off the team's COVID list, though linebacker Justin Strnad, offensive lineman Austin Schlottmann and IR-stationed cornerback Michael Ojemudia were placed on the list this week. Drew Lock also tested positive in Dallas and flew back to Denver separately Sunday.
Photo courtesy of USA Today Sports Images.