For the first time since 2016, Derek Anderson will start an NFL game. On Wednesday, Bills coach Sean McDermott announced that the veteran quarterback will get the nod over Nathan Peterman when the Bills face the Colts on Sunday.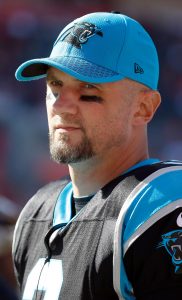 Starter Josh Allen is out with an elbow injury, but he will not require major surgery and is considered week-to-week. The Bills turned to Peterman after Allen went down against the Texans, but he did not inspire confidence after yet another spotty performance. The Bills were quietly excited about the 2017 fifth-round pick last year, but they have little incentive to start him now.
Peterman has now occupied every possible spot on the Bills' QB depth chart this season. The Pittsburgh product was set to be the club's No. 2 QB behind A.J. McCarron and ahead of Allen, but September's surprising trade propelled him to the top job. Peterman was atrocious in the season opener, however, and quickly ceded the starting gig to Allen. This week, he was primed to re-take the first-string assignment, but the newly-acquired Anderson has received the nod, despite having been in Buffalo for just over one week.
Anderson has 76 career NFL appearances under his belt, though he has not seen consistent action since his 2010 campaign with the Cardinals. He went just 2-7 that year, but he did lead the 2007 Browns to a 10-5 record in 15 starts en route to his only Pro Bowl nod.
Photo courtesy of USA Today Sports Images.