Longtime NFL quarterback Derek Anderson has announced his retirement, the Bills announced today.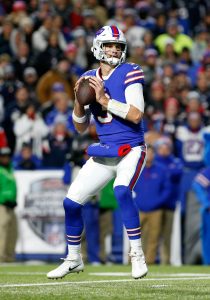 Anderson, 35, spent the 2018 campaign in Buffalo, starting two games while completing 42-of-70 attempts for 465 yards, zero touchdowns, and four interceptions. Despite has lackluster performance on the field, the Bills valued his off-field presence enough to sign him to a one-year extension through the 2019 campaign. Anderson has apparently had a change of heart since that December accord was reached, however.
A sixth-round draft choice of the Ravens in 2005, Anderson's most notable season came in 2007, when he helped lead Cleveland to a 10-6 record and earned a Pro Bowl berth. Anderson subsequently signed a three-year deal to remain with the Browns despite the fact that Cleveland had used a first-round selection on fellow signal-caller Brady Quinn in 2007. The Oregon State product wasn't able to hold onto his full-time gig, but still started 16 games over the next two seasons.
After making nine starts for the Cardinals in 2010, Anderson signed up for a long-term gig: Cam Newton's backup in Carolina. Anderson spent the 2011-17 seasons with the Panthers but was rarely asked to play. During those seven years, Anderson made only four starts and attempted just 168 passes.
The Bills will now move forward with Matt Barkley as the No. 2 to starting quarterback Josh Allen, although the club did also sign Buffalo alum Tyree Jackson as an undrafted free agent.
Photo courtesy of USA Today Sports Images.