Four years ago today, the NFL reinstated defensive end Dion Jordan from the suspension list. At the time, the Dolphins were expecting the former first-rounder to contribute for the foreseeable future. Little did they know, Jordan would be preparing for his final 10 games in a Dolphins uniform.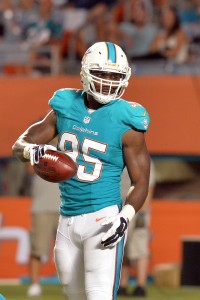 The third-overall pick of the 2013 draft had a solid rookie campaign in Miami, finishing the year with 26 tackles, two sacks, and two passes defended. However, prior to his sophomore season, Jordan was slapped with a four-game suspension after violating the league's policy on performance-enhancing drugs. Several months later, the defensive end was handed another suspension, all leading to him being reinstated four years ago today.
Jordan proceeded to play in the Dolphins final 10 games that year, compiling 20 tackles and a single sack. Unfortunately, things quickly got worse for the Oregon product. Prior to the 2015 season, the NFL found that the defensive end had diluted his test samples. While he didn't fail a drug test, the diluted sample served as a "third strike," and Jordan was suspended for the entirety of the 2015 campaign. He was reinstated by the NFL prior to the 2016 season, but he was forced onto the NFI list after recovering from an undisclosed knee surgery. Jordan didn't play in a single game that season, and he was released by Miami during the 2017 offseason.
It seems like there may be some optimism for Jordan this year. He caught on with the Seahawks in 2017, compiling 18 tackles, four sacks, and one forced fumble in five games. He re-signed this past offseason, but he's compiled only a pair of tackles through four contests.
When he was reinstated by the NFL in 2014, no one could have envisioned him playing a rotational role elsewhere only four years later. While it certainly hasn't gone as planned for the 28-year-old, there seems to be some light at the end of the tunnel.
Photo courtesy of USA Today Sports Images.