Former Jets/Saints linebacker Jonathan Vilma has announced his retirement from the NFL, according to a statement issued by the Saints. Vilma, 33, is set to be honored later today before New Orleans' game against Carolina.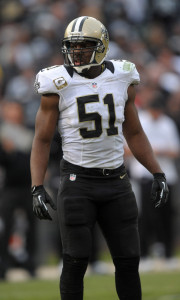 "I'm excited to be retiring from my playing career as a member of the New Orleans Saints," said Vilma. "I loved everything about being a Saint and was fortunate to be surrounded by so many outstanding coaches and teammates for six years and to be a part of the team that won Super Bowl XLIV. I would also like to thank our fans for making my playing career in New Orleans so memorable. I will never forget the amazing fans here and the experiences we shared together."
Vilma, a first-round draft pick in 2004, played four seasons with New York before heading to the Saints in a 2008 trade. The former Miami Hurricane would spend the next six seasons in New Orleans, starting starting 68 games during that time. Injuries sapped Vilma's ability during the 2013 season, and though he drew free agent interest during the summer of 2014, he never latched on with another club. The three-time Pro Bowler finishes his career with more than 600 tackles, 10.5 sacks, and 12 interceptions.
Off the field, Vilma was just as productive, starting the Jonathan Vilma foundation in 2010 to help victims from the devastating 2010 Haitian earthquake. Vilma, whose parents both hail from Haiti, helped raise more than $400K, and was a key figure in establishing three new charter schools in his parents' native country. He was named the Saints' 2010 "Man of the Year."
"Jonathan Vilma is one of the most talented, dedicated and determined players that I have had the pleasure to coach," said said Saints head coach Sean Payton. "Whether it was on the practice field, in the meeting room or in the weight room, Jonathan's leadership, preparation and effort were second to none. He was an enormous asset to our team and was an integral part of us winning a Super Bowl."
Image courtesy of USA Today Sports Images.