Even though he turned down an extension offer from the Redskins in favor of playing on the franchise tag for the second year in a row, Kirk Cousins says he wants to remain with the Redskins for the rest of his career.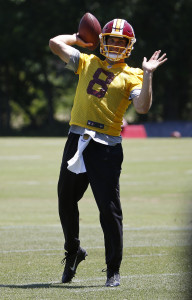 "I would love to be . . . a Redskin the rest of my career," Cousins told ESPN's Sal Paolantonio (transcription via PFT). "When you look at the best of the best, those quarterbacks played with one team. And if you point to a couple guys who didn't, who changed teams, it really was against their will: I think if Joe Montana or Peyton Manning had their way they would have stayed where they had won Super Bowls and played so well. They wouldn't have played so well. So my desire is to stay with one team my entire career, and that would be Washington."
There were rumors throughout the offseason that Cousins was unhappy in Washington and unwilling to stay in the long term. If Cousins is telling the truth here and not just being positive for the sake of keeping the team distraction-free, then the Redskins may be able to keep him with a market-value offer next offseason. If he really wants out, however, then he can hold the line and force the Redskins to either let him test the open market or give him the ultra expensive third franchise tag.
In late July, roughly 77% of PFR readers predicted that Cousins would not be a member of the Redskins in 2018.
Photo courtesy of USA Today Sports Images.