This turned out to be an important year for quarterback acquisitions. Many teams' short- and long-term futures will depend heavily on the players they added over the past two months.
A fourth of the NFL made major investments in outside talent at the quarterback position this offseason. Which team did you think is in the best position after all the dominoes fell?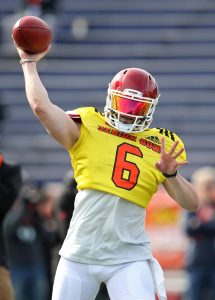 Three teams acquired their unquestioned starters via trade or free agency. The Redskins' trade for Alex Smith ensured they were not going to pick a quarterback in the draft. As did the Vikings' subsequent Kirk Cousins agreement. The Broncos entered the draft as a borderline QB destination, but John Elway valued Bradley Chubb more than Josh Allen or Josh Rosen, eschewing a Bills offer that would have given his team extra first- and second-round picks. So, Case Keenum is going to be Denver's starter.
Four of the five teams that used first-round picks on quarterbacks made sure to add bridge-type solutions, with the Browns moving first to get Tyrod Taylor. The Jets and Cardinals then respectively proceeded to bring in Josh McCown, Teddy Bridgewater, Sam Bradford and Mike Glennon. And the Bills made the final stopgap addition in A.J. McCarron. But these players, for the most part, are 2018 placeholders — at best.
Was Baker Mayfield worth the No. 1 overall pick? Or did the Browns make what could turn out to be the costliest of their spree of modern quarterback misjudgments last month? Several Cleveland executives independently rated Mayfield as the draft's premier passer, going against the grain of the many teams that viewed Sam Darnold as this year's top passing prospect. The Jets appear to have appreciated this bold move, and Darnold is almost certainly going to see extensive time in 2018. PFR readers believe he will.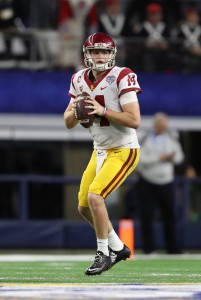 The Bills worked the phones relentlessly in an effort to install Allen behind McCarron, and the Cardinals reportedly had the Wyoming prodigy rated as their top QB as well. But Allen could need extensive seasoning, and as of now, a returning playoff team has a fifth-year player with 133 career pass attempts set to open the season and possibly close it as the starter.
Conversely, the player the Cardinals invested in was tabbed by many draft experts as the readiest pro. And Bradford being in front of Rosen for 16 games may be asking a lot from the injury-prone veteran. The Ravens are already planning Jackson packages, and although the player whom some teams wanted to work out as a wide receiver may need a season to develop, this draft's most dominant college QB resides in Baltimore behind Joe Flacco.
Armed with one of the league's most talented rosters, Minnesota had the most obvious case to pursue a veteran. And the Vikings made history by authorizing a $28MM-AAV fully guaranteed deal for the soon-to-be 30-year-old Cousins, who may be the safest option among all of these players. But he's now the league's second-highest-paid passer and tethered to the Vikings through 2020. Smith is coming off his best NFL season, but his Chiefs teams disappointed in two home playoff opportunities. Washington could also be much further away from contention than Minnesota, and the Redskins have now brought in quarterback who for all the stability he offers is four years older.
It's debatable the Broncos' contention window could still be open, with many of their core Super Bowl 50 performers still on the team and having played the past two seasons without much help at quarterback. But a 5-11 team armed with only its second top-five pick since 1992 passing on two coveted QB prospects to pursue the 30-year-old Keenum, a late-blooming talent or a player who benefited from better circumstances, could also be classified as a bold choice as Rosen and Allen's careers unfold. The Broncos only committed to Keenum for two years and are paying Football Outsiders' No. 4 2017 DYAR passer $10MM less per year than Cousins commanded.
So, with all things considered, which of these franchises is best set up after this offseason? Did one of the teams that spent a first-round pick on a QB ensure a decade and then some of stability and promise? Or did the teams that went strictly for vets get this right? Vote in PFR's latest poll and weigh in with your thoughts in the comments section!
Photo courtesy of USA Today Sports Images.