The Jaguars will decline Marcell Dareus' option, according to NFL.com's Ian Rapoport (on Twitter). The option would have locked in roughly $20MM in salary for the defensive tackle. Instead, the Jaguars will officially turn it down before the Tuesday deadline.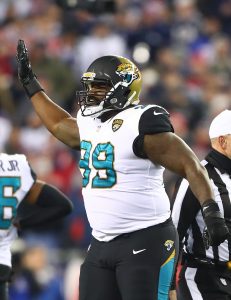 [RELATED: Looking Back At Blake Bortles' Extension]
Dareus missed the bulk of the 2019 season thanks to a core muscle injury. In six games, he notched 13 tackles and half of a sack.
The news doesn't come as a real surprise – the multiple-time Pro Bowler is coming up on his 30th birthday and the Jaguars have a number of needs to address this offseason. By moving on, they'll clear the bulk of his would-be ~$20MM in earnings; they'll be left with just $2.5MM in dead money.
The Jaguars acquired Dareus from the Bills midway through the 2017 season, taking on the remainder of his six-year, $95.1MM contract. At that point, Dareus had worn out his welcome with Buffalo coaches and the trade was pretty much a cap dump for Buffalo. The Jags only gave up a late-round draft pick for him.
Unless he's brought back on a cheaper deal, Dareus will leave the Jaguars after appearing in 30 games (22 starts). Dareus might not have been worth the sizable paycheck for 2020, but that's not to say that he didn't deliver at times. In 2018, Dareus' only full season with the Jaguars that wasn't compromised by injury, his advanced metrics were roughly in line with his best work in Buffalo. If he's healthy, he can still be a difference-maker and a quality run-stuffer for some team out there, but he'll have to sign for something less than ~$20MM per annum.
With Dareus' salary off of the books, the Jaguars can turn their attention to higher priorities, including a new deal for defensive end Yannick Ngakoue.
Photo courtesy of USA Today Sports Images.