On Wednesday night, we learned that Jaguars defensive tackle Marcell Dareus is being sued by a Texas woman who is accusing him of sexual assault and the transmission of an STD. In addition to that, Dareus is also being sued for a separate incident in January of 2017, Greg Auman of the Tampa Bay Times writes.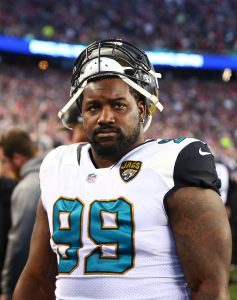 Dareus rented a mansion in Florida on the week of the college football national championship game. The defensive tackle invited the accuser to an afterparty at his place, where she alleges that he groped her against her wishes. The woman says she "blacked out" from drinking and woke up next to an unclothed Dareus. Realizing that there had been "sexual physical acts upon her person," she left to go back to her hotel.
No criminal charges were filed after the alleged event and the accuser says that she initially kept the details of the incident private, "due to embarrassment and self-guilt." In a court date on August 9, Dareus will move to have the lawsuit dismissed.
Regardless of how either case turns out, Dareus could be subject to NFL discipline following an investigation from the league office. The league's conduct policy calls for a baseline six-game ban for sexual assault offenses.
Dareus, 28, came to the Jaguars in a midseason trade from the Bills. Dareus wound up playing in nine regular season games for the Jags as well as their three-game playoff run. Overall, Dareus graded out as the No. 51 ranked defensive tackle in the NFL last year, according to Pro Football Focus. It wasn't his best season, but the Jaguars were hopeful that Dareus could get back to his old form this year. In 2014, he managed ten sacks from the interior.
Photo courtesy of USA Today Sports Images.